Email June 28, 2018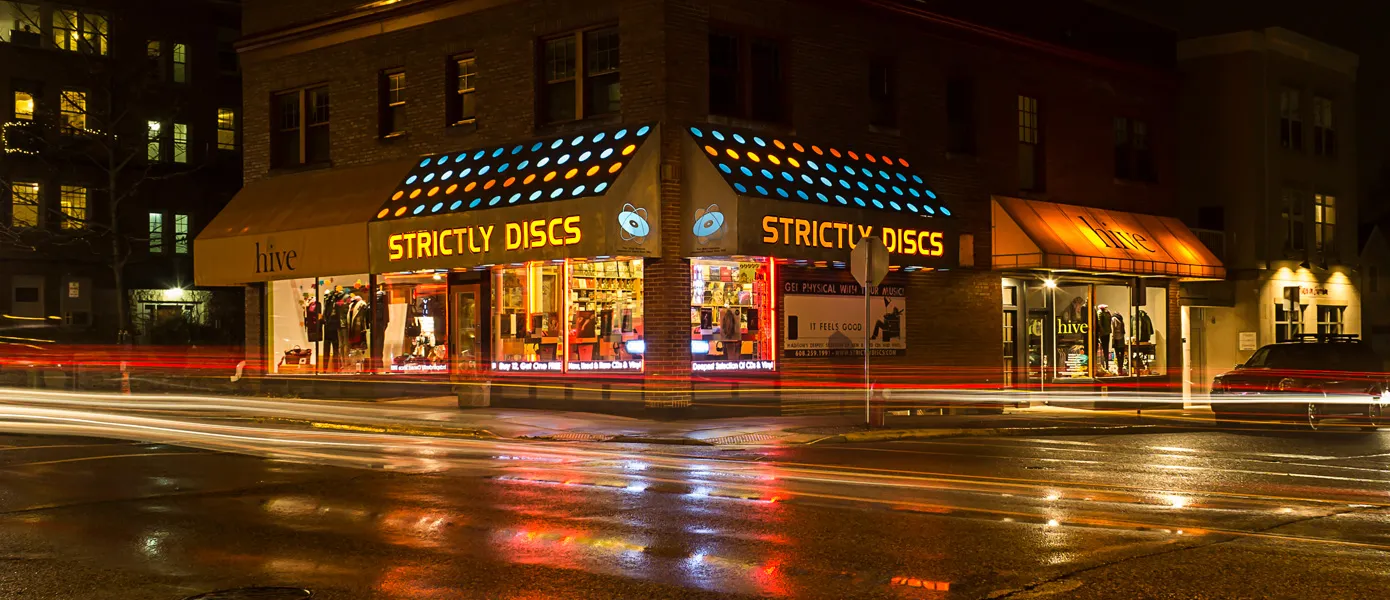 JUNE 28, 2018:
NEW THIS WEEK AT THE SHOP:
UK pop stars top an illustrious list of releases this week. Florence + The Machine deliver their 4th studio album, 'High As Hope', another set of fiery baroque pop handled with intensity and grace. We have nice lithographs of dear Florence to give away with purchase of either CD or LP. Less than a year since their last album, Gorillaz return with 'The Now Now', an urgent, focused affair written while touring on last year's 'Humanz'. That this LP is said to have less guests than normal, while still including appearances from Snoop Dogg, George Benson, and Jamie Principle, really says something about the amount of ground Damon and company cover, genre-wise. We've got this one on CD, LP, and limited super deluxe vinyl. We have a very limited amount of numbered lithographs to give away with purchase of this one, so ask for one when you check out!
Two legends make left turns this week, as Ray Davies delivers the second installment of his 'Americana' albums, a rootsy, bluegrass and brass band informed effort that takes on his emigre status with Davies' inimitable storytelling ability. Jim James steps away from My Morning Jacket for a new solo album called 'Uniform Distortion' that's chock-full of raw pop wonders, rendered memorable by his unmistakable delivery. A bit of chaos creeps into the tracks here, which eschew production polish in favor of a purity that feels off the cuff and genuine, like that of fellow rockers Ty Segall and Kurt Vile. We've got this one on indie exclusive clear vinyl while it lasts.
Sonny Rollins called the discovery of an unheard John Coltrane album "like finding a new room in The Great Pyramid", and one listen to 'Both Directions At Once' bears that out, for sure. The album was recorded in one tightly-focused session in 1963, close to the peak performances of his legendary quartet (Tyner, Garrison, Jones), and finds him in the ruminative, cosmic-blues mode that would produce the following year's 'A Love Supreme'. It's title refers aptly to the inexorable pull Coltrane felt between convention and abstraction, and it's considerably investigated here as a single disc or in a deluxe edition with alternate takes. Long said to be Coltrane's spiritual heir is Kamasi Washington, whose new album released last week explores a similar duality; we are quite blessed to have new music from both of these players within the space of a week! We've also got a lovely new disc from Charles Lloyd with guest vocals from none other than Lucinda Williams.
Ryan Adams is back on the scene with a new limited-run 45 single called 'Baby I Love You'. Local-ish heroes Garbage celebrate the 20th anniversary of their second album, '2.0', with a fresh reissue that adds a second disc of unheard songs, and also comes in a deluxe vinyl version.
A couple fresh soundtracks hit the racks on vinyl: 'Isle of Dogs', performed by Alexandre Desplat, and 'You Were Never Really Here', composed by Jonny Greenwood.
Reissues! Lots this week. Guns N Roses go back to where it all began with an epically expanded new version of 'Appetite For Destruction', remastered from the original tapes with unseen photos and art. You might already have this record, or you might be like my cousin, who's dad threw it in the garbage a week after he bought it. Either way, you need this version! We've also got a 45-RPM master of INXS's 'Kick', two new Bowie reprints from his 80s soundtracks era, plus new CDs of old and unheard music from Graham Nash and the Posies.
There's plenty to choose from in the oversized yet cost-effective world of box sets this week. The Flaming Lips continue their quest to compile all of their studio recordings with 'Seeing The Unseeable', a 6 CD box covering 1986 through 1990. Buffalo Springfield see their full discography collected on the 5 disc 'What's That Sound?', while Yes have their entire studio oeuvre remixed by Steven Wilson for a luxe 6 LP set with new cover art from the legendary Roger Dean. The Verve label rolls out their miraculously affordable 'Five Original Albums' series for Bill Evans, Herbie Hancock, Astrud Gilberto, and Joe Henderson.
We've now got the vinyl version of the latest album from Dave Matthews Band, 'Come Tomorrow', and a limited number of DMB slipmats to give away with purchase. Plus the Indigo Girls show off their wide-ranging live chops with a killer 2 disc set with a full orchestra.
We've got the debut full-length from French electro-soul duo Her, Swedish shoegazers' Echo Ladies ripping first LP, 'Pink Noise', a new one from Saharan desert rockers Etran de L'Air, and a fresh album from folk-poppers Milk Carton Kids, plus new discs from the Innocence Mission, the Rock-A-Teens, Wild Moccasins, Anthony Green, and Wild Feathers, plus a killer new EP from Run The Jewels!
On the heels of reissues of two of her late 80s masterpieces, we get even more nearly impossible to hear music from Japanese vibraphonist/composer Midori Takada, this time in the form of her earlier group, the Mkwaju Ensemble, and their 1981 LP 'KI-Motion'. Fans of Takada's elliptical patterns have much to sink their ears into on this LP, which is suffused with a glowing ambience that hums with energy. The Numero Group goes deep yet again with a collection of early music from the Upstate NY musician Happy Rhodes, who has self-released scores of albums of bizarre, gentle synthpop on her own labels since the 1980s. Fans of Kate Bush, early Annie Lennox, or the general far-out-ness the Numero fellows tend to track down will love this one.
Some very cool ones on the jazz and experimental fronts this week. Alan Braufman's 1975 spiritual jazz rarity 'Valley of Search' is back on LP. Guitar liberators Jon Collin and Bill Orcutt have new LPs out in very limited editions. European ensemble Kukuruz takes on the works of the late great composer Julius Eastman, and we have a 2 disc set of little heard recordings from The Trio (John Surman, Barre Phillips, and Stu Martin), plus new discs from Jamie Saft and Stanley Clarke.
After releasing comps that plumbed the depths of Aussie slow-core and synth-wave, the Efficient Space label treads to a new quartile with the reissue of the late 90s recordings of Waak Waak Djungi, a trio of indigenous musicians from the Arnhem Land in the Northern Territory of Australia. Little heard outside of that region but beloved within it, the songs on 'Waak Waak ga Min Min' are unlike anything else on Earth, a combination of ethereal downtempo electronics and centuries-old ceremonial singing, dotted with site-specific field recordings, that simply must be heard to be believed. Likewise with the reissue of sci-fi author Ursula LeGuin's seldom-heard 1980s cassette recordings, 'Music and Poetry of the Kesh'. This LP is a deep investigation of a culture LeGuin invented completely, a Pacific Coast people with a language, alphabet and folklore all their own, with songs set to music on instruments LeGuin also invented, augmented with Buchla synthesizer played by collaborator Todd Barton. It's beauty and singularity is indescribable! We've also got a reissue of a tape by Canadian-Native American singer Alanis Obomsawin, a gorgeous new album of ambient from Abul Mogard, fresh copies of the Oliver Coates LP that came and went on RSD, and a reissue of early 70s work by synth pioneer Eliane Radigue.
On the techno front, we have reissues of two classic deep ones from Francis Harris, a new one from Mark Fell, an expanded edition of Tin Man's 2005 classic 'Acid Acid' now with extra acid, a monstrous new one from Scandinavian demon Varg, plus new EPs from Lipelis, Kornel Kovacs, and Bell Towers.
ISTHMUS MADFAVES POLL - WE'D APPRECIATE YOUR VOTE!

Isthmus #MadFaves voting is live!
The poll is open through July 31 and we would LOVE your vote!
INDEPENDENCE DAY HOLIDAY HOURS:
Independence Day Holiday Hours:
Wednesday, July 4 – 11AM-5PM
(Mon/Tues & Thurs/Fri – 10AM-8PM)
USED VINYL ALERT:
Heading downstairs for this week's Used Vinyl Alert, we've got lots of cool used records to accompany the hot Friday releases.

If you love the 80s in a certain type of way, its a big week. Check out groundbreaking or ground-burrowing LPs from Slint, Die Kreuzen, Art of Noise, the Violent Femmes, REM, the Ramones, Social Distortion, Def Leppard, Talking Heads, the Haters, Nick Lowe, and many more in that vein.

The force is strong in the jazz region this week, with some killer rare early presses from Art Blakey, Lee Morgan, Miles Davis, Cannonball Adderley, and Brother Jack McDuff, plus some marvelous ones from Steve Kuhn, Ron Carter, Anthony Braxton, Richard Groove Holmes, Ahmad Jamal, Mahavishnu Orchestra, Richard Davis, JJ Johnson, Keith Jarrett, Duke Ellington, Ramsey Lewis, Dexter Gordon, Hugh Masekela, Freddie Roach, Herbie Hancock, Clifford Brown, Dave Brubeck, Lalo Schifrin, Larry Coryell, and Elvin Jones.

Great sounds of the 90s and 00s abound this week, with some hard to find pressings from Rage Against the Machine, Sigur Ros, Morphine, Nirvana, Isis, Matisyahu, MGMT, Frank Turner, Brother Ali, Neutral Milk Hotel, Mirah, Strung Out, Nine Inch Nails, the Shins and (Ma, you're just jealous, it's the) Beastie Boys!

Lots of our favorite classic names in the house this week, including Bob Dylan, the Beatles, Nico, Led Zeppelin, Pink Floyd, the Grateful Dead, Lou Reed, David Bowie, Sly Stone, Jimmy Page, Neil Young, George Harrison, U2, Blondie, Queen, and David Crosby, plus some early RnR from Bo Diddley, Dick Dale, and the Trashmen, a heaping helping of country rock from Doug Sahm, John Prine, The Fields, Cowboy, and many many more, plus some crucial folk rock from John Martyn, Fairport Convention, and The Fugs.

Some deep blues this week comes from Lazy Lester, Sam Lay, JB Lenoir, John Lee Hooker, Lightnin Hopkins, and Hound Dog Taylor. We've got some nice trad folk from Charlie Poole, Vassar Clements, Doc Watson, and Woody Guthrie, plus country from George Strait, Merle Haggard, Willie Nelson, Waylon Jennings, and Dolly Parton.

Lastly, check out some cool early soul pressings from big names like Sam & Dave, Otis Redding, James Brown, Willie Egan, the Miracles, Sam Cooke, Etta James, Little Willie John, the Commodores, MFSB, and Gil Scott Heron. We've got reggae from Jimmy Cliff, Bob Marley AND Ziggy Marley, Peter Tosh, and Linton Kwesi Johnson, plus some cool salsa, cha-cha, and calypso LPs!

MONROE STREET CONSTRUCTION UPDATE:
Thank you for making the trip to come and see us; we appreciate it!

DIRECTIONS FROM REGENT/EAST:
From Regent Street:
Continue on Regent through the Monroe St intersection
Turn Left on SPOONER ST
Turn Right on West Lawn or Keyes
Turn Left on Harrison St.
We are on the corner of Harrison & Monroe Streets (the street level parking lot outside of the Trader Joe's doors is a public City of Madison lot & the side streets all have FREE 2 hour parking.
MONROE STREET IS OPEN FROM THE WEST
SELL US YOUR CDS & LPS:
NEXT MUSIC TRIVIA TUESDAY JULY 10TH:
Our next MUSIC TRIVIA at the High Noon Saloon is Tuesday, July 10th. Registration starts at 5:30 with the first question from Angie and Marty at 6PM. Save the date for August 28th.

OTHERS TALK BACK:
This isn't the spot to lay down odds on the third race. OTB is where Others Talk Back and give you the lowdown on what they've been feeling lately. This one's for the customers.
Dawes – "Passwords"  "Passwords" is the album that Dawes has been working towards the last nine years.  Every lesson they learned recording their previous five albums has come to fruition with this album.  Without a doubt "Passwords" is their best album.   The band finally has the musical sophistication and songwriting chops that make this album such a delight and a stunner.  One could even call "Passwords" a soft rock masterpiece.  And it is a masterpiece in the old school seventies sense – fantastic tunes and impeccable execution.  The band is certainly helped by having Jonathan Wilson as their producer.  Mr. Wilson delights in creating the milieu of the early seventies singer-songwriters on his own albums and his production work for others.  The no-frills production lets the song's emotions connect with the listeners on the first listen. "Passwords" certainly has to be one of the albums of the year. - Ted Talks
Lera Lynn – "Plays Well With Others"  Ms. Lynn first came to the attention of the world as the singer in the dive bar in" True Detective" Season Two.  Her almost weekly appearances singing her sad songs were one of the highlights of a less than stellar season two of the ground-breaking crime series.   Ms. Lynn had three albums under her belt before her work on True Detective.  She released one album after the television appearances and now returns with an album of duets.  Some of her duet partners (and songwriting partners) include Rodney Crowell, Dylan LeBlanc, Nicole Atkins, Shovels & Rope, John Paul White and J.D. McPherson.  Ms. Lynn still sings sad songs but the duet formula gives the songs both an intimacy and immediacy that the songs need to successfully connect to the listener.   "Plays Well With Others" may be the album that breaks Ms. Lynn to a larger audience.  It is about time that others recognize the talent that she has in abundance. - Ted Talks
MONROE STREET FESTIVAL - SATURDAY, SEPTEMBER 22ND:
Save the date! The 41st annual Monroe Street Festival/Sidewalk Sale will be Saturday, September 22nd.

Ron, Ryan, Angie, Marty, Evan, Matt, Michael, Ben, Will, & Ed