Email June 15, 2018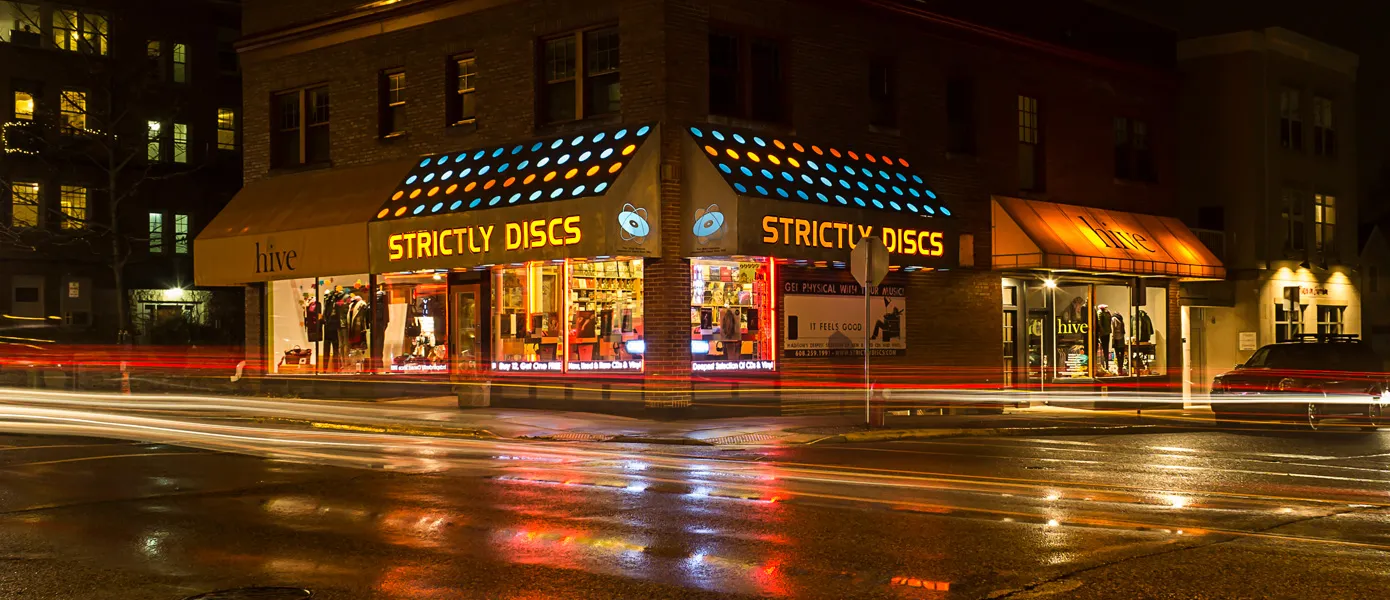 JUNE 15, 2018:
WAREHOUSE POP-UP EVENT - JUNE 28 - SAVE THE DATE:
Save The Date - June 28th for our first warehouse pop-up event. El Grito tacos, free Great Dane beer, ping pong & loads of LPs, CDs, DVDs, gear & more.
ALBUM ART FOR KIDS - JUNE 24TH AT COLECTIVO COFFEE:
We are partnering with the Monroe Street Arts Center & Colectivo Coffee on a FREE kids crafting event. The Monroe Street Arts Center will have everything needed to make your own album cover to take home. We will bring (and spin) a selection of kids records for inspiration. Start your Saturday with us on June 24th.
NEW THIS WEEK AT THE SHOP:


The yin and yang of guitar-oriented indie brilliance represents this week with new records from Rolling Blackouts Coastal Fever and Protomartyr. After a couple nice EPs from Sub Pop, RBCF really deliver with their first full length, 'Hope Downs' is all plump cruisers in a Clean/Twerps vein. For their latest EP, Detroit post-punk heroes Protomartyr lure Kelley Deal of the Breeders into the fold.
 

Songwriter Joseph Arthur and R.E.M. co-founder Peter Buck follow a chance encounter to a florid conclusion on 'Arthur Buck', a miasma of folk rock and pop with pockets of funk and lots of contemporary commentary. We at last get a full length album from the mighty Dusk, the Appleton group that spun off of rootsy punkers Tenement. Their self-titled debut is a vigorous yet easy ramble through countrified pop that has a bit of the creeping, noirish bite that their name suggests, washed over with the compelling vocals of Tenement violinist Julia Blair.

 
The Thrill Jockey label brings us two incredible records from musicians with decades in the nether reaches of the musical world under their belt. 'Cloud Corner' is the latest LP from the 'American primitive' style guitarist Marisa Anderson, and it's resplendent with her one of a kind ability to spin yarns through her fingers, as she channels Fahey and the Delta blues styles that influenced him, firmly establishing her as the latest link in a century-long chain. John Parish is back with his first album in a handful of years. 'Bird Dog Dante' finds Parish comfortably in his zone, crafting spooked folk-rock with lots of guitar, banjo and percussive ephemera, and joined on tracks by vocalists like PJ Harvey and Aldous Harding.
Two possessive projects are back in the spotlight after some time away. Melody Prochet has returned with her Echo Chamber, a few years on from surviving a very scary car accident, with a new record that sounds defiantly new. Fans of her enchanting lilt will find lots to love here, and with a new collaborator on production (Reine Fiske of Dungen), she's made a turn for the obliquely psychedelic. Sub Pop revives two 90s indie classics from Maritime Canada's own Eric's Trip, long out of print on vinyl. 'Forever Again' and 'Purple Blue' set the standard for earnest, homemade pop, made of equal parts bashing fuzz and lonely minimalism. I hear a lot of Eric's Trip in contemporary groups like Speedy Ortiz, Hop Along, and Soccer Mommy, all of whom have inherited the bare honesty and unvarnished energy that ET singer/guitarist Julie Doiron brought to these little-heard records.

 
The Killers celebrate their career with a massive boxset of the same name, including all 7 of their albums since 2004's 'Hot Fuss' and including 'Live From the Royal Albert Hall' on vinyl for the first time. The Gaslight Anthem revisit their '59 Sound' a decade on from it's release, with rare alternate takes and demos from the sessions. We've also got new releases from Buddy Guy, Fantastic Negrito, Sepultura, Tim Armstrong, Chromeo, Johnny Marr, Hatchie, Olivia Chaney, and a new solo album from Buck Meek of Big Thief.

 
We've got a huge spread of major releases along the hip hop, R&B and jazz spectrum this week. NYC rapper/Pro Era member Chuck Strangers drops his debut 'Consumers Park' and it is a fiercely played record of old school flow that calls back to Nas, Ka, and GZA. Watts rapper and Kendrick associate Jay Rock surprises us with a new rush release CD, 'Redemption', that hits with some real force. Robert Glasper joins up with new-gen jazz biggies like Terrace Martin, Derrick Hodge, and Taylor McFerrin for a sizzling session of hiphop-leaning jazz called R+R Now. The hard-working Chicago unit Dos Santos is described as a 'psychedelic cumbia' group, but their debut for freeform standard bearer label International Anthem shows them to be much more than that, and will appeal to fans of Antibalas and the Budos Band. We've got the Sub Pop debut of mid-fi dream-rapper Yuno, plus new discs from Christina Aguilera, Kali Uchi, Ne-Yo, and the very banging 'Uncle Drew' Soundtrack, which is stuffed full of summer jams.

 
UK leftfield house don Leon Vynehall shows a very compelling, contemplative side with 'Nothing is Still', a resplendent new album that blends his gauzy, throbbing beats with classical strings reminiscent of Gavin Bryars, inspired by interviews with his grandparents about their experiences emigrating to New York in the 1950s. Effluvial techno weirdo Actress continues to reinvent himself, this time teaming up with the London Contemporary Orchestra for an album that matches his strangely-timed rhythms with a group capable of making full on electro-acoustic concrète. The pairing really works, and 'Lageos' contains a whole lot to patiently digest. NYC techno whiz Will DiMaggio drops his first full length for Future Times, and its an entertaining suite of discreet jazzdance earworms that ought to keep parties percolating all summer. Prefuse 73 is back with his first proper album in many years, this one's called 'Sacrifices'. We all gotta make em!

 
Some wonderfully far-out essentials hit the bins afresh this week from 'round the globe. Celia Cruz's 1972 delicacy was produced by none other than Arthur Verocai, and is chock full of psychy, soulful bossa nova. Shina Williams and his African Percussionist's 1979 debut 'African Dances' is one of the rarest and best ever examples of Afro-disco, and holds up as the best Afrobeat album I've heard without the name Fela Kuti on it. Mexican voyager Luis Perez's 1981 album 'Ipan In Xiktli Metzli' is a one-of-a-kind slab of pre-Columbian art-folk-rock that slots in with other visionary albums from Jorge Reyes and Antonio Zepeda, forming the earliest wave of Mexican new age. David Axelrod's landmark album 'Song of Innocence' is back on vinyl after we blew out of our RSD supply, AND it's back on CD for the first time in forever-ever.



 
Lastly, we've got two reliable SD faves in the house with some newly-available material. 'Gene Clark Sings For You' delivers 13 rare tunes from his sessions just after he left The Byrds in 1967. Tom Waits' Orphans trilogy is back in the house as three individual LPs, that's 'Brawlers', 'Bawlers' and 'Bastards'.
USED VINYL ALERT:
Heading downstairs for the Used Vinyl Alert, a delicious crop of New Arrivals awaits you! This week we go especially deep on rare jazz titans, soul and R&B of every stripe, folk, blues, new wave, and some recently released gems.

On the jazz front, step up for a flip through multiple titles from some major names: John Coltrane, Miles Davis, Thelonious Monk, Ornette Coleman, Stan Getz, Bill Evans, and Charles Mingus are here in big numbers, with some albums that we see too rarely. We've also got big'ns from Jonny Hartman, Eddie Harris, Larry Coryell, Catalyst, Return to Forever, Donald Byrd, Kenny Wheeler, Jack DeJohnette, Freddie Hubbard, Sonny Rollins, Richard Groove Holmes, Herbie Mann, Cal Tjader, Herbie Hancock, Don Patterson, Kenny Burrell, Rahsaan Roland Kirk, and Dave Brubeck.

Funk and soul is here from A to Z, Al Green to Zapp. You know you need some classics from Stevie Wonder, Marvin Gaye, Wilson Pickett, Otis Redding, Sam Cooke, Smokey Robinson, Ike Turner and James Brown. How bout some funk and disco from Sly Stone, the Meters, Eddie Higgins, the Trammps, War, Donna Summer, Cameo, Boney M, Bionic Boogie, and Baby Huey? Also check out LPs from the Last Poets, Phoebe Snow, Grady Tate, Whitney Houston, Janet and Michael Jackson, Jill Scott, the Fat Boys, and John Legend.

We've got a solid run of sealed 70s Beatles pressings plus solos from John, Paul and George. A couple of rare Pink Floyd and Led Zeppelin LPs. Crucial ones from Van Morrison, Harry Nilsson, Buckingham/Nicks and other assorted Mac snacks, several from the Rolling Stones, and nice titles from Love, Traffic, the Allmans, Kiss, the Eagles, Paul Simon, Roy Harper, Brownsville Station, and the Who.

Some big ones from the punky/wavey end of things this week: early pressings of the Plimsouls, Billy Bragg, Madness, Gang of Four and Brian Eno, a first pressing of Joy Division's 'Unknown Pleasures', the massively influential 'Wanna Buy A Bridge?' compilation on Rough Trade, plus fine ones from the Specials, the B52's, Billy Idol, Echo and the Bunnymen, Sid Vicious, Tom Tom Club, Fear, Patti Smith, and Tears For Fears.

Some downright essential and seldom seen folk records this week include rare ones from Tim Hardin, Townes Van Zandt, David Grisman, Robbie Basho, Fairport Convention, Sandy Bull, John Fahey, plus some cool Folkways LPs from Peggy Seeger and Pete Seeger.

Country comes from Johnny Cash, Petula Clark, Waylon Jennings, Emmylou Harris and Willie Nelson, plus some great blues from John Lee Hooker, Johnny Hodges, Big Bill Broonzy, Muddy Waters, and John Hammond.

A cool variety of modern classical and avant LPs this week includes Xenakis, Cage, Penderecki, Morricone, Satie, Wuorinen, Berio, Lalo Schifrin and Stefan Wolpe.

Lastly, we've got some winners from more recent years in the house, starting with a rare deluxe version of Interpol's 'Turn On The Bright Lights', Beck's 'Mellow Gold', and LPs from Perfume Genius, Belly, Kurt Vile, Tame Impala, Phantogram, Juiceboxxx, Joey Badass, Oh No, Logic, Mac Miller, Joan of Arc, Destroyer, The Mountain Goats, Animal Collective, Flaming Lips, and the Decemberists!
MONROE STREET CONSTRUCTION UPDATE:
Thank you for making the trip to come and see us; we appreciate it!

DIRECTIONS FROM REGENT/EAST:
From Regent Street:
Continue on Regent through the Monroe St intersection
Turn Left on SPOONER ST
Turn Right on West Lawn or Keyes
Turn Left on Harrison St.
We are on the corner of Harrison & Monroe Streets (the street level parking lot outside of the Trader Joe's doors is a public City of Madison lot & the side streets all have FREE 2 hour parking.
MONROE STREET IS OPEN FROM THE WEST
SELL US YOUR CDS & LPS:
NEXT MUSIC TRIVIA TUESDAY JULY 10TH:
Our next MUSIC TRIVIA at the High Noon Saloon is Tuesday, July 10th. Registration starts at 5:30 with the first question from Angie and Marty at 6PM.

OTHERS TALK BACK:
This isn't the spot to lay down odds on the third race. OTB is where Others Talk Back and give you the lowdown on what they've been feeling lately. This one's for the customers.
Shannon – "In Nashville"  Shannon is Shannon Shaw, lead singer of Shannon and the Clams, and this is her first solo release.  Shannon and the Clams just released their sixth album in February of this year.  Their music can best be described as a cross between sixties garage, surf, R&B and psych.  And Ms. Shaw's solo album can be best described as a cross between early sixties girl group sound, early soul and early sixties pop.  Ms. Shaw enlisted Dan Auerbach, of Black Keys fame, to steer her musical vision to fruition.  The production is what makes this album so successful.  Mr. Auerbach figured that the Phil Spector over the top style is what was needed for this album to be realized.  Not only does Mr. Auerbach produce the album, but he also plays on it and co-wrote all of the songs on it.  Be assured though, he hasn't just replicated the Black Keys sound.  The "In Nashville" title may confuse, but this album is definitely not a country record.  It is rather an album from an up and coming singer who has just released one of the most striking albums of the year. - Ted Talks
The Get Up Kids – "Kicker"  The Get Up Kids were one of the best emo bands out there twenty years ago.  And this EP is their first release since the band's resurrection in 2011.  "Kicker" just does what the band has always excelled at: writing catchy songs that are expertly played.  "Kicker" is nothing more or less than that. - Ted Talks

Ron, Ryan, Angie, Marty, Evan, Matt, Michael, Ben, Will, Ed & Isaac