Email May 27, 2018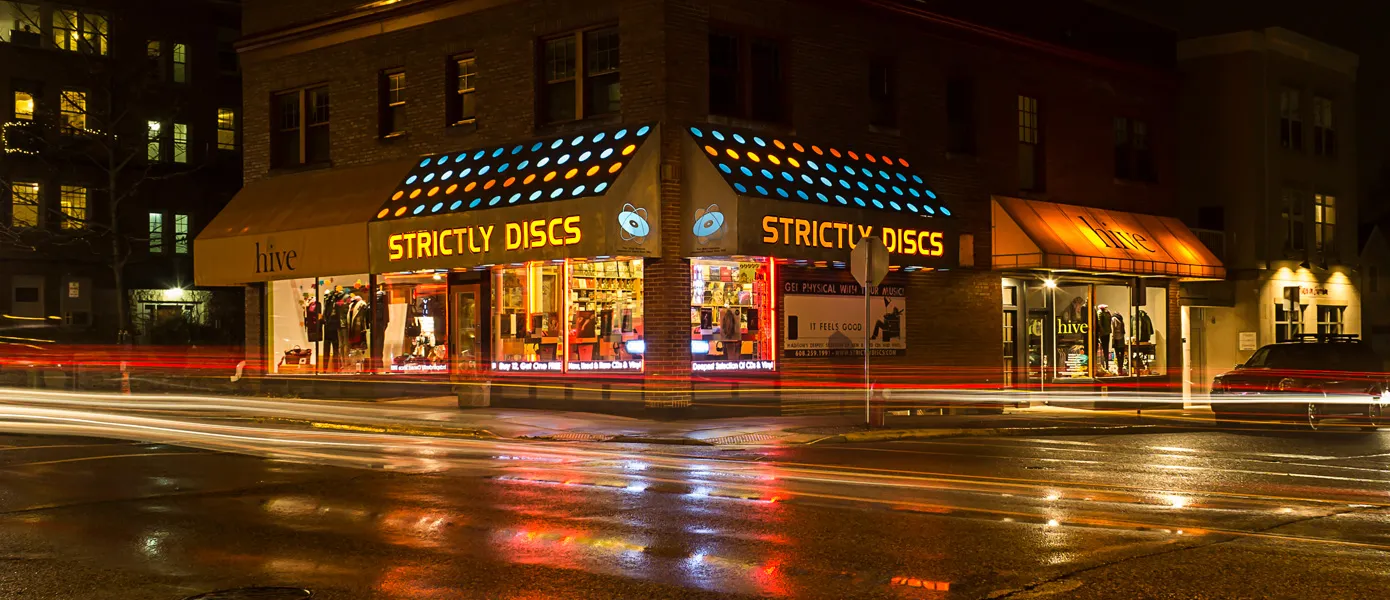 MAY 27, 2018:
MEMORIAL HOLIDAY WEEKEND SALE:
All regular priced NEW CDs and LPs are 20% off through end of day Monday. If you haven't had time to get over here lately, or if you've got a list of the latest records you've been meaning to pick up during these busy May release weeks, OR if you want to special order some items we don't have in the shop, now's the time! Just mention the sale at checkout and 20% savings is yours. This one's just for you, our loyal email readers. (Sale excludes sale items and other promotions.)
MEMORIAL DAY HOLIDAY HOURS:
Sunday 11AM-5PM
Monday 11AM-5PM
NEW THIS WEEK AT THE SHOP:
Now, about that new stuff!
USED VINYL ALERT:
MONROE STREET CONSTRUCTION UPDATE:
MG&E has finally finished their electrical upgrade that severely limited our side street free parking. Most of those restrictions have now been lifted with the final no parking signs in the 1900 block of West Lawn expiring this Friday, May 25th. Hooray for free parking and thank you for making the trip to come and see us; we appreciate it!

DIRECTIONS FROM REGENT/EAST:
From Regent Street:
Continue on Regent through the Monroe St intersection
Turn Left on SPOONER ST
Turn Right on West Lawn or Keyes
Turn Left on Harrison St.
We are on the corner of Harrison & Monroe Streets (the street level parking lot outside of the Trader Joe's doors is a public City of Madison lot & the side streets all have FREE 2 hour parking.
MONROE STREET IS OPEN FROM THE WEST
SELL US YOUR CDS & LPS:
NEXT MUSIC TRIVIA TUESDAY JUNE 5TH:
Our next MUSIC TRIVIA at the High Noon Saloon is Tuesday, June 5th. Registration starts at 5:30 with the first question from Angie and Marty at 6PM. Save the date for July 10th!
OTHERS TALK BACK:
This isn't the spot to lay down odds on the third race. OTB is where Others Talk Back and give you the lowdown on what they've been feeling lately. This one's for the customers.
Tracyanne & Danny – "Tracyanne & Danny"  Tracyanne is from the Scottish band Camera Obscura and Danny is from the English band Crybaby.   Even if you have never heard any of the bands that Tracyanne and Danny are in before, you have to hear this album.  The performers have returned back to the early and mid-sixties as the inspiration for this project.   And the sound and style of those times is conjured up perfectly on this album.  One would swear that you were in 1964 listening to some faraway AM station blasting the latest sounds for the UK.   It certainly helps their situation that both Tracyanne and Danny are both masterful songwriters and have the knack for fitting those skills into the three minute sixties pop format.  "Tracyanne and Danny" isn't a pastiche of the past, but is done from love and a deep sincerity for the music of the sixties.
Quiet Slang – "Everything Matters But No One is Listening"  Beach Slang is a punk band from Pennsylvania who have released two albums to date.  What separates Beach Slang from their punky contemporaries is their strong songwriting.  Quiet Slang is Beach Slang's prime songwriter, singer and guitarist James Alex, along with a small ensemble consisting of a piano and a cello and, at times, a small choir.  Mr. Alex takes songs from the two Beach Slang albums and recasts them with a chamber-pop sound.  And thanks to the songwriting of the Beach Slang songs the project succeeds quite well.  Not many songs can take the naked spotlight that sparse classical arrangements could shine on them.  "Everything Matters But No One is Listening" is such a strong album, that one would want to hear the original Beach Slang records and compare the two.
Bombino – "Deran"  Bombino is the name of the band and the nickname of the singer, main songwriter and guitarist of the band.  Omara "Bombino"  Moctar was born in Niger and the band has released five prior albums through several different record labels in this country.  It appears that the band has finally found a stable label that could promote this wonderful music to the fullest.  Bombino is one of the masters of the genre aptly called desert music.  The music features sinewy and snaky electric guitars weaving themselves through the rhythms of traditional Niger percussion and drums.  And the songs are sung in the Turag language.  The electric guitars and the rhythms almost instantly draw the listener in, and after a time one would think that what is being heard is compelling and engaging and not as exotic as it really is. "Deran" is a master class in desert music and is a fitting introduction to this music for a novice.

Ron, Ryan, Angie, Marty, Evan, Matt, Michael, Ben, Will, Ed & Isaac