RECORD STORE DAY IS THIS SATURDAY!
APRIL 20, 2018: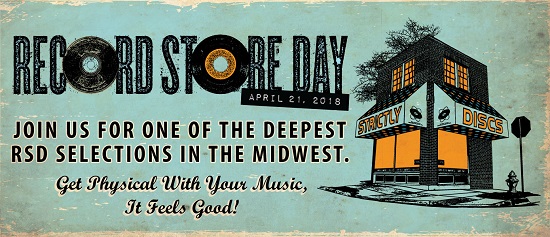 Launched in 2007 with the humble idea to recognize independent record stores, Record Store Day (RSD) has mushroomed ever since. The RSD list of LP and CD exclusives continues to expand, while more labels continue to throw open their catalogs to an appreciative customer base.

Beyond the day-long frenzy, RSD exists to offer proof of the lively role record stores play in the community and a chance for folks on both sides of the counter to offer gratitude for each other. Whether you're a hardcore type who times their arrival for a spot at the front of the line or somebody who waits until the afternoon for a more leisurely experience, we hope you'll join us on Saturday, April 21.
RSD AT STRICTLY DISCS:
It's true, on Record Store Day there's typically a line outside the shop all morning, just as there is at hundreds of other local shops across the country (and the world). But walk through this line, and you'll find ardent music fans of every stripe: young, old, male, female, seasoned pro and beginners. The line has come to symbolize the size, passion and staying power of both the physical music audience and the locally-oriented music community. Amidst the RSD crowds, we've seen musicians discussing upcoming gigs and tours, knowledgeable jazz heads giving high schoolers tips on the essentials, people meeting up for the first time "in real life" or for the first time in a decade, parents buying their kids their first new LPs, or better yet, a huge stack of 99 centers.
BUT FOR ME, EVERYDAY IS RECORD STORE DAY:
With all of the hubbub about "The Line" each year at Record Store Day, we thought it would be nice to remind everyone that your RSD experience doesn't just boil down to how early you line up. Each year, we've gotten better and better at targeting the items that are the most in-demand, so that we have as many copies as possible to go around, and also ensuring that we have the broadest selection of everything that's available. In short, we want to make sure that whether youre busting down the door at 7 am, or rolling in by the end of the day, you're still looking at quite the spread. In some degree, this day is about our regular customers, for whom just about every day is Record Store Day, and we want you to know you are welcome to stop through any time. Enjoy the digs, the beers, the sounds of the local DJs, and just hang out!
RSD USED VINYL ALERT:
This year's slate of Record Store Day exclusives is so strong, we had to dig extra deep to find a parallel stash of used vinyl collectibles to give it a run for its money. Mission accomplished, I'd say. This year's RSD used vinyl alert is so potent, we've considered posting health warnings in the entry to the basement. I'm saying this stuff is sick! As in recent years, we'll be waiting to unveil this collection until later in the day Saturday, to balance out the morning rush. All these titles will be available to purchase at precisely 2 PM Saturday!
Where to begin? How 'bout some pop and rock. We've got many Beatles LPs, including several rare European pressings, rare box sets from the Rolling Stones, Nick Drake, and Jimi Hendrix, near-full catalog runs of Pink Floyd, David Bowie, The Zombies, Tom Waits, Funkadelic/Parliament, and Led Zeppelin, plus big scores from the Beach Boys, Jerry Garcia, the New Barbarians, Dr. John, Love, Them, the Allmans, Gram Parsons and the International Submarine Band, the Flying Burrito Brothers, Tim Buckley, John Lennon, Richard Thompson, Iggy Pop, Thin Lizzy, and Link Wray.
We dive deeper into the more obscure and rare sides of the rock canon with cool ones from the Groundhogs, Atilla, Medusa, Trapeze, John Cale, the Walker Brothers, Alex Harvey Band, Family, M.Frog, Roky Erickson, Valhalla, Chris Spedding, The Shaggs, plus some foundational 70s art-rock and prog from big names like Can, Soft Machine, Kevin Ayers and Robert Wyatt solo, Hatfield and the North, Henry Cow, PFM, Hawkwind, Silver Apples, and Brian Eno!
We've got about 10 Pitchfork festivals, a Glastonbury, and three Lollapaloozas worth of recent indie and alternative titans down here, including some hard to find pressings and limited edition guys from Tame Impala, Dead Weather, Fleet Foxes, Coldplay, Arcade Fire, the National, Dan Deacon, the Buffalo Killers, Beach House, William Elliot Whitmore, Damien Jurado, the White Stripes, REM, US Girls, Sonic Youth, Grimes, Swans, Alt-J, Death Grips, Microphones, Radiohead, Smashing Pumpkins, Beck, Jimmy Eat World, Beirut, the Good the Bad and the Queen, Badly Drawn Boy, Amy Winehouse, the Black Keys, and the Trail of Dead, plus some earlier tough-to-find ones from Sublime, Sarah McLachlan, Counting Crows, and Primal Scream. 
There's a real motherlode for hip-hop vinyl fiends. We've infrequently come across sizeable rap collections, but all too-often they've been battered. Such is the condition of the tools of the working DJ. What we have here however is a deep selection we could eat off of, along with sho-nuff pic sleeve 12 inches, which happens, like never. There's separate singles from the Knowles-Carter partnership, sureshots from Outkast and Pete Rock and CL Smooth and more. The full lengths are out of control. Multiple Madlib-affiliated projects, choice selections from Mobb Deep and Show and AG, the first iteration of Guru's Jazzmatazz and good chunks of the Tribe and Wu catalog, including the rarely seen ATCQ remix full-length! So much to geek out over and in extra-crispy condition.
The heavy stuff is not neglected this year, with some titanic slabs from Black Sabbath, Saxon, the Tygers of Pan Tang, Behemoth, Sabbath Assembly, Destruction Unit, Jesus Lizard, Goatsnake, the Sword, Iron Maiden, Celtic Frost, Witchfynde, the Skull, Nine Inch Nails, tons of rare/obscure speed metal and thrash, and some great compilations.
We didn't forget the blues on Record Store Day. Plenty of clean copies of the original dirt dog, Muddy Waters, are to be had, along with a whole grip of titles spanning the entirety of John Lee Hooker's career. Multiple titles from people's champions Magic Sam and Jimmy Reed have been pulled. Nestled somewhere is an unfathomably clean 1st press copy of Skip James' "Devil Woman," as well loosies by Hill Country mystics Fred MacDowell and RL Burnside, and elusive names like Leadbelly, Willie Dixon, Bobby Bland, Son Seals, Lightnin Hopkins, and the Nighthawks.
As for jazz, it's all about the labels of choice. Look for the orange-and-black Impulse spines for records by Alice Coltrane, Archie Shepp and Pharoah Sanders. We're always happy to come across the mighty Blue Note and not only are there scores of titles by Horace Silver, Art Blakey, Freddie Hubbard and other mainstays, but we've snagged more than a few double-45 2LP Classic Records sets. Everything is clean, clean, clean. On top of that, there's a couple titles from Cu-Bop powerhouse Pucho and the Latin Soul Brothers, Cannonball Adderley, Grant Green, Miles Davis, Ornette Coleman, Gil Scott Heron, and several from the AACM axis.
We've gone substantially hard with the soundtracks this year, including some big titles like Natural Born Killers, the Walking Dead, Man from Uncle, Mr. Robot, Synchronicity, Reservoir Dogs, Drive, the Watchmen, Kill Bill, and Pulp Fiction.
In the realms of folk, traditional and pop music from the world at large, we cover just about every continent to be found this year (if there are any synth-pop bands from Antarctica, please let us know), with an unreal selection of records, some very cheap, some very rare! Check out LPs from Iran and Northern Africa, traditional and Bollywood titles from India, trad and pop from Indonesia, Java, Singapore, and other East Asian locales, Folkways comps covering the globe, Russian rock and strange, Japanese garage and folk-rock, Korean psych including some OGs from San Ul Lim, Ethiopian jazz and pop gems, afrobeat and afro-latin fusions, Texican trad from Lydia Mendoza, plus a smattering of Cuban jazz, mambo, and cumbia.
On the electronic and avant-garde front, we have full spectrum coverage, from names big and small like Kraftwerk, Mark Pritchard, the Books, St. Germain, Nightmares on Wax, LCD Soundsystem, Prodigy, Burial, Daft Punk, Armand Van Helden, Placebo, Air, Kelela, Kid Koala, Fourtet, Morcheeba, Max Richter, FKA Twigs, Flying Lotus. On the more avant side, we've got some crucial ones from Philip Glass, the Innovative Communication label, Masaki Batoh, Steve Reich, Penguin Cafe Orchestra, the Residents, Derek Bailey, Jandek, Steve Tibbetts, Wilburn Burchette, K. Leimer, and a slew of modern Japanese composers.
Please swing down and join us as we celebrate Record Store Day!
FREE PARKING AVAILABLE BEHIND THE UW PRESS / MONROE BUILDING:
Free parking is available for Record Store Day behind the UW Press Building at 1930 Monroe Street. Please use any of the stalls along the back fence (please don't park under the building). The parking lot is accessible from both Monroe & Prospect Streets.
WHAT IS HAPPENING AT STRICTLY DISCS ON RSD:
As you know, Record Store Day is a day crammed full of records, so naturally we've got a schedule crammed full of entertainment for your listening and imbibing enjoyment as you browse all of the many new arrivals. We'll have DJs from both of our cherished local stations, WSUM and WORT, as well as esteemed vinyl selectors from a few of our favorite local musicians:

7-8:30AM Emili Earhart, pianist and collaborator - ambient and early morning music
8:30-10AM Chali Pittman, WORT/The Punk Kitten - post-punk
10AM-NOON Nate Zukas, downtown DJ and Great Dane brewer - disco and house
NOON-1:30PM Ian Carroll aka Knowsthetime - funk, soul and breaks
1:30-3PM DJ Renton, WSUM - garage and psych
3-4:30PM Glynis Fisher, downtown DJ - chilled house
4:30-6PM Evan Woodward & Ben Silver - bringing the day home


Our doors open at 7AM!
AND SPEAKING OF WHEN THE DOORS OPEN...
The morning will get started right this year with FREE TREATS courtesy of our neighborhood friends.



Barriques is cooking up our traditional chili-rubbed, half-dipped in chocolate bacon. Bloom Bakery is bringing over one of their specialties, sweet potato doughnuts, and Colectivo is supplying the caffeine with free hot coffee! Things are looking up!

Plus, El Grito will roll in from 10AM-NOON selling their amazing (breakfast) tacos!


STRICTLY DISCS/RSD SPECIALTY BEER:
Every year The Great Dane collaborates with Strictly Discs to brew a beer in celebration of Record Store Day. Embracing the sprit of Record Store Day & the Monroe Street road construction project, the Great Dane is serving up the Bullzdozer Blonde Ale here on April 21st starting at 7AM!
USED VINYL ALERT:
In addition to the spread of Record Store Day exclusives, we will also be celebrating with a very special selection of 1000+ fresh used records. The record gods have smiled on us with some exciting finds just in time for the holiday, and we will be culling from these recent collections for a batch of records going out on Saturday the 21st. More details about this round of LPs will go out in the final email before RSD.
NEW BELGIUM BEER TASTING:
 

From Noon-2PM, Neal from New Belgium Brewery will be here pouring up a variety of their award winning beers!

PLUS

Loaded grab bags (while supplies last) FREE with every RSD purchase
PLUS


Enter to win AWESOME prizes, including:


Audio Technica Turntable, Pro-Ject Turntable, Kanto Powered Speakers, Record Sleeves & Crates

Gift Certificates & Prize Packs from our friends & neighbors at: Hive, Pizza Brutta, The Great Dane, Brasserie V, Monroe Street Framing

Oodles of concert tickets from the good folks at Majestic Madison and High Noon Saloon
Autographed Booze & Vinyl book by Andre & Tenaya Darlington


PLUS MUCH MUCH MORE!
THANK YOU TO OUR PARTNERS:
WHO SUPPORT PHYSICAL MUSIC & RECORD STORE DAY:



THE LIST:
For all details on pressing quantities, production credits, alternate versions, color vinyl, and other record datum, please refer to the Official Record Store Day list of releases, located at www.recordstoreday.com
CANCELLED RSD TITLES:
Andrew Oldham Orchestra

The Bird & The Bee
Insane Clown Posse
DELAYED TITLES: Eric Church, Monterrey Pop Festival
A FEW REMINDERS:
We do not buy used CDs or LPs on Record Store Day.
We do not accept coupons on Record Store Day.
Record Store Day titles do not count towards the Buy 12 Get 1 Free program.

Record Store Day items are limited to one per person.

Ron, Ryan, Angie, Marty, Evan, Matt, Michael, Ben, Will, Ed & Isaac