Email April 19, 2018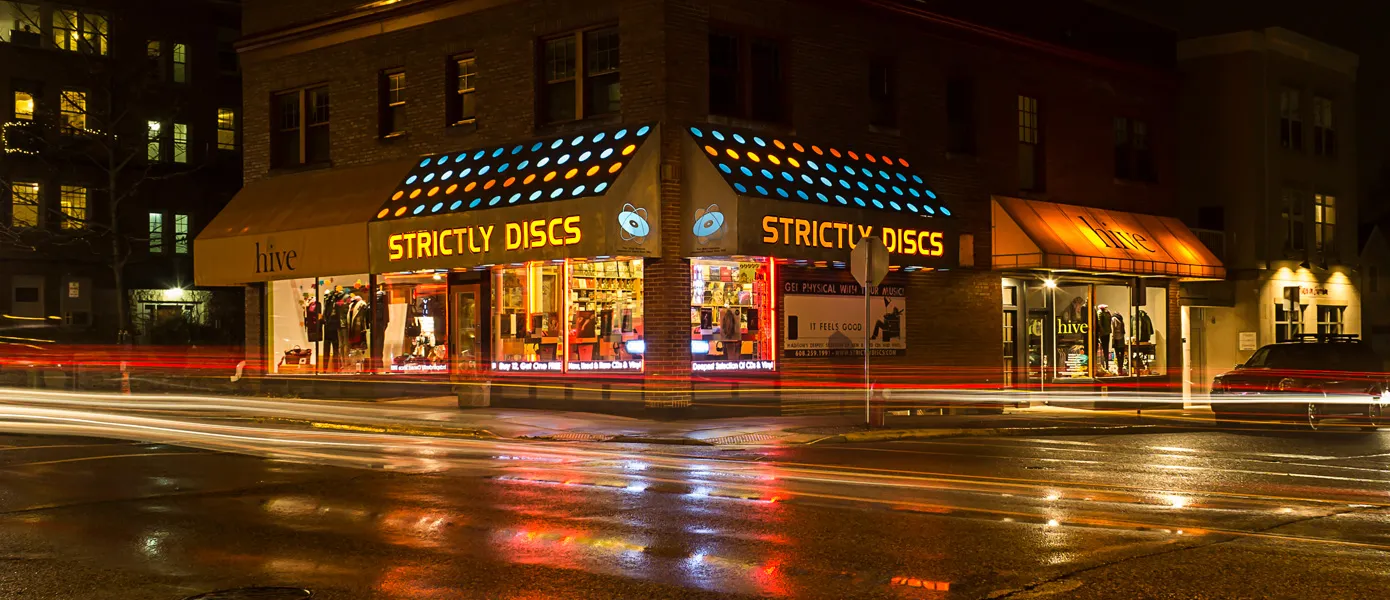 APRIL 19, 2018:
NEW THIS WEEK AT THE SHOP:
A huge round of releases hit the floor

 
Friday
, lending some major oomph to the old saying "Every day is record store day".
We start with two big ones. 20 years since its original release, Widespread Panic's early classic 'Light Fuse Get Away' sees its first ever vinyl pressing, in a lush 4LP box set package. We also have the long-awaited new album from A Perfect Circle, 'Eat the Elephant' on CD and limited white vinyl.
Michigan folksters Lord Huron have producer Dave Fridmann on board for extra twinkle on their latest, 'Vide Noir', on CD and LP. Dear friends of the shop Count This Penny relocated to Knoxville TN a couple of years back and we miss them sorely. They've sent us copies of their brand new album 'A Losing Match' on LP, which helps dull the pain a bit. Fans of their tender twilit folk harmonies are in for a treat with this one.
Jams abound with a reissue of the early Disco Biscuits album 'Uncivilized Area' and a new collection of Thievery Corporation rarities and vault tracks, 'Treasures From the Temple'.
Strap in for another ride with Bonnie Prince Billy. 'Wolf of the Cosmos' is here on CD and LP, and features Master William playing versions of songs by the great Norwegian singer Susanna Wallumrod. The ever unpredictable Mike Donovan (of Sic Alps and Peacers infamy) returns with the mighty 'How To Get Your Record Played In Shops'. One way is naming your record that.
7 inches! We get a preview of

 
Saturday
 

with these two lil guys. Sufjan Stevens has a limited EP called 'Tonya Harding', and Jesse and the Wolf deliver 'Selecta', which features Ghostface and Juelz Santana.
Drinks are back! The bubbly duo of Cate le Bon and Tim Presley drop their 2nd record of helium-filled DIY pop. It rules. No less a stunner is the latest from Christina Vantzou, the dense ambient arranger delivers her 4th album, with assists from members of Forma and Emeralds. Gorgeous!
More new releases this week from Post Animal, Alexis Taylor, Kimbra, Uranium Club, Joshua Hedley, Old Crow Medicine Show, Charli XCX, Walter 'Wolfman' Washington, Ashley Monroe, and Marcia Ball!
Some fine raps in the house this week. Prhyme's huge sophomore album '2' is now here on vinyl, as well as a slighty-delayed LP version of the new Dr. Octagon release, LPs and CDs from Defari, the Nonce, and Smoke DZA, plus a truly incredible 2CD set from Oakland-based DJ Platurn, who has investigated his ancestral homeland of Iceland for many years, compiling this expansive set of rare disco, funk, and unexpected breaks.
New jazz this week from Ryan Porter, John Zorn, and Terence Blanchard, plus a vinyl reissue of Gil Evans-collaborator Billy Harper's 1973 Strata East debut 'Capra Black'.
Reissues aplenty this week, including the Black Lips' self-titled debut, the Promise Ring's 1997 classic 'Nothing Feels Good', a 10th anniversary edition of Rogue Wave's classic 'Asleep at Heaven's Gate', Poison's tongue-heavy 'Open Up and Say Ahh!', Felt's spectral 1982 debut 'Crumbling the Antiseptic Beauty', and a 45th anniversary vinyl pressing of David Bowie's 'Aladdin Sane' on silver vinyl.
Folk reissues from far and farther this week: two great LPs from Bert Jansch, 'A Rare Conundrum' and 'Santa Barbara Honeymoon', plus two spectacular Japanese folk reissues from Yasumi No Kuni and Tetsuo Saito, the latter of which was featured on last year's stellar 'Even A Tree Can Shed Tears' compilation.
Couple big ones from Who-ville this week! First up is a huge 2CD or 3LP version of 'Live at the Fillmore East 1968', and then we've got a greatly expanded version of Pete Townshend's 1972 solo debut 'Who Came First'.
The Afro7 label delivers two incredible new LPs this week. 'Light & Sound of Mogadishu' compiles a slew of 45-only tracks showcasing some classic Somalian cuts that vary between haunting traditional folk and blazing psych funk. Killer sound quality on this one, and loving packaging! We've also got an LP of contemporary Afro-rock from the Scorpios, a band of Sudanese musicians now living in London, which channels tradition Sudanese forms with notes of funk, synthesizer, and Arabic rhythms. Truly blissful stuff here. Back again is the one of a kind album 'My Ancestors' by Chrissy Zebby Tembo and the Ngozi Family, which has already seen a couple small represses become quite scarce. Originally released in 1976, there's simply nothing else out there like this one. Plenty of other great records emerged from the Zamrock scene of Zambia, but 'My Ancestors' is the one you can take with you into the afterlife. It sounds like a Central African 'Loaded', but better than that!
A pair of sweet compilations this week. Numero follows up their RSD release of a few years back with a sequel to 'WTNG 99.9 FM', and it's chock full of soft-rock, melodic downer, private funk, and amateur yacht rarities. The Hobo Camp label drops 'Night Palms' upon us, a killer selection of contemporary modern funk, electro-hop, retro-futurist boogie and (gulp) chillwave from names like Brian Ellis, XL Middleton, and Moon B.
Two very different soundtracks hit the racks this week: the trippy, unending score to 90s videogame 'After Burner II' is here, and the lush, transporting, and elegant soundtrack to 'The Phantom Thread', composed by Jonny Greenwood.
We wrap with some serious stunners in the ambient and experimental realms. Leftfield ambient-dance unit Entourage released a couple of rare LPs in the 70s mostly known for being sampled by Four Tet, and now we have an LP of unreleased jams that is an incredibly deep trip. On the 30th anniversary of its release, Steve Roach's 'Dreamtime Return' is back on vinyl, offering us a new chance to experience what could easily be the total pinnacle of the new age genre as listening experience. The Etats-Unis label has unearthed some sound-art rarities that are better heard than described. We've got Annea Lockwood's 'Glass World', John Duncan's 'Organic', and Remko Scha's 'Machine Guitars', all on extremely limited clear vinyl. Sample and hold, dudes.
USED VINYL ALERT:
Heading downstairs for this week's used vinyl alert, we've got a delicious spread for you to complement this week's phenomenal selection of new releases, and to whet your appetite for a massive haul rolling out on Saturday. It may be the week of Record Store Day, but first of all it's Friday which means fresh used records, 52 weeks of our year.
Check out deep and classic jazz from John Coltrane, Miles Davis, Buddy Rich, Dave Brubeck, Max Roach, John Lewis, Sonny Terry, Oliver Nelson, Kenny Burrell, George Duke, Herbie Hancock, Hugh Masekela, Muhal Richard Abrams, Sonny Rollins, Charles Mingus, Mal Waldron, Roscoe Mitchell, Rahsaan Roland Kirk, and Egberto Gismonti.
Plenty of classics in the house from Bob Dylan, Neil Young, the Beatles, plus some Lennon/Ono collectibles, Pearl Jam, Pink Floyd, Shuggie Otis, Dennis Wilson, Roxy Music, Rush, the Who, the Grateful Dead, and Fleetwood Mac.
Scores upon scores of contemporary indie, pop, rock, and electronic from names lpike Grizzly Bear, the New Pornographers, Destroyer, Fucked Up, Sonic Youth, the Decembrists, Tortoise, the Shins, Ratatat, Portishead, Pinback, Outhud, Explosions in the Sky, Toro Y Moi, Tame Impala, the Strokes, Interpol, the Field, Pantha Du Prince, LCD Soundsystem, Beck, Washed Out, Andrew Bird, Titus Andronicus, Car Seat Headrest, Sigur Ros, Fleet Foxes, Olivia Tremor Control, and Big Thief!
Some crucial 80s jernts this go-round from the Talking Heads, X, Metallica, Joy Division, the Smiths, Byrne/Eno, Duran Duran, and Ministry, plus some fine soundtracks in the Star Trek and Lord of the Rings realms, and some blues musts from Mississippy John Hurt and Howlin Wolf.
We wrap up with some fine funk and soul from Otis Redding, Outkast, Parliament, A Tribe Called Quest, Sam Cooke, RIck James, Don Covay, Betty Davis, Solomon Burke, Little Richard, Booker T, Bootsy Collins, Nina Simone, and the almighty Earth Wind and Fire!
RECORD STORE DAY - APRIL 21, 2018: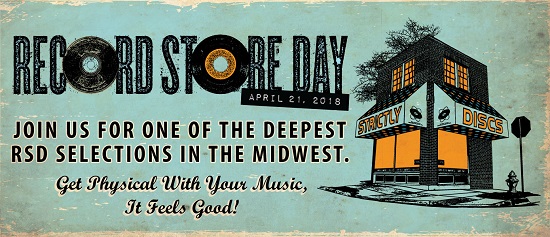 Launched in 2007 with the humble idea to recognize independent record stores, Record Store Day (RSD) has mushroomed ever since. The RSD list of LP and CD exclusives continues to expand, while more labels continue to throw open their catalogs to an appreciative customer base.

Beyond the day-long frenzy, RSD exists to offer proof of the lively role record stores play in the community and a chance for folks on both sides of the counter to offer gratitude for each other. Whether you're a hardcore type who times their arrival for a spot at the front of the line or somebody who waits until the afternoon for a more leisurely experience, we hope you'll join us on Saturday, April 21.
RSD AT STRICTLY DISCS:
It's true, on Record Store Day there's typically a line outside the shop all morning, just as there is at hundreds of other local shops across the country (and the world). But walk through this line, and you'll find ardent music fans of every stripe: young, old, male, female, seasoned pro and beginners. The line has come to symbolize the size, passion and staying power of both the physical music audience and the locally-oriented music community. Amidst the RSD crowds, we've seen musicians discussing upcoming gigs and tours, knowledgeable jazz heads giving high schoolers tips on the essentials, people meeting up for the first time "in real life" or for the first time in a decade, parents buying their kids their first new LPs, or better yet, a huge stack of 99 centers.
BUT FOR ME, EVERYDAY IS RECORD STORE DAY:
With all of the hubbub about "The Line" each year at Record Store Day, we thought it would be nice to remind everyone that your RSD experience doesn't just boil down to how early you line up. Each year, we've gotten better and better at targeting the items that are the most in-demand, so that we have as many copies as possible to go around, and also ensuring that we have the broadest selection of everything that's available. In short, we want to make sure that whether youre busting down the door at 7 am, or rolling in by the end of the day, you're still looking at quite the spread. In some degree, this day is about our regular customers, for whom just about every day is Record Store Day, and we want you to know you are welcome to stop through any time. Enjoy the digs, the beers, the sounds of the local DJs, and just hang out!
WHAT IS HAPPENING AT STRICTLY DISCS ON RSD:
As you know, Record Store Day is a day crammed full of records, so naturally we've got a schedule crammed full of entertainment for your listening and imbibing enjoyment as you browse all of the many new arrivals. We'll have DJs from both of our cherished local stations, WSUM and WORT, as well as esteemed vinyl selectors from a few of our favorite local musicians:

7-8:30AM Emili Earhart, pianist and collaborator - ambient and early morning music
8:30-10AM Chali Pittman, WORT/The Punk Kitten - post-punk
10AM-NOON Nate Zukas, downtown DJ and Great Dane brewer - disco and house
NOON-1:30PM Ian Carroll aka Knowsthetime - funk, soul and breaks
1:30-3PM DJ Renton, WSUM - garage and psych
3-4:30PM Glynis Fisher, downtown DJ - chilled house
4:30-6PM Amos Pitsch, Tenement and Dusk - dollar bin gold


Our doors open at 7AM!
AND SPEAKING OF WHEN THE DOORS OPEN...
The morning will get started right this year with FREE TREATS courtesy of our neighborhood friends.



Barriques is cooking up our traditional chili-rubbed, half-dipped in chocolate bacon. Bloom Bakery is bringing over one of their specialties, sweet potato doughnuts, and Colectivo is supplying the caffeine with free hot coffee! Things are looking up!

Plus, El Grito will roll in from 10AM-NOON selling their amazing (breakfast) tacos!


STRICTLY DISCS/RSD SPECIALTY BEER:
Every year The Great Dane collaborates with Strictly Discs to brew a beer in celebration of Record Store Day. Embracing the sprit of Record Store Day & the Monroe Street road construction project, the Great Dane is serving up the Bullzdozer Blonde Ale here on April 21st starting at 7AM!
USED VINYL ALERT:
In addition to the spread of Record Store Day exclusives, we will also be celebrating with a very special selection of 1000+ fresh used records. The record gods have smiled on us with some exciting finds just in time for the holiday, and we will be culling from these recent collections for a batch of records going out on Saturday the 21st. More details about this round of LPs will go out in the final email before RSD.
NEW BELGIUM BEER TASTING:
 

From Noon-2PM, Neal from New Belgium Brewery will be here pouring up a variety of their award winning beers!

PLUS

Loaded grab bags (while supplies last) FREE with every RSD purchase
PLUS


Enter to win AWESOME prizes, including:


Audio Technica Turntable, Pro-Ject Turntable, Kanto Powered Speakers, Record Sleeves & Crates

Gift Certificates & Prize Packs from our friends & neighbors at: Hive, Pizza Brutta, The Great Dane, Brasserie V

Oodles of concert tickets from the good folks at Majestic Madison and High Noon Saloon
Autographed Booze & Vinyl book by Andre & Tenaya Darlington


PLUS MUCH MUCH MORE!
THANK YOU TO OUR PARTNERS:
WHO SUPPORT PHYSICAL MUSIC & RECORD STORE DAY:



THE LIST:
For all details on pressing quantities, production credits, alternate versions, color vinyl, and other record datum, please refer to the Official Record Store Day list of releases, located at www.recordstoreday.com
CANCELLED RSD TITLES:
Andrew Oldham Orchestra - Rolling Stones Songbook

The Bird & The Bee - Interpreting The Masters
A FEW REMINDERS:
We do not buy used CDs or LPs on Record Store Day.
We do not accept coupons on Record Store Day.
Record Store Day titles do not count towards the Buy 12 Get 1 Free program.

Record Store Day items are limited to one per person.
MONROE STREET CONSTRUCTION UPDATE:
Remember Y2K? The Mayan apocalypse? The Swing revival? It seemed like we might not make it to the other side of those events as they loomed before us, but we're fine. And so, Monroe Street construction has begun, and the disruption it has wracked upon our lives…is not that bad. Really.
We've got helpful directions on our site involving a couple of side streets and gentle re-routing. You can still get here, just consult the map of your choice and give yourself a little extra time.
We'll still be putting out a minimum of 500 incoming used records out every Friday and we'll keep bringing in today's freshest titles. While you're here, make it count and pay a visit at one of our friends in the neighborhood. Even when a bit of dust kicks up, we like it here, and it's gonna look even better when all this pounding is done!
DIRECTIONS FROM REGENT/EAST:
From Regent Street:
Continue on Regent through the Monroe St intersection
Turn Left on SPOONER ST
Turn Right on West Lawn or Keyes
Turn Left on Harrison St.
We are on the corner of Harrison & Monroe Streets (the street level parking lot outside of the Trader Joe's doors is a public City of Madison lot & the side streets all have FREE 2 hour parking.
MONROE STREET IS OPEN FROM THE WEST
SELL US YOUR CDS & LPS:
NEXT MUSIC TRIVIA TUESDAY MAY 8TH:
Our next MUSIC TRIVIA at the High Noon Saloon is Tuesday, May 8th. Registration starts at 5:30 with the first question from Angie and Marty at 6PM. Save the date for June 5th and July 10th!

Ron, Ryan, Angie, Marty, Evan, Matt, Michael, Ben, Will, Ed & Isaac