Countdown to Record Store Day 2018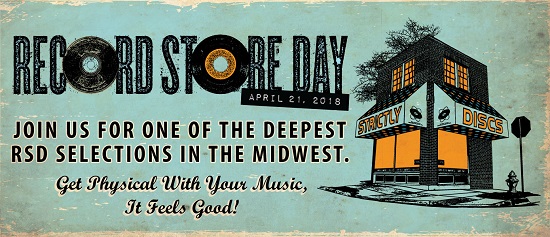 Launched in 2007 with the humble idea to recognize independent record stores, Record Store Day (RSD) has mushroomed ever since. The RSD list of LP and CD exclusives continues to expand, while more labels continue to throw open their catalogs to an appreciative customer base.

Beyond the day-long frenzy, RSD exists to offer proof of the lively role record stores play in the community and a chance for folks on both sides of the counter to offer gratitude for each other. Whether you're a hardcore type who times their arrival for a spot at the front of the line or somebody who waits until the afternoon for a more leisurely experience, we hope you'll join us on Saturday, April 21.
RSD AT STRICTLY DISCS:
It's true, on Record Store Day there's typically a line outside the shop all morning, just as there is at hundreds of other local shops across the country (and the world). But walk through this line, and you'll find ardent music fans of every stripe: young, old, male, female, seasoned pro and beginners. The line has come to symbolize the size, passion and staying power of both the physical music audience and the locally-oriented music community. Amidst the RSD crowds, we've seen musicians discussing upcoming gigs and tours, knowledgeable jazz heads giving high schoolers tips on the essentials, people meeting up for the first time "in real life" or for the first time in a decade, parents buying their kids their first new LPs, or better yet, a huge stack of 99 centers.
BUT FOR ME, EVERYDAY IS RECORD STORE DAY:
With all of the hubbub about "The Line" each year at Record Store Day, we thought it would be nice to remind everyone that your RSD experience doesn't just boil down to how early you line up. Each year, we've gotten better and better at targeting the items that are the most in-demand, so that we have as many copies as possible to go around, and also ensuring that we have the broadest selection of everything that's available. In short, we want to make sure that whether youre busting down the door at 7 am, or rolling in by the end of the day, you're still looking at quite the spread. In some degree, this day is about our regular customers, for whom just about every day is Record Store Day, and we want you to know you are welcome to stop through any time. Enjoy the digs, the beers, the sounds of the local DJs, and just hang out!
WHAT IS HAPPENING AT STRICTLY DISCS ON RSD:
As you know, Record Store Day is a day crammed full of records, so naturally we've got a schedule crammed full of entertainment for your listening and imbibing enjoyment as you browse all of the many new arrivals. We'll have DJs from both of our cherished local stations, WSUM and WORT, as well as esteemed vinyl selectors from a few of our favorite local musicians:

7-8:30AM Emili Earhart, pianist and collaborator - ambient and early morning music
8:30-10AM Chali Pittman, WORT/The Punk Kitten - post-punk
10AM-NOON Nate Zukas, downtown DJ and Great Dane brewer - disco and house
NOON-1:30PM Ian Carroll aka Knowsthetime - funk, soul and breaks
1:30-3PM DJ Renton, WSUM - garage and psych
3-4:30PM Glynis Fisher, downtown DJ - chilled house
4:30-6PM Amos Pitsch, Tenement and Dusk - dollar bin gold


Our doors open at 7AM!
AND SPEAKING OF WHEN THE DOORS OPEN...
The morning will get started right this year with FREE TREATS courtesy of our neighborhood friends.



Barriques is cooking up our traditional chili-rubbed, half-dipped in chocolate bacon. Bloom Bakery is bringing over one of their specialties, sweet potato doughnuts, and Colectivo is supplying the caffeine with free hot coffee! Things are looking up!

Plus, El Grito will roll in from 10AM-NOON selling their amazing (breakfast) tacos!


STRICTLY DISCS/RSD SPECIALTY BEER:
Every year The Great Dane collaborates with Strictly Discs to brew a beer in celebration of Record Store Day. Embracing the sprit of Record Store Day & the Monroe Street road construction project, the Great Dane is serving up the Bullzdozer Blonde Ale here on April 21st starting at 7AM!
USED VINYL ALERT:
In addition to the spread of Record Store Day exclusives, we will also be celebrating with a very special selection of 1000+ fresh used records. The record gods have smiled on us with some exciting finds just in time for the holiday, and we will be culling from these recent collections for a batch of records going out on Saturday the 21st. More details about this round of LPs will go out in the final email before RSD.
NEW BELGIUM BEER TASTING:


From Noon-2PM, Neal from New Belgium Brewery will be here pouring up a variety of their award winning beers!

PLUS

Loaded grab bags (while supplies last) FREE with every RSD purchase
PLUS


Enter to win AWESOME prizes, including:


Audio Technica Turntable, Pro-Ject Turntable, Kanto Powered Speakers, Record Sleeves & Crates

Gift Certificates & Prize Packs from our friends & neighbors at: Hive, Pizza Brutta, The Great Dane, Brasserie V

Oodles of concert tickets from the good folks at Majestic Madison and High Noon Saloon
Autographed Booze & Vinyl book by Andre & Tenaya Darlington


PLUS MUCH MUCH MORE!
THANK YOU TO OUR PARTNERS:
WHO SUPPORT PHYSICAL MUSIC & RECORD STORE DAY:



THE LIST:
For all details on pressing quantities, production credits, alternate versions, color vinyl, and other record datum, please refer to the Official Record Store Day list of releases, located at www.recordstoreday.com
CANCELLED RSD TITLES:
Andrew Oldham Orchestra - Rolling Stones Songbook

The Bird & The Bee - Interpreting The Masters
A FEW REMINDERS:
We do not buy used CDs or LPs on Record Store Day.
We do not accept coupons on Record Store Day.
Record Store Day titles do not count towards the Buy 12 Get 1 Free program.

Record Store Day items are limited to one per person.