Email April 12, 2018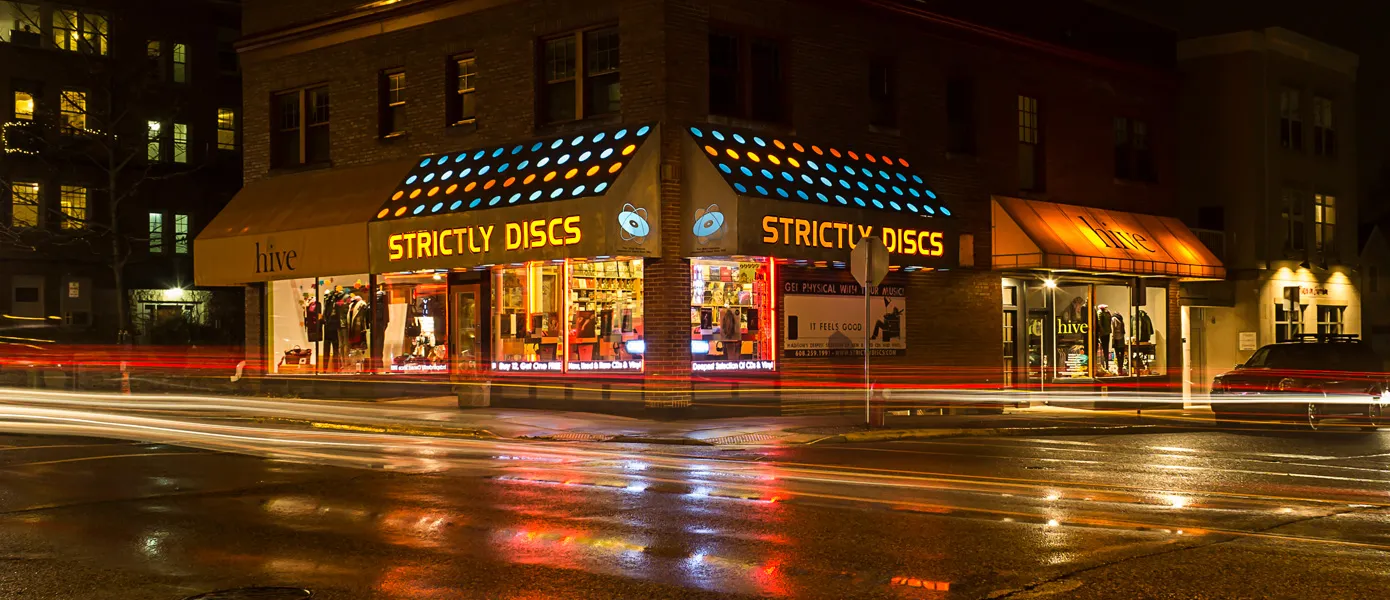 APRIL 12, 2018:
NEW THIS WEEK AT THE SHOP:


Treasure of American songwriting John Prine steps into timelessness with his eagerly-awaited new album 'The Tree of Forgiveness', his first record of original material in 13 years. Prine's irascible voice, unmistakable tonal character, and near-universal lyrical content are all on full display on this remarkable album, which finds him joined at moments by Jason Isbell, Brandi Carlile and other heirs to his storytelling acumen. We've also got a new album from ambidextrous garage whiz King Tuff on CD and loser edition vinyl, which is 'rainbow marble' colored, plus a cool signed litho to give away to the first person to snatch this one up. Additional new releases this week come from Josh T Pearson, The Moondoggies, Bush Tetras, and Beth Hart!


A complete accounting of the oddball 80s pop of any given country is a tall order, let alone that of an entire continent. Nonetheless, the Music From Memory label has accomplished quite the overview of unclassifiable European nuggets with their latest compilation 'Uneven Paths'. Much like last year's 'Outro Tempo' revealed several hidden facets of the Brazilian fringe, this massive compilation reaches into several Continental nooks and crannies, and finds many, many jams there. The only names here that come close to "household" status are Bill Nelson, Brenda Ray, and Steve Beresford (maybe that's just my house?), while the rest of this vast set is filled in with acts like Tony Hymas, the Stroer Duo, Nonobstant, Pete Brandt's Method, and the Lost Gringos. Jazzy synth-pop, fake reggae, bizarre disco, and quirky seaside folk populates this set, which unfolds forever like some parallel universe's top 40. On that note, we have a reissue of the debut LP from the Eurythmics - 1981's 'In The Garden'. Released before they found mainstream acclaim with 'Sweet Dreams', this LP finds the duo of Annie Lennox and Dave Stewart dabbling in a dreamy, if discordant flavor of synthetic postpunk, produced by Devo/Kraftwerk engineer Conny Plank. 'In The Garden' remains a strangely unheralded album, owing partially to the mega-hit status of their later LPs which more prominently featured Lennox's voice-as-instrument, but it's long been one of my favorite records.


New York guitar entropists A Place To Bury Strangers deliver their first album in a couple years; 'Pinned' is available on CD and limited edition colored vinyl with a bonus EP. We've also got a reissue of the stunning debut album from the New Orleans drone duo Belong. 'October Language' came out in 2006 (whoa) and helped launch a new wave of appreciation for heavy, transcendent ambient music with a noisier underbelly. This one's never been easy to find on vinyl until now.


Couple big'ns here. Metallica's long out of print raw r'n'r job 'The $5.98 EP - Garage Days Re-Revisited' is here on CD and LP (priced just slightly higher than $5.98), and we have a second volume of music from the Baby Driver soundtrack.


We've got a new album from the not-boyfriend material Mpls rapper Prof. 'Pookie Baby' brings tons of Prof's classic, clever delivery, and purports to show a "different side" of the rapper. Hopefully that doesn't mean what I think it means. We've also got a new EP from producer/crooner/world-beater The Weeknd and it's called 'My Dear Melancholy' (might be time to increase your dosage, dude), plus new CDs from Calvin Valentine and Tinashe.


Two lovely entries in the "aint heard of this" department this week. Berlin-based Eve Essex's 'Here Appear' is an extremely captivating set of ambient, close-to-the-bone folk that reminds me of Grouper and Julianna Barwick, while L.A. Salami's 'The City of Bootmakers' is a more aggressive brand of noisy folk that takes on some heavy lyrical topics and succeeds in covering them in fresh ways.


Reissues! We've got David Bowie's compilation companion 'ChangesTwoBowie' and Bad Religion's 'The Gray Race'.


Two heavy experiences from a new generation of composers hit us this week. Vibraphonist Sarah Hennies recorded 'Embedded Environments' in an upstate NY grain silo, and her usage of the acoustics of this space is something to behold. Same goes for UK cellist Lucy Railton, whose debut for Modern Love, 'Paradise 94', runs rampant through several resonant dimensions, from weightless glissandos, to dissonant, tactile R&B, to near-hymnal organ. Whew!


Unsung guitar champs! We've got an expanded CD reissue of the last album from Sandy Bull called 'Steel Tears', and a very interesting archival release from Belgian experimentalist Daniel Malempre, better known as M.A.L. The story here goes that Malempre mailed a tape of guitar expressions to Ash Ra Tempel mainman Manuel Gottsching's label shortly before Manuel released his landmark 1975 album 'Inventions For Electric Guitar', which sounds very, very similar to the music on those tapes, released now as 'My Eight Little Planets'. Rather than settle some decades-old beef, however, lets just enjoy the tunes, which are excellent excursions in spacy, ambient guitarscapes.


Four delicious records from the world over this week remind us that the sun never, ever sets on the groove. Erkin Koray - the Hendrix of Turkey - sees a fresh printing of his career-spanning comp 'Arap Saci', a 2LP set full of psych-drenched cult-saz. In his 6th decade of music making, Nigeria's Ebo Taylor delivers what could be his strongest record ever, a lively mix of highlife and afrobeat. Brazilian duo Burnier & Cartier see their 1974 eponymous album finally reprinted. This one's a real doozy, if you dig sundrenched latin funk mixed with your samba. Last up is a new pressing of Bernard Wright's 'Nard', his firey 1981 debut that blended jazz-funk with disco and elements of early break-oriented hiphop.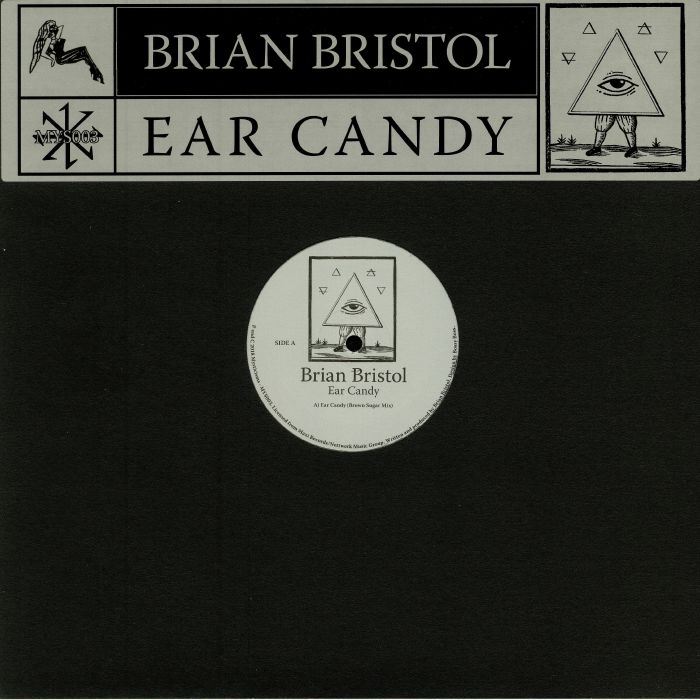 On the electronic and dance front, we've got a great new compilation curated by world-class DJ Hunee which runs from ambient to afro-trad to wonky deep house, a lovely reissue of Brian Bristol's 1997 rootsy house gem 'Ear Candy', plus new records from Ilija Rudman, Neue Grafik, Sandro Mussida, and a fresh pressing of Huerco S' modern ambient classic 'For Those Of You Who Have Never (And Also Those Who Have)'.
USED VINYL ALERT:
Heading downstairs for this week's Used Vinyl Alert, we've got some real winners with which to welcome your weekend. Sure, we've got winners every week, you might be thinking (and thank you for thinking that, if you are thinking that), but there's a real special crop this time around! We run the gamut from lovely classical and early jazz, to records that were just released a couple of weeks ago.
Let's start with the most recent ones this time around, since we usually save those for last. This week's haul includes LPs from Beck, Kurt Vile, Wilco, Mac Demarco, Green Day, the Foo Fighters, Brand New, the Black Keys, Andrew Bird, Washed Out, the Beat Connection, Dosh, Akron/Family, and MGMT, with some heavier business from the Black Label Society, Queens of the Stone Age, Faith No More, Marilyn Manson, Avenged Sevenfold, Carach Angren, and Nine Inch Nails. A couple fairly rare pressings in this bunch!
The classics never go out of style, and we've got em in vast quantities this week. Frank Zappa, Fleetwood Mac, Paul Simon, CSNY, the Rolling Stones, Tom Petty, Bob Dylan, Neil Young, Lou Reed, and Pink Floyd, plus a whole lot of Beatles including quite a few boots! Further down the line, check out nice ones from the Messengers, Aerosmith, Van Dyke Parks, Todd Rundgren, Bruce Springsteen, Bob Seger, the Scorpions, Kiss, Left Banke, Can, Thin Lizzy, Uriah Heep, Fever Tree, Queen, KISS, and many, many more.
Punk, new wave, and other 80s creatures roll in from the Church, the Smiths and Morrissey solo, the Clash, OMD, Peter Gabriel, the Ramones, Joy Division, U2, the B52s, Bauhaus, Ultravox, Prefab Sprout, and James White. On the heavier end of the spectrum, we've got Dokken, Van Halen, Armored Saint, Jane's Addiction, Black Sabbath, Rainbow, Whitesnake, Winger, Grim Reaper, Saxon, AC/DC, Metallica, Widow, Raven, and Motley Crue.
Some very solid jazz this week from Art Blakey, Oscar Peterson, Count Basie, Miles Davis, John McLaughlin, Herbie Hancock, Bill Evans, Duke Ellington, Hugh Masekela, Charles Mingus, Harry Edison, McCoy Tyner, Bobby Hutcherson, and Kenny Dorham.
Our blues is seriously blazing this week! Some must-own, rarely-seen titles this time from Lowell Fulsom, James Cotton, Clay Hammond, BB King, Johnny Jenkins, Little Richard, Johnny Winter, Albert Collins, John Mayall, JB Lenoir, Fred McDowell, Chicago Slim, and Muddy Waters!
Lots of staples of your soul and R&B diet this week, plus a nice mix of unusual and obscure ones. Check out LPs from Sly Stone, Barry White, Chic, Lee Dorsey, Saul Williams, Donald Byrd, Rick James, Melba Moore, Chairmen of the Board, the New Birth, Prince, Wilson Pickett, Osibisa, Sam Cooke, Trouble Funk, the Isleys, Fonzi Thornton, Big Daddy Kane, Childish Gambino, Earth Wind and Fire, Kanye West, Slave, Skyy, Sade, Michael Jackson, Maze, and Leroy Hutson!
Finally, we close out with some killer soundtracks, sound effects LPs, picture discs, childrens records including some Raffi Deep Cuts, reggae from Marley, Tosh, Inner Circle, and Yellowman, and some classic and strange electronic/ambient records from Sugai Ken, Fever Ray, the Knife, Aphex Twin, Terry Riley, Kraftwerk, Kevin Saunderson, Andy Votel, CFCF, Ben Frost, and Grouper!
RECORD STORE DAY - APRIL 21, 2018: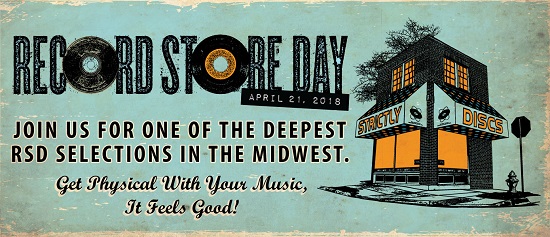 Launched in 2007 with the humble idea to recognize independent record stores, Record Store Day (RSD) has mushroomed ever since. The RSD list of LP and CD exclusives continues to expand, while more labels continue to throw open their catalogs to an appreciative customer base.

Beyond the day-long frenzy, RSD exists to offer proof of the lively role record stores play in the community and a chance for folks on both sides of the counter to offer gratitude for each other. Whether you're a hardcore type who times their arrival for a spot at the front of the line or somebody who waits until the afternoon for a more leisurely experience, we hope you'll join us on Saturday, April 21.

STAFF PICKS:
We've now updated our list of Record Store Day exclusives with our staff picks.

THE LIST:
For all details on pressing quantities, production credits, alternate versions, color vinyl, and other record datum, please refer to the Official Record Store Day list of releases, located at www.recordstoreday.com

Changes and additions to this list are likely, leading all the way up until the big day, and will be reflected on our list as we receive them. If you see a RSD release that does not appear on this list, don't hesitate to email or call to see if it will be available!
THE LIST IS NOW AVAILABLE HERE!


We have a bundle of good stuff planned for RSD; please look for an email with the full rundown of our planned festivities this weekend!
MONROE STREET CONSTRUCTION UPDATE:
Remember Y2K? The Mayan apocalypse? The Swing revival? It seemed like we might not make it to the other side of those events as they loomed before us, but we're fine. And so, Monroe Street construction has begun, and the disruption it has wracked upon our lives…is not that bad. Really.
We've got helpful directions on our site involving a couple of side streets and gentle re-routing. You can still get here, just consult the map of your choice and give yourself a little extra time.
We'll still be putting out a minimum of 500 incoming used records out every Friday and we'll keep bringing in today's freshest titles. While you're here, make it count and pay a visit at one of our friends in the neighborhood. Even when a bit of dust kicks up, we like it here, and it's gonna look even better when all this pounding is done!
DIRECTIONS FROM REGENT/EAST:
From Regent Street:
Continue on Regent through the Monroe St intersection
Turn Left on SPOONER ST
Turn Right on West Lawn or Keyes
Turn Left on Harrison St.
We are on the corner of Harrison & Monroe Streets (the street level parking lot outside of the Trader Joe's doors is a public City of Madison lot & the side streets all have FREE 2 hour parking.
MONROE STREET IS OPEN FROM THE WEST
SELL US YOUR CDS & LPS:
NEXT MUSIC TRIVIA TUESDAY MAY 8TH:
Our next MUSIC TRIVIA at the High Noon Saloon is Tuesday, May 8th. Registration starts at 5:30 with the first question from Angie and Marty at 6PM. Save the date for June 5th and July 10th!
OTHERS TALK BACK:
This isn't the spot to lay down odds on the third race. OTB is where Others Talk Back and give you the lowdown on what they've been feeling lately. This one's for the customers.
Son Volt – "The Search" This reissue of their 2007 release was the album right after their classic "Okemah and the Melody of Riot" It still retains some of the magic that made "Okemah" one of the high points of the band's twenty-four year career. On "The Search" Son Volt decided to mix things up sonically this time around. They departed from their usual safe place and took chances that they wouldn't have taken before. It seems that they band hit a high point during the middle of the last decade they haven't touched since then. This reissue comes with a second disk of outtakes that certainly illustrates how hard it must have been to pick out the running order of the original album from all the music that was recorded during the sessions.
Sloan – "12" Yes, this is the band's twelfth album. This little power pop band from Nova Scotia has been quietly chugging away for twenty-six years without much popular support. They have had many highs and lows in those intervening years. And "12" is one of those high points. The band somehow got their mojo back and made another power pop classic. "12" ranks up there with some of their classic albums from ten and twenty years ago. I really hadn't expected much from another Sloan album prior to listening to this one. I am certainly glad that I listened.
Diet Cig – "Overeasy" Diet Cig's's 2017 debut "Swear I Am Good At This" has to be one of the pleasures of last year. The guitar/drums duo somehow made something very appealing out of the sometimes tired pop-punk formula. Maybe it is because guitarist Alex Luciano is a human riff-master, endlessly pulling out classic riffs and songs out of the air. Or it could be her way too confessional and often risqué lyrics that are what makes them great. Regardless of the reason, Diet Cig are a band to watch for in the foreseeable future. "Overeasy" is a reissue of their first ep from 2014. The music is just a bit rawer than the new stuff, but still as good as what would come in the future. I don't think that one can totally appreciate Diet Cig without "Overeasy." This ep is defiantly a seminal recording in their very short discography.

Ron, Ryan, Angie, Marty, Evan, Matt, Michael, Ben, Will, Ed & Isaac