Email April 5, 2018
APRIL 5, 2018:
NEW THIS WEEK AT THE SHOP:


Two titans of American popular song get a look through a fresh lens this week. We have 'The Searcher', the soundtrack to the new Elvis Presley documentary by the same name, which also comes in a deluxe 3 disc package with a slew of extra material. 'Forever Words' sees a private stash of unpublished Johnny Cash lyrics put into song by a great cast of current heroes, like Chris Cornell (RIP), Rosanne Cash, Kacey Musgraves, and many more.


Two indie acts that just get better with age have new albums this week. Baltimore duo Wye Oak have come a long way in ten years, and 'The Louder I Call, The Faster It Runs' is our favorite album from them yet. They've moved away from their folky origins, but those arrangements remain, surrounded by they are by brighter-than-bright synth, and Jenn Wasner's gloriously flexible voice. Since we, and you, are extra special, we've got this one on "sand and sky" colored vinyl AND/OR on black vinyl with a cover signed by the band. Next up is Auckland's Unknown Mortal Orchestra, who keep things topical with their slick and suave 4th album 'Sex & Food'. Vinyl on that one is pink.


Indie rockers Hop Along grow their sound a bit with their new one 'Bark Your Head Off, Dog' (great title), which we have on limited orange vinyl. I hear a bit of UK folk revival here ala Fairport, or more recently Meg Baird. Next up is an awesome tribute comp from Merge called 'I Only Listen to the Mountain Goats', which sees an allstar cast covering the MG's seminal 90s album 'All Hail West Texas', available on pink and blue vinyl for now!


Sound-finder, co-founder of The Books and sometime-SD-dollar-bin-raider Paul de Jong brings us a delightful new solo album called 'You Fucken Sucker', which might make you think he's gone down some kind of crustpunk rabbit hole. Not the case. YFS amalgamates sounds from countless settings and formats in a spastic suite of crowd-sourced pop, packaged in a wonderful oversized sleeve that doubles as a beautiful poster. De Jong's always onto something new and this one's no different. Same goes for Mind Over Mirrors, the rapidly-evolving project of Chicago composer Jaime Fennelly. 'Bellowing Sun' is a stunningly gorgeous album of motorik psych/ambient constructed around Fennelly's harmonium and guest playing from members of Tortoise, Iron and Wine, and Milwaukee hero Jon Mueller.


New jazz this week from Jacob Bro, Arild Andersen, and a new collab from Joe Lovano and Dave Douglas. New rap is in from E-40, far-out noise rappers Moodie Black, Blakean producer Tom Misch, and Lil Xan, who makes me want to call my mother.


In the "Wait, what year is it?" department, we have new albums from artists with serious longevity. Sloan deliver '12', their first album in five years, and Kylie Minogue is back with a new album that comes packaged with a hardbound book, presumably full of pictures of Kylie. No complaints here!


Son Volt's hard to find and underappreciated 2007 album 'The Search' is back in print, and we've got a great new album from roots-rockers Blackberry Smoke. We've also got new releases from The Aces, Kittie, Paul Thorn, Underoath, Sarah Shook and the Disarmers, Rainbow Kitten Surprise, Goat Girl, Hinds, Mipso, the Eels, Island, and a new LP from Nonpareils, the solo project of Aaron from Liars.


At last! One of the most in-demand vinyl releases of the 21st century is here in an entirely official capacity: 'Demon Days' by Gorillaz. Get it before it's gone again and you're stuck dropping a month's rent on eBay for a copy. We've also got fresh legit reissues of Blue Cheer's 'Vincebus Eruptum' (the first heavy metal album, some say) and Sly Stone's 'There's a Riot Goin On'.


Australian sound innovator Oren Ambarchi's album 'Grapes From the Estate' has been considered a pinnacle of the "prepared guitar" genre ever since it's release in 2004, but long out of print on vinyl. Pick this one up and bathe in its rich, looping, disembodied guitar tones that lure you slowly out of temporal reality. No less the innovator is longtime folk hero Michael Chapman, who has never consented to the release of live material dating back as far back as this VPRO set goes; '6 Mei 1971' finds the guitar rambler near the end of his impeccable run of LPs for the Harvest label, playing vastly expanded versions of 5 songs from his catalog.


After selling out immediately due to widespread critical acclaim, we have copies of both recent albums by the 21st century dancehall collective Equiknoxx. 'Bird Sound Power' and 'Colón Man' deliver on the 21st century legacies of dancehall, juke, and hand-punched techno, conjuring a whole nother style of music I haven't heard anywhere else, on this planet at least. Just as intriguing is this new self-titled album from the group De Leon. No bio to speak of for these artists, which seems to be how they like it, but they really know their way around the intersections of dub, gamelan and modern maximalism.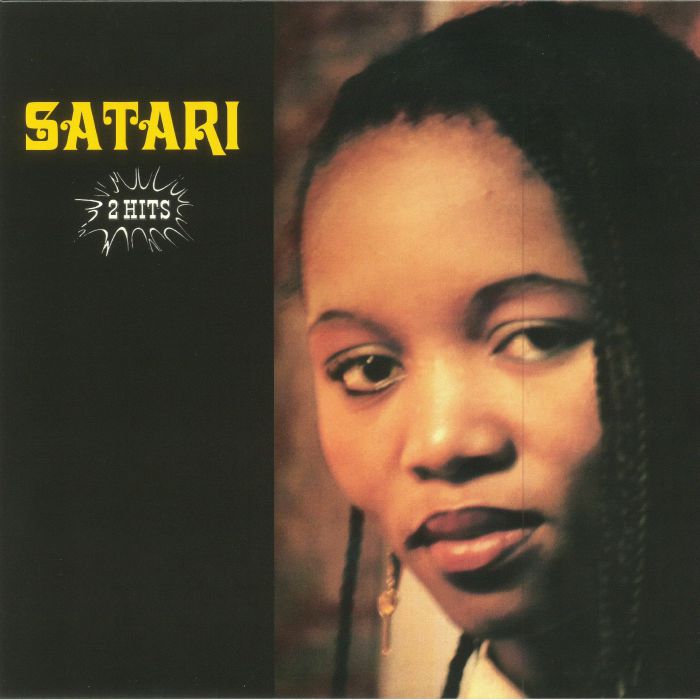 Couple killers in stock in the rare international funk category from Deke Tom Dollard and Satari, plus both volumes of the latest Spiritual Jazz compilation are here on vinyl, and a limited 'lightsaber green' vinyl copy of the crucial dub album 'Scientist and Jammy Strike Back'.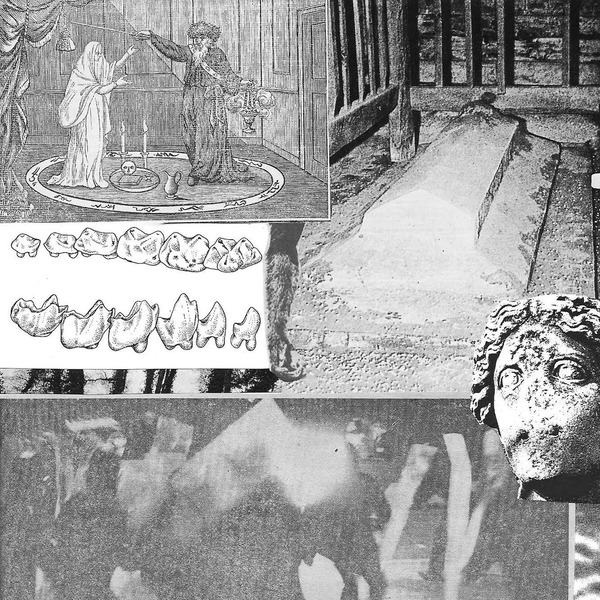 Canadian stripped-down house star Project Pablo has a killer, snappy new EP for Technicolour, while we get a sprawling new album from the tight-lipped Bristol post-post-post-dubstep crew Young Echo, that sounds like rubbing your eyes clear the morning after the apocalypse. Zola Jesus appends some additional tracks to her last album with 'Okovi Additions', which also boasts some sick remixes from Johnny Jewel, Katie Gately, and more. Other new arrivals in the electronic world this week include Daniel Avery, Rafiq Bhatia from Son Lux, Tom of England, Jamal Moss, Juju and Jordash, Sonae, and Kevin Drumm.
USED VINYL ALERT:
Heading downstairs for this week's USED VINYL ALERT, we have many exciting things in store for your digging pleasure, including some very deep forays into the worlds of hiphop, jazz and traditional Indian music.
If you've stopped through these past few weeks, you've probably beefed up your hiphop collection quite a bit. This week, we go even deeper, delving into a couple of old school DJ collections. Miami eletcro, booty bass, conscious rap, Southern/Texas rap, New York rap, boom bap, a little trap, and whatever Bubba Sparxxx is/was, from names like Jay Z, BDP, Project Pat, Cam'ron and associated Diplomats, Ghostface, Scarface, E-40, Cypress Hill, Slum Village, Dead Prez, KMD, J Dilla, Pete Rock, Del, G-Unit, Birdman, Lil Bow Wow, Xzibit, Bone Thugs, Ja Rule, Ludacris, Run DMC, Snoop Dogg, Beanie Sigel, Noreaga, Cee-Lo, and last but certainly not least, 2 Live Crew. Those are just the marquee names! We've got even more.
Jazz truly runs the gamut this week, from early bop and a very cool, comprehensive run of LPs on the affordable quality Pablo label, to spiritual/free 80s jazz. Names this week include, Ahmad Jamal, Milt Jackson, John Surman, Herbie Mann, Roland Kirk, John Coltrane, Miles Davis, Yusef Lateef, Thelonious Monk, Cedar Walton, Chico Freeman, Jimmy McGriff, Ramsey Lewis, Billie Holiday (including a very lovely box set), Dave Liebman, Jan Garbarek, Keith Jarrett, Archie Shepp, Abdullah Ibrahim/Dollar Brand, Les McCann, Hugh Masekela, and Charles Earland.
A sizable stash of Indian traditional LPs come our way this week. Aside from the big names like Ravi Shankar, Ali Akbar Khan, Alla Rakha, Asha Bhosle, Nikhil Banerjee, and the like, we have scores more LPs - nearly all of them hard-to-find original pressings from India - of classical and traditional folk/vocal music from the subcontinent. Violin, sitar, tabla, vina, sarod. All here. Some stunning cover art on these records and even more special music. We've also got a cool, scattered assortment of latin and South American LPs, and some crucial reggae from Lee Perry, Bob Marley, and Toots!
Some big ones in the land of rock this week from Fleetwood Mac, The Band, several from the Stones and the Who, including a very rare Who box set, Tom Petty, David Bowie, T-Rex, Bob Dylan, Tom Waits, Frank Zappa, CCR, Eric Clapton, Cheap Trick, the Cars, Badfinger, Tommy James, John Mayall, Rush, King Crimson, Peter Green, Harry Nilsson, Led Zeppelin, and The Eagles.
Taking a few steps forward, we've got heavy and wavey ones from the Clash, Wasp, Helloween, the Cure, the Feelies, the Runaways, the Lawrence Arms, Queensryche, and the Dead Kennedys.
Lots of lovely soul this week, including LPs from the Coasters, the Marvelettes, James Brown, Inez Foxx, Sam Cooke, Andrae Crouch, Earth Wind and Fire, Edwin Starr, the Temptations, Brook Benton, the Fatback Band, Bobby Womack, T-Connection, and the almighty Isley Brothers.
Country comes through from Willie Nelson, Johnny Cash, Waylon Jennings and Hank Williams, with some blues LPs from BB King and Muddy Waters. We have an interesting assortment of recentish downtempo, chillout house from names like Lord of the Isles, Professor Genius, and Claremont 56, plus some other LPs from Xymox, JM Jarre, and Steven Halpern. We top it off with some classic disco, a bunch of deeply nostalgic Disney records, and a whole lot of soundtracks, including Shaft and The Big Chill!
RECORD STORE DAY - APRIL 21, 2018: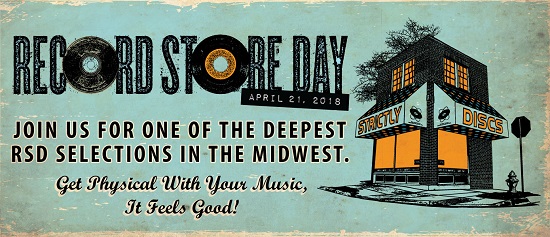 Launched in 2007 with the humble idea to recognize independent record stores, Record Store Day (RSD) has mushroomed ever since. The RSD list of LP and CD exclusives continues to expand, while more labels continue to throw open their catalogs to an appreciative customer base.

Beyond the day-long frenzy, RSD exists to offer proof of the lively role record stores play in the community and a chance for folks on both sides of the counter to offer gratitude for each other. Whether you're a hardcore type who times their arrival for a spot at the front of the line or somebody who waits until the afternoon for a more leisurely experience, we hope you'll join us on Saturday, April 21.

STAFF PICKS:
We've now updated our list of Record Store Day exclusives with our staff picks.

THE LIST:
For all details on pressing quantities, production credits, alternate versions, color vinyl, and other record datum, please refer to the Official Record Store Day list of releases, located at www.recordstoreday.com

Changes and additions to this list are likely, leading all the way up until the big day, and will be reflected on our list as we receive them. If you see a RSD release that does not appear on this list, don't hesitate to email or call to see if it will be available!
THE LIST IS NOW AVAILABLE HERE!


MONROE STREET CONSTRUCTION UPDATE:
Remember Y2K? The Mayan apocalypse? The Swing revival? It seemed like we might not make it to the other side of those events as they loomed before us, but we're fine. And so, Monroe Street construction has begun, and the disruption it has wracked upon our lives…is not that bad. Really.
We've got helpful directions on our site involving a couple of side streets and gentle re-routing. You can still get here, just consult the map of your choice and give yourself a little extra time.
We'll still be putting out a minimum of 500 incoming used records out every Friday and we'll keep bringing in today's freshest titles. While you're here, make it count and pay a visit at one of our friends in the neighborhood. Even when a bit of dust kicks up, we like it here, and it's gonna look even better when all this pounding is done!
DIRECTIONS FROM REGENT/EAST:
From Regent Street:
Continue on Regent through the Monroe St intersection
Turn Left on SPOONER ST
Turn Right on West Lawn or Keyes
Turn Left on Harrison St.
We are on the corner of Harrison & Monroe Streets (the street level parking lot outside of the Trader Joe's doors is a public City of Madison lot & the side streets all have FREE 2 hour parking.
MONROE STREET IS OPEN FROM THE WEST
SELL US YOUR CDS & LPS:
NEXT MUSIC TRIVIA TUESDAY APRIL 10TH:
Our next MUSIC TRIVIA at the High Noon Saloon is Tuesday, April 10th. Registration starts at 5:30 with the first question from Angie and Marty at 6PM. Save the date for May 8th, June 5th and July 10th!
OTHERS TALK BACK:
This isn't the spot to lay down odds on the third race. OTB is where Others Talk Back and give you the lowdown on what they've been feeling lately. This one's for the customers.
This isn't the spot to lay down odds on the third race. OTB is where Others Talk Back and give you the lowdown on what they've been feeling lately. This one's for the customers.
The Cars – "Shake It Up" and "Heartbeat City" These are the latest releases from Rhino Records release campaign. Following 1980's moody and modest- selling "Panorama" album, the band quickly recorded "Shake It Up" and released it a year later. "Shake It Up" was a return to the classic Cars sound, and racked up the Cars first Top Ten single Hit. "Heartbeat City" followed in 1984, and while a little less commercial than "Shake It Up" the album was perhaps the last great Cars album. Both records are remastered and include additional tracks, including demos, B-Sides and works-in-progress. The Cars were perhaps the most successful band of the eighties new wave/modern rock sound. "Shake It Up" and "Heartbeat City" are two important versions of that sound.
There really haven't been more than a handful of live albums from GBV. And the band has been an ongoing concern, on and off, since the eighties. "Ogre's Trumpet" was recorded with the new GBV band, which includes Doug Gillard and Bobby Bare Jr., on guitars. This version of GBV is probably the most hard-rocking version of the band. And "Ogre's Trumpet" certainly shows off the best of the band. The twenty-five cuts include a more than fair share of classic GBV songs from the last thirty-some years. "Ogre's Trumpet" is an incendiary performance from a legendary band. The lack of live GBV albums is more than remedied by this soon to be classic live album.
Australia's King Gizzard announced that they were going to release five albums in 2017. "Gumboot Soup" was the last of the five and was released online during the very last hours of 2017; fulfilling the band's pledge. This album is the physical release of that album. Of the five 2017 releases, "Gumboot Soup" is the most traditional. The band has placed some of the most poppy songs of the 2017 releases on "Gumboot Soup." And the album really doesn't have a lot of over-the-top psychedelica that defined some of their earlier 2017 albums. With the last and best of the 2017 releases finally out, one can only wonder what King Gizzard will do in 2018.

Ron, Ryan, Angie, Marty, Evan, Matt, Michael, Ben, Will, Ed & Isaac