Email March 29, 2018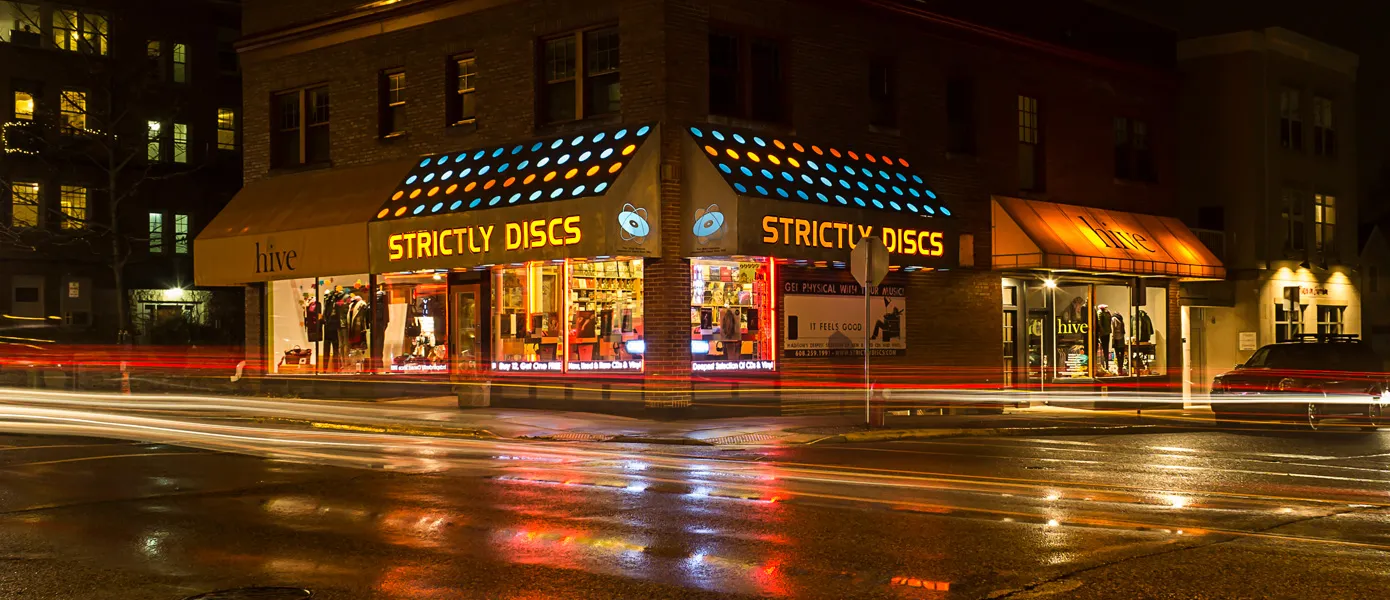 MARCH 29, 2018:
NEW THIS WEEK AT THE SHOP:
Kacey Musgraves continues to deliver on the promise of her breakout debut with her 3rd album, 'Golden Hour', a warm and inviting suite of emotionally-rendered love songs. On 'Things Have Changed', Bettye Lavette continues the 3rd phase (by our count) of her long lasting career with an album of renditions of Bob Dylan songs, many of which she rearranges to make completely her own.
Two generations of blues legends reunite again on 'No Mercy In This Land', the second duet album from Charlie Musselwhite and Ben Harper. Youthful New Englanders Anna and Elizabeth investigate the American traditional folk archive in a vibrant update called 'The Invisible Comes To Us'.

We've got a killer new release from the Daptone label: Orquesta Akokan are a group of Cuban musicians with a deep pedigree, paying tribute to the great 'rhythm machines' of the past helmed by greats like Perez Prado and Tito Puente. This one's available on colored vinyl while it lasts. Next, we head ever so slightly northwards for a new record from UK jazz duo Hampshire & Foat, following on their last record which made about half of our staff's year end lists last year. 'The Honey Bear' is said to be their "chiildren's album", and it does have a bit more of a sweet touch than 'Galaxies...', but if you enjoy the duo's lush take on cosmic lounge jazz, this is another delicious one.
It's been four years since the solo songwriter known as Amen Dunes last wowed us with his rustic and lonely Americana, and now he brings us 'Freedom', another remarkable set of songs that sit comfortably on the porch outside of any easy categorization. Same goes for Mount Eerie, who follows up last year's stunning 'A Crow Looked At Me' with a companion album called 'Now Only'. We've also got copies of past Mount Eerie titles back in stock, as well as a fresh reprint of the Microphones' 'The Glow, Part 2', which everyone should own!
Legendary Dutch anarcho-postpunk-Afro-fusion band The Ex bring us their 27th album, appropriately titled '27 Passports', and its just as full of genre-pollinating energy as their many other classic albums. It's not a new Fugazi album, but the rhythm half (Brendan Canty and Joe Lally) have a new release out as The Messthetics, an experimental instrumental trip with a DC area guitarist.
Good week for legendary rap pairings! We've got new discs in from Czarface meets Metalface aka MF Doom, and a new collab between Apollo Brown and Ghostface.
Chicago's Disappears soldier on under a new name, a name which is FACS. Not sure of the story there but this is sounding great so far, with the group going deeper into the realm of This Heat and early Scritti Politti. We've also got a new album from a band called VOIDZ which you probably wouldn't care much about except for the fact that their frontman is Julian Casablancas from them Strokes.
Two classics in the ambient genre get legit vinyl pressings for the first time in decades this week. Spacemen 3's 'Dreamweapon' is an exquisitely captured live recording that finds the band in their least tethered moment, not so much playing songs as emitting vapors to be inhaled. Speaking of vapors, here's Stars of the Lid's early EP 'Gravitational Pull', which hasn't been in print since 1996.
Reissues come at us from all angles this week! We have a new LP version of outsider folkie Bob Lind's amazing 'Since There Were Circles', The Count Five's blazing garage classic 'Psychotic Reaction', two deep ones from Ohio psych legends Damnation of Adam Blessing, 3 long out of print classics from Rob Zombie, plus an awesome set of rare 70s private folk from Entourage, and 2 LPs of killer French stoner jazz from Dharma.
Industrial pioneer, Throbbing Gristle founder, wrecker of civilisation and very nice man Chris Carter brings us an album of solo material for the first time ever, really, with 'Chemistry Lessons', which finds him ruminating on his decades of electronic innovation. Less known but no less a legend is Peter Zummo, the longtime Arthur Russell collaborator, who sees an unreleased 1984 recording gain an audience for the first time.
Suzanne Menzel's only album, 1981's 'Goodbyes and Beginnings', is considered one of the most coveted Danish albums ever, and it's easy to see why, with its odd pairing of Joni/Judee style vocals, folksy arrangements, and icy synth pop. It's not for everyone but it should be, know what I mean? We've also got an LP repress of New Zealand underground legend Sandra Bell's killer 1995 album 'Net', which sounds kinda like a grungier Kiwi Neko Case.
We've now got the vinyl version of Steve Reich's 'Pulse/Quartet', plus a new collaboration from Burial and The Bug called 'Flame 1', which promises a whole lot of atmosphere.
Two new releases in from the healthy and hale Guided By Voices. 'Space Gun' is their latest studio album and easily sits up in their top ten, while 'Ogre's Trumpet' captures a live show from last year.
Austin/Montreal's Marie Davidson sees her stunning cassette only 2012 release hit vinyl for the first time, essential for fans of her austere and out-of-time minimal synthwave. Lastly, we've got an amazing career spanning double LP set from the Japanese house producer Takecha. Mr. T goes way back with the other big Japanese heavyweights like Soichi Terada and Kuniyuki, while his output has been a bit harder to come by. No longer!
USED VINYL ALERT:
Heading downstairs for this week's USED VINYL ALERT, we're really giving credence to the old adage "every day is record store day" this time around. We've got some real scores to be scored this week!


The floodgates of classic rap continue to release their crucial cuts, as this week sees new arrivals from Outkast, NWA, Nas, Timbaland, Mos Def, Kool Moe Dee, Notorious BIG, Kenny Dope, 2 Live Crew, Missy Elliott, Tragedy Khadafi, Juvenile, Lil Kim, Trina, Ludacris, Snoop Dogg, Keith Murray, Kanye West, Freeway, Mary J Blige, RZA, Paul Wall, Twista, Ras Kass, Sean Paul, and Common!
Some tasty early pressings of our favorite records are here this week, including several from Bob Dylan, the Beatles, Tom Waits, Led Zeppelin, Pink Floyd, Neil Young, Grateful Dead, David Bowie, Velvet Underground, the Kinks, Lou Reed solo, Fleetwood Mac, and the Stones!
We also see fine titles from Dick Dale, the Allmans, John Prine, Bo Diddley, Chuck Berry, Canned Heat, Donovan, the Dave Clark 5, CSNY, Creedence, Bruce Springsteen, Rush, the Eagles, the Who, Eric Clapton, Bruce Cockburn, Dwight Twilley, the Clash, the Eurythmics, Nick Lowe, and Talk Talk!
From the heavy to the rare to the "what is this?" we have much to check out this time around: King Harvest, Judas Priest, Oz Knozz, Great White, Black Sabbath, Malice, Ram Jam, the Left Banke, Chris Gantry, Overseas Highway, Accolade, Esper, plus many more. We've also got a cool stash of early rock and garage from names like Eddie Cochran, Gene Vincent, the Corsairs, Screamin Jay Hawkins, the Tortilla Factory, the Uniques, Tommy Tucker, Travis Wammack, and the Surf Raiders!
Country comes in several decades worth of colors this week, including LPs from Mickey Newbury, Waylon Jennings, Rusty Weir, Johnny Cash, Willie Nelson, Jack Clement, the Stanley Brothers, the Louvin Brothers, Patsy Cline, Gene Autry, Steve Earle, Sir Doug, John Randolph Marr, and Hank Williams!
Jazz and blues cover a lot of ground this week, with LPs from Elvin Jones, Keith Jarrett, Dave Brubeck, Hank Crawford, Willis Jackson, Herbie Hancock, Wes Montgomery, Dexter Gordon, Funk Factory, Mike Westbrook, Roland Kirk; plus blues Stevie Ray Vaughan, Lowell Fulsom, Big Mama Thornton, Clifton Chenier, Buddy Guy, Paul Butterfield, Albert King, and James Cotton.
A very strong showing in the soul department this week, with titles from Stevie Wonder, Hot Butter, New Edition, Tina Turner, Otis Redding, Wilbert Harrison, Marvin Gaye, Sam Cooke, Earth Wind and Fire, Cameo, O Jays, Tammi Terrell, Instant Funk, Curtis Mayfield, Michael Jackson, Maze, Barry White, Faze-O, War, and Billy Preston!
We wrap up with some interesting LPs from parts elsewhere, like Osamu Kitajima, Eberhard Schoener, Vangelis, Bob Marley, Jimmy Cliff, Black Uhuru, Willie Bobo, and UB40. A very cool selection of children's records including several that have never been in the shop before, comedy LPs from Rodney, Richard Pryor, the Smothers Brothers, and many more, several cool sound effects and "car sounds" LPs, and a huge spread of soundtracks. We got everything from Dirty Dancing to Death Wish down here this week!
RECORD STORE DAY - APRIL 21, 2018: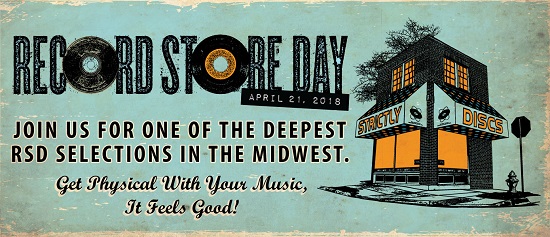 RECORD STORE DAY 2018 IS APRIL 21ST:
Launched in 2007 with the humble idea to recognize independent record stores, Record Store Day (RSD) has mushroomed ever since. The RSD list of LP and CD exclusives continues to expand, while more labels continue to throw open their catalogs to an appreciative customer base.

Beyond the day-long frenzy, RSD exists to offer proof of the lively role record stores play in the community and a chance for folks on both sides of the counter to offer gratitude for each other. Whether you're a hardcore type who times their arrival for a spot at the front of the line or somebody who waits until the afternoon for a more leisurely experience, we hope you'll join us on Saturday, April 21.

STAFF PICKS:
We've now updated our list of Record Store Day exclusives with our staff picks.

THE LIST:
For all details on pressing quantities, production credits, alternate versions, color vinyl, and other record datum, please refer to the Official Record Store Day list of releases, located at www.recordstoreday.com

Changes and additions to this list are likely, leading all the way up until the big day, and will be reflected on our list as we receive them. If you see a RSD release that does not appear on this list, don't hesitate to email or call to see if it will be available!
THE LIST IS NOW AVAILABLE HERE! (once you make this jump, you can log in to your account and create a wishlist)

WISH LISTS - THE DEADLINE TO CREATE OR MODIFY A WISHLIST IS THIS FRIDAY:

We'll be operating our Record Store Day (RSD) wish list the same way as years past. A wish is not an order. And while we will try to have ample stock (one of the deepest in the midwest) of all items on the morning of Record Store Day, please know that some of these products are extremely limited and will sell out quickly. Wishlists will be updated online before RSD. THE FINAL DEADLINE TO CREATE OR MODIFY A WISHLIST IS FRIDAY, APRIL 30TH.
MONROE STREET CONSTRUCTION UPDATE:
Remember Y2K? The Mayan apocalypse? The Swing revival? It seemed like we might not make it to the other side of those events as they loomed before us, but we're fine. And so, Monroe Street construction has begun, and the disruption it has wracked upon our lives…is not that bad. Really.
We've got helpful directions on our site involving a couple of side streets and gentle re-routing. You can still get here, just consult the map of your choice and give yourself a little extra time.
We'll still be putting out a minimum of 500 incoming used records out every Friday and we'll keep bringing in today's freshest titles. While you're here, make it count and pay a visit at one of our friends in the neighborhood. Even when a bit of dust kicks up, we like it here, and it's gonna look even better when all this pounding is done!
DIRECTIONS FROM REGENT/EAST:
From Regent Street:
Continue on Regent through the Monroe St intersection
Turn Left on SPOONER ST
Turn Right on West Lawn or Keyes
Turn Left on Harrison St.
We are on the corner of Harrison & Monroe Streets (the street level parking lot outside of the Trader Joe's doors is a public City of Madison lot & the side streets all have FREE 2 hour parking.
MONROE STREET IS OPEN FROM THE WEST
SELL US YOUR CDS & LPS:
NEXT MUSIC TRIVIA TUESDAY APRIL 10TH:
Our next MUSIC TRIVIA at the High Noon Saloon is Tuesday, April 10th. Registration starts at 5:30 with the first question from Angie and Marty at 6PM. Save the date for May 8th, June 5th and July 10th!
OTHERS TALK BACK:
This isn't the spot to lay down odds on the third race. OTB is where Others Talk Back and give you the lowdown on what they've been feeling lately. This one's for the customers.
This live set was originally released in 2003. And as part of Led Zeppelin's fiftieth anniversary as a band, Jimmy Page has supervised the remastering of this album. The remastering gives the live sound a crunch that was sorely missing from the album fifteen years ago. The sequencing on the album is supposed to invoke a typical Zeppelin show in 1972. In fact, the music was recorded at two California shows in June 1972. Without any doubt, the band was at their artistic height on these shows. I have always felt that "How the West Was Won" was a vastly superior live album to 1976's "The Song Remains the Same" I think that this remaster of "How the West Was Won" settles any question over which Zeppelin live album is their best.
Ms. Wennerstrom steps out from the Heartless Bastards and releases her first solo release. And to a certain extent she steps away from the Heartless Bastards bluesy garage sound. There is still plenty of electric guitar on the album, but the overall sound is more autumnal and even a bit shoegazey. Ms. Wennerstrom can write a great song with little or no effort, and all the songs on the album are among her best. "Sweet Unknown" succeeds on its own merit. It really doesn't take many of its cues from the Heartless Bastards. And it is patently obvious that Ms. Wennerstrom has the ability to go beyond what is familiar and try something new.
"Twentytwo in Blue" is only this New York's band second album and the band has quickly moved beyond the atmospheric and fuzzy sounds of their 2016 debut. The band still has a foot in sixties pop and eighties/nineties indie rock, but Sunflower Bean has stepped up their songwriting and tried new influences. I hear a fair amount of seventies LA rock in their new material. At times, I am even reminded of a mutant "Tusk" era Fleetwood Mac. It is evident that the band possesses a focus on playing and songwriting that was missing on their debut. Judging by the growth and talent displayed on this album, I expect to hear great things from Sunflower Bean in the future.

Ron, Ryan, Angie, Marty, Evan, Matt, Michael, Ben, Will, Ed & Isaac