Email March 15, 2018
MARCH 15, 2018
MONROE STREET ROAD CONSTRUCION UPDATE:
Remember Y2K? The Mayan apocalypse? The Swing revival? It seemed like we might not make it to the other side of those events as they loomed before us, but we're fine. And so, Monroe Street construction has begun, and the disruption it has wracked upon our lives…is not that bad. Really.
We've got helpful directions on our site involving a couple of side streets and gentle re-routing. You can still get here, just consult the map of your choice and give yourself a little extra time.
We'll still be putting out a minimum of 500 incoming used records out every Friday and we'll keep bringing in today's freshest titles. While you're here, make it count and pay a visit at one of our friends in the neighborhood. Even when a bit of dust kicks up, we still like it here, and it's gonna look even better when all this pounding is done!
DIRECTIONS FROM REGENT/EAST:
From Regent Street:
Continue on Regent through the Monroe St intersection
Turn Left on SPOONER ST
Turn Right on West Lawn or Keyes
Turn Left on Harrison St.
We are on the corner of Harrison & Monroe Streets (the street level parking lot outside of the Trader Joe's doors is a public City of Madison lot & the side streets all have FREE 2 hour parking.
MONROE STREET IS OPEN FROM THE WEST
RECORD STORE DAY 2018 IS APRIL 21ST: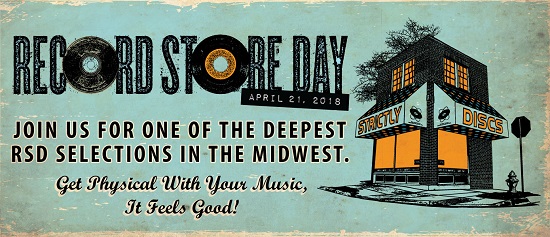 Launched in 2007 with the humble idea to recognize independent record stores, Record Store Day (RSD) has mushroomed ever since. The RSD list of LP and CD exclusives continues to expand, while more labels continue to throw open their catalogs to an appreciative customer base.

Beyond the day-long frenzy, RSD exists to offer proof of the lively role record stores play in the community and a chance for folks on both sides of the counter to offer gratitude for each other. Whether you're a hardcore type who times their arrival for a spot at the front of the line or somebody who waits until the afternoon for a more leisurely experience, we hope you'll join us on Saturday, April 21.
THE LIST:
For all details on pressing quantities, production credits, alternate versions, color vinyl, and other record datum, please refer to the Official Record Store Day list of releases, located at www.recordstoreday.com

Changes and additions to this list are likely, leading all the way up until the big day, and will be reflected on our list as we receive them. If you see a RSD release that does not appear on this list, don't hesitate to email or call to see if it will be available!
THE LIST IS NOW AVAILABLE HERE! (wait to log in to your account until after you make the jump from the homepage)

WISH LISTS:

We'll be operating our Record Store Day (RSD) wish list the same way as years past. A wish is not an order. And while we will try to have ample stock (one of the deepest in the midwest) of all items on the morning of Record Store Day, please know that some of these products are extremely limited and will sell out quickly. Wishlists will be updated online before RSD. THE INITIAL DEADLINE TO CREATE OR MODIFY A WISHLIST IS FRIDAY MARCH 16TH.
USED VINYL ALERT:
Heading downstairs for this week's USED VINYL ALERT, we've got a little of everything for you this week, with major emphasis on jazz and country.

Let's start with the country! Hoo wee its a lot of great names this week, in addition to a lot of cool obscurities, compilations, and early archival editions for the deep heads, we've got hot ones from Dolly Parton, Hank Williams, Alabama, the Allmans, Waylon Jennings, Garth Brooks, the Louvin Brothers, Sleepy LaBeef, Wanda Jackson, Randy Travis, Johnny Cash, the Highwaymen, Ramblin Jack Elliott, Guy Clark, Joe Ely, Arlo and Woody Guthrie, Steve Earle, Vernon Dalhart, the Statler Brothers, Loretta Lynn, Marty Stuart, Mickey Newbury, Glen Campbell, and Emmylou Harris!

The selection of jazz this week is a true thing of beauty, ranging from early boogie woogie and ragtime, to NOLA brass classics from Queen Ida, the Dirty Dozen and the Preservation Hall band, to classic Blue Note, ECM, and Impulse, with a bit of fusion, exotica, organ and guitar groove thrown in. Check out names like Horace Silver, George Russell, Louis Armstrong, Cannonball Adderley, Airto Moreira, Lalo Schifrin, Lee Morgan, Mal Waldron, McCoy Tyner, Sonny Rollins, Jimmy Smith, Oliver Nelson, Gerry Mulligan, Oscar Peterson, Yusef Lateef, Roland Kirk, Jimmy McGriff, Wes Montgomery, Herbie Hancock, Charles Mingus, Jackie McLean, Ramsey Lewis, Chick Corea, Ray Bryant, Kenny Burrell, Dave Brubeck, Vince Guaraldi, Anthony Braxton, Donald Byrd, Jan Garbarek, Eberhard Weber, Bud Powell, Sun Ra, Quincy Jones, Ahmad Jamal, Keith Jarrett, Bill Evans, Herbie Mann, and Cal Tjader!

Plenty of pop, rock and folk heavy hitters this week from names like Tom Petty, the Grateful Dead (plus some Garcia side excursions), the Yardbirds, Led Zeppelin, Tom Waits, David Bowie, Neil Young, Leonard Cohen, the Flying Burrito Brothers, Joni Mitchell, Townes Van Zandt, Bob Dylan, the Rolling Stones, Jimi Hendrix, Sly Stone, Paul Simon, CCR, and Janis/Big Brother.

The rock continues with deeper selections from King Crimson, Bruce Cockburn, the Waterboys, Keef Hartley Band, John Prine, the Walker Brothers, Kiss, Krokus, the Kinks, the Incredible String Band, Levon Helm, the Illusion, Ronnie Lane, Jimmy Buffett, the Feminine Complex, the Humblebums, Sammy Hagar, the Pentangle, Sir Doug, Merle Saunders, Robyn Hitchcock, Murphys Law, Hanoi Rocks, and Iggy Pop.

Some great soul in the house this week coming from Earth Wind and Fire, the Stylistics, the Temptations, Stevie Wonder, Whitney Houston, Janet Jackson, Otis Redding, Diana Ross, Billie Holiday, the Incredible Bongo Band, Tower of Power, James Brown, Bootsy COllins, the Bar-Kays, Jerry Butler, Smokey Robinson, Curtis Mayfield, the Isley Brothers and many, many more.

We close out with some classic soundtracks, a couple of hard to find children's records (check your Raffi wantlist), some blues from BB King, Howlin Wolf, Buddy Guy, Muddy Waters, Little Brother Montgomery, and Otis Spann, some fine reggae from Bob Marley, Max Romeo, UB40, Major Lazer and Sly & Robbie, and some more recent releases from Nightmares on Wax, Aldous Harding, Marnie Stern, Regina Spektor, and a rare one from Feist!
ENTER TO WIN 2 TICKETS + AUTOGRAPHED LP:
Over on our Facebook page, we've teamed up with our friends over at the Majestic Theatre to offer you another sweet giveaway = enter for your chance to win a pair of tickets to see Dessa at the Majestic Theatre on Friday 3/30 AND a free AUTOGRAPHED LP!
NEW THIS WEEK AT THE SHOP:
Two of the indie universe's most beloved outfits deliver new records this week. The Decemberists' 'I'll Be Your Girl' is here on CD and limited blue vinyl. Yo La Tengo drop 'There's a Riot Goin On', their jillionth studio album which, despite its uproarious title, is a woozy, dreamy affair ala their last masterpiece, 'And Nothing Turned Itself Inside Out'. Both of these records definitely reward longtime fans.
We've had versions of this kicking about already, but here now is the "official" version of the King Gizzard record that launched a thousand bootlegs, 'Polygondwanaland'. Also on a stoney tip, we've got a ripping new record from heavy psych legends Earthless.
Everyone loved Thundercat's 2017 epic 'Drunk', but what if it was just a little bit slower? The answer to this query lies on 'Drank', an official and authorized 'Screwed and Chopped' version of the entire album, with it's memorable cover rendered in a purple tint. We've also got the latest from groovy collaborator Carlos Nino. 'Going Home' features Deantoni Parks, Dexter Story, Jamael Dean, Jamire Williams, Josh Johnson, Miguel Atwood-Ferguson, SK Kakraba, and New Age legend Iasos.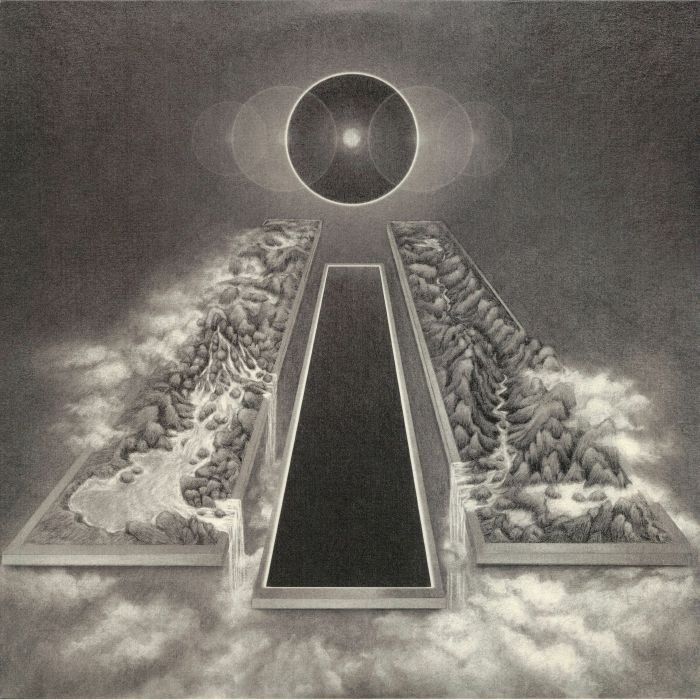 Ukrainian techno don Vakula drops a huge double album of his trademark ambient techno hypnotism on a beautiful release called 'Metaphors'. A bit over ten years since it's release, Move D and Benjamin Brunn's genre-definining 'Songs From the Beehive' is back on vinyl, hitting that sweet spot between fuzzy IDM and loopy house.
Two great records from little known next-gen artists are here this week from Caroline No and The Orielles. Check em out on 'the internet' and come buy them from us! We've also got new releases from Will Long, The Fratellis, and a split LP from Dungen and Woods.
Two can't-miss compilations go way, way in depth on some underexposed dance genres from afar this week. 'Gumba Fire' collects a slew of addictive South African boogie tracks from the 80s and 90s for a primer of something termed 'Bubblegum' in SA. Imagine township jive's upbeat rhythms crossed with 80s electro's even more upbeat rhythms. What I'm saying is, this stuff is really upbeat! By the same token is 'Levanta Poeira', a dance-friendly compilation of 90s Brazilian dance, which you can just about literally feel heat emanating from with every track.
Ambient mystic Terekke lets slip an exquisite LP of cumulo-nimble jammers for the Music From Memory label, while mysterious Scottish producer Other Lands has a deeply beautiful EP for Firecracker with some of the finest artwork of the year. We've also got new electronic and dance records from Henry Wu, Toma Kami, Pye Corner Audio, Giuseppe Leonardi, and P. Adrix, plus new releases from the Lullabies for Insomniacs, Antinote and Wah Wah Wino labels, and a great compilation from the Australian dance label Soothsayer.
Two eagerly anticipated new rap CDs are here from Pryhme and Murs, plus a new album from Starchild.
We've got a recently unearthed early-70s radio broadcast from Sun Ra, plus a limited LP reissue of Haitian field recordings done by filmmaker Maya Deren. Also on the reissue/archival front: Freddie McGregor's incred
BEN HARPER & CHARLIE MUSSELWHITE 7" PROMOTION:
Ben Haprer & Charlie Musselwhite return March 30th with their new collaboration, No Mercy In This Land. In the meantime, swing by and pick up a fresh 7" that features tracks from the album plus an exclusive B-side version not available anywhere else. The 7" is $2 and includes a coupon for $2 off the full release.
JIMI HENDRIX LITHO FREE WITH NEW CD/LP:
NEXT MUSIC TRIVIA TUESDAY APRIL 10TH:
Our next MUSIC TRIVIA at the High Noon Saloon is Tuesday, April 10th. Registration starts at 5:30 with the first question from Angie and Marty at 6PM. Save the date for May 8th!
OTHERS TALK BACK:
This isn't the spot to lay down odds on the third race. OTB is where Others Talk Back and give you the lowdown on what they've been feeling lately. This one's for the customers.
Erasure – "World Beyond" For their seventeenth studio album, Vince Clarke and Andy Bell, have ditched the electronics and the over the top production and replaced them with a small string section. Any Erasure fan knows that is a very definite change in sound. Since Vince Clarke, however, is a master songwriter and arranger the new music is extremely effective and fascinating. The strings give the songs a haunting and dramatic touch that electronics just can't. When I first listened to this album I had to stop and check the disc to see if it was truly an Erasure album. Then I stopped worrying and just started to enjoy their new sounds.
Jimi Hendrix – "Both Sides of the Sky" This posthumous collection's main selling point is the ten so far unreleased cuts. All of the cuts on the album were recorded in the studio. And most were recorded after the Experience broke up. A good amount of the tracks were recorded with the Band of Gypsies. Any music fan would suppose that after almost fifty years since his death this would be a bottom of the barrel stuff. That is not the truth of this album. The music is top-notch, with some of the cuts equal to any late period Hendrix material. The most fascinating cut is his version of Joni Mitchell's "Woodstock" recorded along with Stephen Stills. I have learned that this is the last album of a trio of albums dealing with unreleased studio material. It speaks volumes of Hendrix's talent that there is still strong material in the vault after his death in 1970.
Nathaniel Rateliff & the Night Sweats – "Tearing At the Seams" I had thought that Mr. Rateliff and the Night Sweats had a whole bunch of studio albums out. I looked and found out that "Tearing At the Seams" is only their second studio release. There was an ep and just last year a live album though. Rest assured, if you loved any of the past releases you will love this one. The sweaty soul and r&b is still in full force, and sounds somehow even more ferocious on this new album. It is safe to say that Nathaniel Rateliff and the Night Sweats may be one of the best bands of the neo-soul revival yet.
Jonathan Wilson – "Rare Birds" On his two prior albums, Mr. Wilson was a new century practitioner of the early seventies Laurel Canyon singer-songwriter rock sound. On those two releases, some of Mr. Wilson's songs approached some of the best songs from the classic artists of that long ago era. You know performers like Jackson Browne. Joni Mitchell and CSN&Y. On his third album, Mr. Wilson has added a wide variety of new sounds and influences. Mr. Wilson has zeroed into the eclectic sounds of English prog artists such as Pink Floyd and Genesis (post Peter Gabriel era). The songs also have an instrumental lushness to them that is very compelling. Without a doubt, Mr. Wilson's new music is less acoustic and a lot more electric, and spacey. Don't worry, his songwriting hasn't deteriorated; it is still top-notch. In fact, you could say that it has gotten more sophisticated and even better. Both of Mr. Wilson's past albums have been excellent, and "Rare Birds" continues that streak.
Titus Andronicus – "A Productive Cough" Much like Jonathan Wilson, Titus Andronicus has moved beyond their comfort zone and branched off into new territory. Titus Andronicus' former sound was a wild mélange of punk, indie rock and prog that was certainly unique and idiosyncratic. On "A Productive Cough" Titus Andronicus still creates a gumbo of sound. But they have added a new ingredient and emphasis into the mix. The band has developed an interest in folk music and folk rock that while was present to a very small degree before, certainly was not as prevalent as on this album. On the other hand, Titus Andronicus really can't do anything straight, and their version of folk has their own stamp on it. You really have to hear their version of Dylan's "(I'm) Like a Rolling Stone" on the album to appreciate their take on it and folk and folk rock. The skinny on Titus Andronicus is same band, but with a different sound on their fifth album.