Email March 8, 2018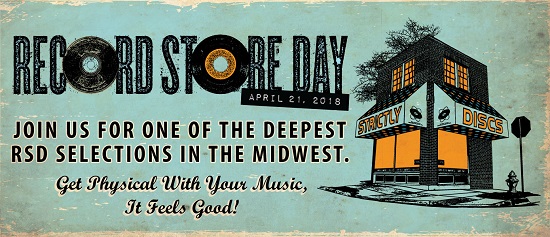 RECORD STORE DAY 2018 IS APRIL 21ST:
Launched in 2007 with the humble idea to recognize independent record stores, Record Store Day (RSD) has mushroomed ever since. The RSD list of LP and CD exclusives continues to expand, while more labels continue to throw open their catalogs to an appreciative customer base.

Beyond the day-long frenzy, RSD exists to offer proof of the lively role record stores play in the community and a chance for folks on both sides of the counter to offer gratitude for each other. Whether you're a hardcore type who times their arrival for a spot at the front of the line or somebody who waits until the afternoon for a more leisurely experience, we hope you'll join us on Saturday, April 21.
THE LIST:
For all details on pressing quantities, production credits, alternate versions, color vinyl, and other record datum, please refer to the Official Record Store Day list of releases, located at www.recordstoreday.com

Changes and additions to this list are likely, leading all the way up until the big day, and will be reflected on our list as we receive them. If you see a RSD release that does not appear on this list, don't hesitate to email or call to see if it will be available!
THE LIST IS NOW AVAILABLE HERE!

WISH LISTS:

We'll be operating our Record Store Day (RSD) wish list the same way as years past. A wish is not an order. And while we will try to have ample stock (one of the deepest in the midwest) of all items on the morning of Record Store Day, please know that some of these products are extremely limited and will sell out quickly. Wishlists will be updated online before RSD. THE INITIAL DEADLINE TO CREATE OR MODIFY A WISHLIST IS WEDNEDAY MARCH 14TH.
JACK WHITE LISTENING PARTY:
Join us on Friday, March 9th, 6-8PM, for a sneak preview of Jack White's new album "Boarding House Reach" two weeks before street date!
You can enter to win great prizes including an uber-exclusive tri-color Third Man Records/Jack White 7"(1/38 made for these events nationwide) and a stylin' JW tote bag! Plus you can enter to win the nationwide grand prize - a Pro-Ject RM 1.3 Audiophile Turntable from Third Man Records! Free buttons for all! Free beer! Great music! Boarding House Reach drops 3/23, but YOU can be 1st to hear - and PRE-ORDER! Every pre-order of the CD or LP will receive a bonus prize entry. Free & all ages!
NEW THIS WEEK AT THE SHOP: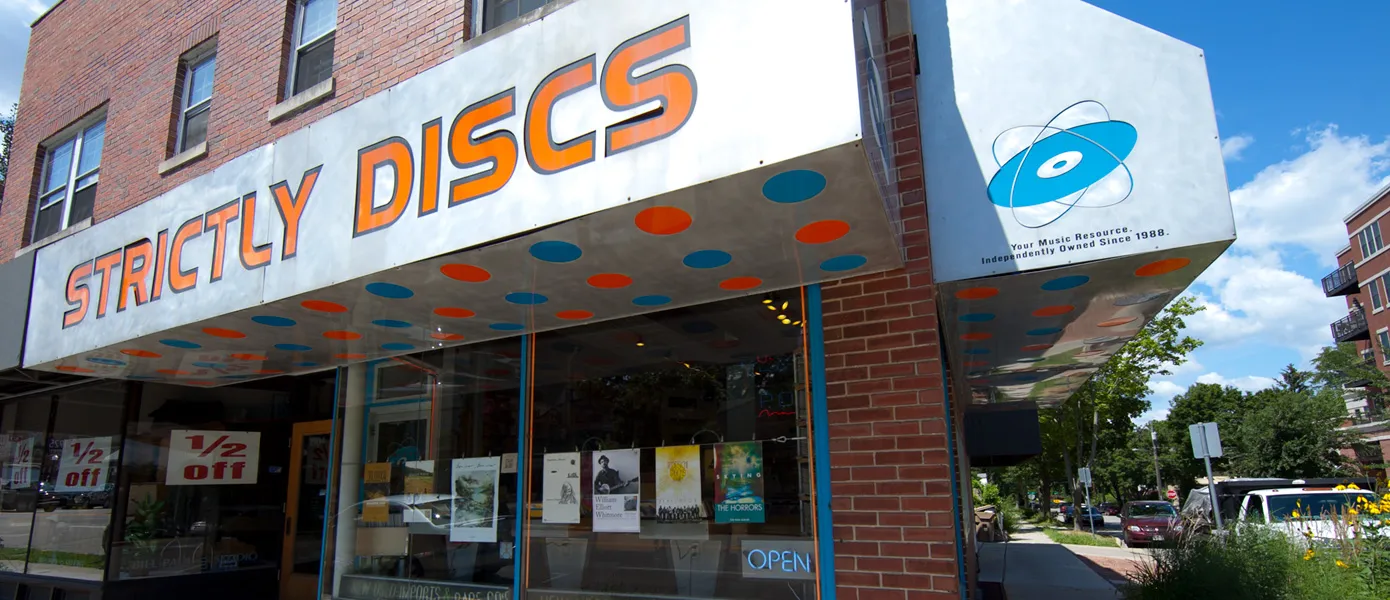 Hey gang, checking in here with a full rundown of what's new in the shop this week. We have SO many great new releases in today, it gives April 21st a run for it's money. In the spirit of brevity, we will be brief! Thorough, but brief. Make sense?
Ahead of his rare Madison appearance, we have a new album from David Byrne, his first solo album in over a decade, in the house on CD and LP. Nathaniel Rateliff and the Night Sweats follow up 2016's barnburner with a long-awaited new album. We have it on CD, deluxe CD, LP, and deluxe LP.
The latest Jimi Hendrix archive CD/LP has arrived, 'Both Sides of the Sky', and features ten unheard recordings. After a brief absence, Tom Waits' 'Closing Time' is back on remastered vinyl.
SD fave Hailu Mergia delivers his first new album since the 1980s. You may have heard the reissues of his incredible 80s tapes which are stone classics. 'Lala Belu' finds the DC via Ethiopian living legend back behind the organ and accordion with a small jazz unit, and he's never sounded better. Highest recommendation on this one! We've also got some limited LPs from Mamman Sani Abdoulaye, the Nigerien synth pioneer, collecting early tapes of his otherworldly, haunting instrumentals.
Two experimental pop stalwarts have fantastic new albums this week, Eric Chenaux and Oneida. We've also got new releases from Soccer Mommy, Albert Hammond Jr, Asking Alexandria, Of Montreal, Andrew Savage of Parquet Courts solo, and Dub Narcotic Sound System.

Cerebral hiphop unit Young Fathers bring us a real scorcher of a new record called 'Cocoa Sugar', while their stylistic forebears Digable Planets see a reissue of their 1993 debut 'Reachin' back on vinyl.
Chicago's Jamal Moss, better known to the world as Hieroglyphic Being, makes his most definitive and farthest out statement with 'The Red Notes', cementing his status as the Sun Ra of techno. On the same level, we have copies once again of the Other People Place's 'Lifestyles of the Laptop Cafe', one of the final achievements of Drexciya's James Stinson before his passing, and easily the best downtempo album ever made.
We have limited copies of fresh pressings of two foundational Japanese electronic pop albums: Yasuaki Shimizu's 'Kakashi' and Mariah's 'Utakata No Hibi'. Haven't heard these yet? Get your rear to youtube.
Hey! It's a new Suicidal Tendencies record! We've also got a limited white vinyl 10" from A Perfect Circle in anticipation of their new album in April. More new heavies come in this week from Judas Priest and Ministry.

Reissues of a couple crucial 90s albums are here. The Promise Ring's massively influential debut '30 Degrees Everywhere', and Bad Religion's equally potent 'Stranger Than Fiction' are both back on wax.

After years of pent-up demand, we have vinyl represses of the legendary 80s postpunk moodists Felt. Four titles here: '

Ignite the Seven Cannons', 'Splendour of Fear', 'Seventeenth Century', and 'Strange Idols Pattern'.
Some serious reggae vinyl gets a refresh this week. King Tubby's 1975 LP 'Concrete Jungle Dub' is one of the rarest dub LPs in its original form. Phyllis Dillon's incredible 1972 album 'One Life To Live' is scarce as well, and an highly listenable example of female-led, soulful rocksteady. We've also got LP represses of Bunny Wailer's 'Blackheart Man', Junior Murvin's 'Police and Thieves', and a super cool LP of 1950s mento and early calypso from Hubert Porter.
We've been loving the new album from Loma on Sub Pop, which finds Jonathan from Shearwater teaming up with the Austin gloom-folkie chanteuse Emily Cross. Just in time, her two albums as Cross Record are back in print, and they're a must for fans of Sharon Van Etten, Grouper, and Agnes Obel.
If you take a chance on one record this week, pick up the incredible compilation of music by Alain Peters, a folk musician from Reunion Island active in the 70s and 80s. I've never heard anything quite like it and probably never will. On a similar note, the Langley School Music Project release, which took the world by storm when it came out in the 00s on CD, is now here on vinyl.
On the ambient front, we have two massive releases at opposite ends of the spectrum. Dedekind Cut's 'Tahoe' is an expansive experience in immersive texture, while the archival reissue of Eblen Macari's 1987 album 'Musica Para Planetarios' blends traditional Mexican folk guitar with cosmic synthscapes, creating a vibe like no other. Why decide? Just get both.
We've also got new electronic and experimental from Tzusing, Tint, Samo DJ, Wetware, Kim Byoung Duk, and Loren Connors.
Chris Thompson's incredible 1973 acid folk trip is back on LP, as well as 'Cyborgs Revisited' from Simply Saucer, Canada's late 70s answer to both Pink Floyd and the Stooges.
USED VINYL ALERT: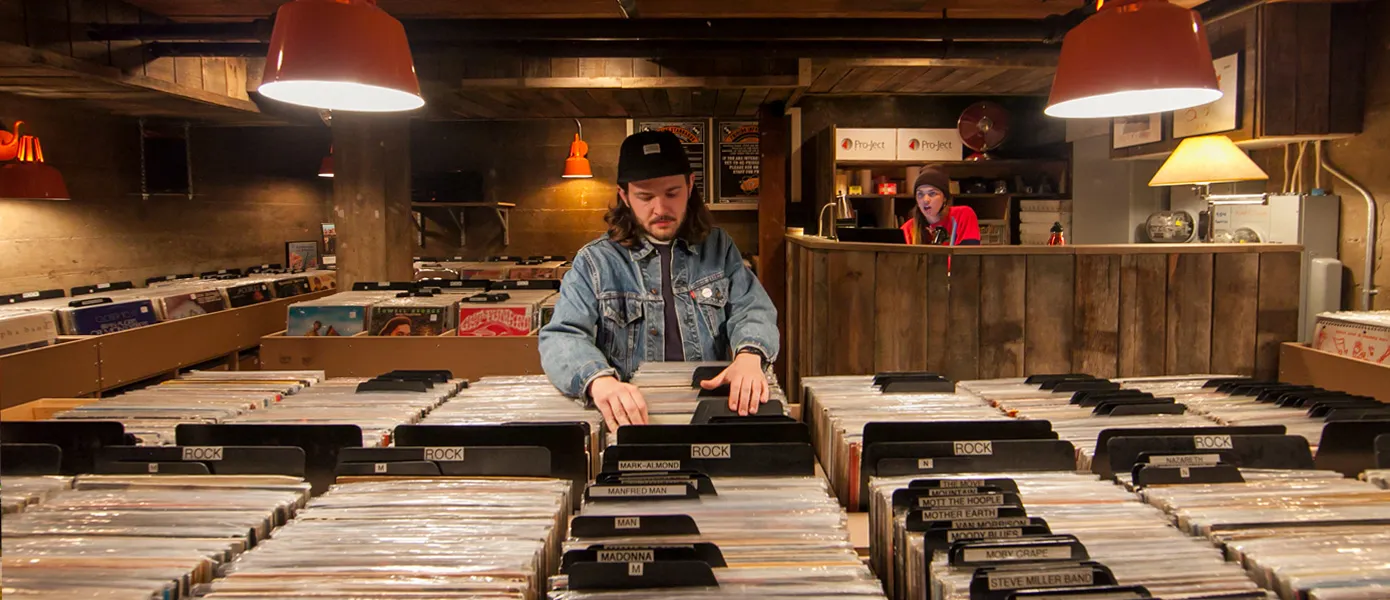 Heading downstairs for this week's USED VINYL ALERT, we haven't forgotten about all you mavens of vintage value. This week we go bonkers with classic rock, prog and psych, jazz, blues, soul, country, alt/indie, and lots of soundtracks. Keep reading!
Following on from last week's post-punk/pre-punk explosions (and some of those LPs are still here!), we go deep in the 80s and 90s once again, with titles from Black Tambourine, Magazine, Siouxsie and the Banshees, Depeche Mode, Sonic Youth, the Lounge Lizards, the Hellcats, Madness, Nick Lowe, Nirvana, REM, the Cure, Husker Du, Bush and Beck. Baby Beck!
Lots of classics in the house this week including a deep run from the Beatles, lots of Floyd and Zeppelin and Mac, and Frank Zappa, and Tom Waits, plus some fine ones from the Band, T Rex, the Beach Boys, Tom Petty, Bob Dylan, Van Morrison, Lou Reed, Bruce Springsteen, and U2, plus heavier ones from the Black Crowes, Ratt, Quiet Riot, Queen, Whitesnake, Black Sabbath, Motley Crue, and Ozzy solo.
Heading deeper into rock land, we've got some cool from from the Scorpions, the Flamin Groovies (a test press!), Hunger!, Dennis Linde, Cognition, Tommy James, Manfred Mann, Hawkwind, Blue Mountain Eagle, Highway Robbery, Lucifer's Friend, Birth Control, Wigwam, Boston Tea Party, Blues Image, and the Yellow Balloon, plus some great folk from Joni Mitchell, Richard Thompson, Pearls Before Swine, Bruce Cockburn, and a very solid run of hard to find Gene Clark LPs!
Our jazz selection is wide ranging this week, running from big band, stride piano and early New Orleans jazz, to the most exotic fusion the 1980s have to offer. We've got names like Bob James, Weather Report, Herbie Hancock, Sonny Rollins, Miles Davis, Duke Ellington, Art Blakey, Keith Jarrett, Hubert Laws, King Curtis, Lonnie Liston Smith, Roy Ayers, Eddie Russ, Alphonse Mouzon, the Art Ensemble of Chicago, and many many more!
Plenty of soul this week as well, check out Brook Benton, the Artistics, Aretha Franklin, the Temptations, Johnny Guitar Watson, Sam Cooke, Archie Bell, Tower of Power, Ballinjack, Timmy Thomas, the Dramatics, James Brown, Teena Marie, Buddy Miles, the Nite-Liters, Kool and the Gang, plus some jams from Naughty By Nature, Sade, Prince, and Flying Lotus.
Strong blues records this week from Luther Allison, Mississippi John Hurt, Taj Mahal, Mike Bloomfield, Sonny Boy Williamson, Muddy Waters, Stevie Ray Vaughan, Buddy Guy, BB King, Junior Wells, Earl King, Mercy Dee Walton, Etta James, Johnny Winter and John Mayall.
Lots of great country this week from the usual and unusual suspects! Wanda Jackson, Pete Drake, George Strait, Marty Robbins, Randy Travis, Merle Haggard, Joe Ely, Waylon Jennings, Johnny Cash, Willie Nelson, Steve Earle, Dwight Yoakam, Shelby Lynne, Guy Clark, David Allen Coe, Marty Stuart, Clint Black, and Alan Jackson!
The basement gets a shot of youth this week, with newer releases from My Morning Jacket, Naomi Punk, A Place to Bury Strangers, Dinosaur Jr, The Men, Mastodon, Microphones, Deerhunter, Metz, Parquet Courts, Pile, No Age, Haim, Vampire Weekend, and Nada Surf!
We wrap up with some cool ones from Bob Marley, Fela Kuti, Hugh Masekela, Antonio Carlos Jobim, and GIlberto Gil, plus an extremely varied journey through soundtrack land, from Jaws to Morricone to Rocky Horror to Bollywood, and all the way back!
BEN HARPER & CHARLIE MUSSELWHITE 7" PROMOTION:
Ben Haprer & Charlie Musselwhite return March 30th with their new collaboration, No Mercy In This Land. In the meantime, swing by and pick up a fresh 7" that features tracks from the album plus an exclusive B-side version not available anywhere else. The 7" is $2 and includes a coupon for $2 off the full release.
JIMI HENDRIX LITHO FREE WITH NEW CD/LP:
MONROE STREET ROAD CONSTRUCION UPDATE:
As Monroe Street goes from potholes to rubble to pavement, we extend gratitude to all our customers who still venture our way. Record diggers are a hearty bunch. We'll still be putting out over 500 incoming used records every Friday morning and we'll remain on top of all the newest sounds. And while you're in our neck of the woods, show our neighbors some love. Monroe Street is a great place to eat, drink, exercise, get sharp and get out. We've been here since 1992. So far, we like it.
NEXT MUSIC TRIVIA TUESDAY APRIL 10TH:
Our next MUSIC TRIVIA at the High Noon Saloon is Tuesday, April 10th. Registration starts at 5:30 with the first question from Angie and Marty at 6PM. Save the date for May 8th!