Email February 8, 2018
VALENTINE'S DAY SALE:
It's almost Valentines Day, Strictly Discs shoppers. If you forgot, you're welcome! We thought about writing love poems to each of our customers, or buying chocolates for all of you, but let's get real. What you truly want is a sale! So, starting today, Saturday, and running through Wednesday the 14th, all new LPs, CDs & equipment be 14% OFF!

This sale is only for you, our beloved mailing list recipients, so please mention the Valentine's discount at the counter before you check out and -*poof*- savings!
NEW THIS WEEK AT THE SHOP: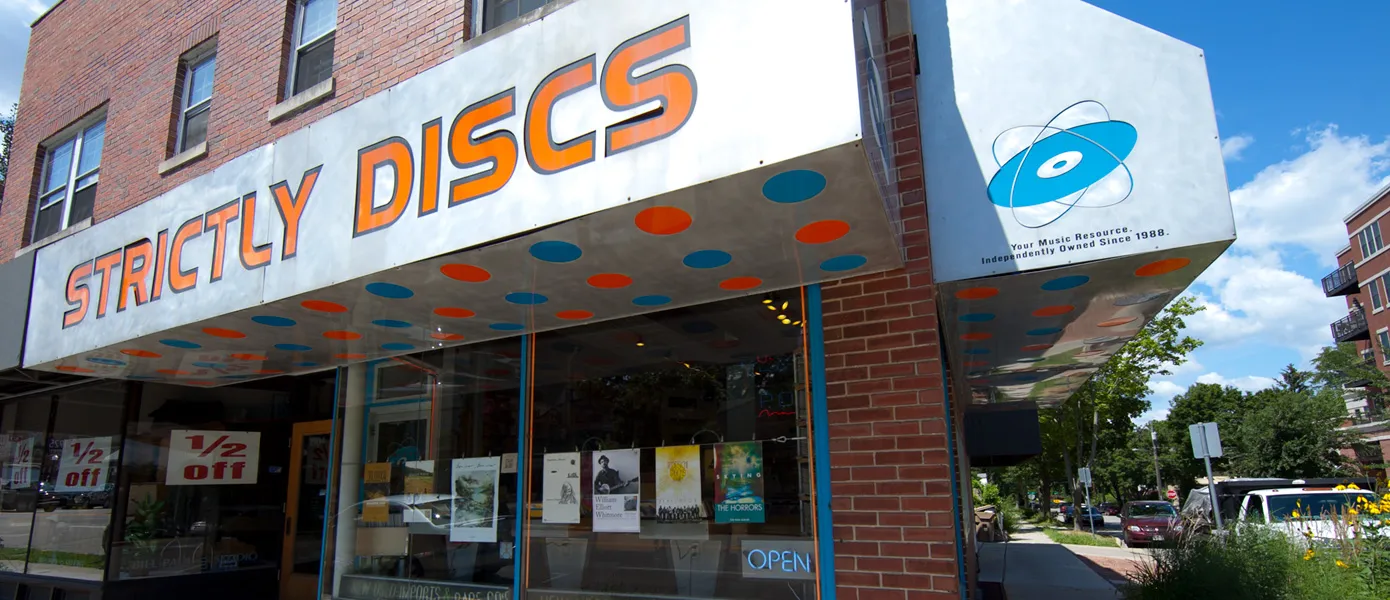 Here is our weekly rundown of what's new in the shop.

Two beloved indie acts that have weathered the storm of a decade or more have fresh albums out today, both sounding vibrant as ever. MGMT brings us 'Little Dark Age', their first album in 5 years, and its full of experimental pop goodness that doesn't skimp on the ear-tunneling melodies they've always trafficked in. Franz Ferdinand unleashes 'Always Ascending', something of a yin to MGMT's yang, a killer album built out of FF's trademark tension. That one's on colored vinyl while supplies last.
Irish folkie Brigid Mae Power delivers us her third album, and it's lovely singer-songwriter stuff shot through with a Cocteau Twins vibe. Loving this one, as well as the latest from the one of a kind Norwegian vocalist Susanna, who brings her operatic, gothy blues pipes to bear on a wide-ranging spread of tunes on 'Go Dig My Grave'.
Chicago shambolic garage poppers Twin Peaks deliver their long-awaited new record, 'Sweet 17 Singles', while NYC doom-pop whiz The Soft Moon brings us 'Criminal', a taut new album that reminds me a little of classic NIN and 90s Ministry. You know..., oldies.
We've got a slew of other new releases this week in the broader rock and indie worlds, from names like Brian Fallon, Ezra Furman,

Waterparks, Wild Child, Joan As Policewoman, Palm, and The Wombats, plus the vinyl version of Shovels and Rope's 'Busted Jukebox Volume 2' is in the house.
Back in print! Check out vinyl represses of The Offspring's self-titled debut, plus four from The Ramones: 'The Ramones', 'Leave Home', 'Rocket To Russia', and 'Live at the Roxy'. We've also got the Beastie Boys' 'Hot Sauce Committee Part Two' back in print on vinyl.
Two spiritual jazz gems from the fertile Strata East catalog are back on wax: Cecil Payne's 'Zodiac' and Stanley Cowell's 'Regeneration'.
We've also got new discs in from Gogo Penguin and Melody Gardot.
Two cool reissues illuminate very different sides of 1980s Italy this week. Tiziano Popoli and Marco Dalpane's 'Scorie' is a minutely crafted proto-IDM wonder from 1985. 'Phantom Records' is a compilation from the longtime DJ I-Robots collecting rare tracks from the influential Italo disco label by the same name.
We've got reggae in from Bobby Digital, Judge Dread, and Delroy Wilson. A very killer Funkadelic comp called 'Finest' collects some of their best tracks along with some rare ones. A new collection is out on CD and LP compiling all of Nina Simone's singles for the Bethlehem label. Chris Hillman also gets the treatment with a CD compiling the best songs from his albums on Asylum.
Two wonders come our way from more far-off locales this week. Alain Peters was a folk musician from the island of Reunion, and 'Rest La Maloya' collects just about all of his existing recordings, which are utterly mindblowing! You won't be able to place his sound; it's a little bit Afro-latin, a little bit creole, a little bit Hawaiian even, but his melodies and lyrical presence will win you over immediately. 'Salm' is a collection of Gaelic psalms recorded live in houses of worship on the edge of Scotland. Pure voice, without any other musical accompaniment, has never sounded quite like this. It's more akin to watching a school of fish, or a billowing smokestack, than anything in the vocal realm. Wow, wow, wow on both of these LPs.
Two deep ones from the far-off land of 90s underground electronics are back in print while the gettings good: Muslimgauze's 'The Mullah Said' and Christophe de Babalon's 'If You're Into It, I'm Out Of It'. A lot of of firepower on these two records.
More new stuff in the dance, techno, and experimental realm this week comes from Jing, Makoto Kawabata/Richard Pinhas, Hiroshi and Claudia, Gary War, and John Tejada, plus we have two cracking new EPs from Ex-Terrestrial and Jee Day.
USED VINYL ALERT: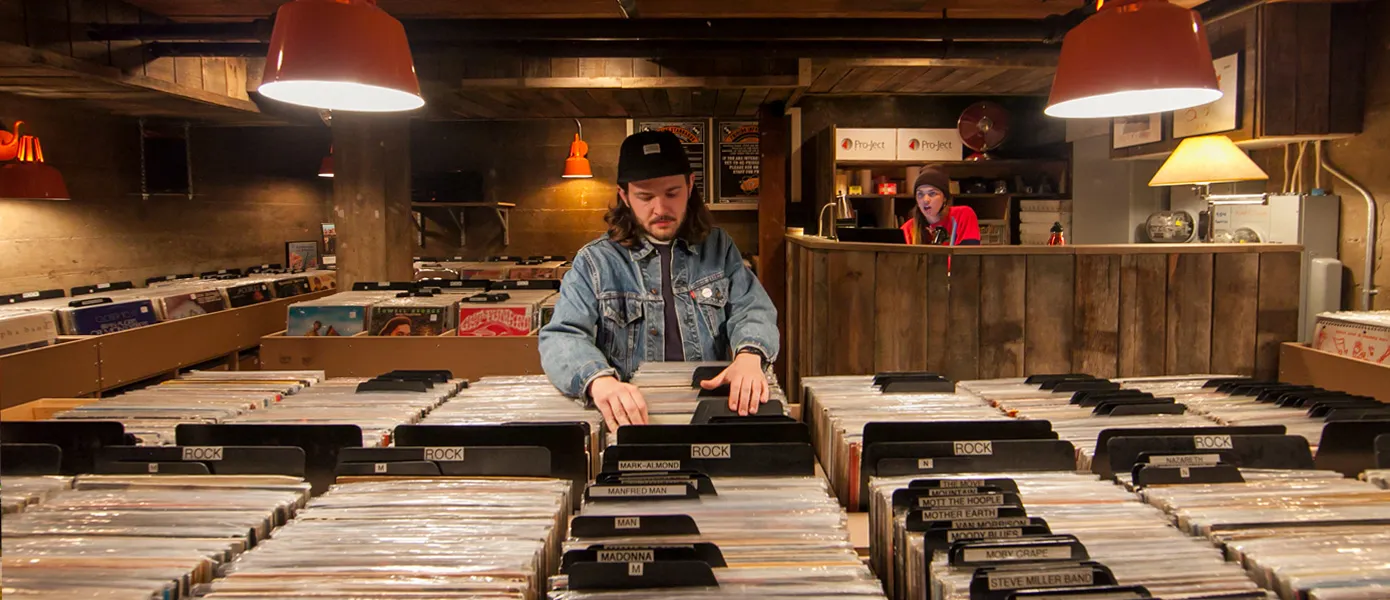 Moving downstairs for this week's USED VINYL ALERT, we have a seriously, honest to goodness, near-miracle of a high grade collection for you to check out. Continuing with our momentum so far this year, this set of records goes especially deep on the soul, jazz, and blues areas, but don't worry, all of your favorite styles get a rep or two this week!
First up, let's talk about that jazz. This week's spread features a couple of very cool early pressings and box sets, plus marquee titles from names like Stan Getz, Sonny Rollins, Bill Evans, Jimmy Smith, Ray Brown, Django Reinhardt, Thelonious Monk, John Coltrane, Miles Davis, Grant Green, Wes Montgomery, Sun Ra, Cannonball Adderley, Charles Mingus, Oliver Nelson, Lee Morgan, Bud Powell, Harold Land, Gary Burton, Keith Jarrett, Danny Zeitlin, Lester Young, the 3 Sounds, Dave Brubeck, Jimmy McGriff.
Lots of latin, exotica, and international jazz this week, from names like Esquivel, Tito Puente, Eddie Palmieri, Willie Bobo, Cal Tjader, Martin Denny, Martha Velez, Olatunji, Joao Gilberto, plus some Piero Umiliani, steel band, and Barrabas!
The soul goes so deep this week you might not find a way out. Check out killer slabs from names across the decades, like Bettye Swann, Solomon Burke, Barbara Acklin, Thelma Houston, Wilson Pickett, Aretha Franklin, The Tams, Bobby Womack, Marion Williams, Sam Cooke, Brook Benton, Al Green, the Ronettes, the Temptations, the Foundations, Stevie Wonder, Gene Chandler, and Ray Charles.
We didn't forget the rock of course, with some major titles showing up from the Rolling Stones, David Bowie, T.Rex, Frank Zappa, the Grateful Dead, Neil Young (and plenty of his friends), the Yardbirds, Pink Floyd, the Beatles and George solo, the Kinks, and a whole lotta Zeppelin (woooosh) (I'm not foolin'). Delving deeper, we've got some stranger things from Hot Legs, Crabby Appleton, the Candymen, Calliope, Sand, Plus, Bones, Sir Doug, and Harvey Mandel, and deep cuts from Tom Waits, Bob Seger, Chris Spedding, Manfred Mann, Gram Parsons, Cream, the Hollies, Donovan, Deep Purple, Slade, and Small Faces.
Punk and new wave comes through from the Bizzarros, Devo, the Dead Kennedys, XTC, Young Fresh Fellows, Cock Sparrer, OMD, Harvey Milk, and the Bad Brains, the only band that actually matters!
The blues are bonafide this week with LPs from Johnny Adams, Bobby Rush, Lightnin Hopkins, Johnny Smith, Mississippi John Hurt, Ronnie Earl, Lowell Fulson, Albert King, and BB King. Lots of country as well, from names like Ernest Tubb, Dean Hightower, Hank Williams, Dolly Parton, Johnny Cash, Roy Clark, David Allen Coe, and early LPs featuring the freshest-faced Willie Nelson I ever have seen! We've also got some cool folk records from Maxine Shields, Arlo Guthrie, Jack Elliott (before he started Ramblin'), Tom Paxton, Tim Hardin, Phil Ochs, and Richard & Linda Thompson.
Big reggae scores are to be had this week from many heavy hitters, including Peter Tosh, Linton Kwesi Johnson, Lee Scratch Perry and the Upsetters, Bob Marley, Horace Andy, Jimmy Cliff, Burning Spear, Josie Wales, and a bunch from the African Head Charge/On-U Sound/Dub Syndicate axis.
We wrap up with classics from Sade and Prince, cool electronics from Add N to X, Tosca, Nitzer Ebb, Vangelis, Tangerine Dream, Synergy, Tonto's Expanding Head Band, and New Order, plus several cool records of acid house, moog, and some experimental jawns from John Cage, Lucio Berio, and Arvo Part. Couple raps are here from Clouddead, Nelly and the Clipse, and some more recent albums are back secondhand from Tune-yards, DJ Shadow, Phantogram, the Flaming Lips, Dr. Dog, and Beck!
NEXT MUSIC TRIVIA TUESDAY APRIL 10TH:
Our next MUSIC TRIVIA at the High Noon Saloon is Tuesday, April 10th. Registration starts at 5:30 with the first question from Angie and Marty at 6PM. Save the date for May 8th!
RECORD STORE DAY 2018 - SAVE THE DATE:

Save the date - April 21st, 2018 is Record Store Day (RSD) 2018!
OTHERS TALK BACK:
This isn't the spot to lay down odds on the third race. OTB is where Others Talk Back and give you the lowdown on what they've been feeling lately. This one's for the customers.
Roxy Music – "Roxy Music" This is a reissue of their first album, remastered with a separate disc containing fourteen BBC sessions. When this album was released in 1972 it must have sounded to the average music fan, like that band had come from Venus to live and play on Earth. Much like Bowie, Roxy Music reset music from the prog and metal that was popular at the time. To a certain extent Roxy Music was a return to rock and roll from the fifties and early sixties, but fused with decidedly avant-garde sounds. The band also looked like they were from Venus, with an off-the wall but sophisticated sense of style. The original album has never sounded better, and there is an attached twenty-five page booklet detailing the formation of the band and the recording of the album. The BBC sessions are the real treasure of the release. Five of the sessions include Davy O'List, formerly of the Nice with Keith Emerson. Mr. O'List's playing is much more 1972 rock and roll than Phil Manzanera's playing after Mr. O'List left the band shortly before recording this album. Mr. O'List's playing gives the song a different feel than the songs on the album. All of the tracks from the album, with the exception of one, are tackled on the four BBC sessions, with many of the BBC session cuts being longer than the album proper cuts. Any self-respecting Roxy Music fan will absolutely have to have this release, along with any fan of seventies and glitter rock. Although sometimes lumped in with glitter rock, Roxy Music was always much more than a typical glitter band. Even today "Virginia Plain," their first single, still sounds as astounding as it did those decades ago. - Ted Talks
The James Hunter Six – "Whatever It Takes" Mr. Hunter has been playing since the mid-eighties. He was involved with Van Morrison for several years before he struck out on his own some twenty years ago. His first release in the US only came out in 2006. This is Mr. Hunter's second album for Daptone Records. The obvious point of reference for Mr. Hunter would be rhythm and blues and soul from approximately 1958 to 1962. Mr. Hunter has the sound down to perfection and his careworn vocals mirror the vocalists of the era. What Mr. Hunter has, but which most soul revivalists don't possess, is an ability to write killer songs that rank with some of the best of the era. It is quite astounding when a 55 year old Englishman can rival some of the best from the r&b and soul era. You will certainly find that on "Whatever It Takes." - Ted Talks