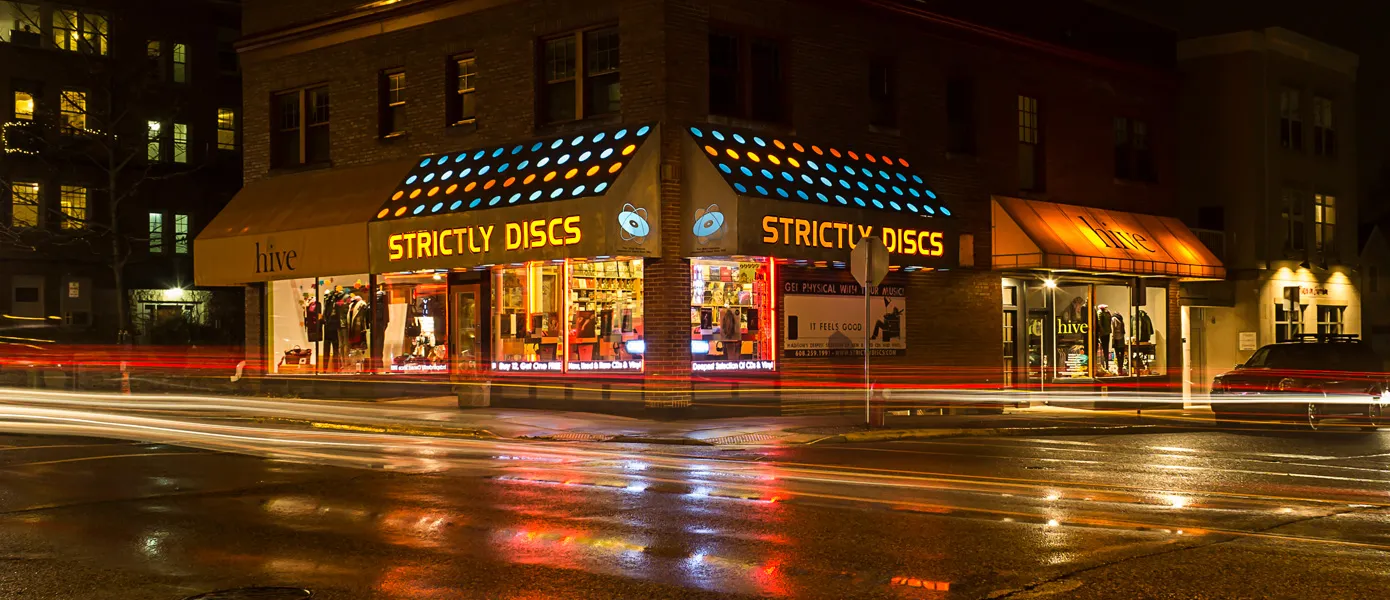 STRICTLY DISCS HOLIDAY HOURS:
Sunday, December 31 11AM-5PM
Monday, January 1 CLOSED
Tuesday, January 2 10AM-8PM
USED VINYL ALERT: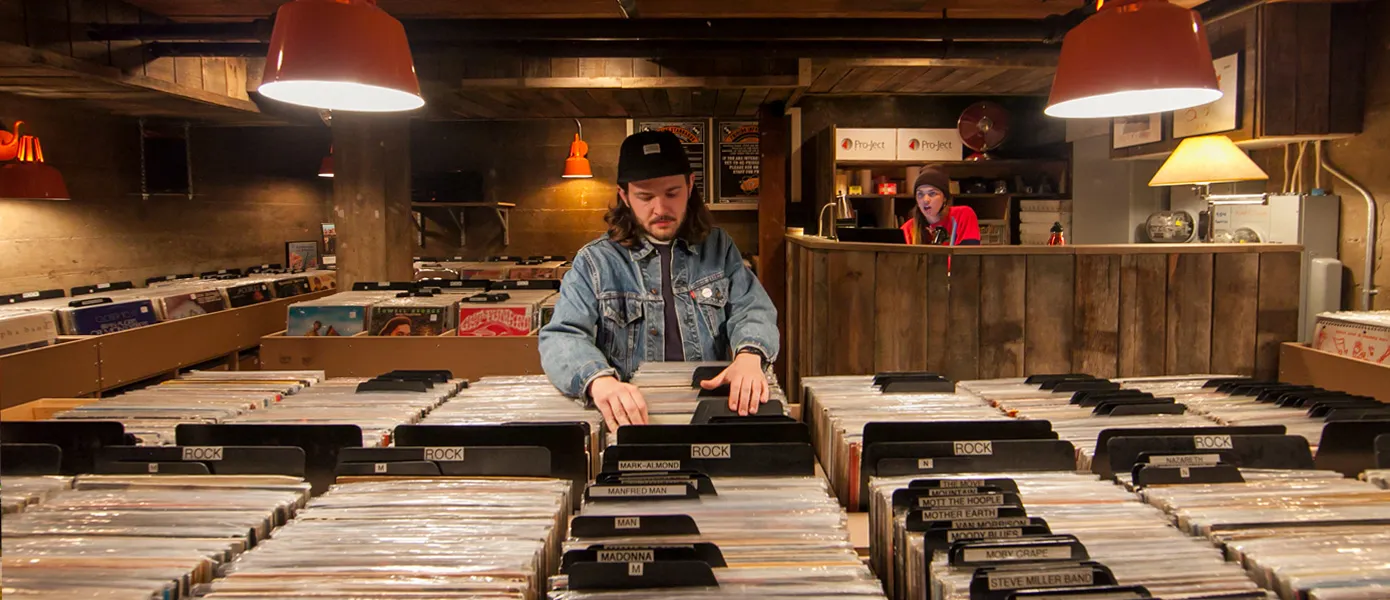 Greetings, Strictly Discs shoppers! We hope you've had a festive and safe holiday season so far. We've seen so many of you in the last week or so, it's been great! Thanks for making us a part of your seasonal shopping whirlwind!
We have no new releases to report this week, but next week we'll be kicking off a new year of music with a bang. We do, however, have a supersized load of new arrivals downstairs to fill you in on in this week, so lets get on with the USED VINYL ALERT, shall we?
We continue to roll out eye-popping, time capsule-style troves of SEALED LPs from days of old. This week, we have a lot of rare LP titles from the 1990s, still encased in their original packaging, from names like Digable Planets, 311, Nine Inch Nails, Hayden, the Offspring, David Gray, Spearhead, Alanis Morrisette, Hootie and His Blowfish, Candlebox, Matthew Sweet, Folk Implosion, Cibo Matto, New Bomb Turks, and a couple whoppers from Sublime. Don't have a cow! Time to bone up on your NAFTA knowledge and break out the slap bracelets.
We have even more recent indie and offbeat titles from Drive By Truckers, Snow Patrol, Cat Power, Coldplay, Lana Del Rey, Glen Hansard, Decemberists, Bright Eyes, FKA Twigs, Panda Bear, Belle and Sebastian, Whiskeytown, LCD Soundsystem, and Guns and Roses.
Guns and Roses? Hold up, those guys belong over here in the widely-defined category of 80s rock, which we have a lot of this week, from names like The Clash, Tom Verlaine, NRBQ, Tracy Chapman, Die Gesunden, Queensryche, Bauhaus, Warrant, Death Cult (who later became THE Cult), Shriekback, LA Guns, Hanoi Rocks, and the Violent Femmes.
Plenty of great titles are here this week from our hall of fame names, including deep catalog runs from the Grateful Dead, Neil Young, Bob Dylan, Pink Floyd, the Beatles, Led Zeppelin, David Bowie, Tom Waits, the Rolling Stones, Lou Reed, Black Sabbath, Jimi Hendrix, and Steely Dan, plus cool ones from names like Harvey Mandel, Camel, John Prine, Colosseum, Cold Blood, I Signori Della Galassia, Dust, Moby Grape, the Walker Brothers (Nite Flights!), the Left Banke, Dick Dale, Lyle Lovett, and both of them Buckley boys, Tim and Jeff!
We've got a very cool and wide assortment of children's LPs this week, including several Disney albums, and a couple from Mr. Rogers. Who doesn't love Mr. Rogers? Bring them to me in shame.
A cool spread of soundtracks this week includes The Princess Bride, the Addams Family, and the Hitchhiker's Guide to the Galaxy!
We got some great African, Hawaiian and Reggae LPs in this week that will warm you up a little bit inside. Check out some very cool highlife and afrobeat LPs, plus titles from Tabu Ley, Myrna Hague, the Heptones, Third World, Jimmy Cliff, Black Uhuru, Bim Sherman, Max Edwards, and Jacob Miller!
Lots of great jazz this week, including collectible and budget-priced titles from Cecil Taylor, Wes Montgomery, Art Tatum, Herb Alpert, Clifford Brown, Ella Fitzgerald, Eric Dolphy, Charlie Haden, Johnny Griffin, Herbie Hancock, Miles Davis, Charles Mingus, and John Coltrane.
It's another great week for soul and funk, with certified must-owns in the house from Erykah Badu, Smokey Robinson, Marvin Gaye, Michael Jackson, the Temptations, Sheila E, Bobby Womack, Aretha Franklin, Rick James, Stevie Wonder, the Main Ingredient, Sam Cooke, James Brown, the Meters, Otis Redding, and a ton of rare Prince, plus some very cool out of print soul compilations!
A bit of rap and hiphop this week comes in from Death Grips, Beyonce, LL Cool J, Damu the Fudgemunk, Kanye West, and the Notorious BIG.
We have a colorful spread of blues, folk and country, as always. This week includes titles from Doc Watson, Waylon Jennings, Jimmie Rodgers, Johnny Cash, Willie Nelson, Hank Williams, Koerner Ray and Glover, Muddy Waters, Sonny Boy Williamson, and Robert Johnson, plus our usual selections of deep, obscure, rare and regional folk/rock.
So leave your water running just a bit so the pipes dont freeze, grab all your hats and scarves, and come on down for a dig. The basement is warm and cozy!
Here are our Top Picks for 2017!
CUSTOMER TOP 10s:
We've shown you our lists, so we we want to hear from you! Send your own list (anything musical: albums, live performances, reissues, rediscoveries) to Evan at evan@strictlydiscs.com and we will start compiling them in the weekly email.
Steve Sabatke
1. White Knight - Todd Rundgren
2. Dark Matter - Randy Newman
3. Bidin' My Time - Chris Hillman
4. Triplicate - Bob Dylan
5. The Laughing Apple - Yusuf/Cat Stevens
6. Novum - Procol Harum
7. Adios - Glen Campbell
8. Chuck - Chuck Berry
9. The Knowledge - Squeeze
10. Everybody Knows - Stills/Collins

Marty Schumacher
1. Pallbearer - Heartless - Proggy Doom Metal
2. Venenum - Trance of Death - Proggy Death Metal
3. Archspire - Relentless Mutation - Tech Death inspired by Tech N9ne
4. Akercocke - Renaissance in Extremis - Proggy Blackened Death
5. Mutoid Man - War Moans - Stoner Rock related to Converge
6. Unleash the Archers - Apex - Power Metal
7. Lör - In Forgotten Sleep - Power Folk Metal
8. Expander - Endless Computer - Sci-fi crossover produced by Converge
9. Brand New - Science Fiction
10. Caligula's Horse - In Contact - light prog metal

Eric Rosenberg
Maya Jane Coles, Take Flight
Steffi, World of the Waking State
Ikonika, Distractions
Laurel Halo, Dust
Kelela, Take Me Apart
Jlin, Black Origami
Nadine Shah, Holiday Destination
Colleen, A Flame My Love, A Frequency
Steffi, Fabric 94
Kaitlyn Aurelia Smith, The Kid

Matt Strandt
Ahmad Jamal - Awakening reissue
Photographs of Charles Duvelle book/CD on Sublime Frequencies
Midori Takada - Through the Looking Glass
The Gamelan of the Walking Warriors - Gamelan Beleganjur and the Music of the Ngaben Funerary Ritual in Bali
House & Land - S/T
Jon Mueller - dHrAaNwDn
Maalem Mahmoud Gania - Colours of the Night
Sarah Davachi - All My Circles Run
Kelly Moran - Bloodroot
Morteza Hannaneh - Tchashm-e-del
Metqal Qinawi - S/T
So Percussion & Steve Reich - Drumming Live
Eli Keszler - Last Signs of Speed

Aaron Granat
1) Bjork - Utopia
2) Rabit - Les Fleurs Du Mal
3) Chino Amobi - Paradiso
4) Gas - Narkopop
5) Rainforest Spiritual Enslavement - Ambient Black Magic
6) Satoshi & Makoto - CZ-5000 Sounds and Sequences
7) Various - Mono No Aware (PAN)
8) Visible Cloaks - Reassemblage
9) Call Super - Arpo
10) DJ Sports - Modern Species
Sean Ottosen
Kaitlyn Aurelia Smith - The Kid
The War on Drugs - A Deeper Understanding
Pyrrhon - What Passes for Survival
Sampha - Process
Colleen - A Flame My Love, A Frequency
Joshua Abrams & Natural Information Society - Simultonality
Ufomammut - 8
Guerilla Toss - GT ULTRA
Various - I Believe I'll Go Back Home (1906-1959)
Various - Oté Maloya: The Birth of Electronic Maloya on Réunion Island, 1975-1986

THE CRAIG BAKER EXPERIENCE
Hampshire and Foat - Galaxies Like Grains of Sand
Ayreon - The Source
Kobra and the Lotus - Prevail I
ZZ Ward - The Storm
Public Service Broadcasting - Every Valley
Cheap Trick - We're All Alright
Rex Brown - Smoke on This
Steve Hackett - The Night Storm
Goldfrapp - Silver Eye
Donald Byrd - Street Lady

Jimi McPherson III
Umfang - Symbolic Uses of Light
DJ Python - Dulce Compania
Laurel Halo - Dust
Terekke - Plant Age
Lee Gamble - Mnestic Pressure
Nidia Minaj - Nídia É Má, Nídia É Fudida
Turinn - 18 1/2 Minute Gaps
Shinichi Atobe - From The Heart, It's a Start, a Work of Art
Actress - AZD
Tornado Wallace - Lonely Planet

Seth Hain
Alice Coltrane - World Spirituality Classics 1
Kelela - Take Me Apart
DJ Sports - Modern Species
Noxroy & Auscultation live at Art-In on 11/17/2017
Jon Mueller live at Art+Lit Lab on 4/18/2017
Luka Productions - Fasokan
Alec Mansion on Be With Records
Zazou Bikaye, Hector Zazou et Cy1 -Noir et Blanc
Chino Amobi - Paradiso
Call Super - Arpo

Grant Phipps
Susanne Sundfør - Music for People in Trouble
Bent Knee - Land Animal
Benjamin Clementine - I Tell a Fly
Saajtak - Spokes
Evelyn Davis - The Wit of the Stair
Protomartyr - Relatives in Descent
King Krule - The Ooz
The Academy of Sun - Codex Novena
Laster - Ons Vrije Fatum
Pile - A Hairshirt of Purpose
Cheer-Accident - Putting Off Death
The DRX - Throughout Within
Lovely Socialite - DoubleShark
Diamanda Galás - At Saint Thomas the Apostle Harlem
Ulver - The Assassination of Julius Caesar
Ryuichi Sakamoto - async
Spellling - Pantheon of Me
White Ward - Futility Report
Circuit des Yeux - Reaching for Indigo
Kelly Moran - Bloodroot

Zach Ippen
bitchin bajas - bajas fresh
joshua abrams & natural information society - simultonality
circuit des yeux - reaching for indigo
john andrews and the yawns - bad posture
banana - live
midori takada - through the looking glass
dion - kickin child
gunn-truscinski duo - bay head
v/a - even a tree can shed tears
jamie branch - fly or die