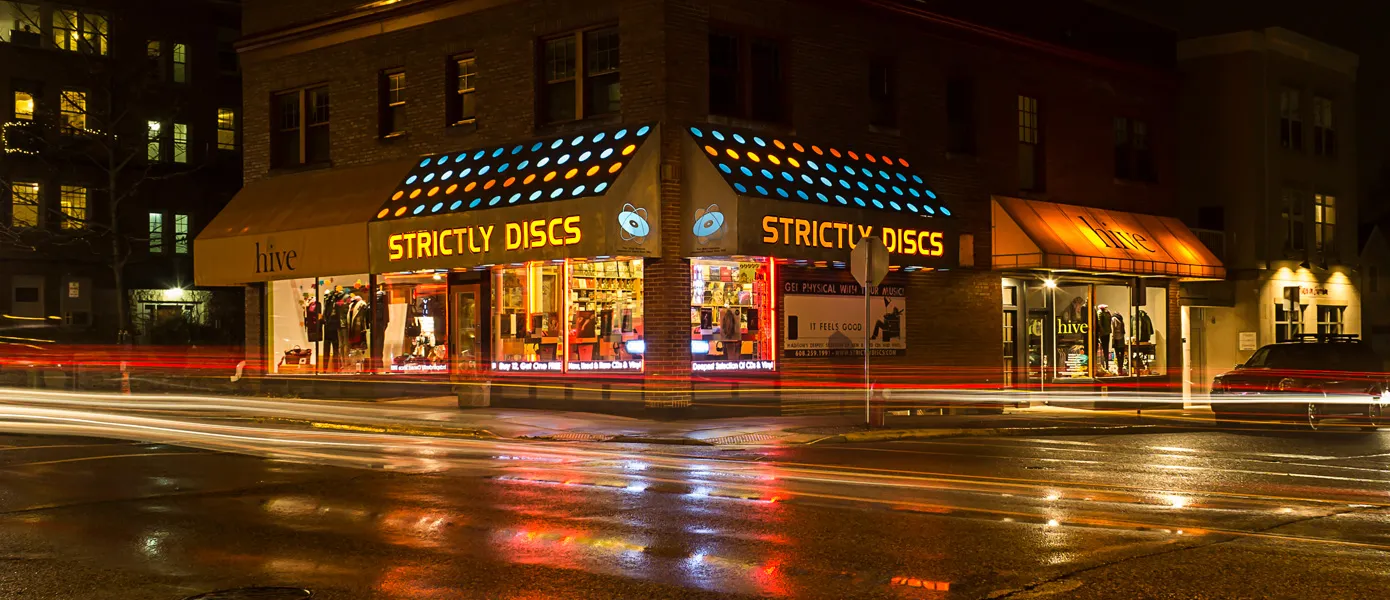 STRICTLY DISCS HOLIDAY HOURS:
Monday – Friday 10AM-8PM
Saturday, December 23rd 10AM-8PM
Sunday, December 24th 10AM-4PM
Monday, December 25th CLOSED
Tuesday, December 26th 10AM-8PM
NEW THIS WEEK AT THE SHOP: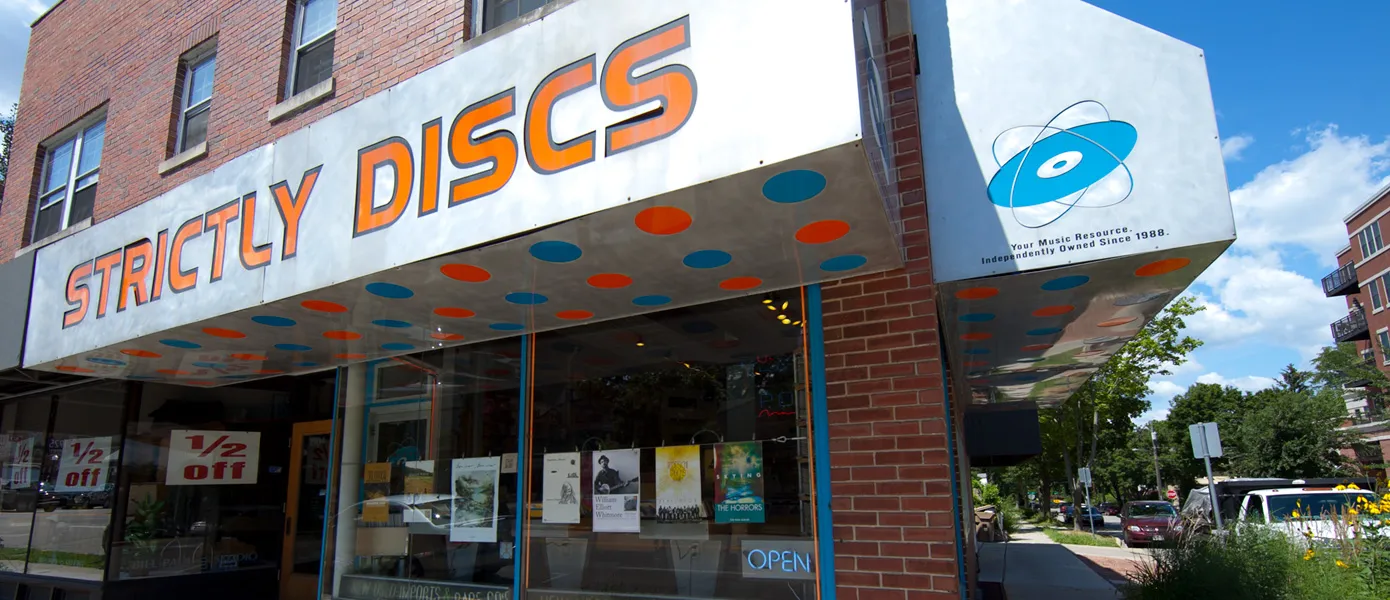 Hello Strictly Discs friends! Did you miss us? It's been days since we last landed in your inbox, but we had to check back in with everything that's new and exciting at the store this weekend. Its a heck of a lot! We just have a couple days until the year's biggest giving holiday, and we've spared no effort here to give you the best selection of gifts to choose from.
Speaking of gifts, you still have time to special order any items you'd like to have before the holiday, if you do so by 4:30 TODAY, FRIDAY the 22nd! We will be receiving one last sleighful of orders on Saturday, so if you've left anything to the last minute, call or stop down to the store today!
The man behind the counter is now our man in the field, and we've just put one of his biggest hauls of the year out on the floor upstairs. Just how Ron came across a feet-long trove of near mint Mosaic vinyl box sets is a story he'll have to tell you over a beer sometime, but for now, come check out these exquisite collectors items from a whole host of names, including in-demand sets from Bill Evans, Blue Mitchell, and Thad Jones, plus many more!
New stuff! Yes, we still get new releases in late December! The continent of Australia sees its two hugest underground bands drop last minute albums that could easily lay claim to Record of the Year status, if they're to your taste. Post-punk gone new-wave auteurs Total Control bequeath us with 'Laughing at the System', a narcotic, urgent, and bold suite of songs that merge Warm Jets-Eno theatrics with the agit-prop of Crass or early Scritti Politti. The cover art on this one is to die for as well.
King Gizzard and the Lizard Wizard set an album free (their fourth this year) into the digital world recently, telling their fans it was a gift to them to utilize as they choose. "Start your own label and gather up some mates to put your own copies together," they said, and several (somewhere around 30, actually) groups of people did so. We have limited copies of this "Authorized Bootleg" of 'Polygondwanaland' in stock on a clear(ish) vinyl pressing, and they probably wont last. Oh and did I mention that this record might be even better than the other three awesome ones they've already put out this year? Wtf guys.
Not to be outdone is a punk trailblazer of our very own, one Amos Pitsch of the Appleton living legends Tenement. He's delivered a little xmas gift of a solo LP called 'Lake Effect', and its a killer tribute to his own off-kilter folk-punk-rural-rock brilliance. One day when Amos is Famous, we'll be able to say we used to sell him NRBQ records!
For the first time ever, the storied Beatles Fan Club Christmas records have been released as a proper vinyl box set. Previously, you had to have the original fan club flexi-discs or any number of poor-quality bootlegs to hear these seasonal songs and messages from the Fab Four, but now you can have the real deal! Supplies limited. If there's a Beatle fan on your list they probably need this one.

The immaculately on-point jazz label Eremite (also responsible for the Joshua Abrams LP which is a near-universal staff fave this year) has done a breathtaking edition of one of the rarest LPs ever in the world of esoteric jazz. Philadelphia vibraphonist Khan Jamal recorded and released 'Drum Dance to the Motherland' in an extremely small run sometime in the early 1970s, and og copies now fetch easily over and grand. This is for good reason; aside from its decidedly ruddy fidelity, it's one of the most moving and original pieces of improvisation I've ever heard. With a unit of horns, bass and drums augmenting his vibes, Jamal charts a dusted, dubby spaceway not too many stars off from the great Sun Ra. Buy this, sit with it a bit, and let it change your life.
The wide, wild world of rap brings us a bunch of heat this week. We now have the vinyl version of Milo's epic, list-topping album 'Who Told You To Think!', an LP version of Russ's 'There's Really A Wolf', plus new LPs from Meyhem Lauren, Allan Kingdom, Marty Baller, and
Mr. Muthafuckin Exquire.
Blu and Exile bring us a 2LP set of unreleased tracks from the original 2007 sessions that brought their breakout album 'Below the Heavens', and we have a new CD from the team of Big Sean and Metro Boomin, who utterly shut down the beat production game this year.
A little over a year since the horrible tragedy that took so many lives in the Ghost Ship fire in Oakland, an LA label has put out a wonderful EP in memoriam of two of the artists we lost that night. 'Run the Length of Your Wildness' features two new tracks from Cherushii and Nackt, plus two tracks from their contemporaries, James Last and Roche, and benefits the families of the musicians who lost their lives. It's a beautiful tribute to their memory and legacy, and it also totally fricking cranks.
We have a new LP from Randy Newman called 'Harps and Angels'. We have more copies of the awesome Black Friday LP we had in from Panduranga Henderson, the keyboardist who performed alongside Alice Coltrane in her ashram years. If you dig the sheets of pure sound you hear on Alice's incredible Luaka Bop set this year, you'll want this one.
Hey girl, we have the soundtrack to this year's version of Bladerunner, '2049', in the house on vinyl. Ryan Gosling alert.
Bring Me the Horizon bring us a nice LP set compiling their best songs from their out of print albums on Epitaph.
Whenever the dance don John Beltran delivers a fresh LP, it's cause for any fan of techno, especially Beltran's brand of cerebral, subtly-crafted Detroit-style techno, to stop and take it all in. We have his latest, 'Moth', in stock on vinyl now, and it's quite the trip.
UK ambient label Melody As Truth delivers the latest in their flawless run of mini-albums. This one comes from Palta, the Danish producer better known as Central, who runs the Help Recordings label. Loving this one!
We have a new album from genre-bender Ahnnu on NNA Tapes. A reissue is in for deep Miami soul/funk band Chocolateclay. Emotional Rescue brings us a beautiful LP of cassette-only 80s tracks from the French 'ethno-industrial' group Vox Populi. Honest Jon's delivers two lovely LPs from guitar improviser
Derek Bailey, 'Solo Guitar', and a set of performances with Dutch percussionist/wizard Han Bennink. UK sound-art trailblazer Basil Kirchin's landmark album 'Worlds Within Worlds' is back in print on LP. Essential dance EPs new and old are in the house from Don Carlos, Fantastic Man, and Rhythm of Paradise. Ukrainian dance machine Vakula is back with a new album called 'Techno Game', plus we have a snappy new grime album from Celestial Trax.
USED VINYL ALERT: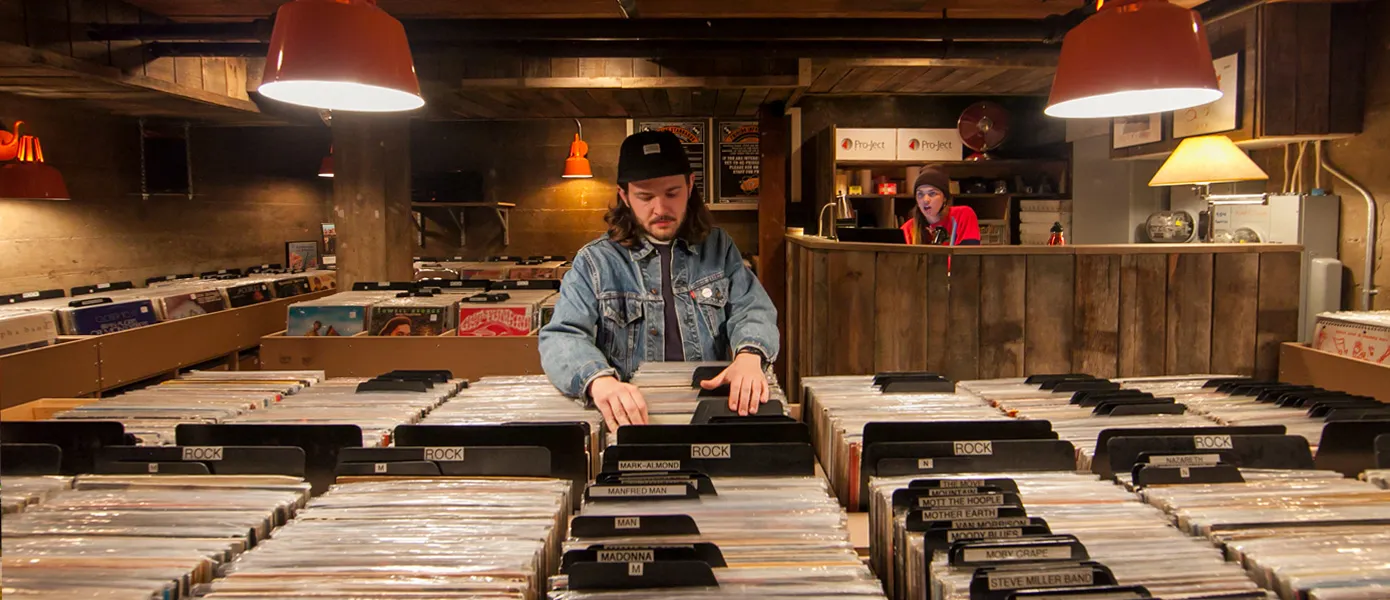 Lets all take a breath and head downstairs for this week's USED VINYL ALERT. The basement elves have been working overtime this week to lay out the most epic spread of must-have vinyl we've seen all year. Psych, indie, folk, jazz, blues, soul, funk, soundtracks and much more is here, with a ton of audiophile pressings and a whole lot of SEALED wax that defies all logic. Why hasn't anyone opened these yet? Guess it's up to you.
On the rock front, we have huge ones from Bob Dylan, Pink Floyd, David Bowie, the Beatles, Jimi Hendrix, Big Star, Tom Waits, George Harrison, AC/DC, Syd Barrett, the 13th Floor Elevators, Gene Clark, and the Rolling Stones, plus even more from names like Gentle Giant, Tommy James, Bob Seger, Rush, Yes, Genesis, the Doors, Spirit, ELO, BOC, Cheap Trick, the Band, Doug Sahm, Jimmy Buffett, Jackson Browne, Bruce Springsteen, CSNY, Joe Cocker, Eric Clapton, the Bee Gees, Procol Harum, CCR and Paul Simon!
We have so many great soul and funk albums this week! Come check out gems, some everyday classics, and some deep rarities from a host of names, like Marvin Gaye, Otis Redding, Stevie Wonder, Tower of Power, Bobby Womack, Johnny Guitar Watson, Quincy Jones, Rick James, Cameo, Toots and the Maytals, Allan Toussaint, Sam Cooke, James Brown, Hank Ballard, the Four Tops, Kool and the Gang, Mariah Carey (first album!), Martha and the Vandellas, Syl Johnson (including a copy of the out of print Numero box set!), Blowfly, and Al Green.
Plenty of jazz this week to go with those wonderful Mosaic boxes. Check out great LPs, some sealed and audiophile, from names like Cecil Taylor, Fred Hersch, Max Roach, John Coltrane, Etta James, Grant Green, Johnny Griffin, Art Blakey, Sonny Rollins, Hank Mobley, Kenny Burrell, Chet Baker, Lionel Hampton, Jimmy Smith, Dave Brubeck, Les Baxter, Miles Davis, Charles Mingus, Milt Jackson, Nina Simone, Cab Calloway, Edith Piaf, and Django Reinhardt, plus a couple of very cool latin LPs!
Blues, folk and country is in the house from everyone from Leadbelly to Buck Owens, Muddy Waters, Michael Hurley, Magic Sam, Johnny Otis, Bessie Smith, Rodney Crowell, Steve Earle, and Waylon Jennings!
Wavers are in the house from U2, Depeche Mode, Killing Joke, Stray Cats, Sisters of Mercy, Soul Asylum, Stranglers, and Sparks, plus some more recent emo type things from Touche Amore, Being As An Ocean, and You Blew It!
Rap stuff is in the building from Heavy D, NWA, MC Hammer, Tone Loc, and Grandmaster Flash, plus newer things from Lightspeed Champion and Dosh.
If recent indie pop/folk/songwriter things is your bag, or your sweetie's bag, we have much for you: Ryan Adams, Jeff Buckley, Sigur Ros, the Black Keys, Eddie Vedder, Samantha Crain, Andrew Bird, Spoon, Mark Lanegan, Belle and Sebastian, John Mayer, Punch Brothers, Bright Eyes, Dave Matthews, Wilco, the Black Angels, Ray Lamontagne, Kings of Convenience, Okkervil River, Camera Obscura, Flaming Lips, Joanna Newsom, Yo La Tengo, Animal Collective, Antony, Apples in Stereo, Deerhoof, Radiohead, Thao, Iron and Wine, the Decemberists, Pavement, Explosions in the Sky, Beach House, Justin Townes Earle, and Fleet Foxes, plus some electronic albums from Moby, Bonobo, and the great Morcheeba!
Whew! Seems like more than enough reasons to stop down this weekend before you settle in with the ones you love (more than us)!
HOLIDAY GROOVE 2017 HAS ARRIVED: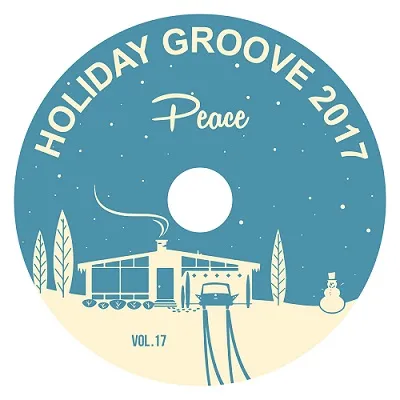 2017 Holiday Groove Tracklisting:
1. Booker T & The MGs - Jingle Bells
2. My Teenage Stride - King of the Holidays
3. The Continentals (feat. Wanda Jackson) - Merry Christmas Baby
4. Death Cab For Cutie - Christmas (Baby Please Come Home)
5. US Girls - Blue Christmas
6. Grandaddy - Alan Parsons In A Winter Wonderland
7. The 'Mericans - Little Drummer Boy
8. John Prine - Silent Night All Long Day
9. Advance Base - Christmas in Dearborn
10. Fats Domino - I Told Santa Claus
11. Lake Street Dive - I Want A Hippopotamus For Christmas
12. Glen Campbell - Blue Christmas
13. Mary Gauthier - Christmas In Paradise
14. Edith Frost with James Dering - In The Bleak Midwinter
15. Mac McCaughan - Happy New Year (Prince Can't Die Again)
16. Steve Earle - Christmas In Washington
17. Slow Club - Silent Night
18. The Hotel Cafe Medley - Auld Lang Syne
Our 17th annual Holiday Groove is FREE with purchase. Thank you for shopping local & Happy Holidays from all of us at Strictly Discs!
Here are our Top Picks for 2017!
CUSTOMER TOP 10s:
We've shown you our lists, so we we want to hear from you! Send your own list (anything musical: albums, live performances, reissues, rediscoveries) to Evan at evan@strictlydiscs.com and we will start compiling them in the weekly email.
Steve Sabatke
1. White Knight - Todd Rundgren
2. Dark Matter - Randy Newman
3. Bidin' My Time - Chris Hillman
4. Triplicate - Bob Dylan
5. The Laughing Apple - Yusuf/Cat Stevens
6. Novum - Procol Harum
7. Adios - Glen Campbell
8. Chuck - Chuck Berry
9. The Knowledge - Squeeze
10. Everybody Knows - Stills/Collins

Marty Schumacher
1. Pallbearer - Heartless - Proggy Doom Metal
2. Venenum - Trance of Death - Proggy Death Metal
3. Archspire - Relentless Mutation - Tech Death inspired by Tech N9ne
4. Akercocke - Renaissance in Extremis - Proggy Blackened Death
5. Mutoid Man - War Moans - Stoner Rock related to Converge
6. Unleash the Archers - Apex - Power Metal
7. Lör - In Forgotten Sleep - Power Folk Metal
8. Expander - Endless Computer - Sci-fi crossover produced by Converge
9. Brand New - Science Fiction
10. Caligula's Horse - In Contact - light prog metal

Eric Rosenberg
Maya Jane Coles, Take Flight
Steffi, World of the Waking State
Ikonika, Distractions
Laurel Halo, Dust
Kelela, Take Me Apart
Jlin, Black Origami
Nadine Shah, Holiday Destination
Colleen, A Flame My Love, A Frequency
Steffi, Fabric 94
Kaitlyn Aurelia Smith, The Kid

Matt Strandt
Ahmad Jamal - Awakening reissue
Photographs of Charles Duvelle book/CD on Sublime Frequencies
Midori Takada - Through the Looking Glass
The Gamelan of the Walking Warriors - Gamelan Beleganjur and the Music of the Ngaben Funerary Ritual in Bali
House & Land - S/T
Jon Mueller - dHrAaNwDn
Maalem Mahmoud Gania - Colours of the Night
Sarah Davachi - All My Circles Run
Kelly Moran - Bloodroot
Morteza Hannaneh - Tchashm-e-del
Metqal Qinawi - S/T
So Percussion & Steve Reich - Drumming Live
Eli Keszler - Last Signs of Speed

Aaron Granat
1) Bjork - Utopia
2) Rabit - Les Fleurs Du Mal
3) Chino Amobi - Paradiso
4) Gas - Narkopop
5) Rainforest Spiritual Enslavement - Ambient Black Magic
6) Satoshi & Makoto - CZ-5000 Sounds and Sequences
7) Various - Mono No Aware (PAN)
8) Visible Cloaks - Reassemblage
9) Call Super - Arpo
10) DJ Sports - Modern Species
Sean Ottosen
Kaitlyn Aurelia Smith - The Kid
The War on Drugs - A Deeper Understanding
Pyrrhon - What Passes for Survival
Sampha - Process
Colleen - A Flame My Love, A Frequency
Joshua Abrams & Natural Information Society - Simultonality
Ufomammut - 8
Guerilla Toss - GT ULTRA
Various - I Believe I'll Go Back Home (1906-1959)
Various - Oté Maloya: The Birth of Electronic Maloya on Réunion Island, 1975-1986

THE CRAIG BAKER EXPERIENCE
Hampshire and Foat - Galaxies Like Grains of Sand
Ayreon - The Source
Kobra and the Lotus - Prevail I
ZZ Ward - The Storm
Public Service Broadcasting - Every Valley
Cheap Trick - We're All Alright
Rex Brown - Smoke on This
Steve Hackett - The Night Storm
Goldfrapp - Silver Eye
Donald Byrd - Street Lady

Jimi McPherson III
Umfang - Symbolic Uses of Light
DJ Python - Dulce Compania
Laurel Halo - Dust
Terekke - Plant Age
Lee Gamble - Mnestic Pressure
Nidia Minaj - Nídia É Má, Nídia É Fudida
Turinn - 18 1/2 Minute Gaps
Shinichi Atobe - From The Heart, It's a Start, a Work of Art
Actress - AZD
Tornado Wallace - Lonely Planet

Seth Hain
Alice Coltrane - World Spirituality Classics 1
Kelela - Take Me Apart
DJ Sports - Modern Species
Noxroy & Auscultation live at Art-In on 11/17/2017
Jon Mueller live at Art+Lit Lab on 4/18/2017
Luka Productions - Fasokan
Alec Mansion on Be With Records
Zazou Bikaye, Hector Zazou et Cy1 -Noir et Blanc
Chino Amobi - Paradiso
Call Super - Arpo

Grant Phipps
Susanne Sundfør - Music for People in Trouble
Bent Knee - Land Animal
Benjamin Clementine - I Tell a Fly
Saajtak - Spokes
Evelyn Davis - The Wit of the Stair
Protomartyr - Relatives in Descent
King Krule - The Ooz
The Academy of Sun - Codex Novena
Laster - Ons Vrije Fatum
Pile - A Hairshirt of Purpose
Cheer-Accident - Putting Off Death
The DRX - Throughout Within
Lovely Socialite - DoubleShark
Diamanda Galás - At Saint Thomas the Apostle Harlem
Ulver - The Assassination of Julius Caesar
Ryuichi Sakamoto - async
Spellling - Pantheon of Me
White Ward - Futility Report
Circuit des Yeux - Reaching for Indigo
Kelly Moran - Bloodroot

Zach Ippen
bitchin bajas - bajas fresh
joshua abrams & natural information society - simultonality
circuit des yeux - reaching for indigo
john andrews and the yawns - bad posture
banana - live
midori takada - through the looking glass
dion - kickin child
gunn-truscinski duo - bay head
v/a - even a tree can shed tears
jamie branch - fly or die