HOLIDAY GROOVE 2017 HAS ARRIVED: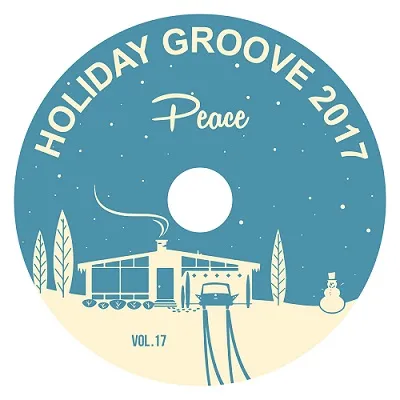 2017 Holiday Groove Tracklisting:
1. Booker T & The MGs - Jingle Bells
2. My Teenage Stride - King of the Holidays
3. The Continentals (feat. Wanda Jackson) - Merry Christmas Baby
4. Death Cab For Cutie - Christmas (Baby Please Come Home)
5. US Girls - Blue Christmas
6. Grandaddy - Alan Parsons In A Winter Wonderland
7. The 'Mericans - Little Drummer Boy
8. John Prine - Silent Night All Long Day
9. Advance Base - Christmas in Dearborn
10. Fats Domino - I Told Santa Claus
11. Lake Street Dive - I Want A Hippopotamus For Christmas
12. Glen Campbell - Blue Christmas
13. Mary Gauthier - Christmas In Paradise
14. Edith Frost with James Dering - In The Bleak Midwinter
15. Mac McCaughan - Happy New Year (Prince Can't Die Again)
16. Steve Earle - Christmas In Washington
17. Slow Club - Silent Night
18. The Hotel Cafe Medley - Auld Lang Syne
Our 17th annual Holiday Groove is FREE with purchase. Thank you for shopping local & Happy Holidays from all of us at Strictly Discs!
Here are our Top Picks for 2017!
CUSTOMER TOP 10s:
We've shown you our lists, so we we want to hear from you! Send your own list (anything musical: albums, live performances, reissues, rediscoveries) to Evan at evan@strictlydiscs.com and we will start compiling them in the weekly email.
Steve Sabatke
1. White Knight - Todd Rundgren
2. Dark Matter - Randy Newman
3. Bidin' My Time - Chris Hillman
4. Triplicate - Bob Dylan
5. The Laughing Apple - Yusuf/Cat Stevens
6. Novum - Procol Harum
7. Adios - Glen Campbell
8. Chuck - Chuck Berry
9. The Knowledge - Squeeze
10. Everybody Knows - Stills/Collins

Marty Schumacher
1. Pallbearer - Heartless - Proggy Doom Metal
2. Venenum - Trance of Death - Proggy Death Metal
3. Archspire - Relentless Mutation - Tech Death inspired by Tech N9ne
4. Akercocke - Renaissance in Extremis - Proggy Blackened Death
5. Mutoid Man - War Moans - Stoner Rock related to Converge
6. Unleash the Archers - Apex - Power Metal
7. Lör - In Forgotten Sleep - Power Folk Metal
8. Expander - Endless Computer - Sci-fi crossover produced by Converge
9. Brand New - Science Fiction
10. Caligula's Horse - In Contact - light prog metal

Eric Rosenberg
Maya Jane Coles, Take Flight
Steffi, World of the Waking State
Ikonika, Distractions
Laurel Halo, Dust
Kelela, Take Me Apart
Jlin, Black Origami
Nadine Shah, Holiday Destination
Colleen, A Flame My Love, A Frequency
Steffi, Fabric 94
Kaitlyn Aurelia Smith, The Kid

Matt Strandt
Ahmad Jamal - Awakening reissue
Photographs of Charles Duvelle book/CD on Sublime Frequencies
Midori Takada - Through the Looking Glass
The Gamelan of the Walking Warriors - Gamelan Beleganjur and the Music of the Ngaben Funerary Ritual in Bali
House & Land - S/T
Jon Mueller - dHrAaNwDn
Maalem Mahmoud Gania - Colours of the Night
Sarah Davachi - All My Circles Run
Kelly Moran - Bloodroot
Morteza Hannaneh - Tchashm-e-del
Metqal Qinawi - S/T
So Percussion & Steve Reich - Drumming Live
Eli Keszler - Last Signs of Speed

Aaron Granat
1) Bjork - Utopia
2) Rabit - Les Fleurs Du Mal
3) Chino Amobi - Paradiso
4) Gas - Narkopop
5) Rainforest Spiritual Enslavement - Ambient Black Magic
6) Satoshi & Makoto - CZ-5000 Sounds and Sequences
7) Various - Mono No Aware (PAN)
8) Visible Cloaks - Reassemblage
9) Call Super - Arpo
10) DJ Sports - Modern Species