July 14, 2022
Is time going forwards or backwards? Doesn't feel like forwards, and yet all these new records are here! Huh. Anyway, the biggest deal this week is the latest from LIZZO, who has gone from "how do you spell that?" to "how many copies can we get?" status in the span of the last decade. 'Special' is here, and we have copies of the extra-special grape colored indie exclusive pressing. Los Angeles pop-punk preteens THE LINDA LINDAS have rocketed to the spotlight, going from the community library to an opening set for Bikini Kill in the span of a year on the strength of one viral clip. 'Growing Up', in the house on swirl color vinyl, proves they have the ferocious melodic chops to back up the buzz. Cuban R&B enchantress CAMILA CABELLO returns with a gleaming new album of polyglot pop on 'Familia', while HALSEY returns to formal evening wear for the cover of a new "tour edition" of 'If I Can't Have Love I Want Power', on olive color vinyl.
New York post-punk hitmen INTERPOL have managed a remarkably long career carrying the stylistic torch lit by Television and 77-era Talking Heads, slowing down the guitarwork of those bands and ramping up the delirious tension in the process. A new album from them, 'The Other Side Of Make Believe', finds them in absolute peak form. London heckraisers†BLACK MIDI strike back with their third album, 'Hellfire', a record that assaults their listeners from all sides with horns, guitars, synths, and jagged snips of found sound. Manchester's WORKING MEN'S CLUB keep the lights on for Dazzle Ships-era OMD on a new one called 'Fear Fear', while members of Ought have reconvened as COLA for nice album of melodic post-punk in the vein of, well, Interpol, on 'Deep In View'.
Soul singer MINNIE RIPERTON's astounding 1970 debut album 'Come To My Garden' gets a lovely new†pressing on lilac vinyl, alongside a fresh pressing of the 1964 debut by a humble feller by the name of WAYLON JENNINGS; 'At J.D.'s' is in on gray vinyl. The timeless classic of†ELLA FITZGERALD & LOUIS ARMSTRONG's 1956 duet of swing standards gets a rewarding audiophile pressing from Acoustic Sounds and Verve, while the Blue Note Classic Series lands on the 1967 soul-jazz gem 'Extension' from saxophonist GEORGE BRAITH, featuring prominent sidework from guitarist Grant Green.
ROBERT FRIPP's patented Frippertronics, the result of a combination of a guitar and a reel to reel machine that predated the "loop pedal" by decades, turn up throughout his output, most famously on his 'No Pussyfooting' summit with Brian Eno. He only ever released one album solely dedicated to this vibe-shifting method, 1981's 'Let The Power Fall', which gets its first vinyl release in close to 30 years this week, alongside his 1980 avant-pop gem 'God Save The Queen/Under Heavy Manners', which features a guest spot from David Byrne. Listening to 'Westing (By Musket And Sextant)', the collection of Pavement single and EP tracks from before they signed to Matador, feels like traveling far back in time to sunny Central Cali, when the weed and The Fall records were a whole lot cheaper. Matador reissues this collection for the first time this week, including the band's early gems "Summer Babe" and "Box Elder", plus a whole lot of racket that makes just as little sense as it did 30 years back. The 2015 mellow acid classic 'Placid' by RECONDITE is back in print this week, alongside a pair of reissues of early albums from BRIGHT EYES, 'Letting Off The Happiness' and 'A Collection of Songs Written and Recorded 1995-1997'.
Country and its many alternate versions are here with new records from TAMI NEILSON, ARLO MCKINLEY and PHIL COOK, all in the house in their limited color vinyl editions. Forlorn indie-rock hitmaker DAMIEN JURADO is back with 'Reggae Film Star', while indie-folk Midlake associate JOHN GRANT sees his 2010 album 'Queen Of Denmark' get a reissue, and the Forager label scrounges up a gem in the 1970 rarity from CLEVELAND FRANCIS; 'Beyond The Willow Tree' finds the black country singer landing an irresistible sound somewhere between Lee Hazlewood and Sixto Rodriguez.
Who is ALEXANDER 23? No idea here but if you do, then you are aware that his long-awaited debut LP 'Aftershock' is a big deal. Nobody seems to make much of a big deal of Hot Chip's ALEXIS TAYLOR's†solo albums, but they are always absolute perfection, and his latest, 'Silence' is no exception. London quartet COUSIN KULA turn in some alluring soulful funk on 'Double Dinners', dialing up a sound somewhere between Connan Mockasin and Tame Impala. LA pop duder John Cudlip teams up with members of Diiv and Day Wave as LAUNDER, with a debut record of satisfying shoegaze, like MBV's†'Isnt Anything' with all that pesky mid-range taken out. Tejano soul heroes SUNNY & THE SUNLINERS released enough incredible singles throughout the 60s and 70s to fill dozens of compilations; 'Mr. Brown Eyed Soul Vol. 2' is the second one to land this week. Conceptually bold, multi-genre pop has thrived in Istanbul, Turkey, for decades; just ask Baris Manco. The latest generation still has the spirit in 'em; a new record from trio LALALAR called 'Bi Cinnete Bakar', mixes up heavy psych, surf rock, synthwave, and more, to delirious effects.†
Sydney, Australia, producer FLUME has put as strong a stamp on global electronic music as any skinny white boy has the right to with his festival-ready future bass sound, and he stays atop that mountain on a big new record called 'Palaces'. After releasing some absolute classics of minimal synth and fourth world ambience, New York producer ARP has proven he's the type of dude who can pull off any sound he puts his mind to. On 'New Pleasures', he explores the cool hedonism of 80s electro-funk and the cold calculations of 90s IDM, and what do you know? He's nailed this one too. Dub techno innovator VLADISLAV DELAY goes back to brass tacks on 'Isoviha', and we have a pair of fresh gems from the ever-relevant Rhythm Section label: TONE's boom-bap and Dean Blunt-influenced 'So I Can See You', and the percolating organic techno of PAULA TAPE's 'Astroturismo'. Dreamy producer LEROSA gets his latest single 'Catena' remixed by a pair of funky techno legends, Jordan GCZ & Donato Dozzy.
The Freedom To Spend label puts some of the nerdiest blood, sweat and tears in the reissue game into their projects, ushering unknown weirdos out into the light for a fresh chance of having their efforts understood. Prime example, their latest LP collection of music by CHERI KNIGHT, a sound artist from early 80s Pacific Northwest influenced equally by punk and John Cage. Ambient producer Laila Sakini goes for maximum un-googleabilty†under the alias PRINCESS DIANA OF WALES, a cryptic album of skeletal pop in the vein of Carla Dal Forno or Grouper. Florida lo-fi brilliance from TONSTARTSSBANDHT is back in print with 'An When' on color wax, and we get a fresh record of stunning trumpet soliloquies from MATTHIAS LINDERMAYR of Fazer on 'Sequence'.
USED VINYL ALERT:
Classic rock, blues and country gems and a deep trove of recent indie are the highlights in this week's Used Vinyl Alert. We've got heavy slabs from heavy names like the Who, David Bowie, Frank Zappa, Crosby Stills and Nash, Led Zeppelin, Bob Dylan, the Beatles, AC/DC, the Byrds, the Kinks, Fleetwood Mac, the Yardbirds, Talk Talk, Kate Bush, INXS, Talking Heads, the Eurythmics, Scott Walker, John Martyn, and James McMurtry.†
Jazz is in from Miles Davis, Billy Cobham, Yusef Lateef, Lenny White, and more. Blues runs the gamut from Freddie King, Charlie Musselwhite, Professor Longhair, Sleepy John Estes, Junior Wells, plus a slew of regional compilations.
All kinds of country, folk, bluegrass, western swing, gospel, honky tonk and other strains of C&W are afoot, including lots of obscure names, private press gems, and compilations, plus Jerry Jeff Walker, George Strait, Hank Williams Jr, Loretta Lynn, Chet Atkins, and dozens more.
A nice spread of contemporary indie, punk, rock and things in between is here from Alabama Shakes, Arctic Monkeys, Tobacco, Black Moth Super Rainbow, Sleigh Bells, Ty Segall, LCD Soundsystem, Sufjan Stevens, Arcade Fire, War on Drugs, Joanna Newsom, the Shins, Dawes, the Wallflowers, Black Rebel Motorcycle Club, the Black Keys, Brendan Benson, Wilco, and many more.
SELL US YOUR CDS & LPS:
Yes, we are still buying! Call Ron to schedule (608.213.3610).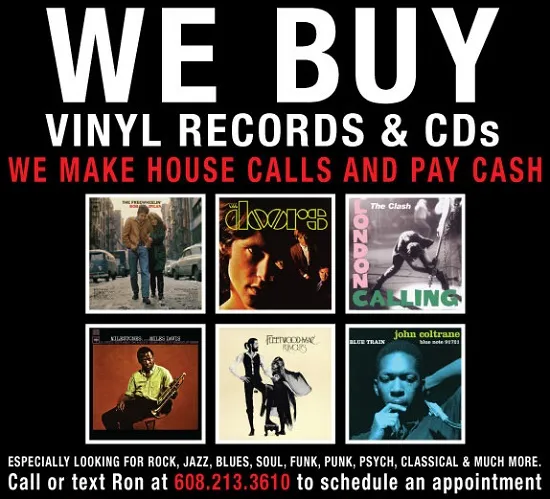 Ron, Ryan, Angie, Marty, Evan, Matt, Ed, Eric, Jack, Steve, Shep, Mark, Brad, Roger, Adam & Frank