June 30, 2022
INDEPENDENCE DAY HOLIDAY HOURS:
The shop will be open on Independence Day,†Monday†July 4th from 11AM-3PM.
NEW THIS WEEK AT THE SHOP:
Lots of great records to chat about this week, starting with some absolute stunners from seasoned vets. The production force known as RON TRENT has made his presence felt on the modern dance scene since he was a teenager in the late 80s, banging out classics like 'Altered States' that rapidly traveled from his Chicago bedroom to clubs and raves the world over, founding the crucial house label Prescription, and posting up with influential early residencies in Berlin and NYC. A timeline like that gets your address book looking pretty beefed up, and Trent calls on some serious muscle on his new masterpiece of deep house, fusion, and home listening music, 'What Do The Stars Say To You?' That violin that sounds a lot like Jean-Luc Ponty? It IS Jean Luc-Ponty. That sunbaked guitar fuzz that sounds like Khruangbin? Yup. Ivan Conti and Alex Malheiros from Azymuth also lend sounds to a couple of the standout tracks here, and none other than Francois Kevorkian is on mastering duties. All these luminaries are merely riding shotgun with Trent, who weaves together a living and breathing tapestry of fusion chill in homage to the records that have inspired him through a long career; a quick contender for album of the year. Save some room for JYOTI, the name of a long-running side project from jazz vocalist and producer GEORGIA ANNE MULDROW. Back in 2020, her album 'Mama, You Can Bet!' was a regular request at the shop, but it was only available in the digital realm. No longer! An LP version of this roiling, boiling gumbo of spiritual jazz and protest funk is here. A phenomenal new record of dreamy techno is in from a duo with Midwest ties: SMOKE POINT is former Madison resident Sage Caswell and 90s Milwaukee rave scene veteran Brian Foote, making some turbo drifting tracks that are dense and yet light, like a fine souffle.
Some lovely new records in from the singers this week. Robin Pecknold of FLEET FOXES takes on the band's knotty, fertile catalog of tunes in acoustic form on 'A Very Lonely Solstice', in the shop on indie-only clear vinyl. The Decemberists' COLIN MELOY collects a number of his EPs of covers from the last couple decades on 'Sings Together'. Minnesotan soul singer with a banjo CHASTITY BROWN brings us a lovely new LP called 'Sing To The Walls' on red wax, while labelmate NICKI BLUHM delivers 'Avondale Drive' on green.
Ireland shoegazers JUST MUSTARD make some tweaks to the formula on their second album, 'Heart Under', making a deliriously tense album of taut noise-rock that reminds of recent classics from Portshead, Savages, and Electrelane. It's tweakers only in GUIDED BY VOICES who return with their 64th studio record, 'Tremblers and Goggles By Rank'. London post-punk wreckers TV PRIEST return to Sub Pop for a tightly coiled album of firecrackers on 'My Other People', carrying the torch anthemically for bands like The Birthday Party and Protomartyr.
Bassist and vocalist in Goat Girl NAIMA BOCK heads off in her own delightful direction on 'Giant Palm', a refreshing record of indie folk influenced by bossa nova and classic electronica. The gleaming gem of indie-funk 'Paradise' from THE MATTSON 2 gets a fresh color vinyl edition this week. Fahey historian and 12-string storyteller GLENN JONES returns with 'Vade Mecum', and Uruguayan trad-pop veteran JORGE DREXLER returns with one of his most forward-thinking albums yet in 'Tinta Y Tiempo'.
The ROXY MUSIC half-speed remaster campaign arrives at the glamorous pop gods'†triumphal final pair of studio albums this week, 'Flesh†+ Blood' and 'Avalon', which found them retiring on an absolute high note. Perhaps one of the most unlikely best-selling albums of all time is 'Aqualung', the 1971 epic from UK proggers JETHRO TULL, back in print in a lovely edition this week, alongside a massive collection of ENNIO MORRICONE's 'Western Themes'.
The STUDIO ONE label delivers a second volume of their 'Studio One Women' compilations, including gems from Marcia Griffiths, Jennifer Lara, and more. 'Ritual' from NICO GOMEZ & HIS AFRO PERCUSSION, was originally released in Belgium in 1971, a stunning example of the truly globe-covering influence of afro-latin soul. MELVIN VAN PEEBLES soundtrack for 'Watermelon Man' gets a nice reissue on green wax, along with the first legit vinyl reissue of the WILD STYLE soundtrack in decades, bringing this epic slice of early hip-hop back to life on yellow vinyl. Dozens of singers have had hits with their version of 'Just One Look', but the first one to write and perform it was DORIS TROY, in a version so†good Atlantic opted to release the demo version as-is, featuring drums from Bernard Purdie! It's a†very different DORIS on 'Did You Give The World Some Love Today Baby?', a cult fave '71 album of poppy jazz-funk led by Swedish singer Doris Svensson.
There is always something new to learn about the fascinating and tangled strands of history surrounding the growth of Afrobeat and the revolutionary politics of 70s equatorial Africa. Here's one that's likely new to you: FERRY DJIMMY and his band the DJI-KINS were tapped to be the musical accompaniment at appearances by Benin's revolutionary leader†Mathieu Kťrťkou, as it was likely decided that Djimmy's explosive organ and guitar-led riff energy was a more exciting alternative to Leninist speechifying. Heavily influenced by Fela, Hendrix, and James Brown, Djimmy and his group cut a handful of smoking singles and an LP before moving on, leaving behind some of the rarest vinyl in the Afrorock canon that are now collected for the first time on 'Rhythm Revolution'. The Numero Group revives a pair of West African gems as well, with a new edition of the 1982 album from Mali's SUPER DJATA BAND, 'En Super Forme Vol 1', and a collection of rare singles from the Burkina Faso group VOLTA JAZZ. Limited color vinyl on bofa these.
Speaking of the Numero Group (and honestly when are we not in this newsletter!), they roll out the long-awaited compilation seminar on the obscure, yet potent, Malibu new age cassette label VALLEY OF THE SUN, which thrived across the early 80s, providing a home for such not-household names as Robert Slap and David Naegele. Get familiar with 'Field Guide To Inner Harmony', a gorgeous and deep dive through some of the most healing music ever made by computers. Korean-American bedroom pop genius YAEJI sees her first two EPs re-released on a nice 'opaque jade' vinyl pressing. Multi-instrumentalist SPENCER ZAHN conjures timeless expressivity on the mostly solo-piano album 'Pale Horizon', and†we get a surprise new album from MACHINEDRUM under the alias TSTEWART that tones down his typical high-energy techno for some exquisite†ambient beauty.
A new 'Fabric Presents' compilation gives London disc jockey TSHA a chance to flex her take on organic bass and acid house. The multi-talented FKJ continues to spread his sound well outside the typical boundaries of French house on 'V I N C E N T', in the shop on black vinyl. New York dance vets HERCULES & LOVE AFFAIR return, Antony in tow, with a revolutionizing new album called 'In Amber'. Pioneering cosmic disco dj DANIELE BALDELLI selects the freakiest, grooviest, and rarest tracks from his late 70s heyday on two volumes of a compilation called 'Baia Degli Angeli 1977-1978'.†
Last up, we honor the memory of electronic musician KLAUS SCHULZE with a mighty stack of LP versions of his final four studio albums, none of which have been in the store before! Check out 'Deus Arrakis', 'Shadowlands', 'Kontinuum', and 'Moonlake'. Despite altering the history of synth music early in his career (via his solo soundtrack work, his music with Tangerine Dream, and his massively influential Innovative Communication label) Klaus kept on releasing fascinating, infinitely reaching music until his final days.†
USED VINYL ALERT:
Holiday weekend! We've put out an extra deep selection of LPs & 7"s for your perusal in the new arrivals this week, well over 1000 fresh titles to check out. Oodles of classics this week, including deep runs of catalog titles from Fleetwood Mac, the Grateful Dead (plus Weir, Garcia solo and sides), Prince, the Rolling Stones, Pink Floyd, Led Zeppelin (plus a rare one from Page and Plant), Elton John, Billy Joel, Steely Dan, Van Morrison, Dr. John, Tom Petty, Joni Mitchell, Neil Young, Bob Dylan, and more. Heavy stuff is in from Ozzy, the Scorpions, AC/DC, King Crimson, Bonzo Dog Band, Poison, Whitesnake, and more.
Quite the selection of new wave, punk and early alternative is here from Talking Heads, Tom Tom Club, Laurie Anderson, Brian Eno, James Chance and the Contortions, Duran Duran, the Pretenders, the Buzzcocks, Pere Ubu, Elvis Costello (including several boots), Rockpile, the Clash, Culture Club, Soft Cell, PIL, Graham Parker, the New York Dolls, Spandau Ballet, and more.
An incredible haul of jazz this week starts off in the bebop era and lands somewhere in the far reaches of free jazz, including several from names like Miles Davis, John Coltrane, Count Basie, Louis Armstrong, Mahavishnu, Blue Mitchell, Cannonball Adderley, Julius Hemphill, Oliver Lake, Donald Byrd, Ornette Coleman, Jan Garbarek, Barre Phillips, Terje Rypdal, Bobby Hutcherson, San Getz, Abbey Lincoln, Sam Rivers, Jim Hall, and plenty more.
Soul and funk is in from Prince, James Brown, Roberta Flack, Aretha Franklin, Minnie Riperton, Stevie Wonder, and more, and we've got a slew of country in from Jerry Jeff Walker, Conway Twitty, Merle Haggard, Hank Williams, Marty Robbins, Willie Nelson, Glen Campbell, and others. Lots of newer records and recent faves from TV On the Radio, Tame Impala, Trampled By Turtles, Broken Bells, Passion Pit, Ratatat, Phox, Mt. Joy, Death Cab, and lots more.
SELL US YOUR CDS & LPS:
Yes, we are still buying! Call Ron to schedule (608.213.3610).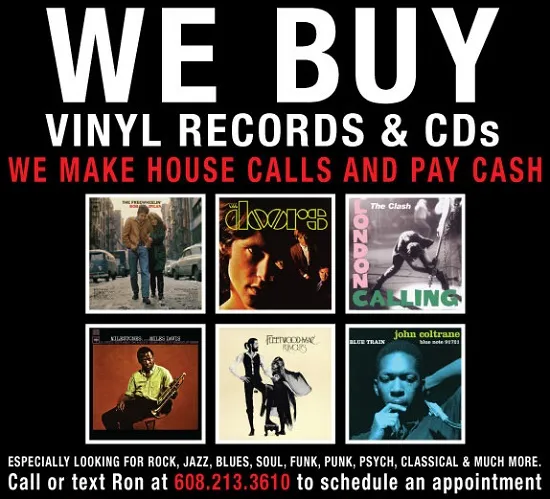 Ron, Ryan, Angie, Marty, Evan, Matt, Ed, Eric, Jack, Steve, Shep, Mark, Brad, Roger, Adam & Frank