June 23, 2022
NEW THIS WEEK AT THE SHOP:
Hey there record fiends! Just a few moments of your time this week for a rundown of the rather bonkers stash of incoming goods. First up, nevermind the Mercedes-Benz Stadium, here's KANYE WEST! After years of expectations, stem†players, scrapped artwork, and disappearing verses, the vinyl edition of Ye's most massive statement to date is here on an official 4LP set. There aren't too many records out there that have an hour-long wikipedia article written about them before the needle's even hit the groove, but then again there is no artist working in the public eye quite like Kanye. When the Odd Future crew first appeared on the radar of this Midwestern gringo, I thought the nom de guerre of TYLER THE CREATOR seemed a tad over the top. Over a decade later, the man's put more pieces together†than a grand watchmaker in the worlds of rap, pop, fashion, and under/aboveground culture. His mighty summer epic 'Call Me If You Get Lost' has been out in the world in many forms since last year, but this week we get the fully official vinyl edition with its incredible fresh cover art. Still more big ones land this week, including the vinyl of the latest from MACHINE GUN KELLY, 'Mainstream Sellout' and a translucent sea blue vinyl edition of the new COHEED + CAMBRIA, which is titled 'Vaxis II: A Window of the Waking Mind'. Got that?
SOCCER MOMMY's gotta be on her second†minivan by now, and her records just keep getting better. Her new album, 'Sometimes, Forever', delivers more of her prismatic, yearning pop, and rolls in on limited pink/black splatter vinyl. Kentucky singer/songwriter JOAN SHELLEY's latest record is here, and she continues to be a light in a darkening world. 'The Spur' features contribs from Bill Callahan and Meg Baird, and contains some of her most powerful lyricism yet. If you haven't yet heard Joan's work, this is a great place to start. Pride of the Badger State ZOLA JESUS has released her first proper studio album in over six years, and it is yet another impressive turn from an artist who has reinvented herself anew throughout her career. 'Arkhon' is her first time working with producer and collaborator Randall Dunn (of SunnO))), Earth, dozens of soundtracks), and the result is a refreshingly warty and tactile album that shrugs off the industrial noise sheen of her past few records in favor of a tender new power. Incredible packaging on this release features photography from Cave of the Mounds, and 'eco-mix' colored vinyl. Folk songwriter LEYLA MCCALLA continues to break new ground in her explorations of Haitian creole, cajun music, classical and pop with 'Breaking The Thermometer', her most unique vision yet.
Ohio folkie crooners CAAMP are back with 'Lavender Days', in stock on pink/purple swirl, while Connecticut Gizzardists GOOSE let loose with a trippy new epic called 'Dripfield' on white vinyl.†Twin Cities synth-pop warriors POLICA are back with 'Madness', produced by Wisconsin techno legend Dustin Zahn. Nottingham UK veterans THE SOUNDCARRIERS continue to hone their brand of psychedelic pop that is part Broadcast, part Zombies on 'Wilds'.
We celebrate the solo career of Fleetwood Mac mainstay CHRISTINE MCVIE with a new collection called 'Songbird' that features some new songs. Beach-bound folkpopper JACK JOHNSON is back with a long-awaited new album called 'Meet The Moonlight'. We've got this one landing Friday on silver vinyl with some very lovely lithographs to giveaway with purchase.†
Progressive torchbearers PORCUPINE TREE return with a massive new double album called Closure / Continuation, which we have on deluxe 3LP with clear vinyl. Tree mainmain Steven Wilson continues his remastering program of the King Crimson universe with a fresh remaster of the ROBERT FRIPP classic, 'Exposure', on 200 gram vinyl. One of the most-potent lockdown livestreams came from THE OSEES with their 'Live in Big Sur' session recorded at the Henry Miller Library, where the group's epic, krauty, spacy side comes out big, along with a brace of unexpected but welcome Black Flag covers. Previously mailorder†only, we now have a sweet vinyl edition for you. But that aint all from the Dwyer camp! He's gone all the way back to 2003, when he was still a mostly-unknown Providence punk, to reissue his first release as OCS on vinyl for the first time. Witness the vision fulfilled! Speaking of oughties†greats, we have new vinyl remasters of the post-hardcore classics from THESE ARMS ARE SNAKES, 'Easter' and 'Oxeneers or the Lion Sleeps When Its Antelope Go Home', both in stock on color wax.
For a solid decade, no other producer had quite the claim to the zeitgeist as TIMBALAND, whose beats for Missy Elliott, Jay-Z, Ludacris and others. The iconic Blackground label is back in biz, which means new vinyl pressings of his classics alongside rapper MAGOO: 'Indecent Proposal' and 'Welcome To Our World', plus his '98 solo album 'Tim's Bio'. Freewheeling Memphis posse THREE 6 MAFIA's 2001 classic 'Choices; The Album' turns 20 years old with a fresh pressing on blue and purple vinyl.
The Tri Angle label designed the zeitgeist around the early 2010s with a string of releases that popularized hypnagogic pop and vaporwave, and its definitive release was an immaculate album called 'Held' from UK producer HOLY OTHER. He seemed to fall off the map completely after that record, but suddenly now he returns with 'Lieve', a majestically sprawling album of gently†disturbed cinematic ambience that seems to signal that he never went anywhere. Pair this one with the exquisite new release from Russian producer X.Y.R. His past few albums have been instant classics in the modern ambient world, possessed of all the gritty infiniteness of the forest floor; on 'Aquarealm', he takes on the ocean with equally spellbinding results. German jazz-funker GIANNI BREZZO turns in a gorgeous album of Balearic beat suitable for the classiest hotel lounge on 'Tutto Passa', and we get a pair of EPs combined on one album from†
HOLLAND ANDREWS on the dreamy, clarinet and electronics beauty 'Wordless / Forgettings'.
We're well past the point of looking for silver linings in the lockdown cloud, but one phenomenon that got a welcome boost these past few years is the "remote collaboration" album, wherein the possibilities for your dream band are endless! We've been listening to one such example all week in WINGED WHEEL, the quartet of Cory from Spray Paint (Austin), Fred from Tyvek (Detroit), Matthew Rolin (Ohio) and Whitney Johnson aka Matchess (Chicago), who turn in an album of propulsive trance rock ala the headiest moments of the Yo La Tengo canon on 'No Island'. Dour Swedish synthpopper MOLLY NILSSON returns with 'Extreme', we finally lay hands on the debut from the Chicago post-punkers SPREAD JOY, and the dirgey proto-math rock of New Zealand's mighty GORDONS' self-titled debut gets a much needed reissue.†
The Blue Note classic vinyl series brings us a corker this week in 'Blues Walk', widely considered to be saxophonist LOU DONALDSON's best album. As underrated soul-jazz gem from RAY CHARLES, 1972's 'A†Message From The People' gets a nice reissue. Prolific guitarist TASHI DORJI teams up with beloved percussionist SUSIE IBARRA for a transcendent live recording called 'Master Of Time', and we've got a lovely reissue of the beautiful 2012 album 'Fletcher Moss Park' from trumpeter MATTHEW HALSALL.
New Zealand indie guitarist and songwriter JAY CLARKSON sees her 1999 CD-only gem 'Kindle' get a much needed repress, bringing an overlooked home-fi jewel back into the spotlight. A few years back, Current 93's David Tibet and Youth from Killing Joke were bound in a union known as HYPNOPAZUZU, with all that that entails; their album together,†Create Christ Sailor Boy' is back in print this week. Restless Madisonian resident Taralie Peterson has been very busy with her LOUISE BOCK alter ego of late; this week we have a collaboration LP with her and longtime underground folkie PG SIX aka Pat Gubler of the Tower Recordings. With sax and synth, the duo compose lush, Reichian daydreams on 'All Summer Long Is Gone'.
Of all the many NUMERO GROUP projects we come to know and love around here, the releases in their 'Cabinet of Curiosities' compilation series tend to hold a special place. With hyper-specific stylistic guidelines and an equally broad remit in the production department, you really never know what the next one will be. This time its†'Super Hits of the 70s', a collection of rare and obscure private press lounge, doo wop and R&B covers of classic tunes like 'The Cisco Kid', 'Dreams', and 'I Second That Emotion', packaged to look like an 8-track tape. Not bad! We've also got some great collections of hard to find tunes from THE TROGGS and GEORGE DUKE, plus more copies of the incredible compilation of dubs from YABBY YOU. Last time we had these in, the copies all sold after spending just a few minutes on our stereo.
Last up, some absolute classics from all corners get limited reissues this week. The recent passing of Richard Kirk has given the electronic world a moment to take stock of his immense contribution to experimental electronic dance music as half of CABARET VOLTAIRE. For my dough, their best album in terms of both exploratory wonder and bangers-to-clangers ratio is 1984's 'Micro-Phonies', back in print this week with tweaked cover art and color vinyl. In a world of electroclash children, there is only one ADULT. Their iconic 2001 collection of early singles 'Resuscitation' is back in print this week, alongside REDD KROSS' 87 heavy indie classic 'Neurotica', and DENGUE FEVER's 2005 indie-nesian classic 'Escape From Dragon House'.
USED VINYL ALERT:
Wahey! Another incredible spread in the basement this week. First up, we still have a couple hundred amazing LPs remaining in the new arrivals section from Saturday's RSD drop. Still some super eye-popping jazz, indie, psych, punk, new wave and more, plus a deep selection of 45s and seven inchers.†
On the classics front, we see some great ones from Jimi Hendrix, George Harrison, Fleetwood Mac, Hooker & Heat, Hawkwind, the Eagles, the Stones, the Beatles, Bruce Springsteen, Randy California, Buffalo Springfield, Jerry Garcia and the Grateful Dead, Janis Joplin, Crosby Stills and Nash, the Kinks, Frank Zappa, King Crimson, Commander Cody, and more.
New wave and suchlike is in from Depeche Mode, Lydia Lunch, Magazine, Lyres, Madness, Lou Reed, Graham Parker, the Cars, plus some very cool Talking Heads records, including some early bootlegs that we aint never seen before.†
Jazz gems are in from Bobbi Humphrey, John McLaughlin, Miles Davis, Sonny Rollins, Eric Dolphy, and more, plus a super rare one from Jaye P. Morgan. Blues comes through from Missisisippi†John Hurt, John Mayall, James Cotton, Snooks Eaglin, and Clarence Carter. A whole lot of country this week, leaning heavy towards the golden era of the 60s, with records from Webb Pierce, Marty Robbins, David Allan Coe, Jimmy Reed, Bill Monroe, Sonny James, Lefty Frizzell, Doug Sahm, Bascom Lunsford, Conway Twitty, Rodney Crowell, and others, plus a complete stunner: the very, very rare privately released LP featuring the first performances by a teenage Alison Krauss.
We close out with a long run of soundtracks from all over the map, some cool and unusual new age LPs that we have never seen in the shop before, international records from France and Norway, and a couple of soul stirrers!
SELL US YOUR CDS & LPS:
Yes, we are still buying! Call Ron to schedule (608.213.3610).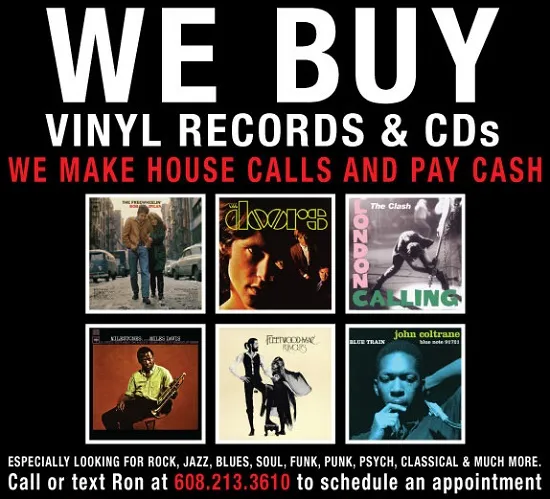 Ron, Ryan, Angie, Marty, Evan, Matt, Ed, Eric, Jack, Steve, Shep, Mark, Brad, Roger, Adam & Frank