Record Store Day June Drop is the 18th:
RECORD STORE DAY: 
Launched in 2007 with the humble idea to recognize independent record stores, Record Store Day (RSD) has blossomed into a global phenomenon. The list of RSD vinyl and CD exclusives continues to expand, as more labels continue to throw open their catalogs to an appreciative audience that grows each year.

Beyond the day(s)-long frenzy, RSD exists to offer proof of the lively role record stores play in the community and a chance for folks on both sides of the counter to offer gratitude for each other. It's a capsule-sized snapshot of what this whole record world is about. Whether you're a hardcore type who times their arrival for a spot at the front of the line or somebody who waits until the afternoon for a more leisurely experience, we hope you'll join us.

WE OPEN FOR RSD (OUTSIDE) AT 8AM
AND SPEAKING OF WHEN THE DOORS OPEN...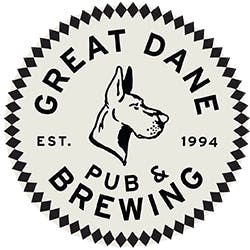 We will be pouring up Great Dane beer to those folks in line - how's that to get the day started? Things are looking up!
Here is Strictly Discs' plan for the day:
1. We OPEN at 8AM for RSD shopping
2. Line to form westbound on Monroe Street
3. While in line, you will be handed a menu of all RSD titles  
4. We will pull your requests & you will check out outside
5. The shop will open for normal browsing at approximately 10 (when the RSD line is gone)
6. RSD titles will be located upstairs
Please note, coupons and promotions do not apply to RSD items. And we do not buy used product on Record Store Day.
The full list of titles available on June 18th can be found HERE.
RSD USED VINYL ALERT:
Just to add a little extra juice to your RSD experience, we will be unveiling a special crop of around 550 fresh used LPs and 150 used 7"s once we open inside on Saturday. Come browse an incredible selection of contemporary classics, out of print pressings, fanclub and bootleg editions, and elusive gems from all across your favorite genres.
Plenty of classic names are deeply represented in this batch: we've got some super cool, never-seen-before Velvet Underground pressings, including studio albums, live boots, fan-compiled editions, plus a host of solo albums from the gang (Lou Reed, John Cale, Nico, etc). Their cohort continues with LPs from Kevin Ayers, Soft Machine, Brian Eno (a nice run!), Kraftwerk, the Clash, Joy Division (many!), the Clash (several!), the Stooges, Talking Heads, Modern Lovers, and many more. Plenty of Bob Dylan including some very deep boots; a whole closet of David Bowie and Prince; oodles of Beatles, you get the idea.
Plenty of collectible or already-scarce records from more recent times, from names as varied as Tame Impala, Kendrick Lamar, Lauryn Hill, Mac Demarco, the Number 12 Looks Like You, Iron and Wine, Mewithoutyou, Erykah Badu, the Decembrists, SZA, Murder by Death, Kurt Vile, Russian Circles, Converge, the Locust, and so many more.
Some phenomenal jazz is in from Elvin Jones, Sonny Rollins, Hamiet Bluiett, Abdullah Ibrahim, Steve Lacy, Henry Threadgill, Bud Powell, Archie Shepp, Ornette Coleman, John Coltrane, Mickey Hart, Cecil Taylor, Philly Joe Jones, Steve Reich, Andrew Hill, Muhal Richard Abrams, Charlie Haden, and so many more, plus some highly rare Mosaic box sets!
Been awhile since we've put out some fresh used 45s, so lets do it big! A couple hundred new ones to look through go especially heavy on the golden era of 90s indie and DIY. Punk, emo, noise, drone, IDM, shoegaze, slowcore, hardcore, math rock, boat rock, lighthouse rock, upper midwestern melodic post-hardcore with modal jazz influences....its all here!
Still more awaits you across the bins: soul, blues, electronic, modern composition, ska and reggae, rare and obscure private press folk and psych, indie pop, americana, alt-country, and probably a couple others!
NEW THIS WEEK AT THE SHOP:
Batten down the hatches! A stormy week has turned up quite the stash of new releases these past few days, as we refresh the bins big time ahead of Saturday's RSD Drop Day. Radiohead fans the world over began twitching in unison with the announcement of a new record from THE SMILE, a new trio consisting of Messrs. Yorke and Greenwood, plus Sons of Kemet drummer Tom Skinner. We dove right into this one when the demo arrived and it's no sweat to say this is the type of new Radiohead record we've wanted for awhile. 'A Light For Attracting Attention' is taut, focused, beautiful and embittered in all the familiar ways of the 'Head, but launches itself in substantial new directions with a refreshing impulsivity. In stock on limited orange vinyl while it lasts! Technically THE SUMMER OF SOUL was last summer, when Questlove's documentary of the 1969 Harlem Cultural Festival swept the critics and the streaming audiences away, but we've gotten used to waiting a little longer to get the good stuff! The vinyl version of this explosive soundtrack is finally here, full of electrifying performances from Sly Stone, Nina Simone, the 5th Dimension, and many more, plus the most impassioned artist introductions you'll ever hear on a live album. British rockers FOALS return with a buoyant new album on white vinyl, and we get an LP edition of the latest release from pop whizzers SAINT MOTEL. Boston slowcore deviants HORSE JUMPER OF LOVE return with another charmingly shambolic gem on 'Natural Part', while Melbourne's THE STROPPIES level up their melodic indie-punk on 'Levity'. 
Canadian songwriter CORB LUND turns to his confreres like Hayes Carll and Todd Snider for 'Songs My Friends Wrote', and we have a few autographed color vinyl copies in stock. The collection of early gems from the EVERLY BROTHERS, 'Hey Doll Baby', that came out on RSD is back in stock, plus we have new records from LORRIE MORGAN & PAM TILLIS, and a freshly-minted, Auerbach-produced record from HANK WILLIAMS JR. Are you ready for some....'Rich White Honky Blues'? Not sure why, but we've given Bocephus another chance here.
Blues guitar legend ROBBEN FORD teams up with saxophonist BILL EVANS on a lush disc called 'The Sun Room', and we've got new vinyl editions from BINKER GOLDING with 'Dream Like A Dogwood Wild Boy' and BRAD MEHLDAU's 'Jacob's Ladder'. Boundary-pushing trumpeter DAVE DOUGLAS issues his response to a year of American turmoil with 'Overcome', while inventive guitar fusionist KURT ROSENWINKEL returns with the sprawling 'Heartcore', and we welcome a reissue of the UK downtempo duo SHPONGLE's '98 'Are You Shpongled?' 
USED VINYL ALERT:
If you didn't get blown away this week, the Used Vinyl Alert ought to do the job! We've got a slew of classics from Neil Young, Jimi Hendrix, the Rolling Stones, Curtis Mayfield, Pink Floyd, Joni Mitchell, Prince, Tom Petty, Santana, ELO, Sparks, Def Leppard, Bon Jovi, Heart, REM, Talking Heads, Elton John, Billy Joel, Rush, the Who, plus a whole lot of esoteric David Bowie EPs and LPs.
Quite a trip is in order for the international run we've got this time around: Bollywood, Brazil, Japan, Indian classical, bolero, tejano, Hawaiian, tango, Greek, French, UK traditional...a little bit of just about everything, plus we have a long run of unusual and seldom-seen new age, ambient folk, and synth gems for a bargain.
A cool run of out of print punk and indie is in from Beth Ditto, the Faint, Touche Amore, Circa Survive, Crystal Castles, Converge, and scads more. 
Some crucial country and blues comes through, plus great jazz from Pat Metheny, Miles Davis, Shirley Scott, George Benson, Dexter Gordon, Red Garland, Quincy Jones, Ella Fitzgerald, Mahavishnu Orchestra, Stan Getz, and more. 
SELL US YOUR CDS & LPS:
Yes, we are still buying! Call Ron to schedule (608.213.3610).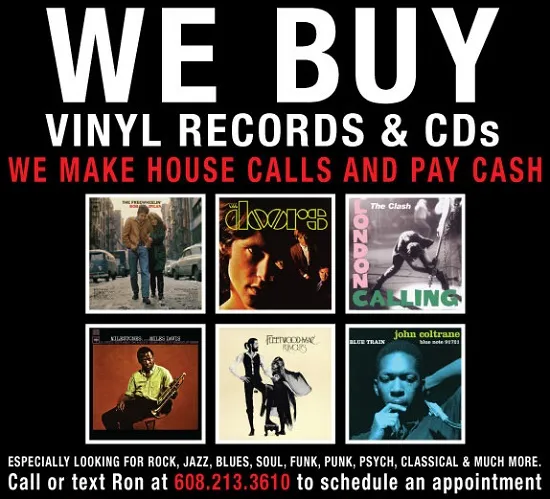 Ron, Ryan, Angie, Marty, Evan, Matt, Ed, Eric, Jack, Steve, Shep, Mark, Brad, Roger, Adam & Frank