April 28, 2022
NEW THIS WEEK AT THE SHOP:
As the hubbub subsides on another bustling RSD, we're feeling very grateful for all of our bold, happy and patient customers who helped make last Saturday another one for the record books. We're also glad to be bringing you another slate of great music this week, and you don't even have to line up before dawn to indulge! Few bedroom producers have crafted such an identifiable soundworld as TORO Y MOI, the chillwave standard bearer whose saturated, blissed-out funk has remained hookily potent as he's pushed the project further and further out. His latest album is 'Mahal' and it's another banger; it unfolds like a travelogue through an imaginary voyage to eclectic destinations, stitched together with curious transitions like an old radio dial given a random twist, again and again, each time tuning in a strange new station. Unreal design and packaging on this record as well, which we have in the house on silver wax, with some cool motel keychains to give away while they last. It's easy to find yourself comfortably lost in the sonic surroundings of MELODY'S ECHO CHAMBER as well. The chanteuse seemingly cast straight out of Paris 68 returns with a glowing new record called 'Emotional Eternal', channeling France's Hardy and Gall on a dose of helium delirium. Limited red vinyl available includes a phenakistoscope disc, which I believe is a fancy term for "something that looks cool while it spins". Give it a whirl! Souped-up synthpop duo and enemy of comma splicers everywhere LETS EAT GRANDMA return with a big record called 'Two Ribbons', and we've got the latest lush, heart-pulling folk opus from TOMBERLIN called 'i don't know who needs to hear this...' If you dig Julien Baker or Aldous Harding, we think you need to hear this!
Gorgeous vocal harmonies and minimalist old-time arrangements make Minnesota's THE CACTUS BLOSSOMS a nice modern day Everlys analogue on 'One Day', now in the shop on crystal amber vinyl. West Texan country real one MIRANDA LAMBERT continues her torrid pace of great records on 'Palomino', which introduces us to a slew of colorful characters across the panhandle and beyond. Barn-stompin banjo and blistering politics combine on a fiery new one from Americana faves INFAMOUS STRINGDUSTERS on 'Toward The Fray'. Entirely unstoppable crooning force WILLIE NELSON returns with his 72nd studio LP 'Beautiful Time', featuring covers of tunes by Rodney Crowell, Chris Stapleton, and the Beatles.
The original soccer mommy Jenny Lewis first captured hearts and minds with the 2001 debut album of her band RILO KILEY, 'Take Offs & Landings', which wed her trenchant observations of the life of a lady with irresistibly†hooky indie rock. Well, they all grow up and this record is now 20 years old, so we have a fresh edition on white vinyl. The passage of just ten years has really added a burnish of genius to SPEEDY ORTIZ's album length debut 'Major Arcana', in which vocalist Sadie Dupuis out-Lizzes the Phair while the rest of the band out-fuzzrocks†'Bakesale'-era Sebadoh. The modern classic gets a reissue this week on goldfish orange vinyl, alongside color vinyl editions of two stone, stoner essentials from MOON DUO.†
Pick up an audiophile edition of a hallowed piece of jazz history this week with the new Verve/Acoustic Sounds print of 'JOHN COLTRANE & JOHNNY HARTMAN'. The 1963 album is the only recorded occurrence of Coltrane playing alongside a vocalist, and tops many lists of must-hear albums of standards. Speaking of the songbook, Armenian pianist TIGRAN HAMASYAN turns in his first takes on the classics with a divine new disc called 'StandArt'.†New Orleans multi-instrumentalist TROMBONE SHORTY brings his positive, powerful live energy to bear on 'Lifted', his second album for Blue Note. The seminal debut album from NORAH JONES, 'Come Away With Me', gets a 20th anniversary reissue this week on gatefold vinyl after years and years out of print.
Big time, long awaited vinyl editions from the hip-hop world this week include 'Culture III' from MIGOS and 'Dawn FM' the latest electronic soul weaponry from THE WEEKND. Few MCs back up their hilarity with skill like OPEN MIKE EAGLE. Check out the reissue of 'Dark Comedy' from 2014 and see if you still get the references! East coast beatmaker L'ORANGE returns with a heatseeking†set of soulful cutup instrumentals on 'The World Is Still Chaos, But I Feel Better'.
No other musical group defines the dark side of ambient like COIL, the decades-long project of Jhonn†Balance and Throbbing Gristle's Peter Christopherson. As the unit splintered and regrouped, they amassed a somewhat impenetrable discography that deconstructed genre: industrial, acid trance, neofolk, techno, deep listening, and on and on, all subject to the alchemical Coil treatment. A gem of their later years, 2000's 'Musick to Play in the Dark 2', is reissued this week by Dais Records, who have done a fine job tending to the group's vast legacy with high-quality vinyl pressings. For many years now, we've snapped up anything we could get our hands on by Melbourne producer HARVEY†SUTHERLAND, an inventive disco-house producer who clearly has fun at work. A big new studio LP from him called 'Boy' promises all sorts of new directions, from playful funk to dubbed-out AOR, even a guest appearance from Dam-Funk. Sticking down under, but definitely under the Coil heading, is the latest album from the elusive Aussie trio HTRK, who bring us 'Rhinestones', their most potent slab of latenight†forlorn chamber rock yet.†
Merle Haggard classics done in Nashville soul style make ELI PAPERBOY REED's 'Down Every Road' an exciting listen; the COWBOY JUNKIES return with 'Songs of The Recollection' on vinyl; the latin soul singer RALFI PAGAN's legendary '71 album 'With Love' is back in print; traditional Malian singer OUMOU SANGARE delivers a gorgeous new album called 'Timbuktu'.
Pacific northwest post-metallers HELMS ALEE turn in a corker of haunted atmosphere on 'Keep This Be the Way'; the EARTHLESS reissue round up lands on their most expansive record, the 2007 'Rhythms From A Cosmic Sky' is in on red vinyl with a bonus 7". Before they disbanded and resurfaced as Queens of the Stone Age, the mighty KYUSS delivered one last mighty album, the unfortunately overlooked '...And The Circus Leaves Town', which gets a limited repress this week. German metal juggernaut RAMMSTEIN return with 'Zeit'.
Pop auteur RENATA ZEIGUER delivers a lovely album called 'Picnic in the Dark', recalling Cate LeBon or My Brightest Diamond; New Zealand songwriter CHELSEA JADE steps into the light on 'Soft Spot'; melodic grandeur abounds on 'With People' by DIANE COFFEE, recorded with fellow former Foxygen bandmate Jonathan Rado; last up, not new but new to us, 'Let Me Show You', a touchingly personal album of jazz vocals from Toronto musician LYDIA PERSAUD.
USED VINYL ALERT:
Used vinyl alert time! Right off the top: we put out such a deep trove of rare used vinyl on RSD, so we are leaving them in the New Arrivals section in case you haven't gotten a look (or second look) yet. A couple hundred very choice LPs here, think collectible†metal, hard rock, classic punk and post punk, and early alternative gems!
But that's not all of course. We've filled up the remaining allotment with our usual spread of prized catches. This week we go heavy on gems of a more recent vintage: St. Vincent, Radiohead, Broken Social Scene, Flaming Lips, Neon Indian, White Fence, Parquet Courts, Palace, Fugazi, Wilco, Yeasayer, thee Oh Sees, Ceremony, Nine Inch Nails, Arca, Grimes, Crooked Fingers, Dan Deacon, Woods, Steve Gunn, Low, Sun Kil Moon, and Mazzy Star.
Essential gems from Bob Dylan, Pink Floyd, Jimi Hendrix, David Bowie, Ramones, Scorpions, Lou Reed, John Prine, AC/DC, Bruce Springsteen, Joni Mitchell, Tom Waits, Prince, Steely Dan and more, plus a rather impressive run of early pressing Beatles LPs. Lots of great early indie and underground legends are here like Talking Heads, Peter Gabriel, Orange Juice, Modern Lovers, Slowdive, Jesus and Mary Chain, Spacemen 3, Tindersticks, Jane's Addiction, Sonic Youth, L7, and more. Plenty more country, blues, classical, soundtracks, and children's LPs close us out.
†
BEST OF MADISON:†
Madison Magazine's BEST OF MADISON voting is†OPEN NOW†& we would be honored to receive your vote for Best Record Store.
STRICTLY DISCS IS HIRING:
VINYL PRICING SPECIALIST AND/OR SHOP CLERK:
Required skills:
Excellent customer service skills; retail experience with ability to anticipate customer needs
Extreme Computer proficiency

A passion for music, and†a broad, deep base of recorded music history
Knowledge of Goldmine standards &†experience grading and pricing records

Knowledge of stereo equipment/functionality
Availability to work weekends
Ability to lift and carry 50 pounds repeatedly

To apply, submit letter of interest & resume to angie@strictlydiscs.com
SELL US YOUR CDS & LPS:
Yes, we are still buying! Call Ron to schedule (608.213.3610).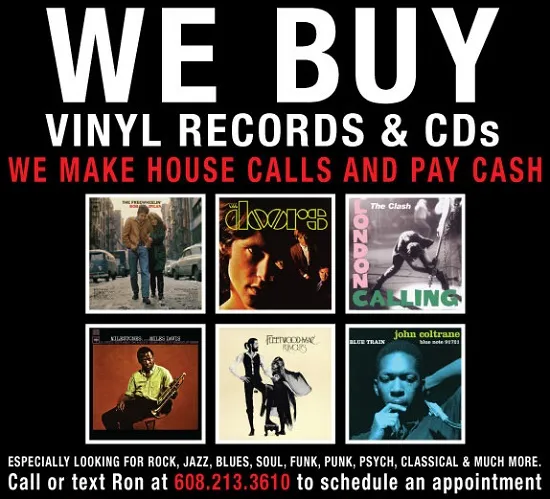 Ron, Ryan, Angie, Marty, Evan, Matt, Ed, Eric, Jack, Steve, Shep, Mark, Brad & Roger