February 27, 2022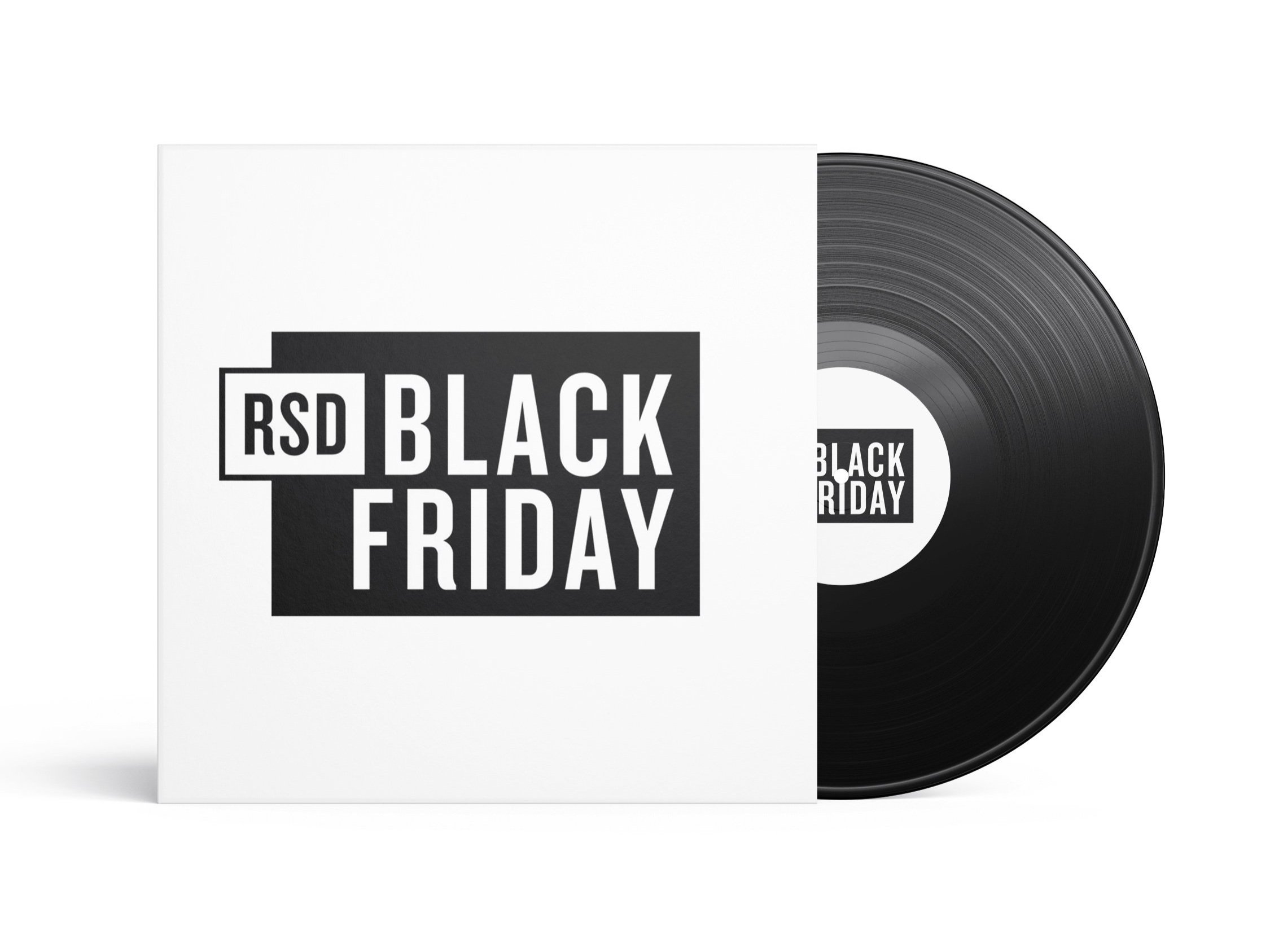 RECORD STORE DAY IS APRIL 23RD: 
Launched in 2007 with the humble idea to recognize independent record stores, Record Store Day (RSD) has blossomed into a global phenomenon. The list of RSD vinyl and CD exclusives continues to expand, as more labels continue to throw open their catalogs to an appreciative audience that grows each year.

Beyond the day-long frenzy, RSD exists to offer proof of the lively role record stores play in the community and a chance for folks on both sides of the counter to offer gratitude for each other. It's a capsule-sized snapshot of what this whole record world is about. Whether you're a hardcore type who times their arrival for a spot at the front of the line or somebody who waits until the afternoon for a more leisurely experience, we hope you'll join us.
SAVE THE DATE V.2: Record Store Day Drop Date is June 18th:
June 18th is designated as a Record Store Day Drop Date; it will serve as a street date safety net for titles that are part of the Record Store Day celebration that don't make it in time for April 23.
WISHLISTS:
Record Store Day wish lists can be made HERE. Due to some late additions (Roy Ayers, Pharaohs, etc), the deadline to create or modify a RSD WISH LIST is now Monday, February 28th at 2PM.
NEW THIS WEEK AT THE SHOP:
Welcome to the newsletter. Only good news in here! It's an especially potent round of new arrivals this week, enough to keep you ensconced in groove until the sun emerges again. Long out of print, the ERYKAH BADU neo-soul masterpiece 'Worldwide Underground' returns to wax this week in a new limited purple vinyl pressing. Keep the thaw on with a nice new release of the best-of collection 'Stellar Fungk' from SLAVE, the R&B group led by vocalist STEVE ARRINGTON who pioneered the laid-back dancy funk that established a template for so, so many artists, from Dre and Snoop to Dam-Funk and Thundercat. The third time is most definitely the charm for ROBERT GLASPER and his 'Black Radio' project, with 'III' delivering sweetly on the promise of his collaborative spirit, featuring prominent guests like Esperanza Spalding, Chance the Rapper, Killer Mike, and more.
It ain't like STURGILL SIMPSON to keep us waiting, but we've started to hear a bit of "where's the Dood?" from some of you. The vinyl version of 'The Ballad of Dood & Juanita' is finally here, in a limited indie-only LP pressing on natural colored vinyl with a limited art print. Emerging country star and Charley Crockett tourmate VINCENT NEIL EMERSON brings out an LP edition of his 2019 album 'Fried Chicken & Evil Women', and we've got legendary blues vocalist BETH HART's 'Tribute To Led Zeppelin'.
One of the most powerful duos in pop music history is TEARS FOR FEARS, who return with their first studio album in close to two decades with 'The Tipping Point', in the shop in a beautiful limited vinyl edition. Few artists are as due for a fresh appreciation (and an apology or two) as the Irish singer SINEAD O'CONNOR, whose tempestous early career was celebrated on the 1997 set 'So Far...', which gets its first ever release on vinyl this week. It opens with the Prince-penned hit that launched her to stardom, but goes on through a long run of eclectic bangers that shows off her impeccable range. Over 50 years ago, Patrick Haggerty and his group LAVENDER COUNTRY became one of the first openly gay artists to release a country album, and now they're delivered a timely follow up disc called 'Blackberry Rose'. 
Indie pastiche queen SASAMI adds a great deal of sounds to her recipe on her sophomore album 'Squeeze', in the shop on limited color wax. Guitar proggers DEERHOOF return with 'Actually, You Can' on "chlorophyll" colored vinyl. From Portugal, the free-wheeling trio NIAGARA deliver a singles/rarities collection called 'Parva Naturalia' that flirts restlessly with punky dub and acid techno. Chicago ambient musician Whitney Johnson revives her MATCHESS project for an epically dreamy drift through Kraut and folk on 'Sonescent', with guests like Tim Kinsella and Circuit Des Yeux's Haley Fohr.
SUPERCHUNK made their newest album 'Wild Loneliness' chain-letter style, embracing the challenges of the Covid era with their trademark DIY pluck. What's this, another large ensemble UK band with a penchant for the indie/emo of the 00s Midwestern US? Starting to lose track of all these special new bands, but don't miss CAROLINE, who really hit on a style similar to bands like American Football and Appleseed Cast. Don't be alarmed, PIKE VS THE AUTOMATON is just Matt Pike (of Sleep, High on Fire)'s unusual idea for the name of his new solo project, in the house on a ripping new color vinyl LP. The ALAN VEGA archives continue to flow to us, with a new 12" revealing two absolutely spine-tingling minimal synth jams. 
Some certified doozies on the reissue front this week! Not only is 'Easter Everywhere' by THE THIRTEENTH FLOOR ELEVATORS one of the greatest American rock albums, it's also considered the first major psychedelic garage album of all time. No Elevators means no Black Angels, no Ty Segall, no Tame Impala! What an awful world that would be. This classic is back in print in a new double red vinyl edition, collecting the original mono pressing and a new stereo remaster. Scarcely as remembered but sounding strangely crucial today is the 1985 album 'Quart De Tour, Mon Amour' from the Belgian duo PISCINE ET CHARLES; elegant, fauvist swaths of synth tossed into a merry chaos by drum machines and dizzy vocal samples. Also emerging in that magical year of 1985 was the mighty 'Magnetic Eyes' LP by Houston solo musician JEFF PHELPS. In the last couple of decades, considerable efforts by a variety of record diggers and producers have turned up a vast galaxy of privately pressed American electronic soul albums, of which 'Magnetic Eyes' was the earliest to be rediscovered. In this listeners opinion, it's still not been bested. Between its lanky, sauntering instrumentals, glowing jazzy soul gems like "Wrong Place Wrong Time", the twitchy street soul of "Don't Fall Apart On Me", and others, this album is perfection from start to finish, an alternate reality to stay inside of forever. As always, the Numero label have sweetened the pot here, with limited "smog grey" vinyl, and a completely new vinyl mix. 
He might sell a lot more albums if he just put TRICKY on the cover, but as LONELY GUEST, the downtempo pioneer opens the door to a lot of great collaborators. Footwork perfectionist RP BOO is appointment listening around here, and he delivers big time with 'Established!', a new album that finds him filleting Spike Lee dialogue and Phil Collins lyrics in equal measure, across razor sharp tracks. The mighty MELLO MUSIC GROUP label have a great new comp called 'Mandala', collecting features from L'Orange, Oddisee, Blueprint, Milo and more.
Some of the earliest hits from country-pop crossover legend ROY ORBISON turn up on 'The Original Sound', originally released in 1961 and now restored for the Sun Records label's 70th anniversary. More Americana and soul is in from SWAMP DOGG and YONDER MOUNTAIN STRING BAND.
LA jazz prodigy JAMAEL DEAN delivers his debut album 'Primordial Waters', a heady session of celestial jazz-bop. Trombonist and educator PHIL RANELIN helped put Detroit jazz on the map and has kept it there for decades, and turns out an incredible new slab of cosmic spirituality on 'Infinite Expressions'. FELA KUTI's 'Live With Ginger Baker', already one of the greatest records in any genre, gets an extra bit of juice on a red vinyl expanded 2LP versions that includes a second disc of extended takes and mind-melting drum solos. 
Last up, limited indie exclusives from songwriter DASHBOARD CONFESSIONAL, melodic rockers LO MOON, and crunchy Siamese dream fans PALOMINO BLOND!
USED VINYL ALERT:
This week's Used Vinyl Alert is hot enough to take care of all this ice. A long run of classic David Bowie LPs, another eye-popping run of Jim Hendrix bootlegs, plus essentials from Bob Dylan, Bruce Springsteen, Harry Nilsson, the Beatles, Led Zeppelin, Lou Reed, Neil Young, John Prine, Buffalo Springfield, Blue Cheer, Uriah Heep, Canned Heat, Traffic, Black Sabbath, Genesis, and Lynyrd Skynyrd.
Some killer punk and new wave is in from Gary Numan, Men Without Hats, Elvis Costello, the Ramones, the Sex Pistols, the Clash, Devo, the B-52s, Brian Eno, Madness, Billy Bragg, the Smiths, the Pretenders, the Cars, Talking Heads, Television, Roxy Music, and more. Newer indie and alternative is in from the Strokes, Guided By Voices and Robert Pollard solo, Arcade Fire, Passion Pit, Beirut, the Black Keys, and Yeasayer.
Jazz is in from Roland Kirk, Lonnie Liston Smith, John McLaughlin, Herbie Hancock, Nina Simone, Airto Moreira, John Coltrane, Pat Metheny, and Oliver Nelson. A deep and varied selection of 20th century classical and New Music is in from Philip Glass, Morton Feldman, Erik Satie, Schoenberg, Stockhausen, Milton Babbitt, and more.
Country and folk is in from Stan Rogers, Leo Kottke, Pete Seeger, Flatt & Scruggs, Hank Williams Jr, Sons of the Pioneers, George Jones, Johnny Cash, Emmylou Harris, Mickey Newbury, Billie Jo Spears, and Ernest Tubb.
STRICTLY DISCS IS HIRING:
VINYL PRICING SPECIALIST AND/OR SHOP CLERK:
Required skills:
Excellent customer service skills; retail experience with ability to anticipate customer needs
Extreme Computer proficiency

A passion for music, and a broad, deep base of recorded music history
Knowledge of Goldmine standards & experience grading and pricing records

Knowledge of stereo equipment/functionality
Availability to work weekends
Ability to lift and carry 50 pounds repeatedly

To apply, submit letter of interest & resume to angie@strictlydiscs.com
SELL US YOUR CDS & LPS:
Yes, we are still buying! Call Ron to schedule (608.213.3610).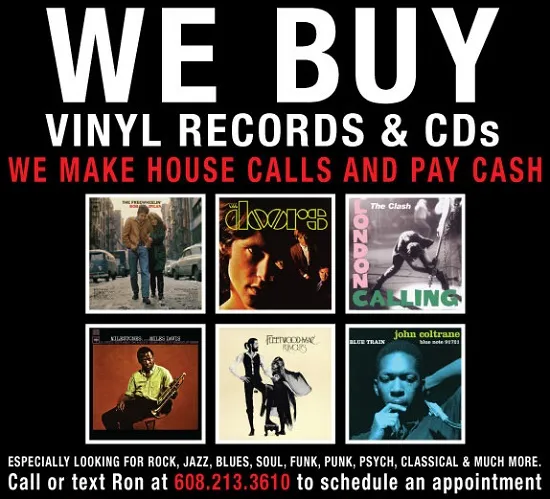 Ron, Ryan, Angie, Marty, Evan, Matt, Ed, Eric, Jack, Steve, Shep, Matt B., Mark & Brad