December 30 2021
HOLIDAY HOURS:
New Year's Eve†December†31 - 10AM - 4PM
New Year's Day January 1†- CLOSED
HAPPY NEW YEAR!
TOPS AT THE SHOP:
2021 STAFF TOP 10S can be found†HERE



NEW THIS WEEK AT THE SHOP:
As our year draws to an icy close, there aren't too many blockbuster releases due to hit the shops until after the holidays, but the fun never really stops around here, as all kinds of reprints, unusual imports and small-label gems have made their way to us just in time to flip the calendar. First up, one of the definitive musical experiences of 2021, the quietly mighty 'Promises' from FLOATING POINTS, PHAROAH SANDERS, and the LONDON SYMPHONY ORCHESTRA, comes to us in a new silver marble vinyl pressing. Another peak for the year in electronic music is FACTA's elegant, swiftly detailed album 'Blush', which gets a second pressing in pink. 'Lectro-pop†classics are also back in print from BOARDS OF CANADA and SWEET TRIP.†
Some absolute stunners from the wide world of global groove this week. Back in stock after years out of print, we have the essential TIM MAIA compilation from Luaka Bop, 'Nobody Can Live Forever: The Existential Soul of Tim Maia', and the indelible SELDA self titled reissue from Finders Keepers, which beautifully restores one of the most unique voices of the 70s Turkish psych-folk heyday. The latest Analog Africa comp plumbs the depths of the Ghanaian funk label ESSIEBONS, and manages to raise the bar that AA has already put wayyy up there. There were not nearly enough of these made, so we will work on getting much more of the repress! Sticking to Ghana, the 1977 funky highlife bomb 'Di Wo Ho Ni' from VIS A VIS gets a repress, plus we have a nice reprint of the tabla-driven day in the life of French fusion wanderer RAMUNTCHO MATTA on '24 Hrs', and the high-octane 1974 Argentinian jazz record from EL TRIO aka Pocho Lapouble, Ricardo Lew, and Adalberto Cevasco, gets its first ever repress.
On the heels of his release of one of 2021's most arresting albums, have a listen to the 2016 debut from Sierra Leone's DUVAL TIMOTHY. On 'Brown Loop', the producer mainly sticks to the piano, providing a moving minimalist blueprint for the melting-pot R&B that calls on the narrative soul influences of Blood Orange and Stevie Wonder before him. RYUICHI SAKAMOTO was on a real inventive roll in 1985 when he cut 'Esperanto', a visionary record of proto-everything sampler work that cuts up techno, dance, and all kinds of traditional percussion. Congolese singer, rapper and Chloe model†Marie-Pierra Kakoma makes smooth, global trap as LOUS & THE YAKUZA on 'Gore', while Japanese percussionist TAKASHI NAKAZATO leads his group GALAVANTERS through a rousing session of cool fusion on 'Toshiafro'.
Arriving Friday, a pair of new releases from the vital American techno label Peak Oil, whose unassuming die-cut square-sleeve releases have been appointment listening for years; the third and last volume from anonymous producer TOPDOWN†DIALECTIC continues to document a nearly-indescribable session of dubwise rhythm-box memory loss, while Russian producer HOAVI's monumental 'Invariant' is a master class of quick-fire techno-color depth charges. The Good Morning Tapes associate ANGEL ROCKET drops a super-cool EP of pure eclectic dancefloor genius, and we welcome a new EP from elusive producer NURON.†
There quite literally was no such thing as a "disco mix" until the mighty TOM MOULTON stepped up to the tape splicer, and sparkling new compilation 'Spring Event' collects some fresh work from the tireless extender of the groove. Horror rap legends GRAVEDIGGAZ see their 2004 swan song '6 Feet Under' get pressed on vinyl for the first time ever, on red and black splatter wax. Plus we have a new pressing of the self titled classic from NAUGHTY BY NATURE, and a new edition of the 'Last Night in Soho' soundtrack.†
The French ensemble L'ECLAIR have a mastery of groove that reminds us of other recent upstart groups like Badbadnotgood or Mild High Club, and on 'Confusions' they up their game significantly. No week is complete without a new release from KING GIZZARD! This week it is 'Live in Melbourne '21' with a whacky cartoon on the cover. Tokyo trio SUISHOU NO FUNE make seance-grade†freeform guitar worlds†suitable for some unimaginable hour of the pre-dawn night on 'Prayer For Chibi', a 2008 album getting a repress this year, and we have a much more riff-fueled take on the Japanese psych tradition from a new trio called MIENAKUNARU.
USED VINYL ALERT:
Our final used vinyl alert sums up a great year of vintage vinyl digs! We roll super strong this week with a ton of classic punk and indie and new wave, from the late 70s to the present day, including a lot of out of print or hard to find ones from Wire, Radio Birdman, Swans, Swervedriver, the Chromatics, the Shins, Guided By Voices, Spiritualized, Boris, Built to Spill, Grimes, Arctic Monkeys, Exploding Hearts, Damien Jurado, Destroyer, Steve Gunn, Gang Gang Dance, Beach†House, Flaming Lips, Ben Harper and a whole lot more.
A nice smattering of jazz, soul, and blues, goes down well with classic rock from Pink Floyd, Bob Dylan, the Stones, Kiss, Harry Nilsson, Hawkwind, Joan Jett, T Rex, AC/DC, Fleetwood Mac, the Kinks, the Eagles, Billy Joel, and the Velvet Underground, plus many more of their ilk.
A very above average run of classic and obscure disco, soul, boogie, electro, house, hip hop and techno spans about 30 years of club bangers. Equally impressive is the range of international items in this week: we've got quite a few South American and East Asian folk and traditional records, plus some salsa, calypso, tejano, Greek, Haitian, Celtic, Portuguese, Cuban, and Turkish records.†



HOLIDAY GROOVE 2021
After the terrorist attacks on September 11th, 2001, we launched this holiday tradition to spread some much needed joy and spirit. This year's holiday groove is in its 21st edition and we hope the effect remains the same (in this year where we could all†really†use it)...happy holidays from all of us at Strictly Discs.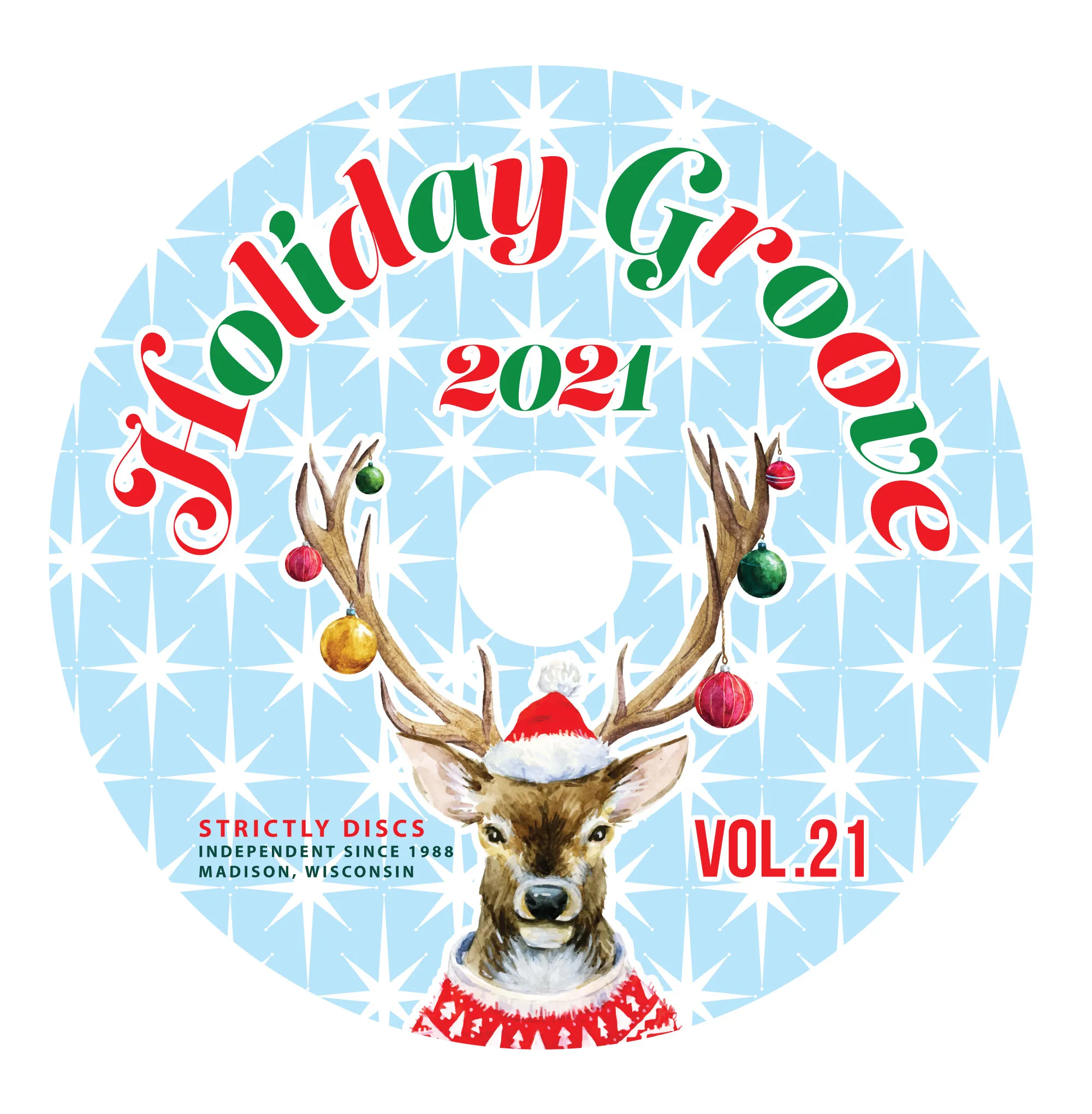 2021 Holiday Groove Tracklisting:
1. Advance Base - Christmas Steve - 2020
2. Birdy - White Winter Hymnal - 2011
3. Augie Rios - Donde Esta Santa Claus - 1958
4. Ferrante & Teicher - Snowbound - 1962
5. Jerry Byrd - What Child Is This - 1987
6. Bob Morrison - Santa Mouse - 1966
7. Marty Stuart - Even Santa Claus Gets The Blues - 1991
8. Joni Mitchell - River - 1971
9. Katie Melua - O Holy Night - 2016
10. JD McPherson - Hey Skinny Santa - 2018
11. The Wailers - White Christmas - 1965
12. McGuire Sisters - Christmas Alphabet - 1958
13. Paul Whiteman - Silent Night Holy Night - 1928
14. Peerless Quartet - Auld Lang Syne - 1918
STRICTLY DISCS IS HIRING:
VINYL PRICING SPECIALIST AND/OR SHOP CLERK:
Required skills:
Excellent customer service skills; retail experience with ability to anticipate customer needs
Extreme Computer proficiency

A passion for music, and†a broad, deep base of recorded music history
Knowledge of Goldmine standards &†experience grading and pricing records

Knowledge of stereo equipment/functionality
Availability to work weekends
Ability to lift and carry 50 pounds repeatedly

To apply, submit letter of interest & resume to angie@strictlydiscs.com
SELL US YOUR CDS & LPS:
Yes, we are still buying! Call Ron to schedule (608.213.3610).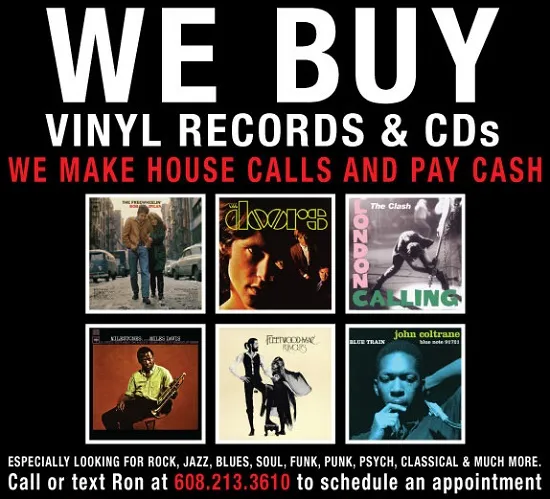 Ron, Ryan, Angie, Marty, Evan, Matt, Ed, Jack, Eric, Steve, Shep, Matt B. & Mark