December 16, 2021
NEW THIS WEEK AT THE SHOP:
We squeeze in one more week of hot new releases before we bear down for the holidays and a final wrap on 2021. Some big ones this week, including the return of KID CUDI with the much-anticipated 3rd installment of his 'Man In The Moon' series of albums, which includes features from Skepta, Pop Smoke (RIP), and....Phoebe Bridgers? Busy gal. BO BURNHAM's 'Inside' was one of the runaway successes of the Netflix pandemic era, and we've finally got the LP of music from the series. These limited quantities are of the standard black version, and not the indie exclusive color vinyl pressing that many of you have pre-ordered, and which is still coming out in 2022. EDDIE VEDDER teases us with a limited edition single featuring two new songs from an upcoming release, and we've got the 50th anniversary edition of FRANK ZAPPA's '200 Motels'.
UK songwriting sensation KING KRULE brings us a new live album, recorded at the very beginning of what was planned to be a huge tour, sadly cut short by Covid shutdowns. After her memorable turns with the Dum Dum Girls and Crystal Stilts, we'll follow the voice of Frankie Rose wherever it leads us, and this week it's FINE PLACE, a new duo alongside Matthew Hord from the synth-punk groups Pop. 1280 and Running. Their debut album together is a real gem, sounding like xeroxed cold wave straight outta cold war era Belgium.†
Melbourne rocker MICHAEL BEACH channels his inner Nick Cave alongside a welcome influence of Townes Van Zandt on a crisp banger of an LP called 'Gravity/Repulsion. We're endlessly grateful for the lovable nerds out there like Jed from the Concentric Circles label, who's unearthed another entirely unheard gem from the US pop underground from MOONLOVE, a mid-80s Kent, OH jangle pop band who released one perfect cassette in a seemingly single-digit edition; now on LP for the first time. Hard hitting post-hardcore is in from THE WORLD IS A BEAUTIFUL PLACE AND I AM NO LONGER AFRAID TO DIE, which is a band name I'd love to see on the marquee of Carnegie Hall. 'David Comes To Life', one of the greatest punk records of the 21st century, gets a fresh repressing this week on yellow, calling for a long-overdue mention of FUCKED UP in this newsletter.†
We've been trying to source any and all records by Japanese ambient folk artist ICHIKO AOBA for many years, and finally we lay hands on her first US-distributed LP, 'Windswept Adan'. A glance at its cover may give you some idea what you're in for with this utter marvel of an album; it unfolds like a cinematic universe of its own, a dramatic, aquatic world far beneath the surface, unbothered by modernity. I'm reminded of the complete sonic getaway experience I had first hearing the music of Julia Holter, or the lush interior worlds of Aoba's DIY-folk forbearers such as Aki Tsuyuko or Reiko Kudo. We keep trippin round the world with a great new record from Mexican pop-rockers ZOE, who sound like a Spanish MGMT on 'Sonidos De Karmatica†Resonancia'. German wunderkind Max Graef returns to his incredible EMPLOYEE project for another record of cheeky, smooth funk that's literally meant to be 'Hold Music', and a new compilation from UK label Re:Warm called 'Home Vol. 1' combines lovely, pastoral Balearica with field recordings of waves and birds to a dizzying effect.†


Long out of print on both counts, we now have fresh color vinyl copies of a pair of live albums from WEEN, recorded roughly a decade apart: 'Live At Cats Cradle' and 'GodWeenSatan'. An early solo LP classic from ROBERT POLLARD, 'From A Compound Eye', is back in print this week, alongside a new pressing of one of the 1990's most unique and lasting† records, 'Cure For Pain' by MORPHINE.†
Some of the absolute best contemporary jazz ensembles the world over bring us great new slabs this week. 'Open The Gates', the latest from NYC quintet IRREVERSIBLE ENTANGLEMENTS is a complete doozy of feverish R&B and street jazz; eclectic inventiveness abounds on the latest from the Finnish unit TIMO LASSY TRIO; the British PORTICO QUARTET add a heap of moody electronics to their uptempo 'Monument', and we've got an oldie but a goody back in stock from the aptly-named Australian group GODTET.
The prolific, anonymous ROY OF THE RAVERS returns with another blazing set of wonky, atmospheric electro on 'White Sunrise II.I (Le Roy Soleil)'. A nice repress of one of the modern era's better techno EPs, PERKO's 'NV Auto', returns with its gliding, climbing bass pads. UK producer LORAINE JAMES reminds us that the term 'experimental club music' doesn't have to be scary on another classic record, 'Reflection', making a lot of year end lists. SPEED DEALER MOMS is a recently-revived project from none other than John Frusciante and Venetian Snares, and they've delivered a massive new EP that approaches perfection if pointillistic techno is your bag, with sleeve art that becomes interactive if you view it in virtual reality. Or so I'm told....I'm gonna stick here in the regular reality for now.
Old funk is the best funk, proven this week by reissues from SLY AND THE FAMILY STONE with 'There's A Riot Goin On', YOSHIKO SAI's delicious 'Mangekyou', and lost gems from FEDERAL DUCK and THE ZOO.
Released in 1980 on a small Hawaiian label, 'Island Vibes' ended up being the last album from iconic exotica musician ARTHUR LYMAN; it's back in print this week providing some extremely necessary tranquility. Same goes for a new album from Ohio guitarist GS SCHRAY, who continues to mine the placid worlds of Talk Talk, Durutti Column, and 80s ECM on 'The Changing Account'. UK improvisers LUCY RAILTON and KIT DOWNES deliver a bracing set of tangible ambient on 'Subaerial'.†
USED VINYL ALERT:
Plenty more heat in the new arrivals down below this week! We're rolling out a slew of classic rock and pop, plus some interestingly deep runs of blues, hip-hop, and more.
Plenty of our favorite names turn up of course; we've got the Beatles, the Stones, Bob Syland, Pink Floyd, the Doors, the Allmans, Queen, Black Sabbath, AC/DC, Blue Oyster Cult, Santana, Roger Waters, Tom Waits, Talking Heads, the Clash, Kraftwerk, the Kinks, John Renbourn, Chicken Shack, Aynsley Dunbar, and Spooky Tooth. Lot of more recent names in the bins as well, including the New Pornographers, Wavves, Snail Mail, Youth Lagoon, Yo La Tengo, Smog, Japandroids, Ryley Walker, Waxahatchee, Viagra Boys, and more.
A rather eye-popping run of deep 90s hip-hop 12"s includes names like De La Soul, ODB, D12, Nubian Crackers, Gangstarr, Big Moe, the Roots, Guru, Outkast, Funkdoobiest, the Beastie Boys, and a whole lot more, plus a handful of very rare 80s electro and early rap collectibles.
A killer trove of blues LPs includes some from John Lee Hooker, James Cotton, Mississippi John Hurt, Lightnin Hopkins, Albert King, Taj Mahal, Elmore James, Paul Butterfield, John Mayall, and more names, plus a ton of seldom seen regional and label compilations.†
Some primo jazz is in from Vince Guaraldi, McCoy Tyner, Dave Holland, Gene Ammons, Carla Bley, Sonny Rollins, Gary Burton, John Coltrane, and more. Plenty of our favorite vocalists as well, from Nina Simone, Edith Piaf, Esther Phillips, and Ella Fitzgerald, to Frank Sinatra, Tony Bennett, Dean Martin, and Bill Withers.
STRICTLY DISCS IS HIRING:
VINYL PRICING SPECIALIST AND/OR SHOP CLERK:
Required skills:
Excellent customer service skills; retail experience with ability to anticipate customer needs
Extreme Computer proficiency

A passion for music, and†a broad, deep base of recorded music history
Knowledge of Goldmine standards &†experience grading and pricing records

Knowledge of stereo equipment/functionality
Availability to work weekends
Ability to lift and carry 50 pounds repeatedly

To apply, submit letter of interest & resume to angie@strictlydiscs.com
SELL US YOUR CDS & LPS:
Yes, we are still buying! Call Ron to schedule (608.213.3610).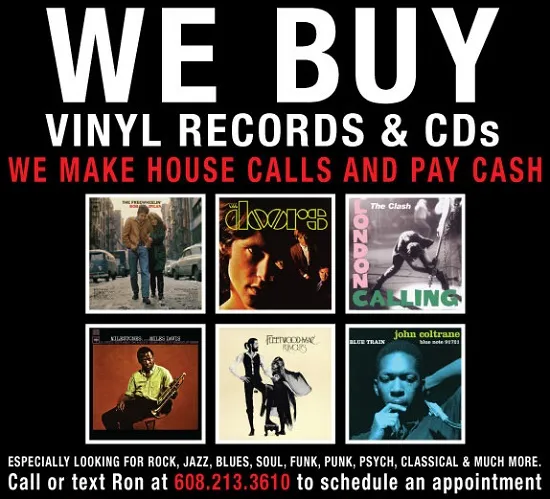 Ron, Ryan, Angie, Marty, Evan, Matt, Ed, Jack, Eric, Steve, Shep, Matt B. & Mark