December 9, 2021
STRICTLY DISCS IS HIRING:
VINYL PRICING SPECIALIST AND/OR SHOP CLERK:
Required skills:
Excellent customer service skills; retail experience with ability to anticipate customer needs
Extreme Computer proficiency

A passion for music, and†a broad, deep base of recorded music history
Knowledge of Goldmine standards &†experience grading and pricing records

Knowledge of stereo equipment/functionality
Availability to work weekends
Ability to lift and carry 50 pounds repeatedly

To apply, submit letter of interest & resume to angie@strictlydiscs.com
NEW THIS WEEK AT THE SHOP:
USED VINYL ALERT:
Quite a haul in this week's Used Vinyl Alert! Might need to change our name to Strictly Deccas because ooh wee we've got a lot of UK imports this time around. Queen, Pink Floyd, Led Zeppelin, a huge slew of Jimi Hendrix bootlegs and live LPs, Jeff Beck, Tom Petty, Them, Neil Young, Tonto's Expanding Head Band, Gentle Giant, King Crimson, Black Sabbath, the Beatles group and solo, the Doors, the Kinks, the Small Faces, the Who, the Grateful Dead, and on and on!
Some incredible folk and bluegrass in this week including an eye-popping run of rare Tony Rice LPs, plus nice ones from John Fahey, Bert Jansch, and John Renbourn. Beloved names from all over the world like Hasil Adkins, Milton Nascimento, Elis Regina, Arlo Guthrie, Ernest Tubb, John Lee Hooker, Sade, Otis Redding, Womack and Womack.
Jazz is in from Thelonious Monk, Gary Burton, Miles Davis, Roland Kirk, Keith Jarrett, McCoy Tyner, Lee Morgan, Horace Silver, Richard Groove Holmes, Cannonball Adderley, and Larry Young. A nice run of seldom seen 80s jazz LPs as well, if you don't fear the smoothness!
Scarce indie, wave, electronic and alternative is in from the National, My Bloody Valentine, the Shins, Son Volt, U2, the Clash, Duran Duran, the Go-Gos, REM, Kraftwerk, Mouse on Mars, Sleater Kinney, Sonic Youth, Voivod, Morrissey, and Mudhoney. Plenty more filling in the gaps, including a ton of classical, soundtracks, and childrens LPs!
SELL US YOUR CDS & LPS:
Yes, we are still buying! Call Ron to schedule (608.213.3610).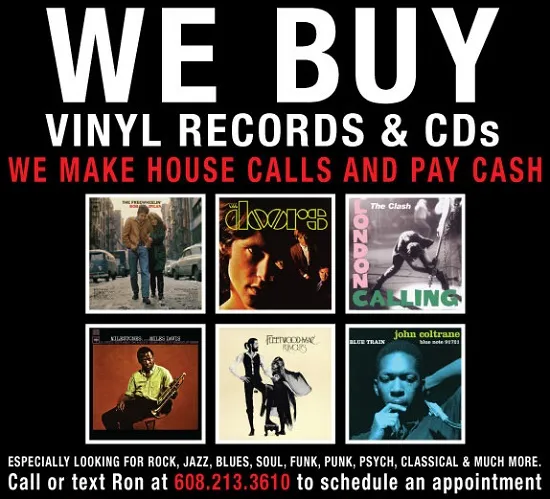 Ron, Ryan, Angie, Marty, Evan, Matt, Ed, Jack, Eric, Steve, Shep, Matt B. & Mark