December 2, 2021
NEW THIS WEEK AT THE SHOP:
A wonderful fresh selection of new releases hit the floor as we enter December, starting with a lovely vinyl edition of the latest album from GILLIAN WELCH and DAVID RAWLINGS, 'All The Good Times (Are Past and Gone), mastered to vinyl per Mr. Rawlings exacting requirements. The 1997 debut album from Jason Molina's SONGS: OHIA project held unnameable amounts of promise when it first†emerged, and this stripped-down folk marvel gets a limited vinyl reissue this week. Country songwriter and Highwomen member NATALIE HEMBY delivers her major label solo debut with 'Pins†+ Needles'.†
The sprawling live double album from the JERRY GARCIA BAND was one of the best selling CDs of 1991, so much so that the label didn't even bother releasing it on vinyl. Can you imagine? That's rectified now with a gold-foil embossed limited run box set with 5 LPs. This was delayed from Record Store Day and Black Friday so now's your chance to finally scoop one! The CAN live series continues with 'Live In Brighton 1975', another freewheeling 3LP set that captures the band in propulsive jam mode, doing extended, riffy deconstruction of material from the 'Soon Over Babaluma' and 'Landed' albums. Garage-psych titans OSEES deliver volume II of 'The Levitation Sessions' a few months before Volume I comes out, in keeping with their strange, unknowable customs.†
In this newsletter writer's opinion, the sleeper hit of the year (if you like dreamy, disassociated hypno-pop) comes from the Chicago duo DAMIANA. 'Vines' was released earlier this year, but I only found out about it after a trusted friend texted me a link to it with the only commentary being "Dude". Whitney Johnson aka Matchess and Natalie Chami aka TALsounds combine forces here on a truly transporting album of woozy DIY rhythmic seance that has been a solid soundtrack to the beckoning early winter. We hadn't heard the excellent new album from MARINA ALLEN until beloved employee Marty put it on his top ten list for the year (stay tuned for those!), and the latest release on Phoebe Bridgers' lil personal label Saddest Factory is from SLOPPY JANE and it's called 'Madison'. Coincidence? You be the judge.
Many more heavy hitters this week include a newly unearthed live set from JOHNNY CASH, recorded by none other than Owsley Stanley in the heart of the Haight at its freakiest, April of 1968.† New albums are in from veterans THE DESCENDENTS and THEY MIGHT BE GIANTS, plus we've got new editions of 'Beautiful Garbage' from GARBAGE, 'Razorblade Suitcase' from BUSH, and the original soundtrack for THE MATRIX. Still not too late to take the blue pill, y'all.†
Multi-disciplinary†percussionist and composer JAMIRE WILLIAMS makes a stirring debut on the International Anthem label; the soundtrack for the Netflix show 'Yasuke' by FLYING LOTUS is finally back in stock on LP; electrifying proto-Kwaito from early 90s Johannesburg from LUCKI MEREKI gets a nice reissue, and we have a new collaboration from the UK/West African producers ROSIE LOWE and DUVAL TIMOTHY called 'Son'.


'Mind Warp', the most enduring album length release from PATRICK COWLEY, gets a nice reissue on color wax, full of energetic electro-funk jams that are 100% iron-clad guaranteed to improve your mood. A new European duo called AUF TOGO delivers a remarkable new album called 'Movements', calling to mind classic 'Inspector Norse' era Todd Terje. Australian synthwave without a net is in from GRYFF on 'Calypso Drip FM', sounding like a GTA channel you would keep on speed dial.†


Relentless rhythms abound on the (very) big band UK jazz unit BALIMAYA PROJECT's latest album 'Wolo So'. A pair of absolute all-timers from the Black Jazz Records roster get nice vinyl remasters this week: DOUG CARN's 'Adam's Apple' and CALVIN KEYS' 'Proceed With Caution', plus we have a nice reissue of a deep late 80s rarity from Philly's ARPEGGIO JAZZ ENSEMBLE.
A pair of limited run LPs collect some of the very, very earliest material from MY MORNING JACKET, plus we have color vinyl copies of 'Ska Dream', the latest from pop-punker JEFF ROSENSTOCK.
Ahead of his new album which will land sometime in February, we have an absolute firecracker of a new EP from New York producer ANTHONY NAPLES. 'Club Pez' highlights his skills as a peak-time techno auteur. Nearly-anonymous German Sven Rieger aka SVN closes shop on his world-class label SUED with a final release which, just like the rest of them, has no title, no track names, nothing at all to it really beyond his incredibly inventive tracks that splay across house, techno, and funk. His countryman MAX GRAEF revisits an early cosmic classic from his catalog with a reissue of 'Rivers Of The Red Planet', and we have a new EP from the endlessly coruscating project of Fabric resident CALL SUPER.†
USED VINYL ALERT:
Lotta heat in the new arrivals this week! First off, we put out SO MUCH great stuff last week and quite a few of the primo titles are still left so we have given them another go-round for those of you who haven't made it in! All kinds of soul, psych, jazz, and post-punk rarities are in the mix!
We have some killer jazz this week from Milt Jackson, McCoy Tyner, Albert Ayler, Steve Tibbetts, Gato Barbieri, Nina Simone, and Yusef Lateef. A deep stash of early blues and Chicago/UK/Piedmont blues is in from names like Henry Townsend, JB Lenoir, Little Milton, Luther Johnson, Junior Parker, Paul Butterfield, Professor Longhair, Sonny Terry, Sonny Boy Williamson, Chick Willis, Robert Wilkins, and many others.†
Plenty of classics in from the Who, Neil Young, the Beatles, Frank Zappa, Led Zeppelin, the Beatles, Creedence Clearwater Revival, the Eagles, The Police, Jethro Tull, David Bowie, Joni Mitchell, Bruce Springsteen, Jimi Hendrix, and others, plus we've got some great selections in reggae and dub, contemporary indie and noise-punk, female vocalists and girl groups, surf rock, deep soul and gospel, soundtracks, classical and a whole lot more.
SELL US YOUR CDS & LPS:
Yes, we are still buying! Call Ron to schedule (608.213.3610).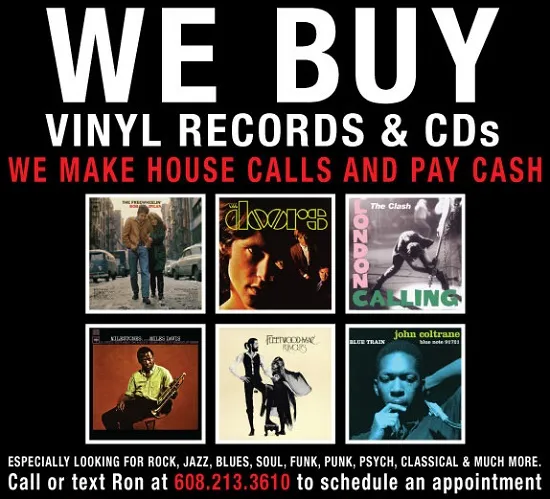 Ron, Ryan, Angie, Marty, Evan, Matt, Ed, Jack, Eric, Steve, Shep, Matt B. & Mark