November 18, 2021
NEW THIS WEEK AT THE SHOP:
Good news: Such a haul of new releases this week! Bad news: no time to write much about them! If you need a novel this week you'll have to pick up War & Peace. Here we go in bullet point mode!
-ROBERT PLANT and ALISON KRAUSS release their long awaited follow up to 'Raising Sand', another thrilling collection of covers and re-interpretations from all across the folk songbook. We've just been bowled over by this one all week. A great selection of songs (Krauss covering Geeshie Wiley's 'Last Kind Word Blues' is a major highlight) and T-Bone Burnett's earthy roomsound make this an instant classic. We have copies of the indie only version with an alternate cover.
-COLTER WALL's new live album is called 'Live In Front of Nobody' and is very very limited. We have just a few and we cannot hold them so saddle up and ride on down
- the vinyl version of Minnesota folkie CHARLIE PARR's latest, 'Last of the Better Days Ahead' is here on yellow/magenta vinyl
- 'Wilds', a very very great new album from indie songwriter ANDY SHAUF is here on clear blue vinyl
- the latest album from British working mother ADELE is here. It is called '30'. Our copies are on classic, elegant, and timeless black vinyl, alongside a new album from STING
-'Teaser and the Firecat' by CAT STEVENS turns 50 years young this week with a new vinyl release, and we celebrate the 45th anniversary of KISS 'Destroyer' with a new deluxe wax edition (complete with billboard out front this weekend for your photo op)
- cutting edge pop on colored vinyl, what is not to like? Very online duo MAGDALENA BAY drop 'Mercurial World' on red, the latest from THRICE 'Horizons/East' is in on opaque yellow, TWENTYONE PILOTS return with 'Scaled and Icy' on clear vinyl, and COLD WAR KIDS come back to us with 'New Age Norms 3' on green wax
-the latest deluxe vinyl set from the GRATEFUL DEAD covers their St Louis 71 show in a five LP set with an etching, and it looks marvelous
-BRUCE SPRINGSTEEN's 'Legendary 1979 No Nukes Concert' is in on double LP
- the unparalleled Hollyweird chillout summit that is DAVID CROSBY's debut solo album 'If I Could Only Remember My Name' turns 50 with a lovely new vinyl edition. If you like anything about the world of CSNY and the Laurel Canyon scene, you cannot miss this album
- just after their fantastic new album, a new pressing of CARCASS' 2013 return to form, 'Surgical Steel' gets a nice repress on blue/red wax
- a pair of absolutely delightful 1970s albums from the Colombian sister duo ELIA Y ELIZABETH are back in print, full of buoyant tropical pop
- modern impresario MAKAYA MCCRAVEN reassembles elements from some classic Blue Note tunes on 'Deciphering the Message'
- if you ask around this particular record store, the jazz album everyone needs (after say, 'Kind of Blue') is the mighty 'Black Saint and the Sinner Lady' by CHARLES MINGUS, given the Verve Acoustic Sounds audiophile treatment this week in a fantastic new edition
- speaking of Blue Note, a fresh round of their 80 series is here, featuring two classics from their torrid late 70s run of soulful fusion: BOBBI HUMPHREY's 'Fancy Dancer' and DONALD BYRD's 'Places and Spaces'. We go back a bit for two more gems: HORACE SILVER's '6 Pieces of Silver' and 'The Big Beat' from ART BLAKEY with prominent guests LEE MORGAN and WAYNE SHORTER.
- we've been waiting just about all year for vinyl copies of two rare, unreleased performances from the fruitful Swedish period of trumpeter DON CHERRY, and they have finally made it for a limited time.
- 'Roots' is a mighty, 'On The Corner' esque fusion explosion from IAN CARR'S NUCLEUS and very very hard to find on LP until this perfect Be With reissue
- just one copy of the scarce, highly-praised reissue of the mighty 1969 free jazz foundation 'Al-Fatihah' by the BLACK UNITY TRIO
- It's been ten years since the release of WIZ KHALIFA's 'Rolling Papers'? man, what was in that shit? Anyway, this one is back on wax after being out of print for a decade, alongside the breakout record from AESOP ROCK, 'Labor Days', which turns 20 this year.
- beloved indie rapper BLU†returns with 'The Color Blu(e)', the jam-packed SHANG-CHI Soundtrack is here, plus we have a new LP from reggaeton high roller J BALVIN, and a new vinyl pressing of the final album from R&B pioneer ROSCO GORDON, 'No Dark In America'
- hate to break it to ya but Christmas is coming! We have stocked up big time on all kinds of holiday classics on LP, and we welcome some new holiday vinyl from LESLIE ODOM and MANCHESTER ORCHESTRA, plus super cute singles from SHE & HIM and SHARON VAN ETTEN.
- HELVETIA is the long-running new band of Duster members Canaan Amber and Jason Albertini, and they probably do not enjoy being compared to that band so I will say 'Essential Aliens', in stock on clear vinyl, is a phenomenal album of low-key mid-fi pop brilliance marked by fragile yet memorable guitar lines. Sound familiar?
- a long long time ago (2006?) Pinback's Rob Crow and Hella's Zach Hill made a record of noise pop as THE LADIES which is now back in print
- Tunisian sound designer HOUEIDA HEDFI teams up with Olof Dreijer from The Knife for a fascinating new album of Arab folk inflected with techno pulse†
- for years, we've gotten requests for the debut album 'Panorama Pacifico' by nu-disco geniuses SATIN JACKETS, and its finally here in a new 5 year anniversary edition
- second gen Detroit techno maestro KENNY LARKIN sees his 1995 classic 'Metaphor' get a properly sequenced vinyl edition for the first time in decades, and we celebrate a generation that followed in his footsteps with a killer 3LP compilation '10 Years of ACID TEST' featuring a host of big names from this darkened world.†
-JOHANN JOHANNSSON's masterful and moving 'The Miners' Hymns' soundtrack finally gets a vinyl release this week
-BERNARD†SZAJNER's jaggedly poignant 1980 album 'Some Deaths Take Forever' is probably the only explicitly anti-death penalty minimal synth album ever made
- stunning contemporary composition from GIOVANNI DI DOMENICO on 'Musica Per Insiemi'
-mysterious Japanese psych-rock maximalists LES RALLIZES DENUDES see one of their limited live documents reissued in a short run
USED VINYL ALERT:
A world class haul awaits you in this week's Used Vinyl Alert, as we put out over†650 fresh used LPs including so, so many stone cold classics! Many seldom seen, early or otherwise rare pressings from some of our fave names this week, including the MC5, Love, the Who, Jimi Hendrix, AC/DC, Moby Grape, Frank Zappa, the Beatles, Rush, Canned Heat, Neil Young, Randy California, Incredible String Band, Tom Petty, Captain Beefheart, the Kinks, the Yardbirds, the Zombies, Link Wray, Flying Burrito Brothers, Kiss, Tim Buckley, Shuggie Otis, Lou Reed, Pink Floyd, Bob Dylan, Steely Dan, the Rolling Stones, Van Morrison, and Queen.
Classic early indie and alternative is in from the Cure, the Damned, REM, 24-7 Spyz, Snakefinger, the Pop Group, Sisters of Mercy, Duran Duran, Love and Rockets, Pere Ubu, the Smiths, Yaz, Sinead O'Connor, plus some of their newer counterparts†like Tame Impala, Cloud Nothings, Com Truise and Daniel Lopatin.
Quality†jazz this week is in from Miles Davis, Charles Kynard, Rahsaan Roland Kirk, Keith Jarrett, McCoy Tyner, Cannonball Adderley, Louis Armstrong, Dave Brubeck, and more. Soul comes through from Rick James, Prince, Stevie Wonder, Marvin Gaye, Parliament, Brenton Wood, and more. Plenty of folk and country gems here as well, and a whole lot of soundtracks!
SELL US YOUR CDS & LPS:
Yes, we are still buying! Call Ron to schedule (608.213.3610).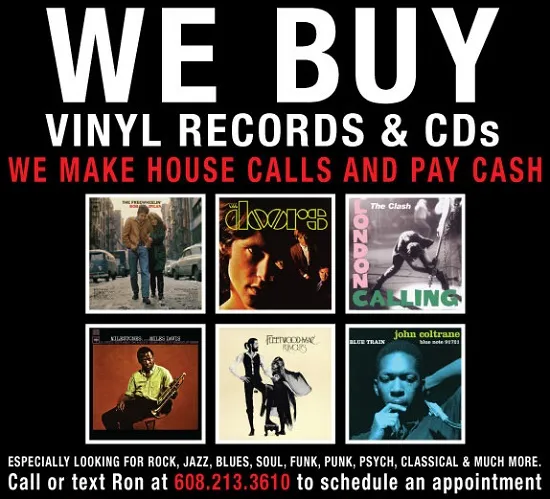 BLACK FRIDAY RECORD STORE DAY IS NOVEMBER 26:
Strictly Discs will be the place to be this Post-Thanksgiving-Shopping-Melee-Day, also known as Black Friday.
And that's because certain indie stores across the country will be the place to get special releases created just for you, for giving and getting this holiday season, and they're scheduled for release on Black Friday, November 26, 2021.
Now, this is not Record Store Day, Jr., but it is brought to you by the powers-that-be at Record Store Day. This is a group of special releases you can only find at certain independent record stores nationwide. The magic of these pieces (many uber-limited) is that every one of them is something someone will really LOVE to get, and you'll really ENJOY giving. And you may have the added nice feeling of supporting a local, independently owned (Strictly Discs, Independently Owned since 1988) business during the holidays.
THE LIST HAS BEEN RELEASED & WISHLISTS CAN NOW BE MADE†HERE.
The DEADLINE for making or modifying Black Friday Wishlists was†Wednesday, September 22 at 10AM.

Ron, Ryan, Angie, Marty, Evan, Matt, Ed, Jack, Eric, Steve, Nick, Matt B. & Mark