November 11, 2021
NEW THIS WEEK AT THE SHOP:
USED VINYL ALERT:
An extra-special haul is here in this week's used vinyl alert, as we roll out eye popping runs of some classic rock, psych, and jazz titles. Early and collectible pressings are in from David Bowie, King Crimson, the Kinks, Fleetwood Mac, the Beatles, Pink Floyd, Blue Cheer, Bob Dylan, John Fahey, Bert Jansch, Tim Buckley, the Groundhogs, Jimi Hendrix, Led Zeppelin, AC/DC, Captain Beefheart, Skip Spence, and Tim Buckley.
Highest quality jazz is in from John Coltrane, Miles Davis, Freddie Hubbard, Pharaoh Sanders, Thelonious Monk, Red Garland, Eric Dolphy, Roland Kirk, Charles Mingus, Bill Evans, Jimmy Smith, and many more. Some very rare pressings here.
A deep trove of new wave, punk, and other 80s flotsam is present, including LPs from the Clash, the Cars, Duran Duran, Devo, Camper Van Beethoven, Abba, Sisters of Mercy, the Tar Babies, Alien Sex Fiend, Lords of Acid, the Meatmen, Ministry, Violent Femmes, INXS, the Cure, and Cabaret Voltaire, plus some killer early acid house and industrial comps.
Copious country is in from Glen Campbell, Kris Kristofferson, Steve Earle, the Carter Family, Johnny Cash, Waylon Jennings, Willie Nelson, Linda Ronstadt, and Dolly Parton. Soul and R&B comes through from Al Green, Archie Bell, Whitney Houston, David Ruffin, Otis Redding, James Brown, and many more. Reggae is here from Bob Marley, Jimmy Cliff, Max Romeo, and Peter Tosh. A nice assortment of blues, folk, and bluegrass, as well as some choice soundtracks and children's LPs as well!
SELL US YOUR CDS & LPS:
Yes, we are still buying! Call Ron to schedule (608.213.3610).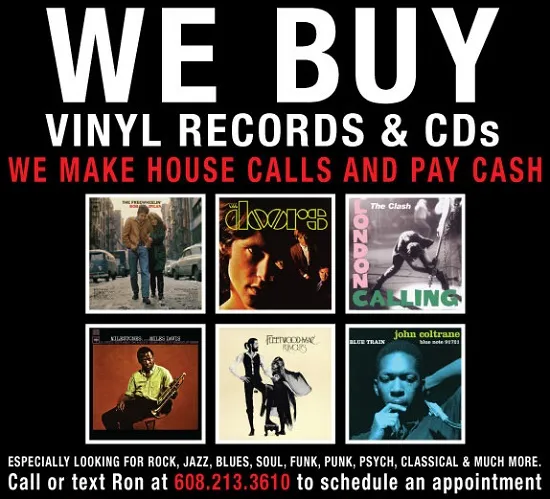 BLACK FRIDAY RECORD STORE DAY IS NOVEMBER 26:
Strictly Discs will be the place to be this Post-Thanksgiving-Shopping-Melee-Day, also known as Black Friday.
And that's because certain indie stores across the country will be the place to get special releases created just for you, for giving and getting this holiday season, and they're scheduled for release on Black Friday, November 26, 2021.
Now, this is not Record Store Day, Jr., but it is brought to you by the powers-that-be at Record Store Day. This is a group of special releases you can only find at certain independent record stores nationwide. The magic of these pieces (many uber-limited) is that every one of them is something someone will really LOVE to get, and you'll really ENJOY giving. And you may have the added nice feeling of supporting a local, independently owned (Strictly Discs, Independently Owned since 1988) business during the holidays.
THE LIST HAS BEEN RELEASED & WISHLISTS CAN NOW BE MADE†HERE.
The DEADLINE for making or modifying Black Friday Wishlists was†Wednesday, September 22 at 10AM.

Ron, Ryan, Angie, Marty, Evan, Matt, Ed, Jack, Eric, Steve, Nick, Matt B. & Mark