October 28, 2021
NEW THIS WEEK AT THE SHOP:
USED VINYL ALERT:
Quite a ride in the Used Vinyl New Arrivals this week! We roll out the last bit of spooky Halloween jams, and right behind it the first glimpses of our mighty Christmas records section! Plenty of new wave, classic rock, jazz, blues, soul and more as well.
Rock classics this week include an extremely nice run of very minty Pink Floyd LPs we don't see too often. Big essentials in from Tom Petty, Bob Dylan, Leonard Cohen, Frank Zappa, Jethro Tull, Creedence, Traffic, Cream, the Who, Steely Dan, Elvis Costello, Rush and the Bee Gees.
A real stunning spread of all things new wave, punk, and early indie this week, spanning names like the Dead Kennedys, Nash the Slash, Pere Ubu, Iggy Pop, Kid Creole, the B-52's, Siouxsie and the Banshees, Einsturzende Neubauten, Helios Creed, Blood Brothers, A-Ha, Wham, Talking Heads, Sex Pistols, Helmet, Kate Bush, Sigue Sigue Sputnik, Simple Minds, the Stranglers, and more.
Quality jazz slabs are in from Keith Jarrrett, John Coltrane, Miles Davis, Bill Evans, Herbie Hancock, Milt Jackson, Django Reinhardt, and more. Country from Dwight Yoakam, Hank Williams, Patty Griffin, Dolly Parton and more. Hip-hop from Destinys Child, Run DMC, De La Soul, and others, plus plenty of blues, folk, funk, soul, disco, childrens LPs, and more!!
SELL US YOUR CDS & LPS:
Yes, we are still buying! Call Ron to schedule (608.213.3610).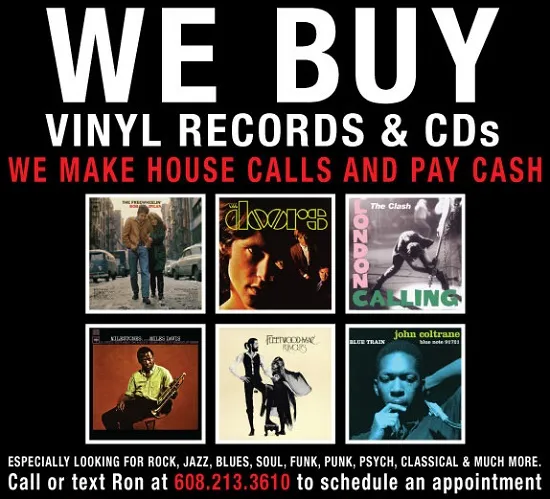 BLACK FRIDAY RECORD STORE DAY IS NOVEMBER 26:
Strictly Discs will be the place to be this Post-Thanksgiving-Shopping-Melee-Day, also known as Black Friday.
And that's because certain indie stores across the country will be the place to get special releases created just for you, for giving and getting this holiday season, and they're scheduled for release on Black Friday, November 26, 2021.
Now, this is not Record Store Day, Jr., but it is brought to you by the powers-that-be at Record Store Day. This is a group of special releases you can only find at certain independent record stores nationwide. The magic of these pieces (many uber-limited) is that every one of them is something someone will really LOVE to get, and you'll really ENJOY giving. And you may have the added nice feeling of supporting a local, independently owned (Strictly Discs, Independently Owned since 1988) business during the holidays.
THE LIST HAS BEEN RELEASED & WISHLISTS CAN NOW BE MADE†HERE.
The DEADLINE for making or modifying Black Friday Wishlists was†Wednesday, September 22 at 10AM.

Ron, Ryan, Angie, Marty, Evan, Matt, Ed, Jack, Eric, Steve, Nick, Matt B., Mark & Matt E.