September 30, 2021
NEW THIS WEEK AT THE SHOP:
USED VINYL ALERT:
Take a deep breath, because this week's Used Vinyl Alert drops more than a few names. We'll get into specifics here in a second, but just know that if JAZZ is your game, you'll want to be here on Friday.
Not a jazz cat? Fret not. Some seriously huge rock, psych, prog & new wave titles here this week. We've got King Crimson, Pink Floyd, Velvet Underground (plus Lou Reed & several John Cale LPs), Nico, Grateful Dead, Bob Dylan, the Band, Fleetwood Mac, Byrds, Amon Duul II, Kate Bush, Talking Heads, Slade, Tom Petty, James Gang, Led Zeppelin, Bo Hansson, Beatles and a huge run of Zappa & the Mothers.†
Soul here from War, Sam & Dave, James Brown, Marvin Gaye, Four Tops, Barry White, Stevie Wonder, Sade & Shuggie Otis. Deep blues cuts from Buddy Guy, John Lee Hooker, Howlin Wolf, Lightnin Hopkins, Dr John & Taj Mahal.
There's a really nice run of folk & country LPs, including John Prine, Guy Clark, Dave Van Ronk, Jerry Jeff Walker, Willie Nelson, Porter Wagoner, Lyle Lovett, Stan Rogers, Norman Blake, Weavers, Odetta and more.†
A handful of heavy 80s & 90s hip hop titles grace the bins this week, from Too $hort, LL Cool J,†
Kool Moe Dee, and Big Daddy Kane.
Oh yes, those jazz records we mentioned. Come get 'em while they're hot...because they are†quite†hot. There's Eric Dolphy, Archie Shepp,†Dexter Gordon, Mary Lou Williams, Milt Jakcson, Gabor Szabo, Yusef Lateef, Freddie Hubbard, Eddie Gale, Curtis Fuller, George Benson, Bill Evans, Herbie Hancock, Sam Rivers, Cannonball Adderley, Cal Tjader, Art Blakey, Anthony Braxton...to name a few. Lots in clean & highly collectable condition.†
STRICTLY DISCS IS HIRING:
VINYL PRICING SPECIALIST AND/OR SHOP CLERK:
Required skills:
Excellent customer service skills; ability to anticipate customer needs
Computer proficient

A passion for music, and†a broad, deep base of recorded music history
Knowledge of Goldmine standards &†experience grading and pricing records

Knowledge of stereo equipment/functionality
Availability to work nights and weekends
Ability to lift and carry 50 pounds repeatedly

To apply, submit letter of interest & resume to angie@strictlydiscs.com
SELL US YOUR CDS & LPS:
Yes, we are still buying! Call Ron to schedule (608.213.3610).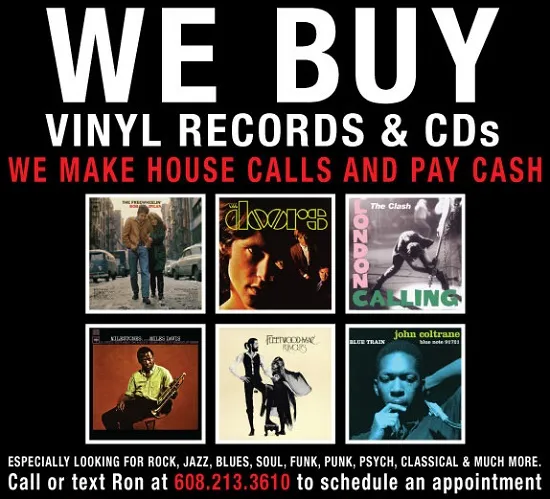 BLACK FRIDAY RECORD STORE DAY IS NOVEMBER 26:
Strictly Discs will be the place to be this Post-Thanksgiving-Shopping-Melee-Day, also known as Black Friday.
And that's because certain indie stores across the country will be the place to get special releases created just for you, for giving and getting this holiday season, and they're scheduled for release on Black Friday, November 26, 2021.
Now, this is not Record Store Day, Jr., but it is brought to you by the powers-that-be at Record Store Day. This is a group of special releases you can only find at certain independent record stores nationwide. The magic of these pieces (many uber-limited) is that every one of them is something someone will really LOVE to get, and you'll really ENJOY giving. And you may have the added nice feeling of supporting a local, independently owned (Strictly Discs, Independently Owned since 1988) business during the holidays.
THE LIST HAS BEEN RELEASED & WISHLISTS CAN NOW BE MADE†HERE.
The DEADLINE for making or modifying Black Friday Wishlists was†Wednesday, September 22 at 10AM.

Ron, Ryan, Angie, Marty, Evan, Matt, Ed, Jack, Eric, Steve, Nick, Matt B. & Mark