September 16, 2021
BLACK FRIDAY RECORD STORE DAY IS NOVEMBER 26:
Strictly Discs will be the place to be this Post-Thanksgiving-Shopping-Melee-Day, also known as Black Friday.
And that's because certain indie stores across the country will be the place to get special releases created just for you, for giving and getting this holiday season, and they're scheduled for release on Black Friday, November 26, 2021.
Now, this is not Record Store Day, Jr., but it is brought to you by the powers-that-be at Record Store Day. This is a group of special releases you can only find at certain independent record stores nationwide. The magic of these pieces (many uber-limited) is that every one of them is something someone will really LOVE to get, and you'll really ENJOY giving. And you may have the added nice feeling of supporting a local, independently owned (Strictly Discs, Independently Owned since 1988) business during the holidays.
THE LIST HAS BEEN RELEASED & WISHLISTS CAN NOW BE MADE†HERE.
NEW THIS WEEK AT THE SHOP:
The latest chapter in the BOB DYLAN Bootleg Series - 'Springtime In New York' - chronicles his rich return to form in the early 80s, experimenting with new sounds, gear, and styles on albums like 'Empire Burlesque', 'Infidels', and 'Shot of Love'. This set comes in a super deluxe 5 CD version with a large book, and 2CD or 2LP editions that present the highlights. Store fave CHARLEY CROCKETT delivers his long-awaited new album 'Music City, USA', adding a bit of groove to the countrified folk of his last LP, while keeping the same producer that made 'Welcome To Hard Times' so irresistible. This one comes in a beautiful double 45 RPM vinyl edition, and while they last we have some very limited copies that come with a signed art print. Rather humble and obscure upon its†original release in 2011, 'All Of It Was Mine' by the singer-songwriter known as THE WEATHER STATION turned out to be a quietly influential record for the indie-folk scene of the past decade. This gorgeous, no BS album is back in print in a limited color vinyl run this week.
'Boots', a fresh volume of NANCY SINATRA's refreshingly uncomplicated, stylistically iconic folk pop is here on a new double LP. Just as refreshing as the day it came out back in 1984 is 'Eden', the debut album by EVERYTHING BUT THE GIRL, a simple and powerful album of laid-back genius that chartered new ground for jazz-influenced pop, while representing a strong new generation of British lyricism; like the Smiths without all the danged mopery. With a voice like ribbon candy, MADELEINE PEYROUX blessed albums like 'Careless Love' with a timeless grace, available on vinyl for the first time†in a long time in an expanded 3LP edition.
LA impressionistic funksters MILD HIGH CLUB return with 'Going Going Gone', having set the bar quite high with their last LP for Stones Throw. Minneapolis indie-poppers BAD BAD HATS absolutely nail it on their debut album 'Walkman', taking cues from Spoon, Slow Pulp and, maybe even The Walkmen on their earliest stuff. NYC neo-souler†ALICIA WALTER turns in a ballistic set of chamber pop on 'I Am Alicia'.
'Local Valley' is the first new LP we've seen from songwriter JOSE GONZALEZ in too long, but we can't stay mad at him. The earthy, acoustic pop on this delightful record seems to bloom endlessly. JUNIOR THOMAS and his band THE VOLCANOS recorded their debut album 'Beware' within the last decade; but you'd never, ever guess, so exact and faithful is their rendition of the classic rocksteady sound, with Thomas sounding like a dead ringer for Alton Ellis. Connecticut guitar gods MOUNTAIN MOVERS carry the torch first blazed by bands like The Clean and Yo La Tengo on a great new slab, 'World What World', while RHYTON aim even deeper into the cosmos on the staggering 'Pharaonic Crosstalk'.†
A pair of stunners in this week in the Blue Note Tone Poet series, LEE KONITZ plays with the GERRY MULLIGAN Quartet, and WAYNE SHORTER's 'The All Seeing Eye', plus a miraculously rescued live recording from pianist ERROLL GARNER.
'N.O.R.E.', the 1998 debut from Queens rapper NOREAGA is back in print as Tommy Boy revisits the golden era of street rap, plus we get two versions of a new track from SZA on a limited run ten inch. Rhymer MARLOWE made tons of year end lists with his 2018 debut album, now back in print, and conscious hiphop collective DARK TIME SUNSHINE returns with 'Lore'.†
Frenetically creative and bursting with forward-thinking production moves, a new comp called SOUNDS OF PAMOJA captures the latest developments in the Tanzanian world of singeli. A great new set from the HABIBI FUNK label collects funk, disco, and soul from the late 70s Arab world. Finally back in print this week, the earliest recordings from the punk-wave pioneers D.A.F., on the 1978 album 'Produkt der Deutsch-Amerikanischen Freundschaft'.†
Lots of heavy bidness this week, starting with an expanded vinyl reissue of OZZY OSBOURNE's mid-80s classic 'No More Tears', a fresh edition of the discography of early punk legends NEON CHRIST, featuring guitarist William Duvall who would later go on to join Alice in Chains. Death metal heroes CARCASS return with another massive instant classic called 'Torn Arteries', in the building on†bloodsplatter†vinyl. In a rather unexpected†development, UK deathrock pioneers RUDIMENTARY PENI have a new record out called 'Great War', demented dark punk just as classic as the stuff that had them sharing stages with bands like Crass and Subhumans in the early 80s. If all this is too tame for you, you can pick up a new vinyl edition of 'Execution Ground' from PAINKILLER, a 1994 album from the band's core unit of John Zorn, Bill Laswell, and Napalm Death's Mick Harris.†
We haven't delved too far into why a gorgeous new electro-pop project featuring the voice of the one and only Laura Marling is called LUMP; too busy enjoying its Stereolab-esque charm. Evan Mast from the dormant duo Ratatat revives his solo moniker E.VAX for a lovely new album of mellow Manzaneran guitar and global rhythms, and artist Nick Murphy re-activates as CHET FAKER for a new master class in chill on 'Hotel Surrender', in stock on regular LP and picture disc.
A couple classics from the fertile period of 70s salsa are in stock from LOS AFROINS and ANGEL CANALES, while we welcome a fresh pressing of the unstoppable afro-funk bomb 'Chapita' from South Africa's DICK KHOZA, and a new cut of the timeless 'Turn This Motha Out' from IDRIS MUHAMMAD.†
It's always a great time for a new record from the godfather of modern boogie, DAM-FUNK, who brings us a heavy helping of jams on a new double EP 'Architecture III'. Techno pioneer RICHIE HAWTIN revisits his fertile mid-90s period for a new 3LP collection of trancey minimalism. A new EP of big-bottomed house from the continually sharp Shall Not Fade label is in from Swedish producer FIDDE.†
Last but certainly not least, the first ever vinyl release of 'Flow Goes The Universe', the 1992 album from ambient icon LARAAJI, featuring production and guitar by Michael Brook. Chicago experimental jazz trio MAKO SICA joins up with HAMID DRAKE, TATSU AOKI and THYMME†JONES on the effervescent 'Ourania'. Cult-fave JOHN CARPENTER soundtrack 'Dark Star' is back in print on vinyl. Contemporary jazz meets house and soul on some ingenious new records from PIE EYE COLLECTIVE and JORDAN RAKEI, and we have a new post-lockdown banger from Irish producer MANO LE TOUGH.
USED VINYL ALERT:
We're not calling summer over†quite†yet...heavy heat is still to be had in the basement here at the shop. In this week's Used Vinyl Alert, you'll find another installment of late 70s-80s rock & metal doing the heavy lifting. We've got Motley Crue, Iron Maiden, Sabbath, Dio, Ozzy, Poison, Guns 'N Roses, Van Halen & more. Classic 60s & 70s wax from the Beatles, Traffic, Cream, The Doors, Rolling Stones, Bruce Springsteen, Bad Company, Fleetwood Mac (& Stevie Nicks solo), Rush, Genesis, Bob Dylan, Beach Boys & more.†
Some truly stunning essential blues titles this week from Muddy Waters, Mississippi John Hurt,†
Howlin' Wolf, Lightning Hopkins, Albert King, T-Bone Walker, Bonnie Raitt, Stevie Ray Vaughan & Taj Mahal. There's also a nice swath of country LPs, including some early ones from Waylon Jennings & Dolly Parton.
Some key jazz here from John Coltrane, Oliver Nelson, Wes Montgomery, Herbie Mann, Cannonball Adderley & Dizzy Gillespie. There's a nice run of Chanson to be had (including some Piaf), a tight run of Bob Marley LPs, and a large assortment of sealed & or damn-near-sealed records for you to peruse. Come on down.
STRICTLY DISCS IS HIRING:
VINYL PRICING SPECIALIST:
Required skills:
Excellent customer service skills; ability to anticipate customer needs
Computer proficient

A passion for music, and†a broad, deep base of recorded music history
Knowledge of Goldmine standards &†experience grading and pricing records

Knowledge of stereo equipment/functionality
Availability to work nights and weekends
Ability to lift and carry 50 pounds repeatedly

To apply, submit letter of interest & resume to angie@strictlydiscs.com
SELL US YOUR CDS & LPS:
Yes, we are still buying! Call Ron to schedule (608.213.3610).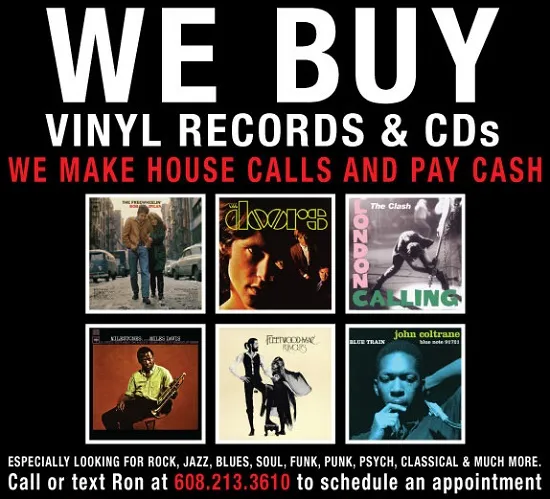 Ron, Ryan, Angie, Marty, Evan, Matt, Ed, Jack, Eric, Steve, Nick, Matt B. & Jamie