September 9, 2021
NEW THIS WEEK AT THE SHOP:
Transcendent country pop KACEY MUSGRAVES returns with a surprise new album called†'star-crossed', in the house on very limited color vinyl (three different colors, yours will be a surprise), and comes with a lovely tote bag while supplies last. After many dormant years, Erika Wennerstrom has revived her band HEARTLESS BASTARDS for an electrifying new album, 'A Beautiful Life', that calls back to the group's earliest tunes, in the shop on limited violet vinyl. With Paramore deep in the rear-view, the talented HAYLEY WILLIAMS delivers a new solo record called 'Flowers For Vases' on clear wax, full of soft, reflective tunes a world away from the catharsis of her former band.
Achtung! The record releasing juggernaut known as KING GIZZARD has truly outdone themselves (who else is there to outdo?) on their latest album 'Butterfly 3000', which comes to us in nine different language versions: German, Russian, Turkish, Hindi, Spanish, Swedish, Mandarin, Dutch, and Japanese. If you ask us, true fans need every version of this record, which is easily one of their best yet, full of colorful synth melodies and strange pop moves, like a lost MGMT album. Indie institutions MODEST MOUSE and LOW both bring us exciting new records this week as well.†
Off to never-never-land, its time for a new edition of METALLICA's best selling self-titled album, frequently known as the Black Album, originally released in 1991. We've got a freshly recut LP, a lavish deluxe vinyl, and a double CD version with bonus tracks. SPIRITUALIZED hit the big time with 1997's 'Ladies And Gentlemen We Are Floating In Space', the next record in their catalog to get the 2021 remaster treatment with fresh cover art. The iconic 'This Year's Model' by ELVIS COSTELLO also gets a fresh vinyl remaster, along with a new LP compilation commissioned by Costello that finds a range of contemporary artists covering the entire album in Spanish.
An absolutely explosive new record of fulminating grime is in from THE BUG; 'Fire' features big guests like Flowdan, Daddy Freddy, and Moor Mother. A new record from the Angolan / Portuguese duo known as IKOQWE offers a truly pioneering melange of Central African rap, techno, and sound collage on 'The Beginning, The Medium, The End & The Infinite'. Congolese hip-hop duo JUPITER & OKWESS channels everything from highlife to the Beastie Boys on 'Na Kozonga'.†
Behold, a new edition of CZARFACE & MF DOOM's 2021 album 'Super What?', available only at indie shops like ours. This one has a coloring book style black and white cover, and white vinyl. MADLIB's earth-rumbling collab with Kieran Hebden, 'Sound Ancestors', also gets a sparkling new edition on silver vinyl. SA-ROC revisits her compelling LP 'Sharecropper's Daughter' with a bonus EP on gold wax, and we've reeled in a pair of essential reissues of primo DIGITAL UNDERGROUND, 'Sex Packets' and 'This is an EP Release'.
An early gem of Nigerian highlife from ETUBOM REX WILLIAMS is back in print, and we have the latest cant miss compilation from Analog Africa, CAMEROON GARAGE FUNK, which brings maximum heat. A pair of new releases in the now decades-long Made To Measure series are here, collecting some fresh global fusion from NOVA MATERIA and HECTOR ZAZOU.†

††
A new pressing on magenta vinyl is here for IDLES breakout album 'Joy As An Act of Resistance', and A PLACE TO BURY STRANGERS startling comeback album 'Hologram' gets a second edition on orange. Fuzzy freakers SLOTHRUST come through with 'Parallel Timeline', and we have a cool new album from Piedmont funkster MATTHEW E WHITE on green, plus new LPs from SINCERE ENGINEER and THE VACCINES, whose google alerts must be blowing up.†
Last up, some very tasty imports in this week! Pretend you've just strolled into a hip shop in merry ol London as you browse jazz-funk from MASAYOSHI TAKANAKA, dreamy Brazilian pop by CHICO BUARQUE, ectopic fusion from NUCLEUS, the frisson of silken guitar magic that is GABOR SZABO's 'Dreams', plus rare classics from THE STONE ROSES and TONY ALLEN. Right-e-oh then!
USED VINYL ALERT:
The 2021 school year is already here, but that doesn't mean you can't party like it's the 80s...this week's Used Vinyl Alert begins with a whole lotta heavies, from Judas Priest, Slade, Scorpions, Kiss, Krokus, Iron Maiden, Great White, Ratt, David Lee Roth, Survivor, and more. We've also got classics from David Bowie, CCR, Yes, UFO, Ramones, Be-Bop Deluxe, Allman Brothers,†ZZ Top, Michael Jackson, Rush, Zappa AND Captain Beefheart. If synth-pop & New Wave are your bag, you'll find some winners from Eurythmics, Tom Tom Club, Pet Shop Boys, OMD, Pet Shop Boys, Yellow Magic Orchestra and more.
If you perused the basement last week, you might have got a taste of some Cajun, Zydeco and other Louisiana goodies. Well, I'm happy to report that we got a whole mess more this week, and in tip top shape, too. Blues here from Robert Johnson, Muddy Waters, Big Bill Broonzy, Albert Collins, Koko Taylor, and the Kings - B.B. & Albert.†
Jazz gems peppered in here from John Coltrane, Don Cherry, Paul Motian, Art Tatum, Duke Ellington, Dave Brubeck, Return To Forever, Gil Evans, plus tons of Louis Armstrong.
Lastly, we have another dose of electronic 12"s for ya, including a few rare slices of early Detroit techno and Chicago house. There's also a big run of 70s & 80s disco, funk, dance & pop hits, all minty in their picture sleeves.
STRICTLY DISCS IS HIRING:
VINYL PRICING SPECIALIST:
Required skills:
Excellent customer service skills; ability to anticipate customer needs
Computer proficient

A passion for music, and†a broad, deep base of recorded music history
Knowledge of Goldmine standards &†experience grading and pricing records

Knowledge of stereo equipment/functionality
Availability to work nights and weekends
Ability to lift and carry 50 pounds repeatedly

To apply, submit letter of interest & resume to angie@strictlydiscs.com
SELL US YOUR CDS & LPS:
Yes, we are still buying! Call Ron to schedule (608.213.3610).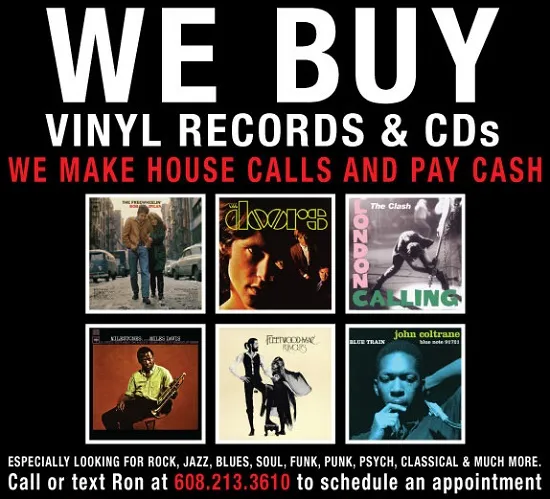 Ron, Ryan, Angie, Marty, Evan, Matt, Ed, Jack, Eric, Steve, Nick, Matt B. & Jamie