September 2, 2021
NEW THIS WEEK AT THE SHOP:
Greetings and welcome to (almost) Friday. Yeesh, what a week. Lets start off with some new releases far away from these United States of A with an explosive new album from British rapper LITTLE SIMZ. 'Sometimes I Might Be Introvert' continues a run of critically acclaimed albums from the rhymer/singer/actress that push her sleek, defiant style forward without bending to convention. She ought to be more popular and that may just happen with this record, which†we have limited red and gold vinyl copies of. It's been five years since the last Hyperdub album from Kuwaiti-German producer FATIMA AL QADIRI, who returns with an incredibly rich new album inspired by classical poetry by Islamic women. 'Medieval Femme' is less disorienting than her previous albums, with much more immersive depth. Experimental club styles meet traditional ceremonials from South African musician DESIRE MAREA on a bold new self titled album, and we welcome a new LP from the fiercely capable Iranian fiddle player and sound sculptor SABA ALIZADEH, who follows up his incredible debut with an earth-chilling album called 'I May Never See You Again'.†
Its been too long since we heard new things from NITE JEWEL, the indie soul crooner who casts a minimalist spell on her modern R&B sound on 'No Sun', revealing a more vulnerable sound. No such withholding going on with 'The Forgotten Edge' from MOLLY LEWIS, a boundlessly cool album of western-tinged noir instrumentals by the professional whistler. Didn't know that was a thing? Same here. Limited red vinyl on this one comes with a free tube of lip balm. You think we're messing with you? Try it. Come get your lip balm. Lots of funny business going on here on 'Shenanigans Night Club', which finds Connecticut rock group GOOSE going for a potent, unexpected blend of "In The Dark"-era Dead, Steely Dan and..Boz Scaggs? Crazy kids. White vinyl on this one. Becky Stark has one of the most purely beautiful voices in all of pop music, and blesses her band LAVENDER DIAMOND yet again on the lush 'Now Is the Time'.†
Vegas stadium-pop kingpins IMAGINE DRAGONS return with a large†new record, and we've got a fresh concert record from one of the best live bands in the biz, MY MORNING JACKET, in the shop on limited triple white vinyl. A 90s classic from RICHARD THOMPSON, 'Mirror Blue', gets its first vinyl release since '94, and we welcome a belated RSD compilation of tributes to ROKY ERICKSON, 'May The Circle Remain Unbroken'.†
What's the deal with house music? Ron Hardy might be spinning in his grave, but I gotta give propers to the latest album from Swedish producer DJ SEINFELD, who transcends the limitations of his earlier lo-fi outputs on 'Mirrors', not that there's anything wrong with that. AMON TOBIN's 2002 album 'Out From Out Where' perplexed critics with its dense layers of breaks and sci-fi tropes when it first came out, but boy have they come around. Gold vinyl on this crucial reissue. Manchester duo SPACE AFRIKA top themselves again with a searing disc of nocturnal cityscapes on 'Honest Labour', while Scottish veteran OTHER LANDS lays a lockdown-inspired doozy of introspective electro moods of a Canadian Boards variety on 'Sounds For Isolated Souls'.†
Shoutout to all my fellow forty-somethings drinking water and taking their vitamins. GRIZZLY BEAR's first big record 'Yellow House' turns 15 this week with a special yellow vinyl anniversary edition. Its been close to 25 years since the release of the debut from Boston's KARATE, the quietly influential slow-emo band that channeled influences like Come, Bedhead and Codeine for a generation of sad punks. Just 20 years old now is the sprawling double album from Kansas emo post-rockers THE APPLESEED CAST, now reissued as a single unit. If you ever listened to Explosions in the Sky and thought "damn, I wish these guys would sing once in a while", this is your record. 'Hopelessness', Antony Hegarty's defiant album as ANOHNI is just six years old, and gets a new limited color vinyl pressing with lovely new cover art.†
A ridiculous amount of vibey records in this section, starting with an undeniable debut LP from LA producer JARREN. 'Antera' has enough cruisers on it to bring out the entire Dogg Pound, and comes via Steven Julien's excellent Apron label. Bassist and producer DOUGIE STU was one half of the excellent Brijean album we loved earlier this year, and now blesses up with an album of summery spiritual funk with guests like Jeff Parker. Been trying to lay hands on copies of anything from Melbourne jazz unit SURPRISE CHEF and now, surprise, we've got two: their debut 'All News Is Good News' and latest LP 'Daylight Savings' deliver creative DIY groove by the bushel. Another great surprise is a pair of records from Japanese beat maker SWEET WILLIAM, who bisects a recent digital release called 'Beat Theme' into two gorgeous records of absolutely scene-setting break thievery with lots of brainpower.
For a brief spell in the 90s, Tortoise co-founder Bundy K. Brown broke off with a pair of fellow Chicago post-rockers as DIRECTIONS, releasing one incredible LP on Thrill Jockey and, apparently, an obscure single on a small UK label that very few people heard. You know who did hear it? That's right: Four Tet heard it. Matter of fact, the first 2 Trts albums and the Directions stuff is probably the clearest predictor of his era defining sound. Anyhoo, thanks to his championing, we have a new edition of this stunning EP, 'Echoes', in†on limited orange vinyl, sounding quite literally like music being made yesterday. Hypnotic dark ambient masterpiece 'Nuuk' by THOMAS KONER is up there alongside Biosphere and Lustmord's finest, and gets its first ever vinyl release this week, plus we have the minimalist piano magic of ANTHONY MOORE's 'Pieces From The Cloudland Ballroom' back in print, and a new EP from the mighty dub techno institution POLE.†
Long overdue, a lost live recording from EMMYLOU HARRIS' Nash Ramblers era comes through; 'Ramble In Music City' was recorded in 1990. Great new country is in from GRACE PETTIS, while Estonian soul singer RITA RAY gives us big Winehouse feelings on 'Old Love Will Rust'. Blues and soul classics from SYLVIA STRIPLIN and O.V. WRIGHT are back in print, and we finally have vinyl of the excellent Light in the Attic NANCY SINATRA retrospective, 'Start Walkin'

.†
An incredible haul of Japanese electronic reissues this week begins with a pair of compilations of SUSUMU YOKOTA's unreleased late 90s IDM recorded under the alias 246. Fans of Yokota's cinematic acid brilliance have much to love on these lushly packaged comps. New age composer TOSHIFUMI HINATA's incredibly rare 1986 album 'Reality In Love' blends elegant ambience with a classical disposition. IMITATION's 1982 LP 'Muscle and Heat' tweaks post-punk and disco ala Jah Wobble. A 1990 album by SYNERGETIC VOICE ORCHESTRA injects mellow teahouse sessions with just a little bit of rave, and we have not one but two LPs from SKETCH SHOW, the turn of the century downtempo project of Haruomi Hosono & Yukihiro Takahashi, or 2/3rds of the Yellow Magic Orchestra!
Hawaiian funky soul gems abound on a collection from MIKE LUNDY called 'The Rhythm of Life'. Once they were booted off the Sly Stone tour for showing up the headliners every night,†
BOB MARLEY and WAILERS ducked into a studio to record 'The Capitol Session '73' at the height of their live powers; now released on deluxe double green vinyl. A massive volume of BOOKER T & THE MGS's Stax singles is in as well.†
†
As the chief synth guardrail behind Throbbing Gristle and later as Chris & Cosey, CHRIS CARTER is easily one of the most significant pioneers of modern techno. On a pair of LP releases, he revisits some of his earliest TG and solo material for some remixes that don't so much rearrange old tracks as they give them vast new low-end dimensions; like entering a deep sea sonic level where you hope you don't lose track of the light.†Splitting off from Skinny Puppy, Canadian duo FRONT LINE ASSEMBLY set the bar high for what would become known as EBM (Electronic Body Music, *not* EDM *pushes up glasses*) with 1987's 'The Initial Command', which gets a nice new pressing.†
Last up, a rather stunning spread of progressive German psychedelic rock is here. Typically we see one or two of these at a time, but this week we've got several new pressings from POPOL VUH, COSMIC JOKERS, AMON DUUL, BETWEEN, a pair of classics from CLUSTER including the famed CLUSTER & ENO, and lastly, the singularly entrancing bass guitar hypnosis session 'Uberfallig' by GUNTER SCHICKERT.†
USED VINYL ALERT:
Starting off this week's Used Vinyl Alert, we've got essential wax to fill the gaps in your 60s & 70s rock collections; deep runs of some of the greats: Beatles, Rolling Stones (RIP Charlie Watts) & Bob Dylan. Must-have titles from Pink Floyd, Fleetwood Mac, Little Feat, Kinks, Queen, Van Halen, U2, Michael Jackson, Grateful Dead, Janis, Prince, Alice Cooper, The Who, Replacements, Motley Crue & more.

Jazz this week is Latin-leaning, and includes titles from Gabor Szabo, Willie Bobo, George Benson, Deodato, Keith Jarrett, John Coltrane, and Gary Burton. We've got blues from Magic Slim, Rev. Gary Davis, Koko Taylor, Marcia Ball, and Bessie Smith. There's some Dr. John & other Cajun/Zydeco pieces from our friends down-Louisiana. Soul, P-Funk & Disco courtesy of Rick James, Bootsy Collins, Isaac Hayes, Roberta Flack & more.†
If soundtracks are your thing, we've got lots. From classics to lesser-knowns, they're all here. A tight run of international LPs graced our doorstep this week, including a handful of Gamelan & North/South Indian records. Lastly, we've got more Electronic grips in this week, ranging from Techno & Acid to New Age.††
STRICTLY DISCS IS HIRING:
VINYL PRICING SPECIALIST:
Required skills:
Excellent customer service skills; ability to anticipate customer needs
Computer proficient

A passion for music, and†a broad, deep base of recorded music history
Knowledge of Goldmine standards &†experience grading and pricing records

Knowledge of stereo equipment/functionality
Availability to work nights and weekends
Ability to lift and carry 50 pounds repeatedly

To apply, submit letter of interest & resume to angie@strictlydiscs.com
SELL US YOUR CDS & LPS:
Yes, we are still buying! Call Ron to schedule (608.213.3610).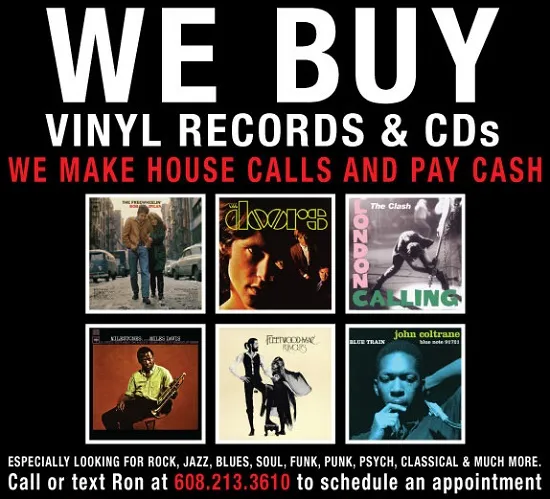 Ron, Ryan, Angie, Marty, Evan, Matt, Ed, Jack, Eric, Steve, Nick, Matt B. & Jamie