August 19, 2021
NEW THIS WEEK AT THE SHOP:
We're back with a bang this week as another hot summer week closes with a mindblowing slate of new releases. Fifty years on from its original release, we've got a new edition of THE GRATEFUL DEAD's iconic live album known by the public as 'Skull & Roses' on double color vinyl with a full remaster. This definitive set documents the rock-oriented side of the band's core quintet lineup, contains the first appearance of setlist staple "Playing In The Band", and was the first Dead record to go gold. PEARL JAM's sprawling fourth album 'No Code' gets a fresh vinyl edition, and we've got a new album from UK singer-songwriter TOM ODELL and a new triple vinyl live album from the one and only RAINBOW KITTEN SURPRISE.
English DJ and producer JOY ORBISON has made an inestimable imprint on modern dance music without ever releasing a full-length album until now. Across just a handful of EPs and consistent radio and festival gigs, Joy O has helped chart the path of 21st century UK club music around eddies of grime, dubstep, modern soul, and techno; but distilling his essence as a mixer has required one to have an advanced degree in online radio / limited edition cassette kremlinology (dramatic pause) until now! 'Still Slipping Vol. 1' offers a generous sampling of grime bangers, cavernous and juddering technoir, lilting R&B levity, and more, stitched up mixtape style for an experience that truly nails the Art of the DJ, and pairs well with an expert new Dj-Kicks set from JAYDA G, who blesses the ongoing series with a brilliant set of deep soul, boogie, and house, on limited orange vinyl. German mixer SKEE MASK goes absolutely all out on a new 3LP set of brainiac breaks called 'Pool', with the accompanying press kit humbly promising "sounds that have been made before and will be made again". Too right mister skee, too right.
UK dance group JUNGLE got too popular to remain mysterious, but they maintain their reputation for lush, nu-disco bangers on 'Loving In Stereo'. The EL MICHELS AFFAIR teams up with soul singer LIAM BAILEY on the headily potent 'Ekundayo Inversions', and we've got a slick new pressing of the underrated 1985 album 'Rhythm & Soul' by MAKIN TIME, a mod group who updated the Kinks for the northern soul set. 'Barn Breaks' is another single in the ongoing limited -run series from KHRUANGBIN which has playfully reworked and deconstructed tunes from their last album; the only thing not fun about these is how quickly we run out of them.
Just about everyone on staff at SD can agree that if there's any artist we'd like to share a front porch with, it's JOAN SHELLEY. The Kentucky singer-songwriter has a timeless voice, with that perfect combination of earthy sentimentalism and effortless grace that just transports you to a better place when her records are on. We welcome back two early Joan albums, her 2014 breakout 'Electric Ursa' and her debut 'Ginko', on limited color vinyl. Speaking of putting your records on, CORINNE BAILEY RAE's classic self-titled album turns 15, and is back in a new LP edition with a freshened up cover. NICO's return to rock, 'Drama of Exile', gets its first fresh vinyl edition since 1981, and we have new LP copies of absolute classics 'Straight From the Heart' by PATRICE RUSHEN and 'Under The Pink' by TORI AMOS.†
Deeply resonant soul with a radiant ambience is on hand from JABU on 'Sweet Company', one of the week's most pleasant surprises. Canadian composer and frequent Caribou-collaber COLIN FISHER has a sparkling album of guitar and synth scapes called 'Reflections of the Invisible World', produced by Junior Boys' Jeremy Greenspan. Swedish duo CHARLIE CHARLIE are led by producer Bella Boo and christen the re-animation of the classic Balearic label International Feel with a bumpin new LP called 'Little Things'. The baby in the buggy on the cover of NICOLAS JAAR's album 'Space Is Only Noise' might be old enough to drive by now, this modern classic of austere electro-pop has a decade under its belt now, celebrated with a new edition spread across two clear vinyl LPs at 45 rpm.
One of New Zealand's most extraordinary, indescribable talents is songwriter MAXINE FUNKE, who elevates her fragile, enchanting laments to a new level on 'Seance'. Ambient pop influenced by modern classical tropes turns up on two equally delightful new albums from London's LUCINDA CHUA and Copenhagen's CLARISSA CONNELLY.†
The 1978 album 'Lanquidity' is one of the generally agreed upon appointment listens in the vast SUN RA catalog, and we've got limited copies of the expanded 4LP set that includes alternate takes and a 45 rpm cut for maximum exposure. In the rather decisive year of 1968, French jazz innovator JEF GILSON traveled to Madagascar to cut a record with local musicians MALAGASY, achieving resonant, near-mystical results that turned the LP into one of the rarest grails in the collector world, which pairs quite nicely with the 1975 cosmic jazz rarity 'Karma' from Martinique percussionist and composer HENRI GUEDON.
The fertile cross-pollination between Berlin and Detroit that continues to this very day began, in a sense, with the 1992 release of the double 12" by 3MB, the trio of MORITZ VON OSWALD, THOMAS FEHLMANN, and JUAN ATKINS. Soulful techno with a Proustian narrative force, it was just abstract enough to end up in cutout bins by the mid-90s, then celebrated later on by generations of dance fans. Not as well-known but somehow just as great (seriously) was the limited output of 90s producer Nurmad Jusat†aka NURON†& FUGUE, who sees his top tracks collected on a banging double-pack that sounds to my ears cut and mastered better than any other dance record ever. LNS and DJ SOTOFETT team up on an album of inventive, dubby breaks called 'Sputters'. On the chiller end of things we have new chillout records from JACQUES RENAULT, BENOIT B, and MAX ESSA.††
Tragically departed future pop producer SOPHIE's music will still be confounding and influencing future artists for eons to come. We have fresh stock of some of her iconic EPs, 'Bipp & Elle', 'MSMSMSM' and 'Vyzee/L.O.V.E.', back while they last.†
Striking notes similar to the mighty Pharaoh Sanders/Floating Points album which is *back in stock* by the way, 'Moon Day' captures the trio of BINKER GOLDING, JOHN EDWARDS and STEVE NOBLE. Tenderlonious-led quartet RUBY RUSHTON return with 'Gideon's Way', and we have a new album from German percussionist and Fazer drummer SIMON POPP, which continues the endlessly inventive rhythmic trips of his last album which topped some of our lists a few years back. Last up, a fresh pressing of 'Mindset', a particularly potent album of tantric jazz from long-running Aussie trio THE NECKS.†
USED VINYL ALERT:
Mass quantities are here for your perusal in this week's Used Vinyl Alert! Either we are shrinking or the records are getting bigger, but it seems like a whole lot this time around. This week we go exceptionally strong in the soul world, with LPs from Prince, Marvin Gaye, Funkadelic, the Four Tops, the Chilites, the Moments, Rotary Connection, Chaka Khan, Candi Staton, Aretha Franklin, the Dramatics, the Temptations and many, many more.
Excellent jazz this week includes Yusef Lateef, Jimmy Smith, Wes Montgomery, Herbie Hancock, Thelonious Monk, Chick Corea, Wayne Shorter, Kenny Burrell, Art Blakey, Miles Davis, and a whole lot more.
On the rock side we've got some nice scarce ones from Pink Floyd, Van Morrison, Soft Machine, Caravan, Roxy Music, Bob Dylan, Jethro Tull, Bruce Springsteen, Tom Petty, and a whole lot more. Choice 80s underground hits are in from XTC, LFO, PIL, the Smiths, U2, Blondie, Echo & the Bunnymen, New Order, the Cure, and more.
Solid spreads of classic country, rare 80s metal, children's LPs of all kinds, classical, comedy, blues, Tangerine Dream and more round us out!
STRICTLY DISCS IS HIRING:
VINYL PRICING SPECIALIST AND/OR SHOP CLERK:
Required skills:
Excellent customer service skills; ability to anticipate customer needs
Computer proficient

A passion for music, and†a broad, deep base of recorded music history
Knowledge of Goldmine standards &†experience grading and pricing records

Knowledge of stereo equipment/functionality
Availability to work nights and weekends
Ability to lift and carry 50 pounds repeatedly

To apply, submit letter of interest & resume to angie@strictlydiscs.com
BILLBOARD MAGAZINE'S BIWEEKLY FEATURE ON STRICTLY DISCS: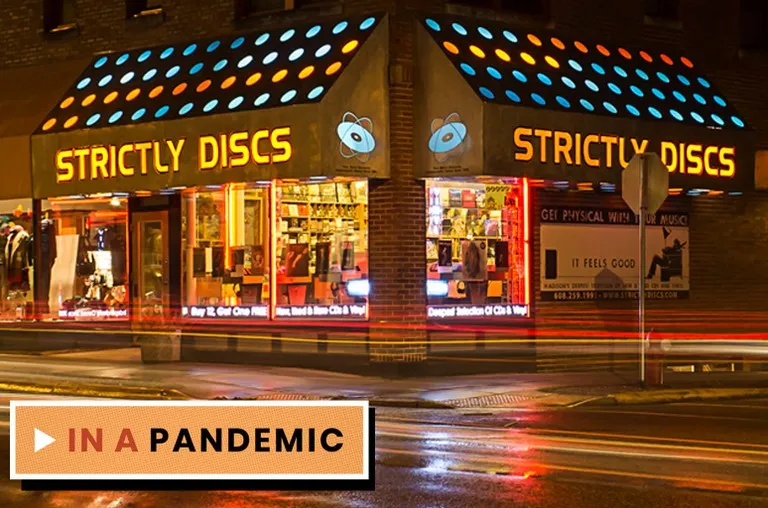 As part of†Billboardís efforts to best cover the coronavirus pandemic and its impacts on the music industry, Chris Eggertsen has been speaking with†Angie†every other†week to chronicle†the experience of an independent record store†throughout the crisis.† Here is a link to the stories in the series so far:
Billboard Article #16 November 16th
Billboard Article #17 December 14th
Billboard Article #18 December 23rd
Billboard Article #19 February 5th
Billboard Article #20 February 23rd
Billboard Article #21 March 12th
Billboard Article #22 April 1st

Billboard Article #23 April 19th
Billboard Article #24 May 15th
Billboard Article #25 June 1st
Billboard Article #26 June 30th



SELL US YOUR CDS & LPS:
Yes, we are still buying! Call Ron to schedule (608.213.3610).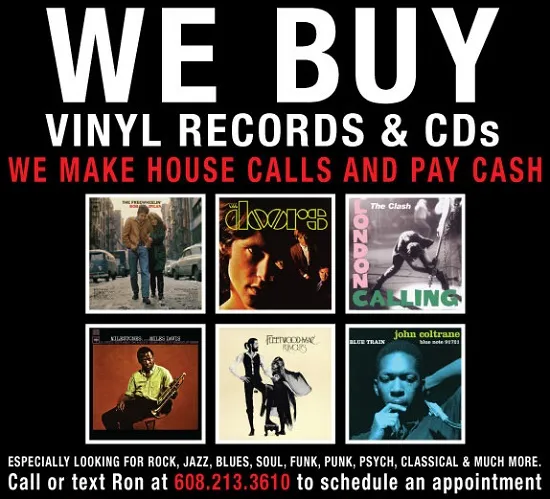 Ron, Ryan, Angie, Marty, Evan, Matt, Ed, Jack, Eric, Steve, Nick & Matt B.