August 19, 2021
NEW THIS WEEK AT THE SHOP:


A couple months after breaking the internet with it's cover art reveal, we've got limited color vinyl copies of 'Solar Power', the latest album from LORDE, the New Zealand pop star who walks her own way. Last week we celebrated Joan Shelley, this week we get a great new record from her partner in life NATHAN SALSBURG, who delivers an absolutely spellbinding suite of Hebrew psalms arranged for a chamber folk ensemble that features Joan, Spencer Tweedy, Will Oldham and others. DEVENDRA BANHART and his longtime bandmate NOAH GEORGESON pay tribute to the new age cassettes their parents used to listen to on 'Refuge', a wonderfully still album of poignant piano and guitar, in the shop on blue seaglass colored vinyl. TREY ANASTASIO springs loose of Phish for a new live album called 'Burn It Down' recorded early in 2020, on plasma orange vinyl.††
The biggest headlines in the music world this month have pertained mainly to the return of AALIYAH's albums to the physical and digital realms. Driving through Cleveland last week, I heard a radio DJ say "for a very long time, if you wanted to hear an Aaliyah song, you had to hum it in your head, or be like me with a 25 year old scratched CD". This week, we've got CD copies of her 1996 album 'One In A Million', with more to come in the next few weeks, and vinyl reissues scheduled for early 2022! Cali rapper LARRY JUNE takes stock of his success on 'Keep Going', the LP version of last year's mixtape with producer HARRY FRAUD. R-Rated G-Funk from mid 90s Bay Area is back in print with a new red vinyl edition of 11/5's 'Fiendin 4 Tha Funk'. A little cultural institution called the Smithsonian laces us with a new definitive anthology of hip-hop across nine CDs.
After months of requests, we finally have a vinyl edition of 'Sour', the debut album from magnetic pop songwriter OLIVIA RODRIGO. Modern bluegrass from a vocalist with a timeless set of pipes comes through from SIERRA FERRELL; 'Long Time Coming' is here on limited color vinyl. Amped-up doo-wop heroes SHANNON AND THE CLAMS return with 'Year of the Spider'. Limited copies of the debut 45 single are in from a new teen country-pop duo signed to Third Man, CASH & SKYE.
Soundtracks this week include some color vinyl editions of the much-requested EVANGELION anime, plus a mini-album from HIKARU UTADA featuring songs from the films. The classic rock drama ALMOST FAMOUS sees its soundtrack get a full deluxe treatment across six LPs and a box full of ephemera, and we've got a new edition of the timeless GOODFELLAS OST as well.†
New pop and folk-rock albums are in from ANDERSON EAST, JAKE BUGG, and AJR, plus a 10 year anniversary expanded edition of DAWES' 'Nothing Is Wrong'.†
Blazing Boston blues duo GA-20 lays into the catalog of Hound Dog Taylor on a cracking new LP, plus we've got new albums from country workhorses CONNIE SMITH and JAMES MCMURTRY, plus 'Standing In the Doorway', a collection of Bob Dylan covers by CHRISSIE HYNDE.
California post-metal men DEAFHEAVEN set sights for the celestial on a gorgeous new record, 'Infinite Granite', in the shop on blue vinyl. Few bands do doom metal with as much grace as WOLVES IN THE THRONE ROOM, returning with 'Primordial Arcana', on gold vinyl. Back in print after a limited Black Friday run, the hits collection 'Hokus Bonus' by VOLBEAT.†
JOHN COLTRANE's limited but revealing time as a sideman is explored on a new compilation called 'Another Side'. The explosive Nuyorican funk classic 'Siembra' by WILLIE COLON & RUBEN BLADES gets a repress alongside IKE & TINA TURNER's 'Cussin Cryin an†Carryin†On'. LEE MORGAN's full residence at the Lighthouse Cafe in Hermosa Beach, CA, is collected on a jam-packed 8 CD set, and we have some expanded reissues in from SECTION 25 and GANG OF FOUR.†
USED VINYL ALERT:
A real champion crop of titles in the Used Vinyl Alert this week! Many of you have been waiting for the fruits of a recent metal buy to hit the floor and we've got the beginnings of it this time, with seldom seen titles from Black Sabbath, Saxon, Armored Saint, Judas Priest, Megadeth, Malice, Manowar, Anthrax, Metallica and more. Some absolute stunners on the 80s new wave front as well, including Talking Heads, New Order, Talk Talk, Kate Bush, Duran Duran, the Cure, Ministry, and Nine Inch Nails, plus dozens of EPs and 12" singles.
Rock and pop classics include the Beatles, Led Zeppelin, Pink Floyd, Fleetwood Mac, Tom Petty, David Bowie, Queen, Van Morrison, Dire Straits, and the Grateful Dead, plus more from Aphrodite's Child, Rush, Hawkwind, Little Feat, Buffalo Springfield, Canned Heat, Petra, and Thin Lizzy. Some killer country includes titles from Charlie Louvin, Johnny Cash, Wanda Jackson, Dwight Yoakam, Tony Joe White, Waylon Jennings, Tanya Tucker, and Lefty Frizzell.
Jazz gold includes LPs from George Duke, Herbie Hancock, Charles Mingus, Ahmad Jamal, Miles Davis, Donald Byrd, and Gil Scott-Heron. A couple of blues classics are in from Joe Turner and Jimmy Reed, plus soul from Bootsy Collins, Donny Hathaway, the OJays, and Archie Bell.
Early into golden era hip-hop thrives this week, with EPs and albums from Digital Underground, Eric B and Rakim, Jazzy Jeff, Arrested Development, LL Cool J, De La Soul, Salt N Pepa, the Beastie Boys, 2 Live Crew and more. A deep run of Grace Jones LPs pairs up with†classics from Black Uhuru and Jimmy Cliff.†
Newer indie like the Shins and Rilo Kiley and their ilk pairs up with electronic from Plaid, Swayzak, Justice, DJ Koze, Junior Boys, and M83, with a deep dive into 70s/80s electronics from Vangelis, Steven Halpern, Ray Lynch, Beverly Glenn Copeland, Kraftwerk, Klaus Schulze, and more. And if all that aint enough, we've got a huge spread of soundtracks, children's LPs, comedy and TV show tie-ins, Weird Al, James Bond, and more!
STRICTLY DISCS IS HIRING:
VINYL PRICING SPECIALIST AND/OR SHOP CLERK:
Required skills:
Excellent customer service skills; ability to anticipate customer needs
Computer proficient

A passion for music, and†a broad, deep base of recorded music history
Knowledge of Goldmine standards &†experience grading and pricing records

Knowledge of stereo equipment/functionality
Availability to work nights and weekends
Ability to lift and carry 50 pounds repeatedly

To apply, submit letter of interest & resume to angie@strictlydiscs.com
BILLBOARD MAGAZINE'S BIWEEKLY FEATURE ON STRICTLY DISCS: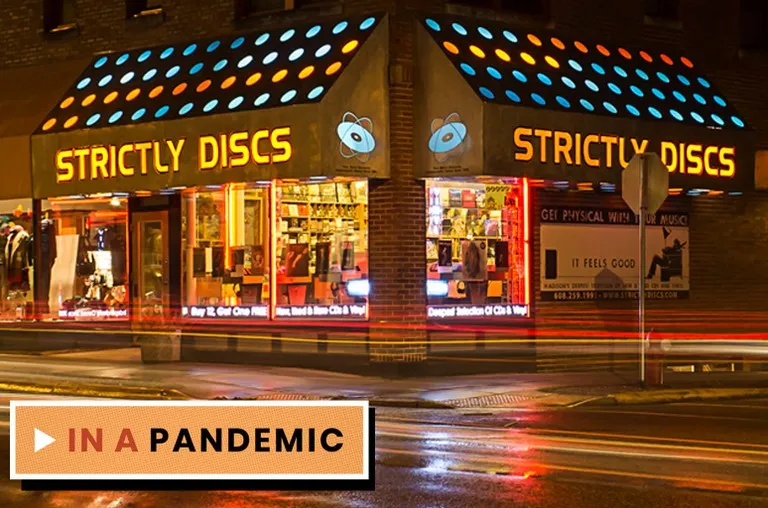 As part of†Billboardís efforts to best cover the coronavirus pandemic and its impacts on the music industry, Chris Eggertsen has been speaking with†Angie†every other†week to chronicle†the experience of an independent record store†throughout the crisis.† Here is a link to the stories in the series so far:
Billboard Article #16 November 16th
Billboard Article #17 December 14th
Billboard Article #18 December 23rd
Billboard Article #19 February 5th
Billboard Article #20 February 23rd
Billboard Article #21 March 12th
Billboard Article #22 April 1st

Billboard Article #23 April 19th
Billboard Article #24 May 15th
Billboard Article #25 June 1st
Billboard Article #26 June 30th



SELL US YOUR CDS & LPS:
Yes, we are still buying! Call Ron to schedule (608.213.3610).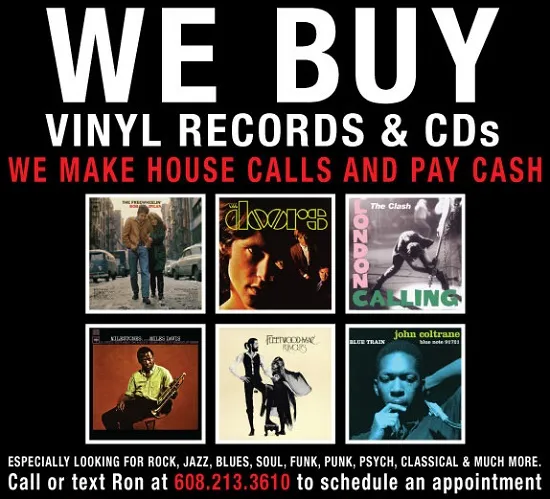 Ron, Ryan, Angie, Marty, Evan, Matt, Ed, Jack, Eric, Steve, Nick & Matt B.