August 5, 2021
NEW THIS WEEK AT THE SHOP:
This week's update is a quickie, as†some†of us are on vacation and†writingthis just steps away from the Atlantic Ocean. Here's a short rundown before I go dive in! The 50th anniversary of GEORGE HARRISON's 'All Things Must Pass' is celebrated in style on 3LP, 5LP, 8LP, and 5CD editions. The beloved DRIVE-BY TRUCKERS essential live record 'Plan 9' gets a new printing, and we also have a new edition of the expansive 5LP set documenting the sendoff Madison Square Garden show by LCD SOUNDSYSTEM, 'The Long Goodbye'.†
Always compelling on their own, we now have the first duo recordings from globe-scaling sound manipulators LUCRECIA DALT and AARON DILLOWAY, calling to mind a circuit-bent Another Green World. Hellish, confessional doom doesn't come any more pointed than from LINGUA IGNOTA on 'Sinner Get Ready'. Christina Vantzou and Forma's John Also Bennett unite as CV & JAB on the lovely 'Landscape Architecture'.†
A pair of stone-cold classics return to high fidelity glory on Tone Poet editions of McCOY TYNER's 'Expansions' and SONNY CLARK's 'My Conception'. Chamber jazz meets minimalism on an entrancing new LP from PORTICO QUARTET. The latest 'Jazz Is Dead' session belongs to longtime arranger and Gil Scott-Heron creative partner BRIAN JACKSON.
'Childish Things', a 2005 highlight in the fertile catalog of Americana underground hero JAMES McMURTRY, gets a new LP edition, plus we have the latest volume in the ever-potent COUNTRY FUNK compilations from Light in the Attic, and a surprise new album from JACKSON BROWNE.
Pioneering Swiss post-punkers KLEENEX/LILIPUT predicted the Riot Grrl sound by about a decade, and the classic collection of their earliest material is back in print on limited color vinyl. 'Repetition', the last album of purely machine-honed hardcore from UNWOUND before they headed into more introspective zones, is back in print on silver wax. FRANZ FERDINAND created quite a sexy monster with their debut LP of Go4-inspired punk, back in print now for a limited time.†
New indie-pop genius is in from THE UMBRELLAS, we've got long-awaited new releases from HIPPO CAMPUS and FOXING, and KING GIZZARD AND THE LIZARD WIZARD's thrash session from 2019, 'Infest The Rats Nest', is back in print on two different colors vinyl. (PS, we are expecting copies of Rainbow 3000 later this month!)
USED VINYL ALERT:
Five deep bins are brimming with wax, ripe for the picking in this week's Used Vinyl Alert.†
70s & 80s Rock titles are seasonably hot & heavy this week; we've got essentials from Led Zeppelin, Yes, AC/DC, Rolling Stones, Scorpions, Steely Dan, U2, The Clash, CCR, Genesis, Allman Brothers, Grateful Dead, Roxy Music, Pretenders, Bob Dylan & Leonard Cohen...seldom-seen titles from the likes of Camel, Blue Cheer, Nazz, and Terry Reid. Top it off with discography-spanning runs of Prince, Queen and ZZ Top (RIP Dusty).
If twang is your thang, good. We've got tons. Johnny Cash, Wanda Jackson, Loretta Lynn, Merle Haggard, Willie, Hank (Jr. & Sr.), George Jones, Kris Kristofferson, and Marvin Rainwater.†
Must-have soul titles are well represented here, from Supremes, Ike & Tina, Marvin Gaye, Stevie Wonder, Aretha Franklin, Earth Wind & Fire, and Average White Band. Funk, Disco & Boogie courtesy of Chic, Change, Rick James, and more.†
Jazz heaters here from McCoy Tyner, Ahmad Jamal, Weather Report, Stan Getz, Kenny Burrell, Dave Brubeck, Cal Tjader, Miles Davis, Donald Byrd, Rahsaan Roland Kirk, George Benson, and Billy Cobham. Additionally we've got a long run of Sinatra LPs, plus some nice titles from Billie Holiday, Judy Garland, and Edith Piaf on the vocal front.†
For those who dig to dance: we've got a tight run of Techno, Drum n Bass, Garage and House 12"s, plus a few rare original pressings from Autechre, The Streets, Thievery Corp, and more.†
STRICTLY DISCS IS HIRING:
VINYL PRICING SPECIALIST AND/OR SHOP CLERK:
Required skills:
Excellent customer service skills; ability to anticipate customer needs
Computer proficient

A passion for music, and†a broad, deep base of recorded music history
Knowledge of Goldmine standards &†experience grading and pricing records

Knowledge of stereo equipment/functionality
Availability to work nights and weekends
Ability to lift and carry 50 pounds repeatedly

To apply, submit letter of interest & resume to angie@strictlydiscs.com
BILLBOARD MAGAZINE'S BIWEEKLY FEATURE ON STRICTLY DISCS: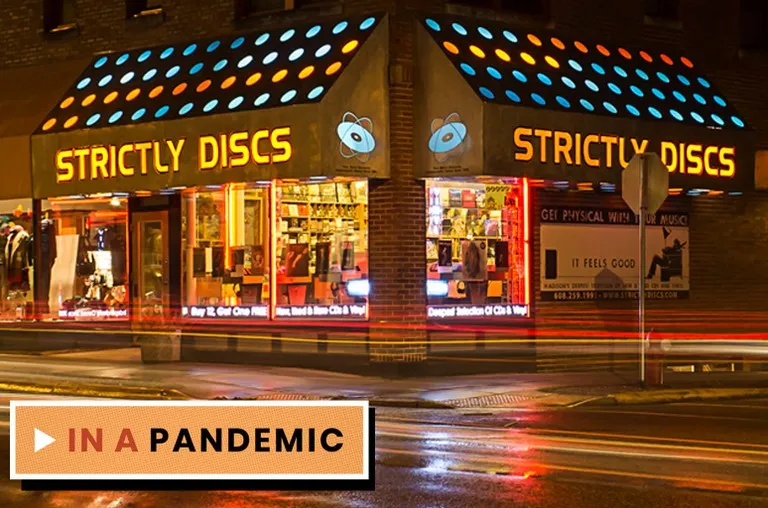 As part of†Billboardís efforts to best cover the coronavirus pandemic and its impacts on the music industry, Chris Eggertsen has been speaking with†Angie†every other†week to chronicle†the experience of an independent record store†throughout the crisis.† Here is a link to the stories in the series so far:
Billboard Article #16 November 16th
Billboard Article #17 December 14th
Billboard Article #18 December 23rd
Billboard Article #19 February 5th
Billboard Article #20 February 23rd
Billboard Article #21 March 12th
Billboard Article #22 April 1st

Billboard Article #23 April 19th
Billboard Article #24 May 15th
Billboard Article #25 June 1st
Billboard Article #26 June 30th



SELL US YOUR CDS & LPS:
Yes, we are still buying! Call Ron to schedule (608.213.3610).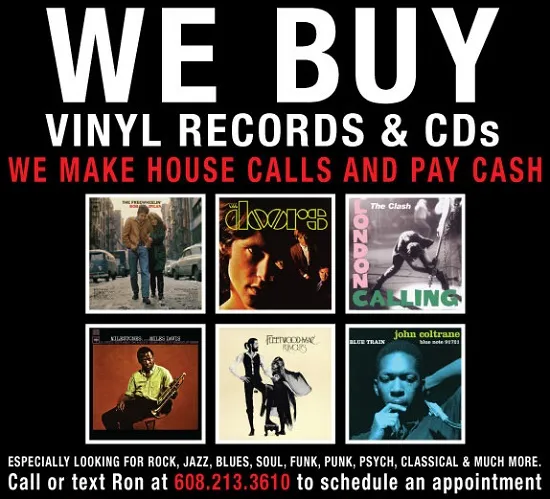 Ron, Ryan, Angie, Marty, Evan, Matt, Ed, Jack, Eric, Steve, Nick & Matt B.