July 29, 2021
NEW THIS WEEK AT THE SHOP:
A rather charmed round of new releases kicks off with a fresh moonshot from DURAND JONES & THE INDICATIONS, the Indiana R&B group that provide one of the brightest glimmers of hope in our darkened world. 'Private Space' hones this remarkably talented band's sleek take on modern cosmic doo-wop, and turns up here on 'red nebula' colored vinyl. 'Stand For Myself' might be the record that finally gets veteran UK vocalist YOLA her propers; her stunning vocal range gets some nuanced production from Dan Auerbach here, and comes on hot pink wax. Grown-n-sexy neosoul legend RAHEEM DEVAUGHN teams up with underground producer APOLLO BROWN on a bomb new record called 'Lovesick' that I could not have clicked *order* on any harder or quicker, and the Beyonce proteges CHLOE x HALLE finally deliver a vinyl edition of their 2020 album 'Ungodly Hour'.†
PATRICK PAIGE II is the bass player from The Internet (no, not that internet and no, not *that* internet either) and his sophomore solo rap album is called 'If I Fail Are We Still Cool?' Yes, Patrick and no, you did not fail here, on this charmingly confident, creative, diaristic gem. Also not failing any time soon is pop star BILLIE EILISH about whom I honestly know very little, which is fine. She keeps up her streak of not smiling on album covers here on 'Happier Than Ever', which continues to slow down the pace of her anachronistically weird pop. We have limited edition 'deep brown' vinyl copies of the LP, signed CDs, a limited cassette version AND a very cool silk bandana to give away with purchase of any of the above, while they last. I don't reckon we've ever had such a cool bandana here before or even a hanky. The pop overthrow continues with a spunky new album from TORRES, an overdue return from GROUPLOVE, and a new record from BLEACHERS, 'Take the Sadness Out Of Saturday Night', which comes to us with a limited edition alternate cover.†
The PRINCE vault is real, and it's open once again with the release of 'Welcome 2 America', the 2010 album from the funk prophet which hasn't been available to us mortals until now. Standard 2LP and super deluxe on this one. Celebrate the larger than life career of ARETHA FRANKLIN with a beautiful new career-spanning compilation containing some rare versions, gorgeous cover art, and a lovely art print free with purchase. 'At Last!' the mid-career folky gem from beloved Canadian musical conduit BEVERLY GLENN-COPELAND gets a new vinyl print, as well as the iconic 'Return of the Super Ape' from LEE SCRATCH PERRY, which gets a fresh edition on splatter color wax.†
A big request back on RSD was the BJORK X THE HAMRAHLÕ– CHOIR picture disc release 'Cosmogony' which was first only available in merry England. We have laid hands on copies of this beauty now, as well as a pair of incredible reissues from the 80s/90s dark ambient group CINDYTALK. 'Wappinschaw' from 1994 is spectacular industrial-tinged folk not far off from This Mortal Coil, while an earlier film soundtrack 'The Wind Is Strong...' goes for a far more nocturnal brand of Arctic drone. Drag City kicked off quite a wave of private press folk reissues with their restoration of GARY HIGGINS' 'Red Hash' back in ought†five, and this smoked out delight has been out of print once again for several years until now.†
Some absolute holy grails of 70s jazz get quality reprints this week, starting with the stupendous 'Noisy Silence - Gentle Noise' album from the DAVE PIKE SET, the UK via Deutschland group that prominently features Pike on vibes and Volker Kriegel on guitar, and contains the sitar-fueled tune "Mathar" that turns up on countless rare groove comps. The most sought-after of all the classic Black Jazz albums is likely the seance-heavy 'Mirage' LP by Chicago group THE AWAKENING, originally released in 1973 and now restored in the ongoing, very well-received reissue series that also brings us bassist HENRY FRANKLIN's 74 album 'The Skipper At Home'. The scarce early recording of MARION BROWN, joined by Gunter Hampel, Barre Phillips, and Steve McCall on a soundtrack for the Marcel Camus film 'Le Temps Fou' gets its first legit repress, and we have lovely editions of the first two albums from Italian percussion legend TONI ESPOSITO, 'Rosso Napoletano' and 'Processione Sul Mare', which blend pastoral, progressive jazz with a dizzying amount of bongos, bells, kalimbas and shells.
Monstrous grooves abound on the 2017 debut LP from Melbourne's MILDLIFE, which has gotten a welcome repress alongside the contemporary British jazz classic 'Galaxies Like Grains Of Sand' from the duo of HAMPSHIRE & FOAT. Polish jazz unit SNEAKY JESUS have endlessly inventive takes on their debut album 'For Joseph Riddle'.†
An early, if overlooked gem in the BAD BRAINS catalog, the Ric Ocasek-produced 'I And I Survive', is next up in the run of represses of their foundational records. Unstoppable roots rock lifers LOS LOBOS and BLUES TRAVELER each bless us with great new albums.†
A fertile, remote world of music gets its first exposure to a wider audience on the box set CHANGUI: THE SOUND OF GUANTANAMO, exploring the jubilant traditional sounds of a region of Cuba we sadly only know for another reason. The colorful, expressive guitar of MANZANITA leads the latest impeccable set of deep Peruvian 70s cumbia from the Analog Africa label. A deep pull of mid-60s LA soul is served up on a new comp called LEON GARDNER'S IGLOO RECORDS, including some potent singles and a dash of eccentric beatnik-style jazz. An incredible collection of late 70s Estonian funk and jazz called GROOVE OF ESSR celebrates a fertile period when the small nation began to declare cultural independence from the Soviet Union, about a decade before they became the first SSR to do so officially.
A new offshoot of the eternally on point Gost†Zvuk label brings us a dazzling new album from St. Petersburg's KUZMA PALKIN, technoid brainbombs abound on 'Stadion Sever'. Unstoppable soundworld manager RIUCIHI†SAKAMOTO's latest soundtrack to hit vinyl is the 2020 Johnny Depp joint 'Minamata'. Kyoto's AKIO NAGASE delivers a remarkable new EP of bubbly 303 workouts that somehow braid koto and throat singing into the mix.†
A new EP of overdriven fuzzy punk is here from DRUG CHURCH, alongside a lovely new album of instrumental dream-guitar from LANTERNA called 'Hidden Drive' (for fans of William Tyler for sure), while we have a new live album from West Coast guitar gods OBITS, and a new studio LP from the unstoppable HELLOWEEN.
USED VINYL ALERT:
Holy cats what a haul in the Used Vinyl Alert this week! A slew of tasty early pressings in collector's dream condition from the worlds of soul, psych, new wave and more. We've got classics here from the Stones, Led Zeppelin, Elton John, Billy Joel, Kiss, Queen, the Allman Brothers, the Who, the Kinks, plus deep pulls from Yes, May Blitz, Crow, Grand Funk, the Dave Clark 5, Mountain, Free, Canned Heat, Black Sabbath, Brownsville Station, and more.
New wave essentials are in from Tears For Fears, the Police, Van Halen, Heart, Simple Minds, R.E.M., the Cure, David Bowie, Blondie, Red Hot Chili Peppers, Erasure, Sonic Youth, Depeche Mode, and many more.
Jazz gems include fine ones from John Coltrane, Jimmy Smith, Dave Brubeck, Duke Ellington, Keith Jarrett, Cal Tjader, Ornette Coleman, and others. Soul slabs come through from Stevie Wonder, the Ojays, Mary Wells, Mary J Blige, Rick James, the Jackson 5, and Barbara Lewis, plus a nice clutch of 90s hip-hop and R&B hits. Reggae, country and blues scores are also turning up.
Contemporary titles are in from Dawes, Interpol, the Killers, Iron & Wine, Zero7, Elf Power, the Postal Service, Neutral Milk Hotel, and Imagine Dragons, plus we've got metal and metal-ish things from A Day To Remember, Real Friends, Bullet For My Valentine, Landmvrks, Architects, and Nekrogoblikon!
STRICTLY DISCS IS HIRING:
VINYL PRICING SPECIALIST AND/OR SHOP CLERK:
Required skills:
Excellent customer service skills; ability to anticipate customer needs
Computer proficient

A passion for music, and†a broad, deep base of recorded music history
Knowledge of Goldmine standards &†experience grading and pricing records

Knowledge of stereo equipment/functionality
Availability to work nights and weekends
Ability to lift and carry 50 pounds repeatedly

To apply, submit letter of interest & resume to angie@strictlydiscs.com
BILLBOARD MAGAZINE'S BIWEEKLY FEATURE ON STRICTLY DISCS: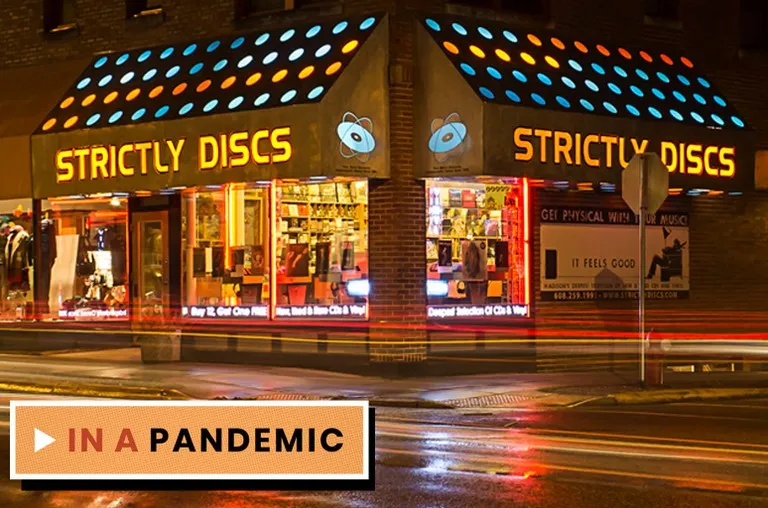 As part of†Billboardís efforts to best cover the coronavirus pandemic and its impacts on the music industry, Chris Eggertsen has been speaking with†Angie†every other†week to chronicle†the experience of an independent record store†throughout the crisis.† Here is a link to the stories in the series so far:
Billboard Article #16 November 16th
Billboard Article #17 December 14th
Billboard Article #18 December 23rd
Billboard Article #19 February 5th
Billboard Article #20 February 23rd
Billboard Article #21 March 12th
Billboard Article #22 April 1st

Billboard Article #23 April 19th
Billboard Article #24 May 15th
Billboard Article #25 June 1st
Billboard Article #26 June 30th



SELL US YOUR CDS & LPS:
Yes, we are still buying! Call Ron to schedule (608.213.3610).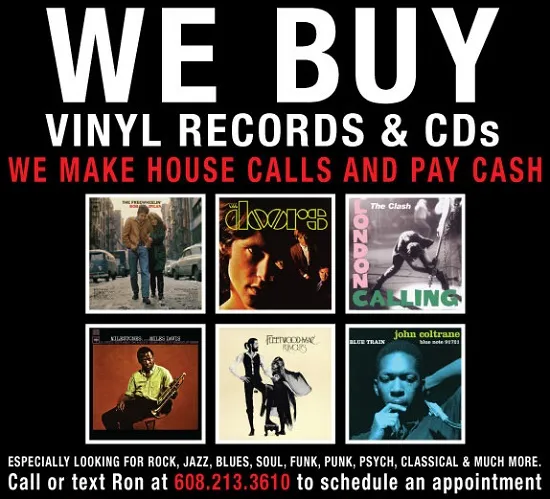 Ron, Ryan, Angie, Marty, Evan, Matt, Ed, Jack, Eric, Steve, Nick & Matt B.