July 22, 2021
NEW THIS WEEK AT THE SHOP:
USED VINYL ALERT:
This week's used vinyl alert taps the main vein of some super clean copies of essential classics, including nice runs of albums from the Beatles (and solo), Neil Young, Bob Dylan, the Doors, Brue Springsteen, the Who, Fleetwood Mac, the Grateful Dead, Creedence, the Stones, Jimi Hendrix, Frank Zappa, Dire Straits, the Doobie Brothers, Jimmy Buffett, Gordon Lightfoot, Elton John, the Ventures, Cat Stevens, ELO, the Traveling Wilburys, the Clash, the B-52's, Blondie, the Eagles, Cheap Trick, and the Cars.
Some of our fave female vocalists are in the house, such as Sade, Marianne Faithfull, Nancy Sinatra, Janis Joplin, Billie Holiday, and Leslie Gore. Jazz comes through from Miles Davis, Charles Bell, Dave Brubeck, Freddie Hubbard, McCoy Tyner, Lucky Thompson, and Kenny Clarke.
Psych and hard rock rarities are in from Ars Nova, Caravan, Boondoggle, Mojo, Savoy Brown, John Sangster, Witchfynde, Neil Merryweather, and more.
Folk gems are in from Tim Hardin, JD Souther, John Fahey, Leo Kottke, and Ry Cooder, and we've got plenty of country from Emmylou Harris, Waylon Jennings, the Judds, Jimmie Rodgers, Hank Williams, Bonnie Raitt, Wanda Jackson, Dolly Parton, Patsy Cline, and Jerry Jeff Walker.
STRICTLY DISCS IS HIRING:
VINYL PRICING SPECIALIST AND/OR SHOP CLERK:
Required skills:
Excellent customer service skills; ability to anticipate customer needs
Computer proficient

A passion for music, and†a broad, deep base of recorded music history
Knowledge of Goldmine standards &†experience grading and pricing records

Knowledge of stereo equipment/functionality
Availability to work nights and weekends
Ability to lift and carry 50 pounds repeatedly

To apply, submit letter of interest & resume to angie@strictlydiscs.com
BILLBOARD MAGAZINE'S BIWEEKLY FEATURE ON STRICTLY DISCS: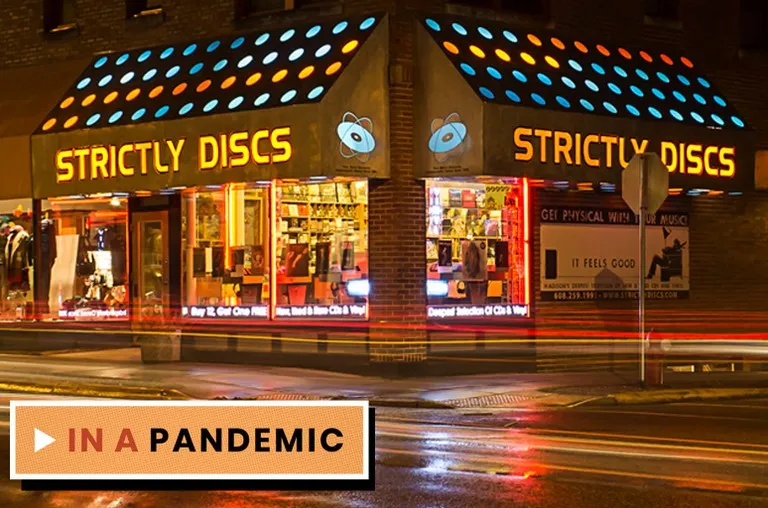 As part of†Billboardís efforts to best cover the coronavirus pandemic and its impacts on the music industry, Chris Eggertsen has been speaking with†Angie†every other†week to chronicle†the experience of an independent record store†throughout the crisis.† Here is a link to the stories in the series so far:
Billboard Article #16 November 16th
Billboard Article #17 December 14th
Billboard Article #18 December 23rd
Billboard Article #19 February 5th
Billboard Article #20 February 23rd
Billboard Article #21 March 12th
Billboard Article #22 April 1st

Billboard Article #23 April 19th
Billboard Article #24 May 15th
Billboard Article #25 June 1st
Billboard Article #26 June 30th



SELL US YOUR CDS & LPS:
Yes, we are still buying! Call Ron to schedule (608.213.3610).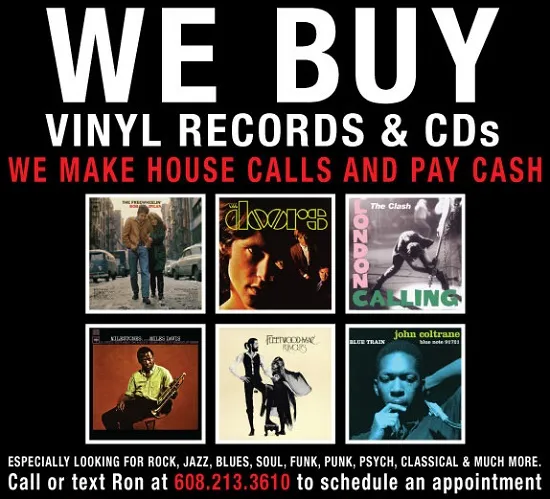 Ron, Ryan, Angie, Marty, Evan, Matt, Ed, Jack, Eric, Steve, Nick & Matt B.