July 15, 2021
RECORD STORE DAY DROP #2 IS JULY 17TH:
The second Record Store Day drop event is Saturday, July 17th. Here is Strictly Discs' plan for the day:
1. We OPEN at 8AM for RSD shopping
2. Line to form westbound on Monroe Street
3. While in line, you will be handed a menu of all RSD titles  
4. We will pull your requests & you will check out outside
5. The shop will open for normal browsing at approximately NOON (when the RSD line is gone)
6. RSD titles will be located upstairs
Thank you for helping us to keep this event safe & fun.
THE LIST OF RELEASES CAN BE FOUND HERE:
The following releases have been removed from the Record Store Day Drop #2 list and will not be coming out on Saturday, July 17th (although many will be on the RSD Black Friday list for November):
All Them Witches - Live On The Internet (Color 3 LP)
Bjork/The Hamrahlíđ Choir – Cosmogony (12")
Carpenter, John - Ghosts of Mars (O.S.T.) (Red/Black Swirl LP)
Cro-Mags - Age of Quarrel (LP)
Dire Straits – Encores (Pink LP)
Falco, Tav - Club Car Zodiac (Color LP)
Garcia, Jerry - Jerry Garcia Band (30th Anniversary) (5 LP)
Guaraldi, Vince – Baseball Theme/Baseball Theme (Alternate Take) (White 7")
Heartbreakers - L.A.M.F.: The Found '77 Masters (Purple LP)
Jamiroquai - Everybody's Going To The Moon (12")
Judas Priest - Best Of (Clear/Black/Gold Splatter 2 LP)
Kamen, Michael - The Iron Giant (O.S.T.) (12" Picture Disc)
King's X - Please Come Home… Mr. Bulbous (Transparent Pink LP)
Mastodon - Fallen Torches (12")
Mr. Big - Lean Into It (Color LP)
Ortiz, Paul/Y La Orquesta Son - Los Que Son (Splatter LP)
Parker, Charlie – Bird in LA (2 CD)
Parker, Charlie – Bird in LA (4 LP)
Perry, Joe - Sweetzerland Manifesto 2.0 (LP)
Squirrel Nut Zippers – Lost Songs of Doc Souchon (LP)
Styles P – Float (Green Splatter 2 LP)
Tesla - Mechanical Resonance (Translucent Color LP)
Various Artists – Life Aquatic With Steve Zissou (Original Motion Picture Soundtrack) (Cerulean Blue 2 LP)
Various Artists - May The Circle Remain Unbroken: A Tribute to Roky Erickson
Various Artists – You Can't Sit Down: Cameo Parkway Dance Crazes 1958-1964 (Blue 2 LP)
Various Artists – You Got The Power: Cameo Parkway Northern Soul 1964-1967 (Yellow 2 LP)
Wailing Souls – Wailing (2 x 12")
RECORD STORE DAY: 
Launched in 2007 with the humble idea to recognize independent record stores, Record Store Day (RSD) has blossomed into a global phenomenon. The list of RSD vinyl and CD exclusives continues to expand, as more labels continue to throw open their catalogs to an appreciative audience that grows each year.

Beyond the day-long frenzy, RSD exists to offer proof of the lively role record stores play in the community and a chance for folks on both sides of the counter to offer gratitude for each other. It's a capsule-sized snapshot of what this whole record world is about. Whether you're a hardcore type who times their arrival for a spot at the front of the line or somebody who waits until the afternoon for a more leisurely experience, we hope you'll join us this Saturday.
RSD USED VINYL ALERT:
Stay tuned for details on a special used vinyl alert for Saturday when we open for the day.



WE OPEN FOR RSD (OUTSIDE) AT 8AM
AND SPEAKING OF WHEN THE DOORS OPEN...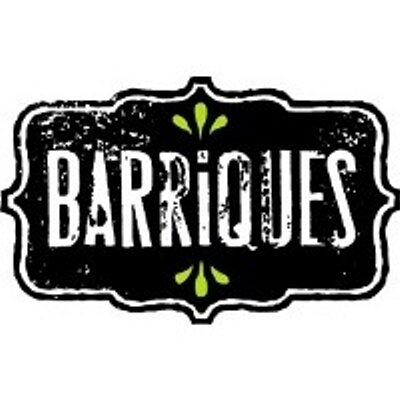 We will be pouring up Great Dane beer & delivering Barriques signature chile-rubbed chocolate-dipped bacon to those folks in line - how's that to get the day started? Things are looking up!


PARTY FAVORS: 
We've got some things to give away!
Courtesy of New Belgium Brewing, each legal-aged customer checking out will receive a bottle and/or a can of beer to take away. A little something to kick the session off.
Plus loaded grab bags for the first 50 customers FREE with every RSD purchase including Buy 1, Get 1 pizzas from Pizza Brutta!
Stay strong & have #hope.



NEW THIS WEEK AT THE SHOP:
Happy Record Store Day Eve! We've got a slew of incredible new releases hitting the floor Friday, but very little time to tell you about them. Scan below for a quick synopsis!
- MATT SWEENEY and BONNIE PRINCE BILLY are 'Superwolves' once again! New LP from the duo hits their classic sound clean out of the park
- the TEDESCHI TRUCKS BAND revisit 'Layla' in an incredible live set. The LPs we have this week are black vinyl with an etching, *not* the limited edition color vinyl many of you have preordered, which is still forthcoming in August
- handsome musician JOHN MAYER engages Don Henley mode on new LP 'Sob Rock'. We have cool button sets to give away with this one!
- electrifying soul rockers BLACK PUMAS hit us with a live release 'Capitol Cuts' on red vinyl 

(most stock will arrive next week)
- righteous southern rock from IDA MAE on 'Click Click Domino' on random splatter color wax
- delightful Brazilian pop-folk-samba from RODRIGO AMARANTE, color vinyl
- 'Hideaway' is perhaps the most original record yet from WAVVES
- heroic power pop with emo schooling is in from Philly's HURRY on 'Fake Ideas'
- 'Turiya Sings', the elusive cassette-only release from ALICE COLTRANE's 80s ashram years, gets a new rendition. On this version, the strings and synths are removed, allowing you a clear hear of one of Coltrane's most adventurous vocal performances ever
- actor, poet and overall creative force KAREN BLACK has a trove of unreleased recordings collected by collaborator Cass McCombs on 'Dreaming of You' with Raymond Pettibon cover art
- relatable songstress CLAIRO returns with 'Sling'
- a pair of lockdown albums from chameleonic MICA LEVI are now available on LP, 'Ruff Dog' and 'Blue Alibi', cathartic and true
- long-awaited record in from Philly ambientrix ULLA. 'Limitless Frame' is a cozy, woolly wraparound of an album that rewards a deep listen
- LA bad boys of ambient jazz melodic magic SAM GENDEL and JOSIAH STEINBRICK combine forces on 'Mouthfeel/Serene'
- Canadian pastoral beauty in from C.R. GILLESPIE on 'Tracings In Honey'
- Italian new age miniatures from PAPIRO on 'La Finestra Dentata'
- potent Spanish fourth world from the late 80s from JABIR, don't miss
- long out of print modern classic 'Iceberg' from ODDISEE is back
- 'Some Old Bullshit', the earliest recordings from some punks called BEASTIE BOYS
- first time on vinyl for AESOP ROCK's 'Appleseed', marble smoke vinyl
- Brazilian boogie funk perfection from ZOPELAR on 'Mensagem'
- second solo album from Dap-Kings sax man COCHEMEA is just as smoking as his first, compelling rhythmic folk drawing on his native traditions
- glorious acoustic guitar wizardry from CAMERON KNOWLER 
- Philly underground stoner-skiffle legends STRAPPING FIELDHANDS first album in like 20 some years 
- BACAO RHYTHM & STEEL BAND, German steel band doing covers of Galt McDermot, Grace Jones, and Jay Z. Sign me the heck up.
- classic MPS jazz from DEXTER GORDON on 'A Day In Copenhagen' 
- alchemical electric jazz from Finland by PETTER ELDH & KOMA SAXO 
- beauteous and warm jazz from Chicago's JOSH JOHNSON on 'Freedom Exercise'
- crucial reissue of the French group NYSSA MUSIQUE's 80s album 'Comme Au Moulin', elegant ensemble compositions that touch on Henri Texier, Jon Hassell, Joe Zawinul. Incredible stuff
- first ever reissue of the 93 rarity 'The Outer Limits' by VOIVOD 
- a pair of rare classics from DANIEL JOHNSTON, 'Artistic Vice' and '1990' combined on one double album 
- the complete discography of the cult French synthwave unit COLDREAMS, hazy, deadeyed beauty
- lush noir jazz drone from BOHREN UND DER CLUB OF GORE, 'Geisterfaust' gets a nice reissue
- Appleblim and Pat Conway team up for an incredible double album of dark techno atmosphere as TRINITY CARBON Trinity Carbon
- celestial jazz meets psychedelic house on HEALING FORCE PROJECT's 'Future Formless'
- remarkable durable acid from XVARR on 'Transitional Being'
- after years of trying, finally have copies of SKEE MASK's incredible 2017 album of thrumming, snowblind techno, 'Compro'
- a pair of archival gems from the always on point MIXED SIGNALS label, 'Corps of Discovery' and 'Me & E'
USED VINYL ALERT:
Heading downstairs for this week's Used Vinyl alert, we head into the RSD weekend with some great folk, jazz, rock, and more.
Jazz titles are here from Herbie Hancock, Paul Bley, Charlie Byrd, Steve Coleman, Fred Anderson, Dexter Gordon, Thelonious Monk, Bobby Hutcherson, Sam Jones, Terje Rypdal, Hamiet Bluiett, Donald Byrd, World Saxophone Quartet, Dizzy Gillespie, Kenny Barron, Yusef Lateef, Louis Bellson, Chico Freeman, and many more.
Classics are in from the Beatles, the Stones, Van Morrison, Joni Mitchell, Led Zeppelin, the Yardbirds, Bob Dylan, Neil Young, the Allmans, Cream, the Monkees, Buffalo Springfield, the Byrds, the Beach Boys, Sandy Denny, Graham Nash, Eric Clapton, Robert Plant, Elton John, Billy Joel, Steve Miller, and more. Prog, early alternative, and wave is in from U2, King Crimson, Crowded House, Soft Machine, Frank Zappa, Violent Femmes, REM, Ministry, Duran Duran, and others.
A cool crop of recent indie and pop is in from St Vincent, Bonnie Prince Billy, Howe Gelb, Nick Cave, Jack Johnson, Beach Fossils, Elliott Smith, Sharon Van Etten, M Ward, Uncle Tupelo, Devendra Banhart, and more. 
Country, folk, and blues is in by the score with titles from Wanda Jackson, Johnny Cash, Earl Scruggs, Doc Watson, New Lost City Ramblers, Harmonica Frank, Red Fox Chasers, John Hartford, Norman Blake, Mississippi John Hurt, Albert King, Muddy Waters, Howlin Wolf, and more, plus some cool obscurities on the Rounder and Folkways labels. Top it off with some great soundtracks and classical titles and we got a real quality dig for you here!
BILLBOARD MAGAZINE'S BIWEEKLY FEATURE ON STRICTLY DISCS: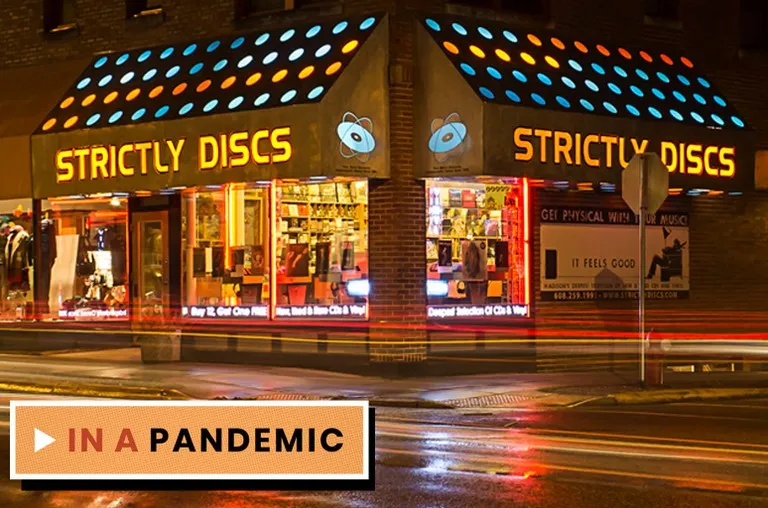 As part of Billboard's efforts to best cover the coronavirus pandemic and its impacts on the music industry, Chris Eggertsen has been speaking with Angie every other week to chronicle the experience of an independent record store throughout the crisis.  Here is a link to the stories in the series so far:
Billboard Article #16 November 16th
Billboard Article #17 December 14th
Billboard Article #18 December 23rd
Billboard Article #19 February 5th
Billboard Article #20 February 23rd
Billboard Article #21 March 12th
Billboard Article #22 April 1st

Billboard Article #23 April 19th
Billboard Article #24 May 15th
Billboard Article #25 June 1st
Billboard Article #26 June 30th



SELL US YOUR CDS & LPS:
Yes, we are still buying! Call Ron to schedule (608.213.3610).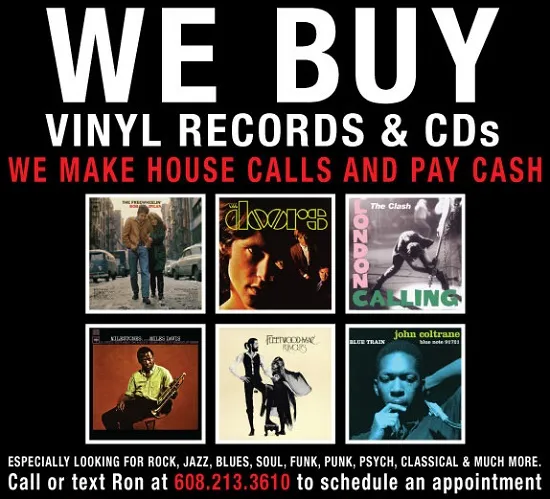 Ron, Ryan, Angie, Marty, Evan, Matt, Ed, Jack, Eric, Steve, Nick & Matt B.