July 8, 2021
NEW THIS WEEK AT THE SHOP:
USED VINYL ALERT:
The heat stays on for the Used Vinyl Alert this week, as we roll out a slew of rock, country, soul, soundtracks, and jazz. Primo stuff in the jazz realm includes Count Basie, Herbie Mann, Donald Byrd, Dave Brubeck, Chet Baker, Milton Nascimento, AC Jobim, Barre Phillips, Paul Horn, Richard Davis, Jack De Johnette, Dave Holland, Sonny Rollins, and more. 
Classics are in from Buffalo Springfield, the Rolling Stones, Pink Floyd, Frank Zappa, Beatles, David Crosby, Fleetwood Mac, Steely Dan, Bob Dylan, Blue Oyster Cult, the Band, Hall & Oates, TRex, ELO, Santana, Bruce Springsteen, Black Sabbath, Lynyrd Skynyrd, the Eagles, Bob Seger, Dire Straits, Yes, Rare Earth, Kiss, and more, plus some deep 80s cuts from the Knitters, Yello, and Adam & the Ants.
Soul is in from Stevie Wonder, Barry White, Chic, Tower of Power, and Ray Charles. Country styles arrive from Kris Kristofferson, Willie Nelson, Marty Robbins, Merle Haggard, Johnny Paycheck, Conway Twitty, and Roy Clark. Essential classical is in from Erik Satie, Bartok, Mahler and more. A slew of great soundtracks come through across a variety of decades, and we've got one of the strongest (and cutest) collections of vintage 
children's LPs we've ever seen!
RECORD STORE DAY DROP #2 IS JULY 17TH:
RECORD STORE DAY 2021 DROPS ARE JUNE 12 & JULY 17:
The second Record Store Day drop event is Saturday, July 17th. Here is Strictly Discs' plan for the day:
1. We OPEN at 8AM for RSD shopping
2. Line to form westbound on Monroe Street
3. While in line, you will be handed a menu of all RSD titles  
4. We will pull your requests & you will check out outside
5. The shop will open for normal browsing at approximately NOON with RSD titles upstairs
Thank you for helping us to keep this event safe & fun.
RECORD STORE DAY: 
Launched in 2007 with the humble idea to recognize independent record stores, Record Store Day (RSD) has blossomed into a global phenomenon. The list of RSD vinyl and CD exclusives continues to expand, as more labels continue to throw open their catalogs to an appreciative audience that grows each year.

Beyond the day-long frenzy, RSD exists to offer proof of the lively role record stores play in the community and a chance for folks on both sides of the counter to offer gratitude for each other. It's a capsule-sized snapshot of what this whole record world is about. Whether you're a hardcore type who times their arrival for a spot at the front of the line or somebody who waits until the afternoon for a more leisurely experience, we hope you'll join us.
Stay strong & have #hope.
WE ARE HIRING - SHIPPING CLERK:


We are looking to hire a shipping clerk. Requirements:

•    Self-motivated and independent thinker
•    Computer proficiency
•    Flexibility
•    Strong work ethic
•    High level of organization and precise time management skills
•    Ability to lift 50 pounds repeatedly

Postion open - 3-4 days/week 9AM-1PM. Possible additional hours filling other duties, depending on experience. Includes weekends.
To apply, submit letter of interest & resume to angie@strictlydiscs.com
BILLBOARD MAGAZINE'S BIWEEKLY FEATURE ON STRICTLY DISCS: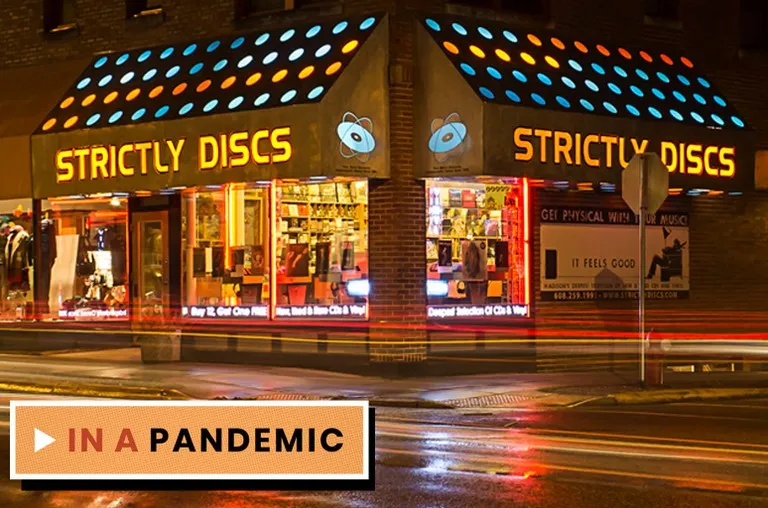 As part of Billboard's efforts to best cover the coronavirus pandemic and its impacts on the music industry, Chris Eggertsen has been speaking with Angie every other week to chronicle the experience of an independent record store throughout the crisis.  Here is a link to the stories in the series so far:
Billboard Article #16 November 16th
Billboard Article #17 December 14th
Billboard Article #18 December 23rd
Billboard Article #19 February 5th
Billboard Article #20 February 23rd
Billboard Article #21 March 12th
Billboard Article #22 April 1st

Billboard Article #23 April 19th
Billboard Article #24 May 15th
Billboard Article #25 June 1st
Billboard Article #26 June 30th



SELL US YOUR CDS & LPS:
Yes, we are still buying! Call Ron to schedule (608.213.3610).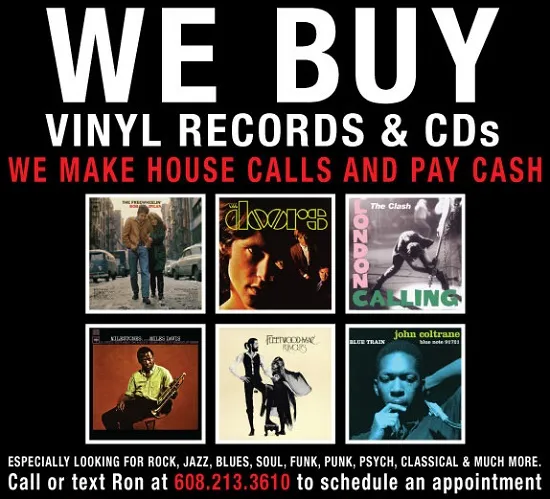 Ron, Ryan, Angie, Marty, Evan, Matt, Ed, Jack, Eric, Steve, Nick & Matt B.