July 1, 2021
NEW THIS WEEK AT THE SHOP:
As we continue to celebrate the living legacy of one of the American folk scene's greatest songwriters, arrangers and vocalists, we arrive chronologically at 'The Reprise Years' for the legendary JONI MITCHELL. A new 4LP or 4CD box collects her miraculous early run of albums 'Song To A Seagull', 'Clouds', 'Ladies Of The Canyon' and 'Blue', all remastered ('Song To A Seagull' has a whole new mix), plus an unseen self-portrait print by Joni, and an essay by Brandi Carlile. SPIRITUALIZED's dream-drift really peaks on their 1995 album 'Pure Phase', which gets a fresh mix/master on a limited edition reissue with new glowing green cover art. One of last month's RSD highlights was the TOM PETTY album 'Angel Dream' collecting his songs from the soundtrack of 90s Cameron Diaz classic 'She's The One', and we've got it back in stock this week on LP. 'On Impulse!' is one of SONNY ROLLINS' most vaunted sessions, with the full-bodied tenor exerting both nimble interplay and a brawny power, like an elephant doing ballet. This lovely LP gets the Acoustic Sounds audiophile treatment this week on a new pressing. 
He's the villain with the million dollar voice-throw trick...MF DOOM's first masked appearance came in 1999 with the masterpiece 'Operation: Doomsday', a relentlessly ingenious combination of lyrical puzzlry, narcotic jazzflip production, and old cartoon cutups. Out of print for years, we've now got two versions of this legendary LP with different covers and a huge poster included. Also back in the house is 'Bl_ck B_st_rds', the final 1994 album from KMD, the group fronted by DOOM and his brother, whose tragic passing just before it's release led DOOM to withdraw from the public eye for many years before donning his metal face. 
If JOHN CARROLL KIRBY didn't exist, it would be necessary to (re)invent him. So it is on 
'Septet', the latest release from an enigmatic producer who shows an exciting new side with each record he puts his name on. This might be my fave of them all, as he leads a 7-piece band through impossibly buoyant, amniotic jazz-funk. The precious renewable natural resource that is CARLOS NINO returns with a gorgeous new album for International Anthem; a dreamy beauty with critical contributions from Sam Gendel, Jamael Dean, Laraaji, and more, on color wax. The world lost a legend when Japanese composer and Fluxus pioneer YOSHI WADA passed away last month; a lovely edition of his late 80s drone piece 'The Appointed Cloud' is a fine testament to his everlasting energy. 
A swell new edition of the long out of print classic from JENNY LEWIS and THE WATSON TWINS, 'Rabbit Fur Coat' is back in stock this week while it lasts. We've also got new vinyl from VINCENT NEIL EMERSON and JULIANA HATFIELD, plus a 10th anniversary of FRANK TURNER's breakout album, 'England Keep My Bones'. 
Trippy production and clever Gibbsian rhyming make a strong combo on L'ORANGE and NAMIR BLADE's 'Imaginary Everything' Super-talented UK singer LAURA MVULA returns with her third album 'Pink Noise', a fun pop romp drenched in 80s funk. Brazilian trans artist YNDI makes a rather huge splash with her first album under a new name. 'Noir Bresil' channels afro-brasilian diasporic sounds in an incredibly deft album of modern folky R&B, in the type of style that ought to have the Eaux Claires talent booker flooding her inbox. 
A record from the PYONGYANG GOLD STARS documents what happened when some Norwegian musicians ventured into North Korea to record an album of A-Ha covers with elite Korean accordion students. Yup. DAGARA is the latest LP release from the ever-sojourning Sublime Frequencies label, capturing live xylophone as performed in upper western Ghana. An explosive 2010 live set from Tuareg singer KHAIRA ARBY gets its first vinyl release, appealing to fans of Tinariwen and Etran Finatawa.
Elusive German producer SW. returns with another record of deeply-satisfying, fleetfooted deep house on 'BlewLIPS'. UK producer EOMAC combines knackered, Stottian post-post-dub-dub-step-step with elements of footwork on the speaker rattling 'Cracks'. Last up, the legendary American darkwave band LYCIA see a repress of their scorched 1991 debut album 'Ionia' come out into the light. Ow, my eyes!
USED VINYL ALERT:
We kick off the holiday weekend with a super-strong Used Vinyl Alert! Oodles of classics this time around, including some rare and collectible Beatles LPs, seldom seen gems from the Grateful Dead, Pink Floyd, and Led Zeppelin, plus essentials from Joni Mitchell, the Eagles, Frank Zappa, Neil Young, Jimi Hendrix, Fleetwood Mac, the Doors, George Harrison, Rolling Stones, Santana, the Band, Molly Hatchet, Mountain, ZZ Top, Spooky Tooth, Ten Years After, Steely Dan, Supertramp, Turtles, Van Halen, Soft Machine, Judas Priest, Dire Straits, Alice Cooper, and Elton John. Whew!
Some great 80s wave, indie and alternative is in from the Cure, Patti Smith, the Smiths, Blondie, Soft Cell, Art of Noise, the Tubes, U2, Madonna, Grace Jones, Wire, Violent Femmes, and the B-52s. 
Jazz aplenty this week, including some rather deep selections from John Coltrane, Shirley Scott, Getz/Gilberto, Ramsey Lewis, Joe Farrell, Freddie Hubbard, Charles Earland, Luiz Bonfa, Mongo Santamaria, McCoy Tyner, George Duke, Sonny Fortune, Milt Jackson, Thelonious Monk, Merl Saunders, and Bill Evans.
On top of that we've got a slew of soul, some great disco 12"s, a couple great blues and country LPs, everybody's favorite polka records, some very classic childrens LPs, Badger bits, classical gems from Bach to Schoenberg, and so much more.
RECORD STORE DAY DROP #2 IS JULY 17TH:
RECORD STORE DAY 2021 DROPS ARE JUNE 12 & JULY 17:
The second Record Store Day drop event is Saturday, July 17th. Here is Strictly Discs' plan for the day:
1. We OPEN at 8AM for RSD shopping
2. Line to form westbound on Monroe Street
3. While in line, you will be handed a menu of all RSD titles  
4. We will pull your requests & you will check out outside
5. The shop will open for normal browsing at approximately NOON with RSD titles upstairs
Thank you for helping us to keep this event safe & fun.
RECORD STORE DAY: 
Launched in 2007 with the humble idea to recognize independent record stores, Record Store Day (RSD) has blossomed into a global phenomenon. The list of RSD vinyl and CD exclusives continues to expand, as more labels continue to throw open their catalogs to an appreciative audience that grows each year.

Beyond the day-long frenzy, RSD exists to offer proof of the lively role record stores play in the community and a chance for folks on both sides of the counter to offer gratitude for each other. It's a capsule-sized snapshot of what this whole record world is about. Whether you're a hardcore type who times their arrival for a spot at the front of the line or somebody who waits until the afternoon for a more leisurely experience, we hope you'll join us.
Stay strong & have #hope.
WE ARE HIRING - SHIPPING CLERK:


We are looking to hire a shipping clerk. Requirements:

•    Self-motivated and independent thinker
•    Computer proficiency
•    Flexibility
•    Strong work ethic
•    High level of organization and precise time management skills
•    Ability to lift 50 pounds repeatedly

Postion open - 3-4 days/week 9AM-1PM. Possible additional hours filling other duties, depending on experience. Includes weekends.
To apply, submit letter of interest & resume to angie@strictlydiscs.com
BILLBOARD MAGAZINE'S BIWEEKLY FEATURE ON STRICTLY DISCS: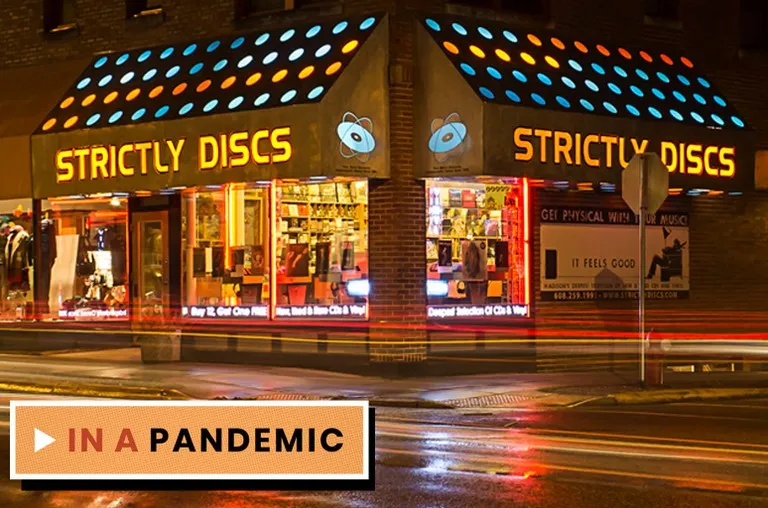 As part of Billboard's efforts to best cover the coronavirus pandemic and its impacts on the music industry, Chris Eggertsen has been speaking with Angie every other week to chronicle the experience of an independent record store throughout the crisis.  Here is a link to the stories in the series so far:
Billboard Article #16 November 16th
Billboard Article #17 December 14th
Billboard Article #18 December 23rd
Billboard Article #19 February 5th
Billboard Article #20 February 23rd
Billboard Article #21 March 12th
Billboard Article #22 April 1st

Billboard Article #23 April 19th
Billboard Article #24 May 15th
Billboard Article #25 June 1st
Billboard Article #26 June 30th



SELL US YOUR CDS & LPS:
Yes, we are still buying! Call Ron to schedule (608.213.3610).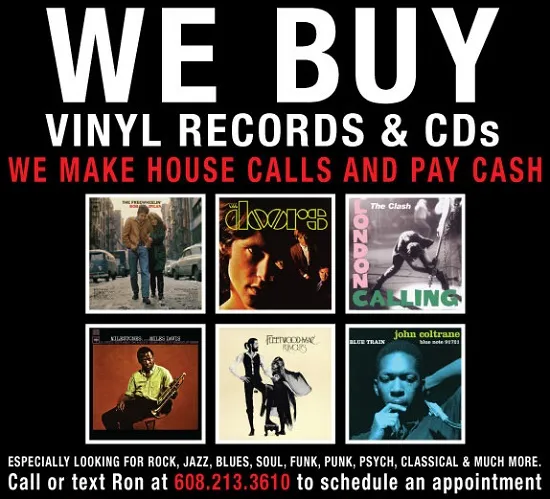 Ron, Ryan, Angie, Marty, Evan, Matt, Ed, Jack, Eric, Steve, Nick & Matt B.