June 17, 2021
NEW THIS WEEK AT THE SHOP:
Right off the top, a massive THANK YOU to all of you who participated in Record Store Day with us this past weekend. Coming out of a year like the one we all just had, our expectations for an event like RSD were all over the map, and to say they were exceeded would be an understatement. We are so grateful to you all for helping make the day a (very sunny) breeze! Save the date for the second of this year's Record Store Day Drops on July 17th.
Meanwhile, what RSD hangover? We got plenty of new stuff arriving in the house this week, starting with a new studio album from antipodean heroes NICK CAVE and WARREN ELLIS. 'Carnage' is a visceral lockdown record from the duo, continuing the bard Nick's gripping, instantaneous run of records since 'Push the Sky Away', with F-bombs aplenty. Decentralized neo-soul collective SAULT bless us with their second untitled double album, '(Black Is)', another sweeping panorama of black diasporic underground music which showcases its influences more so than its players. Limited copies of this sprawling gatefold release, as always. Psst, hey you...in line at the portajohns, we've got a pair of live LP releases from PHISH including one from our own backyard Alpine Valley in here, and they will probably run out before your buzz does. Beautiful marble color vinyl on these!
From his new home studio near the rural mountain village of Kami-cho, Japan, the first new solo album from MASAYOSHI FUJITA in some time is a welcome arrival. 'Bird Ambience' finds the marimba master integrating his music with his surroundings on a whole new level. If you've never heard LAMBCHOP before, it's hard to say where you should start, so far are we into the ineffable subconscious of Kurt Wagner's neo-classical folk drift on 'Showtunes'. Why not start here? Inspired tin-can garage pop from LA's ROSIE TUCKER is here on 'Sucker Supreme'. 
Rapper D SMOKE represents the eclectic brew of his native Inglewood on his debut LP 'Black Habits', and a new record from 2 CHAINZ called 'So Help Me God' bids farewell to Def Jam with a bang, sporting cameos from Kanye, Uzi and Wayne, and a bonkers cover of Hall & Oates. Behold the wild range of singer/producer OMAR APOLLO on his debut record 'Apolonio', checking many of the post Frank O/Blood O boxes. 
We had the SQUAREPUSHER record 'Feed Me Weird Things' on in the shop earlier this week, and a customer asked "Is this a new Squarepusher?" No my friend, this is his debut album from 1996, and it surely bangs as hard as any fresh-faced boiler-rooming bloke to this very day. Warp continues their world class reissue projects oomphening the label's foundational releases with a 25th anniversary edition 2LP on clear vinyl with an additional 10". Scottish post-punk legends JOSEF K have a new vinyl pressing of their razor-sharp debut 'Sorry For Laughing' back in print, and a new EP from producer RIAN TREANOR goes directly for the kill, four obstacles to evade with rave maneuvers. 
A gang of more celebrates ANDY GILL and GANG OF FOUR on a new tribute comp called 'The Problem of Leisure'. FRANK ZAPPA's final US show is enshrined with a deluxe vinyl set called 'Zappa 88'. The best of the latter half of the career of the one and only ARETHA FRANKLIN is toasted on 'Knew You Were Waiting'. 
The obscure byproduct of funk and fate that is THE EBONI BAND's lone 1980 album finally gets a legitimate reissue this week, with inputs from original participants like Greg Middleton and Art Stewart, both veteran Motown producers. The album originally came together when an expat Motown exec teamed up with a group of West African musicians, flying in luminaries like Fred Wesley from the JB's to join the session. The single LP they produced is an absolute high point of Ivory Coast meets West Coast party-soul seance, and can't be recommended enough! An early classic from MILT JACKSON and RAY CHARLES is restored in a new mono pressing, and we've got a great live set from the TUBBY HAYES QUINTET back in print!
USED VINYL ALERT:
Downstairs we go for this week's Used Vinyl Alert. First up, a reminder that we put out some very tasty slabs for Record Store Day on Saturday afternoon and while many of them have found their new homes, a lot of great ones are still left! Post-punk, jazz, reggae, psych, and hip-hop rarities are still to be had.
A healthy amount of classic country in the house this week from Steve Earle, Waylon Jennings, Chet Atkins, Merle Haggard, George Jones, Tammy Wynette, Johnny Cash, Kitty Wells, Conway Twitty, Crash Craddock, Loretta Lynn, Glen Campbell, and more, including polka!
Some fantastic jazz includes the Crusaders, Return to Forever, Ray Barretto, Count Base, Roy Ayers, Louis Armstrong, Ken Nordine, Alphonse Mouzon, Ella Fitzgerald, Gene Ammons, Shirley Scott, and more. Soul is in from Marvin Gaye, Gladys Knight, Stevie Wonder, the Drifters, and Tortilla Factory.
Rock and pop faves this week include beloved titles from the Rolling Stones, Beach Boys, the Beatles, Van Morrison, Tom Waits, Billy Joel, Harry Nilsson, ELO, John Cougar, David Bowie, and Dire Straits. We've also got an abundance of rock obscurities, one-offs, and coulda-beens from Azteca, Elephants Memory, Bobby Bare, the Fabulous Jokers, Fanny, Ducks Deluxe, Black Sheep, Heavy Metal Kids, Squeezer, Twisted Sister, They Might Be Giants, and Badger. We top 'er off with a nice selection of soundtracks, classical, radio plays, and comedy LPs from days of yore.
RECORD STORE DAY DROP #2 IS JULY 17TH:
RECORD STORE DAY 2021 DROPS ARE JUNE 12 & JULY 17:
The second Record Store Day drop event is Saturday, July 17th. Here is Strictly Discs' plan for the day:
1. We OPEN at 8AM for RSD shopping
2. Line to form westbound on Monroe Street
3. While in line, you will be handed a menu of all RSD titles  
4. We will pull your requests & you will check out outside
5. The shop will open for normal browsing at approximately NOON with RSD titles upstairs
Thank you for helping us to keep this event safe & fun.
RECORD STORE DAY: 
Launched in 2007 with the humble idea to recognize independent record stores, Record Store Day (RSD) has blossomed into a global phenomenon. The list of RSD vinyl and CD exclusives continues to expand, as more labels continue to throw open their catalogs to an appreciative audience that grows each year.

Beyond the day-long frenzy, RSD exists to offer proof of the lively role record stores play in the community and a chance for folks on both sides of the counter to offer gratitude for each other. It's a capsule-sized snapshot of what this whole record world is about. Whether you're a hardcore type who times their arrival for a spot at the front of the line or somebody who waits until the afternoon for a more leisurely experience, we hope you'll join us.
Stay strong & have #hope.
WE ARE HIRING - SHIPPING CLERK:


We are looking to hire a shipping clerk. Requirements:

•    Self-motivated and independent thinker
•    Computer proficiency
•    Flexibility
•    Strong work ethic
•    High level of organization and precise time management skills
•    Ability to lift 50 pounds repeatedly

Postion open - 3-4 days/week 9AM-1PM. Possible additional hours filling other duties, depending on experience. Includes weekends.
To apply, submit letter of interest & resume to angie@strictlydiscs.com
BILLBOARD MAGAZINE'S BIWEEKLY FEATURE ON STRICTLY DISCS: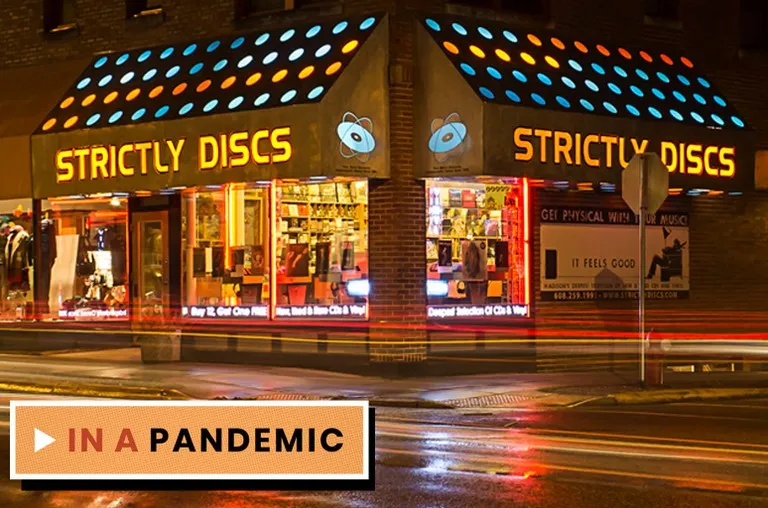 As part of Billboard's efforts to best cover the coronavirus pandemic and its impacts on the music industry, Chris Eggertsen has been speaking with Angie every other week to chronicle the experience of an independent record store throughout the crisis.  Here is a link to the stories in the series so far:
Billboard Article #16 November 16th
Billboard Article #17 December 14th
Billboard Article #18 December 23rd
Billboard Article #19 February 5th
Billboard Article #20 February 23rd
Billboard Article #21 March 12th
Billboard Article #22 April 1st

Billboard Article #23 April 19th
Billboard Article #24 May 15th
Billboard Article #25 June 1st
SELL US YOUR CDS & LPS:
Yes, we are still buying! Call Ron to schedule (608.213.3610).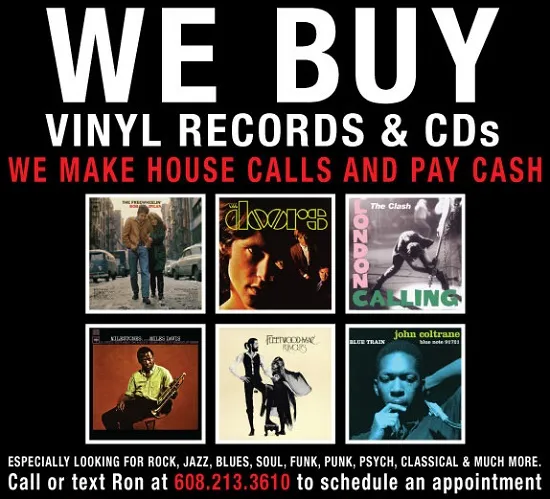 Ron, Ryan, Angie, Marty, Evan, Matt, Ed, Jack, Eric, Steve, Nick & Matt B.