June 11, 2021
RECORD STORE DAY DROPS #1 IS THIS SATURDAY:
RECORD STORE DAY 2021 DROPS ARE JUNE 12 & JULY 17:
The first Record Store Day drop event is Saturday, June 12th. Here is Strictly Discs' plan for the day:
1. We OPEN at 8AM for RSD shopping
2. Line to form westbound on Monroe Street
3. While in line, you will be handed a menu of all RSD titles  
4. We will pull your requests & you will check out outside
5. The shop will open for normal browsing at approximately 11AM with RSD titles upstairs
Thank you for helping us to keep this event safe & fun.

Our goal for this day is to get you the records you seek while minimizing any potential exposure. 



THE LIST OF RELEASES CAN BE FOUND HERE:
AN IMPORTANT NOTE ABOUT TOMORROW'S RELEASES:
It has been an eventful RSD week for us here at the shop. A distributor error resulted in much of our RSD order not arriving or not arriving on time. Thankfully, Record Store Day and all of the represented labels scrambled to get us good fill on the June releases but some are more scarce than normal, some are more plentiful than normal and some are still arriving. As you review your list, please know we are receiving more stock tomorrow on the titles listed below. Those titles will be available to purchase via raincheck and can be picked up later tomorrow or anytime next week (rainchecks will be in the bin where stock would otherwise be located alphabetically).
Titles (or additional stock on these titles) arriving Saturday: Joe Strummer, Psyche France, Harold Land, Jazz Dispensary, Dave Grusin – Goonies Soundtrack, Jonathan Richman, Oneothrix Point Never – Drawn, Beck, Kenny Loggins, Kenny Dorham, Sly & Robbie, Canned Heat, Electric Wizard, Lady Gaga, Rage Against the Machine, Love Spit Love, Senses Fail, Haim, Brummies.
RECORD STORE DAY: 
Launched in 2007 with the humble idea to recognize independent record stores, Record Store Day (RSD) has blossomed into a global phenomenon. The list of RSD vinyl and CD exclusives continues to expand, as more labels continue to throw open their catalogs to an appreciative audience that grows each year.

Beyond the day-long frenzy, RSD exists to offer proof of the lively role record stores play in the community and a chance for folks on both sides of the counter to offer gratitude for each other. It's a capsule-sized snapshot of what this whole record world is about. Whether you're a hardcore type who times their arrival for a spot at the front of the line or somebody who waits until the afternoon for a more leisurely experience, we hope you'll join us this Saturday.
RSD USED VINYL ALERT:
One of our favorite parts of Record Store Day is unleashing a fresh collection of rare used vinyl, with loads of incredible records that turn up here only once in a blue moon. Our warehouse wizards have been hard at work over the last few months, skimming off the absolute cream of the crop. Mono pressings, sealed originals, rare hype stickers, private press gems, deadstock from another universe, improbably immaculately preserved records from decades and decades ago....need we go on? Yes? Well let's get into it.
A veritable R&R hall of fame roster of classics are here from Pink Floyd, Led Zeppelin, Captain Beefheart, the Kinks, Jimi Hendrix, the Band, Eric Clapton, Thin Lizzy, Queen, the Velvet Underground, the Beach Boys, Bob Dylan, Leonard Cohen, Lou Reed, the Rolling Stones, Link Wray, Rush, Frank Zappa, the Grateful Dead, Tom Petty, Metallica, Iron Maiden, Van Halen, and loads more.
Punk, new wave, and early alternative/underground delights are here from The Cure, Duran Duran, Siouxsie and the Banshees, the Sugarcubes, Red Hot Chili Peppers, Kate Bush, SNFU, Ministry, Wham, Suburban Lawns, the Residents, the Dead Kennedys, Bauhaus, the Clash, New Order, Fugazi, Suicidal Tendencies, Opal, Talking Heads, and the Ramones. 
Mind-blowing jazz comes through from Gabor Szabo, Sun Ra, Roland Kirk, John Coltrane, Astrud Gilberto, Airto Moreira, Chet Baker, Gil Evans, John Coltrane, Miles Davis, Art Ensemble, Donald Byrd, Ahmad Jamal, Ornette Coleman, Roy Ayers, Sonny Rollins, Stanley Cowell, David Axelrod, and so many more.
A deep crop of contemporary indie, emo, punk and other bits are here, including some very rare Vinyl Me Please editions and other limited pressings from bands like Alkaline Trio, Sleater Kinney, Wolf Parade, Turnover, Brand New, Panic at the Disco, 21 Pilots, and many more.
Rare and out of print hip-hop is here from Jay Z, DJ Premier, Big L, Mobb Deep J Dilla, MIA, the Fugees, plus a slew of 80s 90s small label obscurities. Techno and dance is in from Larry Heard, Kevin Saunderson, Massive Attack, and the Dance Mania and Clone labels. Eye-opening international LPs include some super hard to find, must hear recordings from India, China, Haiti, Japan, Trinidad, Indonesia, Latin America, and elsewhere, with several on cant-miss labels like Ocora, Lyrichord, and Folkways. 
Country is in from Chet Atkins, Dolly Parton, Marty Robbins, David Allen Coe, and more. Deep blues from Big Joe Williams, Magic Sam, Willie Dixon, Elmore James, Muddy Waters, John Jackson, Junior Wells, and others on the Delmark and Arhoolie labels. 
Rare soul LPs turn up from Al Green, Darrell Banks, Bettye Swann, Lee Dorsey, Funkadelic, Maxine Brown, Baby Huey, Lowrell, Otis Redding, Curtis Mayfield, Donny Hathaway, Smokey Robinson, and Funkadelic, plus many more not-so-household names.
As always, this is just an overview! We've filled in the rest of the blanks for you too, from Weird Al to Brutal Truth, Mighty Baby to Debbie Gibson. Record Store Day is for everyone, and everyone's favorite new record is somewhere down here!
WE OPEN FOR RSD (OUTSIDE) AT 8AM
AND SPEAKING OF WHEN THE DOORS OPEN...
RSD traditions returneth: Bloom Bakery is bringing the Bloom Bus & will be selling cold brew & hot coffee as well as an assortment of their amazing doughnuts. And we will be pouring up Great Dane beer to get the day started. Things are looking up!


PARTY FAVORS: 
We've got some things to give away!
Courtesy of New Belgium Brewing, each legal-aged customer checking out will receive a bottle and/or a can of beer to take away. A little something to kick the session off.
Plus loaded grab bags for the first 50 customers FREE with every RSD purchase. 
Stay strong & have #hope.
NEW THIS WEEK AT THE SHOP:
It's wild to think it's been a full decade since we first fell for SHARON VAN ETTEN around these parts. Just about everyone on staff back then was entranced by her breakthrough sophomore album 'Epic', and we could barely keep copies in the house. When she asked us to play an in-store before her campus show in April 2011, it was the fastest "Yes" on record. She packed our basement (surely someone reading this was there and remembers this? it wasn't a dream?) and belted out about half the album entirely solo, carrying herself with a gracious yet stormy industriousness that was frankly awe-inspiring, and hinted at an artist with a very exciting future. A spectacular version of that future has arrived, as SVE revisits 'Epic' with a roster of her fellow travelers that's rather illustrious; but had you told us this ten years ago, we would not have believed you. The second disc on this colored vinyl set includes new interpretations of the album from Fiona Apple, Courtney Barnett, Shamir, Justin Vernon and Aaron Dessner, Idles, Lucinda Williams and more, who add all types of knotty beauty to a record that has aged majestically. Not to be outdone, we have long-awaited, lockdown-inflected stylistic shifts from SLEATER-KINNEY and RHIANNON GIDDENS, both in the shop on limited color vinyl as well. 
More big ones in this week include a massive new live album from MIKE COOLEY, PATTERSON HOOD and JASON ISBELL on limited color wax. Why, that's pert near the entire Drive By Truckers gang! The mysterious, elusive new album 'Shore' from FLEET FOXES is finally back in stock, and we've got limited neon green vinyl of the latest album from hometown heroes GARBAGE. 'No Gods No Masters' also comes in a cool deluxe CD edition with bonus tracks and art prints.
New releases from across the board this week from PORTUGAL, THE MAN, ARAB STRAP, LILY KONIGSBERG from Palberta, LUKAS NELSON & THE PROMISE OF THE REAL, ALESSANDRO CORTINI, and ROSTAM. Limited color vinyl copies available of all of these.
Alongside their west coast counterpart Black Flag, DC's BAD BRAINS made up the alpha and omega of early American hardcore. Their explosive self-titled debut set a very high bar for frenzied, genre-blasting punk to come, containing more pent-up potential energy than perhaps any record before it. It's never been easy to come by a quality pressing of this banger, and its comforting to see this one back in a legit (affordable) edition that's fully owned by the band. We've also got copies of THE WIPERS 'Tour 1984' LP, a reissue of an early scorcher from DAUGHTERS, and limited copies of the unofficial RSD release from THEE OH SEES.
Explosive new hip-hop on wax this week from FRENCH MONTANA, RICH THE KID, and FIREBOY DML. One of theeeeee greatest Memphis rap albums of all time, KOOPSTA KNICCA's 'Da Devil's Playground', gets its first-ever vinyl release, over two decades since its original cassette debut, with timelessly smacked out productions from Three 6 Mafia's DJ Paul. MARK MORRISON's decade-defining G-funk swingbeat classic 'Return Of the Mack' is back in print on LP, and we still have limited copies of the stunning 'Haram' from ARMAND HAMMER & THE ALCHEMIST. 
How's your mind doing? If you're reading this newsletter, you might be in the right place for some MIND MAINTENANCE, the name of a new duo record that finds modern spiritual jazz wayfarers JOSHUA ABRAMS and CHAD TAYLOR focusing their energies entirely on two instruments, the mbira (thumb piano) and the guimbri (3-stringed lute), in a sussurous session of cyclical seance. Somewhat analogous, though much more raucous, is the pairing of Italian percussionists VALENTINA MAGALETTI and MARLENE RIBEIRO on 'Due Matte', back in print by popular demand. Spectral guitarist JULIAN LAGE returns with a new album of elegant, distended compositions 'Squint'. 
BLACK SABBATH's mighty 'Sabotage' gets the full super deluxe treatment this week, and we have new hits collections on vinyl from UK working class heroes DR. FEELGOOD and FAITH NO MORE. Did you know that one of Faith No More's earliest singers was Courtney Love? True story, read it on Wikipedia. 
New vinyl editions from popular favorites by KIP MOORE and the MARCUS KING BAND are in, plus we've got color vinyl copies of the new record from MAMMOTH WVH, featuring Wolfgang Van Halen, son of the late, great Eddie.
Rare, contemporary, and timeless jazz is in from KAMAL ABDUL-ALIM, BRANDON JAMES LEWIS, and the INCREDIBLE BONGO BAND. 
A phenomenal spread of compilations includes a deep-dive through early 90s Italian deep house on CIAO ITALIA; Dmitri From Paris, Todd Terje, and other DJ luminaries pump up the party factor on a compilation of golden era boogie on TK DISCO RE-EDITED; the HILLBILLIES IN HELL comp returns for a twelfth volume, and SASSY & STRONG collects "Forgotten Sides From Nashville's Finest Ladies". 
Last up: library funk and rare groove heat is back in the building from THE CABILDOS, SOLA, and JAY RICHFORD & GARY STEVAN. Luckily we got AC in here!
USED VINYL ALERT:
Out of the heat and into more heat we go with this week's Used Vinyl Alert! Have a go through classics from the Rolling Stones, Led Zeppelin, Fleetwood Mac, Lynyrd Skynyrd, David Bowie, Prince, Joni Mitchell, ELO, the Beatles, Neil Young, CSNY, Lou Reed, the Eagles, Slade, Boston, and heaps more.
Wave and hard rock is in from Wham, Brian Eno, Tears For Fears, Ministry, Luc Van Acker, Black Sabbath, Def Leppard, Whitesnake, and more, plus a fresh crop of more recent rock, garage and indie from King Khan, MC5, Interpol, Kurt Vile, Ty Segall, Dan Deacon, Silver Jews, the National, Puffy Areolas, Lucy Dacus, the Blind Shake, and plenty more.
Jazz comes through from Chick Corea, Horace Silver, Weather Report, Herbie Hancock, and more, while we roll with soul from the Temptations, Kool and the Gang, Otis Redding, Al Green, Marvin Gaye and others. Some great early bluegrass, blues, gospel, and polka is in, plus country hits from Bill Monroe, Chet Atkins, Bobbie Gentry, Emmylou Harris, Willie Nelson, Johnny Cash, Waylon Jennings, and Kris Kristofferson.
WE ARE HIRING - SHIPPING CLERK:


We are looking to hire a shipping clerk. Requirements:

•    Self-motivated and independent thinker
•    Computer proficiency
•    Flexibility
•    Strong work ethic
•    High level of organization and precise time management skills
•    Ability to lift 50 pounds repeatedly

Postion open - 3-4 days/week 9AM-1PM. Possible additional hours filling other duties, depending on experience. Includes weekends.
To apply, submit letter of interest & resume to angie@strictlydiscs.com
BILLBOARD MAGAZINE'S BIWEEKLY FEATURE ON STRICTLY DISCS: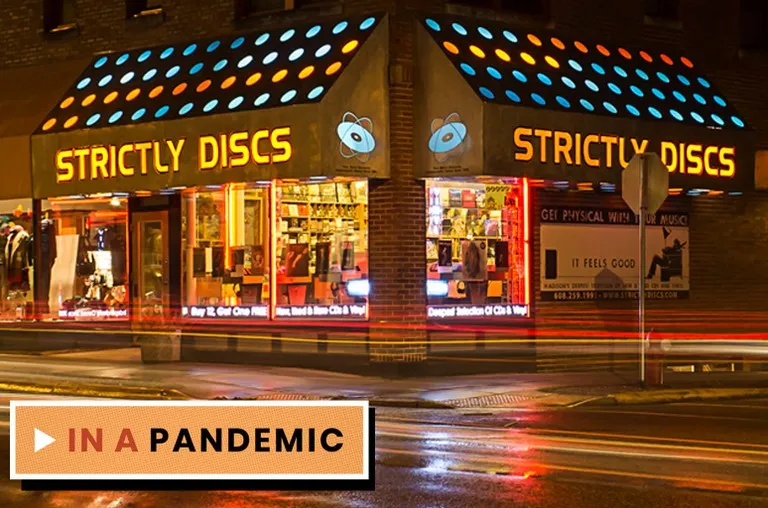 As part of Billboard's efforts to best cover the coronavirus pandemic and its impacts on the music industry, Chris Eggertsen has been speaking with Angie every other week to chronicle the experience of an independent record store throughout the crisis.  Here is a link to the stories in the series so far:
Billboard Article #16 November 16th
Billboard Article #17 December 14th
Billboard Article #18 December 23rd
Billboard Article #19 February 5th
Billboard Article #20 February 23rd
Billboard Article #21 March 12th
Billboard Article #22 April 1st

Billboard Article #23 April 19th
Billboard Article #24 May 15th
Billboard Article #25 June 1st
SELL US YOUR CDS & LPS:
Yes, we are still buying! Call Ron to schedule (608.213.3610).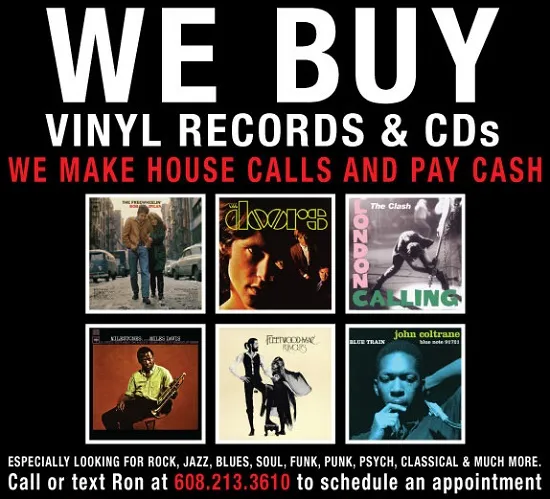 Ron, Ryan, Angie, Marty, Evan, Matt, Ed, Jack, Eric, Steve, Nick & Matt B.