June 3, 2021
NEW THIS WEEK AT THE SHOP:
According to the ample liner notes in this new edition, there was a time when everyone in Ethiopia knew the music of HAILU MERGIA and THE WALIAS BAND. The songs on their 1975 debut 'Tezeta' played daily on the country's radio and television stations, often in the background. That historic tape - the first self-funded album released within Ethiopia - eventually faded so far into obscurity, there isn't even an entry for it on Discogs. That's been remedied now with a magical new edition from Awesome Tapes From Africa on CD, LP and Cassette, which restores nine wondrous tunes from the Ethiopian golden era's hardest working band, led by keyboardist Mergia. Picking up a copy of this record could easily be the best move you make all month. Also long-awaited, we have the LP of the 2020 collab between MF DOOM and CZARFACE (an emcee voltron of 7L, Esoteric, and Inspectah Deck) called 'Super What?', featuring (perhaps?) the last studio sessions Doom did before his death late last year. High hopes for the new album from indie popstress JAPANESE BREAKFAST, who brings 'Jubilee' to the table on limited clear and yellow swirl vinyl, with a few super cool slipmats to give away with purchase while they last. I gather that something called a "live concert" is returning to Madison later this year and that Ms. Breakfast is playing one of the first ones. Cool!
Tone Poet editions! You can't stop them, you can only hope to contain them (on your record shelf). This week we have the mighty session 'The Witch Doctor' from ART BLAKEY and THE JAZZ MESSENGERS, and an extra-deep pull on CURTIS AMY and DUPREE BOLTON's fiery 'Katanga!' One of the headiest slabs in the history of UK progressive jazz is also back in print; the super groovy 'Belladonna' from IAN CARR. 
Folk ambassador CHRIS THILE hits us with a new album called 'Laysongs', we finally have the much-delayed colored vinyl edition of the new album from CHEAP TRICK, and the oft-requested DONALD FAGEN solo joint 'The Nightfly' is back in print on LP.
Producer MNDSGN really steps into his own realm with his first proper songwriter album 'Rare Pleasure', featuring assists from a great deal of the Stones Throw roster. Kenyan ambient musician KMRU keeps up his incredible pace of brilliantly evocative albums with a limited run LP called 'Logue', which drifts with an imperceptible pace. 'Help', the 2020 album from Sierra Leone's DUVAL TIMOTHY, gets a much needed new vinyl edition. Hard to sum up how potent this record is; a entrancing mix of abstract R&B, electronics, piano, and voice that carries forward the styles we've heard lately from Solange and Yves Tumor. 
New albums from NIGHT BEATS, WOLF ALICE, and RISE AGAINST are in on colored vinyl. The earliest recordings from NYC heavyweights UNSANE are now out on 'Improvised Munitions + Demo', plus we have a limited color pressing of the new album 'Arrows' from RED FANG, the stoner rock legends' first record in 5 years, plus 'Nimrod' from GREEN DAY is back in print. 
A sparkling new comp of PIERO UMILIANI works called 'L'Uomo Elettronico' collects synth tracks from his rare 70s library and soundtrack albums. Latin funk reigns on a reissue of GREGORIO GARCIA SEGURA rarity 'Harlem Pop'. Joyed to have a new pressing of 'Paebiru' from Brazilian progressive folkies LULA CORTES and ZE RAMALHO, who made an intoxicating blend of breezy, strange psychedelia in Pernambuco, far away from the Bahia clubs that introduced the world to Tropicalia.
Potent obscurities from the world of 70s soul jazz include a stone classic from CALVIN KEYS, and two rare ones from BILL JENNINGS and JAMAN. 
Some of our favorite compilations ever are back in this week, plus a great new one. AMERICA INVERTIDA collects synth-pop and folk from 80s Uruguay, each track more enchanting than he last. FOR THE LOVE OF YOU delivers a dozen lovers rock reggae covers of 80s soul and boogie classics, and BELONG TO THE WIND compiles moody, transporting American psych-folk rarities from 70s private pressings.
'Medicine Compilation from the Quiet Lodge', the extremely rare and lovely set of 90s electronica from Yellow Magic Orchestra's HARUOMI HOSONO is finally in our zip code. For the first time ever, THE DURUTTI COLUMN's zippy, drum-machine fueled gem 'Dry' gets a vinyl edition. The mighty COIL's landmark industrial goes pop masterpiece 'Love's Secret Domain' gets an expanded 30th anniversary edition. 
An incredible spread of new techno and house is in from Australian leftfielder FANTASTIC MAN, Colombian jazzhouse don FELIPE GORDON, Russian chillout king VISION OF PANORAMA, Japanese adventurer KOSEI FUKUDA, Frankfurt institution ROMAN FLUGEL, and a super special LP of archival Braindance gems from Norway's SOTOFETT.
A double-volume compilation from the mighty PC MUSIC label covers the wide world of their boundary pushing stable of artists like Hannah Diamond, GFOTY, and AG Cook. CONNAN MOCKASIN's cult-fave 'Forever Dolphin Love' is back in print on LP, and we have a copy of an incredibly rare and banging album of Venezuelan synth-pop from VINICIO ADAMES. 
A nice spread of regional and traditional compilations introduces you to Chinese canon singing, Japanese reggae, Jamaican mento, and early guitar music from Congo and Zambia. 
Last up, some very lovely records in the 4th world style pioneered by Jon Hassell. Argentine group CLAN CAIMAN deliver a new LP of mellow gold that conjures Martin Denny and Tortoise. A concise compilation introduces the vast world of Dutch sound-artist MICHEL BANABILA, and a new vinyl edition of MONOLAKE's landmark ambient electronic album 'Gobi' is at last edited down to fit on a single LP. 
USED VINYL ALERT:
This week's used vinyl alert has some summer heat creeping in!! We've got a seriously stunning selection of 90s and 00s hip hop classics. Lil Flip Game Over 12"? Amerie One Thing 12", sealed? Egyptian Lover Dial-A-Freak? Your party is all set. Even more is here from Public Enemy, NWA, 2 Live Crew, Tupac, Toni Tony Tone, TLC, MC Hammer, Xzibit, 50 Cent, and many more. Plus a slew of deep and obscure house, electro, and freestyle gems.
Big classics are in from the Grateful Dead, Bob Dylan, AC/DC, the Band, Sandy Denny, Queen, the Rolling Stones, Frank Zappa, Neil Young, Tom Waits, the Beatles, Procol Harum, the Electric Prunes, Steely Dan, Taste, and Lucifers Friend.
A lengthy run of soul records includes classics from Leroy Hutson, the Nite-Liters, Vanity 6, Marvin Gaye, Sam & Dave, Al Green, Garnet Mimms, Clarence Carter, Booker T, Parliament, and more, plus vocalists Aretha Franklin and Nina Simone.
Plenty more affordable essentials in the realms of folk, bluegrass, soft rock, classical, country, blues and much much more!

WE ARE HIRING - SHIPPING CLERK:


We are looking to hire a shipping clerk. Requirements:

•    Self-motivated and independent thinker
•    Computer proficiency
•    Flexibility
•    Strong work ethic
•    High level of organization and precise time management skills
•    Ability to lift 50 pounds repeatedly

Postion open - 3-4 days/week 9AM-1PM. Possible additional hours filling other duties, depending on experience. Includes weekends.
To apply, submit letter of interest & resume to angie@strictlydiscs.com
BILLBOARD MAGAZINE'S BIWEEKLY FEATURE ON STRICTLY DISCS: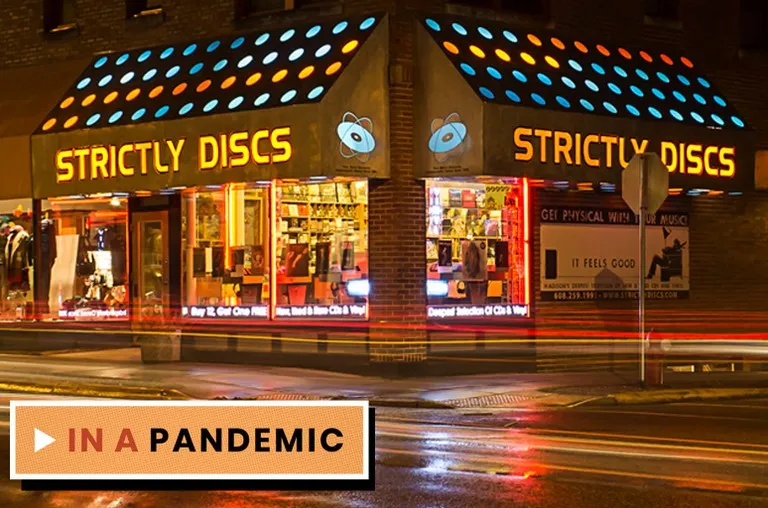 As part of Billboard's efforts to best cover the coronavirus pandemic and its impacts on the music industry, Chris Eggertsen has been speaking with Angie every other week to chronicle the experience of an independent record store throughout the crisis.  Here is a link to the stories in the series so far:
Billboard Article #16 November 16th
Billboard Article #17 December 14th
Billboard Article #18 December 23rd
Billboard Article #19 February 5th
Billboard Article #20 February 23rd
Billboard Article #21 March 12th
Billboard Article #22 April 1st

Billboard Article #23 April 19th



RECORD STORE DAY DROPS 2021 & WISHLISTS x2:
The first Record Store Day drop event is Saturday, June 12th. Here is Strictly Discs' plan for the day:
1. We OPEN at 8AM for RSD shopping
2. Line to form westbound on Monroe Street
3. While in line, you will be handed a menu of all RSD titles  
4. We will pull your requests & you will check out outside
5. The shop will open for normal browsing at approximately 11AM with RSD titles upstairs
Thank you for helping us to keep this event safe & fun. MORE DETAILS TO COME!

Our goal for this day is to get you the records you seek while minimizing any potential exposure. 

Stay strong & have #hope.
SELL US YOUR CDS & LPS:
Yes, we are still buying! Call Ron to schedule (608.213.3610).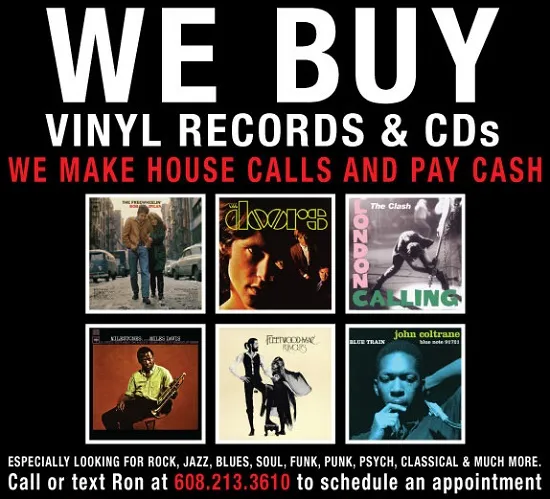 Ron, Ryan, Angie, Marty, Evan, Matt, Ed, Jack, Eric, Steve, Nick & Matt B.