MEMORIAL DAY HOURS & HOLIDAY SALE:
MEMORIAL DAY WEEKEND HOURS & HOLIDAY SALE:
If the grill smells and the faint sounds of Smashmouth haven't tipped you off already, we're here to inform you that it is Memorial Day Weekend, the unoficial gateway of spring-into-summer. It is also our national holiday to pay tribute to our veterans who died serving our country.
However you choose to celebrate, we're looking to make your holiday a little bit more musical with a one-day storewide sale, Monday May 31st.
Mention this sale email at the counter and receive 15% off any combination of New CDs and LPs (cannot be combined with other promotions).
We are OPEN Monday from 11AM to 4PM, before we head out for a little R'n'R of our own. See ya then! Stay safe & have #hope.
NEW THIS WEEK AT THE SHOP:
USED VINYL ALERT:
We got a real crazy haul for you in the Used Vinyl Alert this week! Prog gems, deep soul and reggae, rare country, and contemporary delights! Plenty of classics too, including deep catalog runs from Neil Young, Led Zeppelin, Bob Dylan, and Pink Floyd, plus must-haves from David Bowie, Joni Mitchell, the Grateful Dead, the Byrds, Yes, the Beatles, Fleetwood Mac, Jimi Hendrix, the Cars, the Doors, ELO, Genesis, Elton John, Rory Gallagher, the Doobie Brothers, Dire Straits, Box Tops, Duran Duran, U2, INXS, the Police, and the Ramones!
Lots of gems from the heavier worlds of prog, psych and early metal include Ratt, Fuse, the Flying Machine, Pearls Before Swine, King Crimson, Judas Priest, Lovecraft, Sopwith Camel, Terry Knight, Kraan, Caravan, Potliquour, and the Robbs.
Jazz is in from Dave Brubeck, Hank Mobley, Lee Morgan, Art Blakey, and loads more, plus country from David Allan Coe, Johnny Cash, Glen Campbell, Rodney Crowell, Patsy Cline, Waylon Jennings, Dwight Yoakam, and Delbert McClinton.
A solid slate of reggae gold is in from Gregory Isaacs, Marcia Griffiths, Jimmy Cliff, Bob Marley, Rita Marley, Ziggy Marley, Toots and the Maytals, Third World, and UB40. Soul and R&B includes big ones from Sade, Marvin Gaye, Stevie Wonder, Prince, the Chi-Lites, the Isleys, Isaac Hayes, and more, plus we have a deep trove of late 80s modern soul, electro, hip-house, and smooth R&B from a long list of mostly obscure names, a real digger's delight!
WE ARE HIRING - SHIPPING CLERK:


We are looking to hire a shipping clerk. Requirements:

•    Self-motivated and independent thinker
•    Computer proficiency
•    Flexibility
•    Strong work ethic
•    High level of organization and precise time management skills
•    Ability to lift 50 pounds repeatedly

Postion open - 3-4 days/week 9AM-1PM. Possible additional hours filling other duties, depending on experience. Includes weekends.
To apply, submit letter of interest & resume to angie@strictlydiscs.com
STRICTLY DISCS OPERATIONAL UPDATES - TUESDAY 5/18:
In response to last week's announcements from the CDC, here's a quick update on Strictly Discs' in-store shopping policy:
Masks are still required for all customers at all times inside the store, without exception and regardless of vaccination status. 
We are encouraged by the vaccination rates in Dane County, and happy to report that all SD staffers are fully vaccinated. 
These requirements will remain in place to protect our customers and community until further notice. 
Thank you for supporting Strictly Discs and our ongoing efforts to keep everyone safe.  
BILLBOARD MAGAZINE'S BIWEEKLY FEATURE ON STRICTLY DISCS: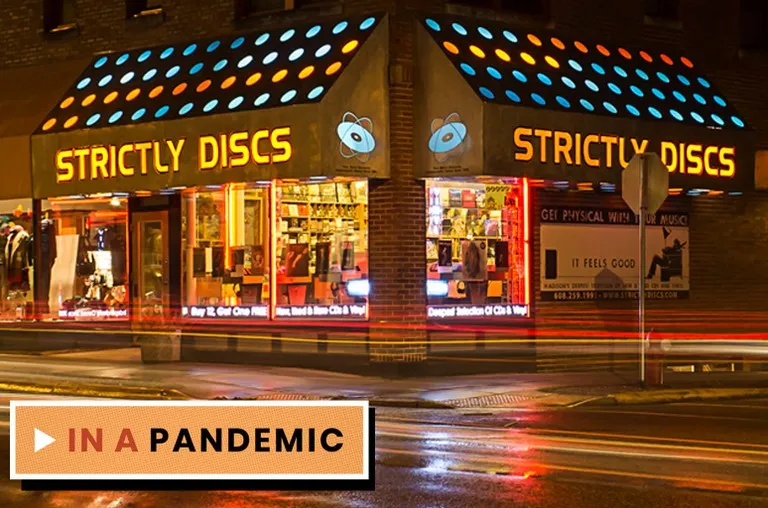 As part of Billboard's efforts to best cover the coronavirus pandemic and its impacts on the music industry, Chris Eggertsen has been speaking with Angie every other week to chronicle the experience of an independent record store throughout the crisis.  Here is a link to the stories in the series so far:
Billboard Article #16 November 16th
Billboard Article #17 December 14th
Billboard Article #18 December 23rd
Billboard Article #19 February 5th
Billboard Article #20 February 23rd
Billboard Article #21 March 12th
Billboard Article #22 April 1st

Billboard Article #23 April 19th



RECORD STORE DAY DROPS 2021 & WISHLISTS x2:
The first Record Store Day drop event is Saturday, June 12th. Here is Strictly Discs' plan for the day:
1. We OPEN at 8AM for RSD shopping
2. Line to form westbound on Monroe Street
3. Masks (covering nose & mouth) & distancing required at all times
4. While in line, you will be handed a menu of all RSD titles  
5. We will pull your requests & you will check out outside
6. The shop will open for normal browsing at approximately 11AM with RSD titles upstairs
Thank you for helping us to keep this event safe & fun. MORE DETAILS TO COME!

Our goal for this day is to get you the records you seek while minimizing any potential exposure. 

Stay strong & have #hope.
SELL US YOUR CDS & LPS:
Yes, we are still buying! Call Ron to schedule (608.213.3610).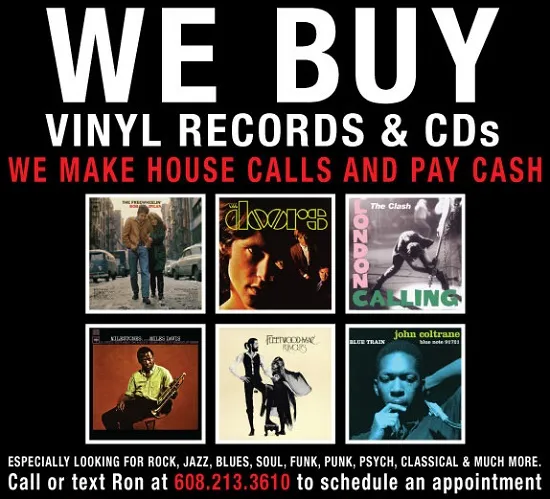 Ron, Ryan, Angie, Marty, Evan, Matt, Ed, Jack, Eric, Steve, Nick & Matt B.