May 20, 2021
NEW THIS WEEK AT THE SHOP:
We welcome the long-awaited fourth album from Michigan indie-folk darlings LORD HURON this week, who return with an elegant double album called 'Long Lost'. Limited color vinyl is here for this one while it lasts. After witnessing the mighty MDOU MOCTAR play live in Milwaukee a couple years back, I wondered how long he could stay relatively under the radar. A new record called 'Afrique Victime' ought to bring the Tuareg musician into the conversation regarding the best guitarists of the present day, and his band sounds as alchemically in tune as ever. Revered American songwriter JOHN HIATT returns with an impressive new album called 'Leftover Feelings', which pairs the gruff-voiced storyteller with the crack instrumentalists of the JERRY DOUGLAS BAND.
After weeks of waiting by the door like a puppy dog, we've finally got a fresh shipment of SAULT records in from London. The potent neo-soul collective has been on a torrid run, with a slew of critically acclaimed albums that somehow sound like Erykah Badu, Deee-Lite, and Gil Scott-Heron all democratically sharing a stage. We have the group's albums '5', '7', and the recently-released 'Untitled (Rise)', plus the remarkable solo album from one of the collective's vocalists, CLEO SOL. 'Rose In the Dark' has a transcendent cool and a yearning emotion that immediately rank it up there with the greatest records in the genre.
It took a couple years to come to terms with the fact that 'M B V', the 2013 comeback album from MY BLOODY VALENTINE, could possibly be their greatest work. How do you top 'Loveless'? By spending two decades tweaking (but not changing) its formula, apparently. This sprawling blue beauty is back in print for the first time in awhile, and we have a limited edition in an old-style tip on sleeve. UK lounge pop wizards METRONOMY celebrate a decade since their breakout album 'The English Riviera' with a lovely new vinyl edition with added tracks, better sound, and a side D etching. Just 'ere the dawn of y2k, German producer AROVANE released one of the greatest IDM albums ever, 'Atol Scrap', on CD only, which was the style at the time. The warm, buttery, clickity cutlery can finally be heard on vinyl this week with a full remaster.
New rock and pop gems come in on wax this week from North Carolina mod-garage legends REIGNING SOUND, sly-witted folkies LULA WILES, orchestral folk-pop from KISHI BASHI, and Mazzy Star-esque languor from INDIGO SPARKE. 
Montreal producer CFCF has a great many arrows in his quiver, with a number of contemporary classic records ranging from Eno-style ambient to modern composition. On 'Memoryland', he steps out even farther with a sprawling double album of choose your own adventure pop that calls on late 90s electronica, trance, jungle, and glammy grunge. Japanese group CHAI land on Sub Pop for a new album called 'Wink' that feels like a futuristic pop plan to take over the world, and have the latest album from pop-rockers WATERPARKS which is called 'Greatest Hits' even though it is in fact just a new studio album. Bold move, Waterparks. 
The memorable album 'What We Drew' from Korean-American bedroom popper YAEJI is back in the shop on a limited blue vinyl repress. French instrumental ingenue COLLEEN is back with another entrancing gem called 'The Tunnel and the Clearing'. Modern classical duo BALMORHEA bless us with a stunning record of noirish chamber pieces reminiscent of the American west on 'The Wind'. 
The Glasgow label 12th Isle has become appointment listening for a new generation of mixed-genre producers exploring sound maps first charted by Jon Hassell or Popol Vuh's Florian Fricke. Their latest release is a robust double album 'Athenian Primitivism' from CHRISTOS CHONDROPOULOS, a real shape-shifter of a record that touches on Greek folk, traditional song cycles, African percussion, and futurist electronics. We also welcome new records from Scottish psychedelic house producer LORD OF THE ISLES, and a cracking new one from BENEATH, who blesses the Hemlock label with a major dose of what is now old-school UK funky and DMZ-style dubstep.
At last we have copies of STRUM & THRUM, the Captured Tracks overview of 'The American Jangle Underground 1983 -1987', accounting for a very fertile period in US guitar pop that paralleled the C86 scene of the UK eighties. 2LPs, 28 tracks, and an expansive oral history in the liner notes make this one of the best compilations we've seen here in a long time. We've also got a new color vinyl edition of the VIOLENT FEMMES greatest hits set, 'Add It Up', and a new LP from COUNTING CROWS.
Influential anime EVANGELION FINALLY sees it's soundtrack available on vinyl for the first time, plus we've got a new album from triphop heroes MORCHEEBA, and a limited run Numero comp of the Chicago soul man OTIS BROWN. 
Chicago post-punk PhDs FACS return with 'Present Tense' their 3rd record since changing their name from Disappears, and we welcome reissues of some early EPs and albums from LA goth-rock visionaries DRAB MAJESTY.
Dance it off with a trio of crucial EPs, starting with a 12" that finds Australian producers SLEEP D and ANDRAS ably remixing the insistent Afro-pop of the Sudanese musician GORDON KOANG. The mysterious producer known only as U returns with a so late night its morning slab of chuggy tribal doom/dream, and the Canadian collective known (for now) as PLUSH MANAGEMENTS (D. Tiffany and Regularfantasy) drops an almighty mini-album of 90s style rave on 'Magic Plush', which un-ironically quotes the Vengaboys. We like to party!
USED VINYL ALERT:
This week's fresh haul of used vinyl includes many of our most requested favorites. Classics from famed female vocalists like Ella Fitzgerald, Billie Holiday, Sarah Vaughan, Aretha Franklin, and Judy Garland join RnR standbys like Jimi Hendrix, the Rolling Stones, Frank Zappa, the Hollies, Queen, Lou Reed, the Doors, the Beach Boys, the Grateful Dead, the Kinks, and the Who.
A solid run of classic hard rock is in from Iron Maiden, Motley Crue, Dokken, Great White, Def Leppard, Black Sabbath, Poison, AC/DC, and Van Halen, plus a rainbow of psych, prog and outward bound rock from Gentle Giant, the Ides of March, the Cake, Electric Prunes, Quicksilver, Rare Earth, and many more.
Strong jazz selections this week include Dave Brubeck, Bill Evans, Charles Mingus, Max Roach, McCoy Tyner, John Coltrane, Jimmy Smith, Ben Webster, Hamiet Bluiett, Tony Williams, Don Pullen, Sonny Rollins, Herbie Hancock, Emil Richards, Gary Burton, and Jimmy Smith.
Country classics turn up from Marty Robbins, Patsy Cline, Brenda Lee, Faron Young, Conway Twitty, Glen Campbell, Waylon Jennings, Dolly Parton, and Johnny Cash. We've got electronic titans Kraftwerk, Tangerine Dream, and Wendy Carlos, plus a slew of soft rock, folk, polka, and soundtracks! PLUS the 3 for $5 bin has been fully revitalized!
WE ARE HIRING - SHIPPING CLERK:


We are looking to hire a shipping clerk. Requirements:

•    Self-motivated and independent thinker
•    Computer proficiency
•    Flexibility
•    Strong work ethic
•    High level of organization and precise time management skills
•    Ability to lift 50 pounds repeatedly

Postion open - 3-4 days/week 9AM-1PM. Possible additional hours filling other duties, depending on experience. Includes weekends.
To apply, submit letter of interest & resume to angie@strictlydiscs.com
BILLBOARD MAGAZINE'S BIWEEKLY FEATURE ON STRICTLY DISCS: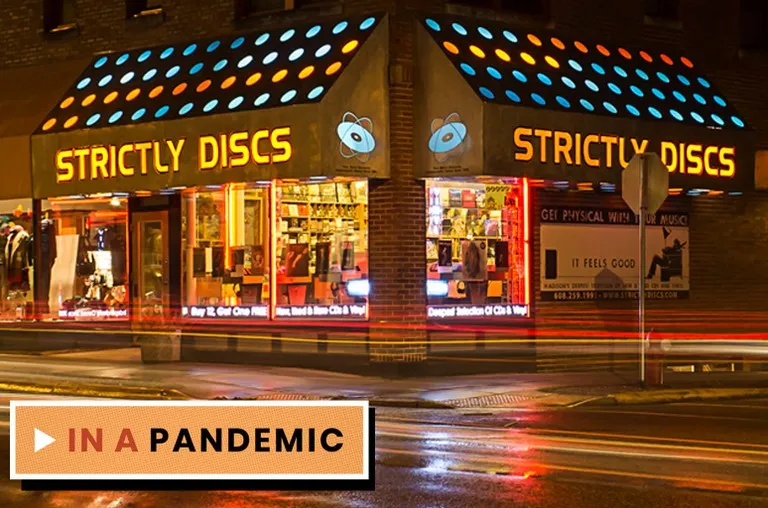 As part of Billboard's efforts to best cover the coronavirus pandemic and its impacts on the music industry, Chris Eggertsen has been speaking with Angie every other week to chronicle the experience of an independent record store throughout the crisis.  Here is a link to the stories in the series so far:
Billboard Article #16 November 16th
Billboard Article #17 December 14th
Billboard Article #18 December 23rd
Billboard Article #19 February 5th
Billboard Article #20 February 23rd
Billboard Article #21 March 12th
Billboard Article #22 April 1st

Billboard Article #23 April 19th



RECORD STORE DAY DROPS 2021 & WISHLISTS x2:
RECORD STORE DAY 2021 DROPS ARE JUNE 12 & JULY 17:
Our plan for the days are still to be determined but as always our primary goal for the day will be to get you the records you are seeking as safely as possible. Thank you for your support. Stay strong & have #hope.
WISHLISTS FOR BOTH DAYS CAN BE MADE HERE (deadline for BOTH DATES was 5PM Wednesday April 14th).
SELL US YOUR CDS & LPS:
Yes, we are still buying! Call Ron to schedule (608.213.3610).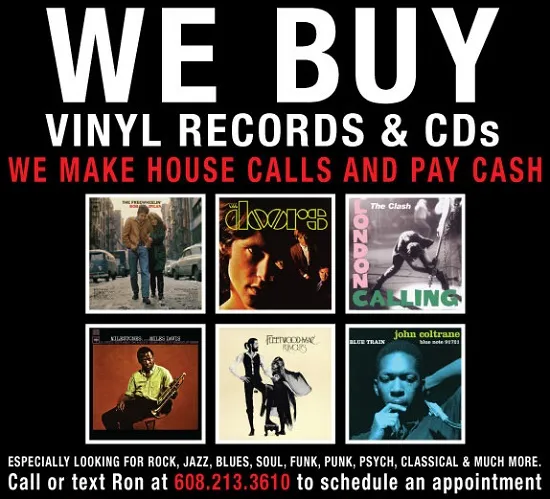 Ron, Ryan, Angie, Marty, Evan, Matt, Ed, Jack, Eric, Steve, Ben, Nick & Matt B.