May 6, 2021
NEW THIS WEEK AT THE SHOP:
- Sixteen tracks from the early career of songwriter MAGGIE ROGERS, some unreleased, some reworked, fill the the new 2 LP set called 'Notes From The Archive: Recordings 2011-2016', in the shop on marigold colored vinyl
- Wild Belle singer NATALIE BERGMAN makes her solo debut on the Third Man label with 'Mercy', crossing noirish pop with godly gospel
- a beautiful, limited-edition box set offers the definitive experience of ANGEL OLSEN's last two studio albums. 'Songs of the Lark and Other Far Memories' collects outtakes, demos and alternate takes of every song on both 'All Mirrors' and 'Whole New Mess', alongside a large 40 page book of photos and documents
- the Blue Note Tone Poet series lands on a pair of heavily desired titles this week. An early classic from DEXTER GORDON, 1964's 'One Flight Up', finds the big-toned tenor in session alongside Donald Byrd. 'Passing Ships' was the name given to a 1969 session from pianist ANDREW HILL, recorded at the height of his Blue Note tenure, but not released until 2003, and then only on CD; we now have a glorious vinyl edition!
- also now in stock on LP, the recent new release 'Garden of Expression', from the trio of JOE LOVANO, MARILYN CRISPELL, and CARMEN CASTALDI
- few producers have carved out a niche as well-defined as that of Mancunian monsieur ANDY STOTT, who delivers a fresh album of dazzling dread called 'Never The Right Time' for the Modern Love label, which builds on his ongoing creative partnership with vocalist Alison Skidmore. Slow-mo, brutalist techno meets hauntological folk halfway on these songs, Stott's most defined yet, as economical as parables.
- Kassem Mosse's label Ominira delivers the first new music in many years from Tokyo producer BISK, on a vibrant new LP of swift electro called 'Vacation Package' blessed with infinite elliptical details†
- another Tokyo electronic group, UNKNOWN ME, make their debut on the Not Not Fun label with a delightful new record called 'Bishintai', modern, urbane new age with guests like Foodman and Jim O'Rourke
- 'Seek Shelter' is the most expansive record yet from Danish sweethearts ICEAGE, recorded by Sonic Boom of Spacemen 3, full of romantic balladry and touches of gospel, with deference to the Stones and Spiritualized. Clear orange vinyl on this one
- Brighton post-punkers SQUID channel Television and LCD on 'Bright Green Field', in the house on limited green vinyl
- Memphis garage-punk legends THE OBLIVIANS see a repress of their 1996 ripper 'Popular Favorites' come back into the world on wax
- Scottish DIY musician Alan Davidson has recorded dozens of cassette-only releases since the 1980s as KITCHEN CYNICS, crafting a bewilderingly large discography of beautiful, downtrodden folk-pop, often accompanied by modest strings. The Trilogy Tapes label has curated a single LP compendium of some of his best songs, somehow distilling this vast catalog into one single, very potent LP, 'Beads Upon An Abacus', for fans of Deep Freeze Mice, Cleaners From Venus, or Richard Youngs.
- early indie heroes UNREST began mutating their raw punk beginnings into a delightfully fresh brand of mod guitar pop on their 1992 album 'Imperial F.F.R.R.', back in print for the first time in ages
- 'Calling Out Of Context', the posthumous compilation that brought ARTHUR RUSSELL back into the popular consciousness, is back in print and no less revelatory than when it first came out back in '04, featuring songs like "Wild Combination" and "Calling All Kids".
- a fantastic new record in the ongoing American Primitive guitar tradition comes from Ohio's MATTHEW J ROLIN, with the expansive 2LP 'The Dreaming Bridge', featuring killer cover art from Chicago king Plastic Crimewave. Fans of James Blackshaw's shimmering, resonant fingerstyle in particular will love this one.
- not to be outdone, the Three Lobed label brings us a new one from guitarist DANIEL BACHMAN, who ventures a bit farther out on 'Axacan'.††
- quite the power trio of country singers is assembled for 'The Marfa Tapes', a freewheeling collaboration between JACK INGRAM, MIRANDA LAMBERT, and JON RANDALL†
- a pair of records in from the immensely underrated Ohio punk band SPIKE IN VAIN, who released one LP in '84 called 'Disease Is Relative' and bounced, with members later going on to form Prisonshake. The group must have stood out on the bills they played; their sound combines the frantic rage of Void, the artsy vulnerability of the Hated, and the turgid death-rock of The Gun Club. 'Disease Is Relative' gets repressed on vinyl for the first time, along with another album, 'Death Drives A Cadillac', which has never been released until now.
- a new comp called 'Panik!' collects the early singles of the highly-influential French synth-punk band METAL URBAIN, said to be the first group to combine synths, guitars, and lots of attitude
- British songwriter RAG'N'BONE MAN returns with a heavily anticipated new record, 'Life By Misadventure'
- because we live in a free country, WEEZER are back with a new record called 'Van Weezer', presumably a reference to Van Halen, or possibly Van Morrison
- speaking of that lil devil, VAN MORRISON brings us a new album with the uh, factually accurate (for now) title 'Latest Record Project Vol 1'
- Lebanese composer IHSAN AL-MUNZER made some of the most successful 'bellydance' records in history, and also the 1985 funky rarity 'Sonatina For Maria', now reissued fresh for 2021
- legendary kora player TOUMANI DIABATE teams up with the suddenly very-hip London Symphony Orchestra on a lovely foray through some of Diabate's most timeless compositions on 'Korolen'†
- a sprawling 3 disc set collects all of AMY WINEHOUSE's varied performances at the BBC studios†
- UK jazz duo TALA VALA†have a sparkling new record of contemporary jazz buffeted by plenty of guests on 'Modern Hysteric'
- Lawrence, Kansas group VITREOUS HUMOR were one of the best of the Midwest's early emo scene, influencing bands that would get much bigger than them, like Archers of Loaf and Jimmy Eat World. Their timeless single "Why Are You So Mean To Me" traveled all the way to regular airplay on the Princeton University station, where I taped it off the radio and listened to it a trillion times. Their complete discography, 'Posthumous', is finally back in print this week.
- Sub Pop brings us a new collection of some of the earliest IRON & WINE material out there, 'The Tallahassee Recordings', in the shop on loser edition color vinyl.†
- completed after his passing, the final studio album from country funk legend TONY JOE WHITE is called 'Smoke From the Chimney'
- Mississippi Records brings us a beautiful new collection of ALAN LOMAX field recordings dating to the late 70s called 'American Patchwork', which might briefly make you proud to call this country home
- few things FRANK ZAPPA can be universally agreed upon, but one things for certain: last year, a movie about the man was released, and now we have the complete soundtrack in stock on vinyl.
- Boston cosmic metal heroes ELDER see their 2015 album 'Lore' come back in print on LP with new cover art. NYC folkie cityboys WOODS revisit their archive of unheard material with 'Reflections Vol 1' on color vinyl. JIM JARMUSCH and a host of collaborators like Jozef Van Wissem handled the soundtrack for 'The Only Lovers Left Alive' on clear/red wax.†
- skywide folk is in from SARAH LOUISE on 'Earth Bow', while the French group FLEUR impeccably recreate the ye-ye sound of France Gall and the Free Design on a new self-titled record. A pair of reissues are in from Swedish songstresses FIRST AID KIT, 'Drunken Trees' and 'The Big Black and The Blue'.
- UK dancehall rugged men EQUIKNOXX join up with the Minneapolis soundsystem FEEL FREE on an explosive new EP, 'Prophet Noir'
- Australian rapper TKAY MAIDZA makes her explosive 4AD debut on 'Last Year Was Weird'. Big same.†
- Loopy Richmond VA rapper MCKINLEY DIXON drops a fantastic, Kendrick-ish new record, 'For My Mama and Anyone Who Look Like Her'
- the ATFA label continues to showcase an incredible new generation of South African producers doing a style called 'amapiano' with a new record from DJ BLACK LOW, hypnotic and timeless
- deep house brilliance on a new EP from INDIA JORDAN†
- very limited so act quick on this new 12 from KHRUANGBIN which features remixes from KNXWLEDGE†
USED VINYL ALERT:
Heading down for this week's edition of the used vinyl alert, we've got plenty of fresh heat in the bins. A long run of classic Jimi Hendrix and Fleetwood Mac LPs are joined by sweet ones from the Stones, the Beatles, Little Feat, the Doors, Elton John, Pink Floyd, Bob Dylan, Joni Mitchell, Todd Rundgren, David Bowie, Rush, Joan Jett, Saxon, AC/DC, Blue Oyster Cult, Slade, Dire Straits, Neil Young, Elvis Costello, and many more.
A beautiful selection of jazz LPs includes titles from Chick Corea, Bill Evans, MJQ, Charles Earland, Hubert Laws, Keith Jarrett, Cannonball Adderley, Lalo Schifrin, Ahmad Jamal, Dorothy Ashby, Codona, Jim Hall, Fatha Hines, Illinois Jacquet, and more.†
Lots of great new wave and electronic pop comes through from names like Depeche Mode, Julee Cruise, the Thompson Twins, Swing Out Sister, Massive Attack, Nitzer Ebb, Devo, LFO, the KLF, Electronic, Ministry, Cocteau Twins, and Deee-Lite, plus a slew of great 12"s in the areas of house, electro, UK acid, and italo.
A solid stash of hip-hop 12s includes early heat from De La Soul, Das Efx, Whodini, Nas, Mary J Blige, Eric B and Rakim, Artifacts, Public Enemy, and Boogie Down Productions, plus a big stack of soul fire from names like Cameo, Lou Rawls, Phyllis Hyman, Curtis Mayfield, Kool & the Gang, the Isley Brothers, Steve Arrington and a whole lot more.
Lots of odds and ends on the male/female vocalist fronts, plus some great regional obscurities in the bluegrass, gospel, ragtime, and polka genres.†
BILLBOARD MAGAZINE'S BIWEEKLY FEATURE ON STRICTLY DISCS: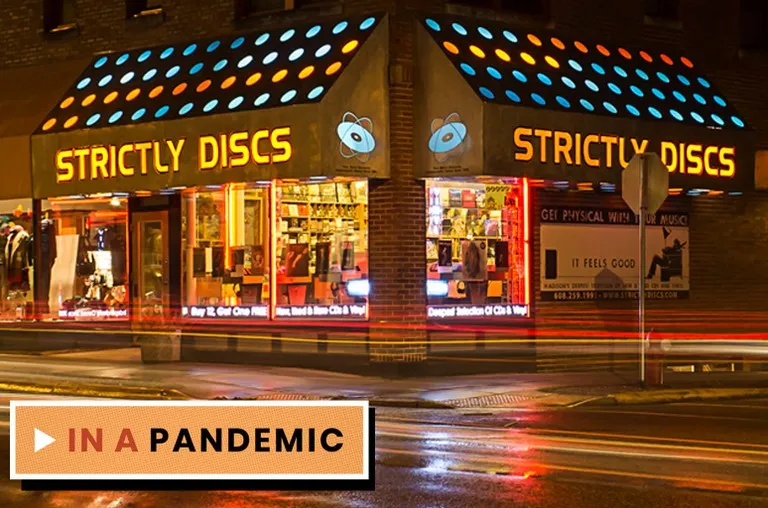 As part of†Billboardís efforts to best cover the coronavirus pandemic and its impacts on the music industry, Chris Eggertsen has been speaking with†Angie†every other†week to chronicle†the experience of an independent record store†throughout the crisis.† Here is a link to the stories in the series so far:
Billboard Article #16 November 16th
Billboard Article #17 December 14th
Billboard Article #18 December 23rd
Billboard Article #19 February 5th
Billboard Article #20 February 23rd
Billboard Article #21 March 12th
Billboard Article #22 April 1st

Billboard Article #23 April 19th



RECORD STORE DAY DROPS 2021 & WISHLISTS x2:
RECORD STORE DAY 2021 DROPS ARE JUNE 12 & JULY 17:
Our plan for the days are†still to be determined but as always our primary goal for the day will be to get you the records you are seeking as safely as possible. Thank you for your support.†Stay strong & have #hope.
WISHLISTS FOR BOTH DAYS CAN BE MADE†HERE†(deadline for BOTH DATES was 5PM Wednesday April 14th).
SELL US YOUR CDS & LPS:
Yes, we are still buying! Call Ron to schedule (608.213.3610).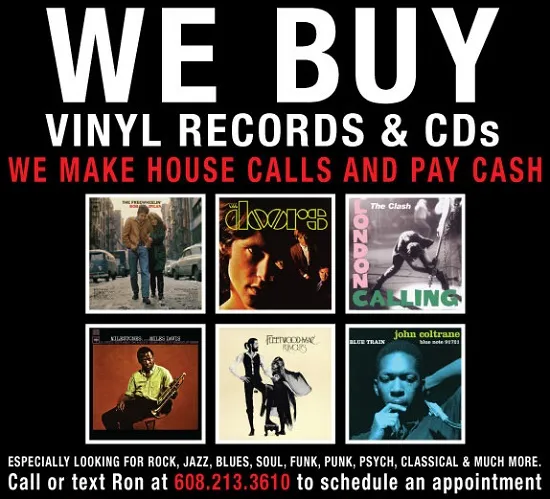 Ron, Ryan, Angie, Marty, Evan, Matt, Ed, Jack, Eric, Steve & Ben