April 29, 2021
NEW THIS WEEK AT THE SHOP:
USED VINYL ALERT:
This week's crop of over 600 fresh used records includes some super nice early pressings from fave names like Joni Mitchell, Tom Petty, the Beatles, Frank Zappa, Leonard Cohen, the Grateful Dead, Steely Dan, Nitty Gritty Dirt Band, Bruce Springsteen, Elvis, The Band, plus classics from Tommy James and the Shondells, the Allman Brothers, America, Vanilla Fudge, Boston, the Electric Prunes, Santana, Styx, the Police, Billy Joel, Erasure, and Talking Heads.
Cool folk LPs are in from Vassar Clements, David Ackles, John Renbourn, Woody Guthrie, Pete Seeger, Leo Kottke, and John Fahey, plus some early blues comps and LPs from Leadbelly and BB King. Great jazz this week, including records from Herbie Hancock, Miles Davis, Grant Green, Donald Byrd, Freddie Hubbard, Eric Dolphy, Herbie Mann, Hadley Caliman, Kenny Barron, Roland Kirk, Sonny Stitt, Bobby Hutcherson, Lou Donaldson, and Keith Jarrett.
Soul is in from War, Rufus, Stevie Wonder, Debarge, Donny Hathaway, the Isleys, Marvin Gaye, Joe Tex, Wilson Pickett, James Brown, and the Drifters. Legendary vocalists like Roberta Flack, Ella Fitzgerald, Aretha Franklin, and Billie Holiday are all here as well. We round out with a cool selection of latin and bossa nova LPs, some great classical choices, a freshly stocked 3 for $5 bin, and so much more!
BILLBOARD MAGAZINE'S BIWEEKLY FEATURE ON STRICTLY DISCS: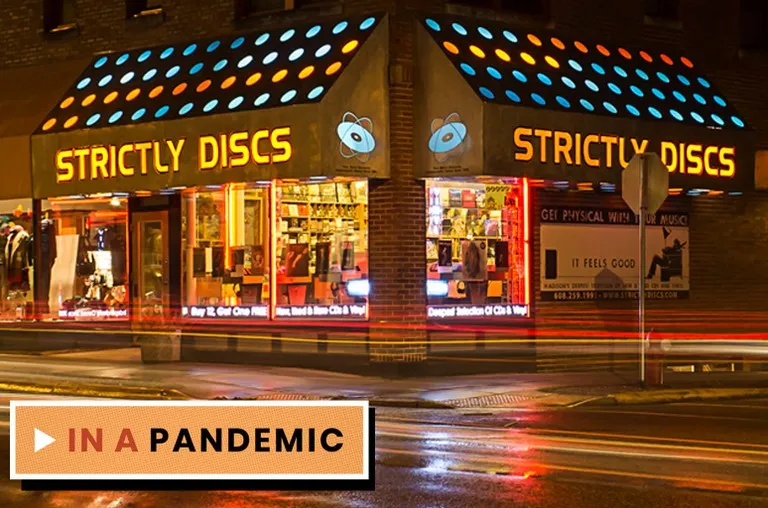 As part of Billboard's efforts to best cover the coronavirus pandemic and its impacts on the music industry, Chris Eggertsen has been speaking with Angie every other week to chronicle the experience of an independent record store throughout the crisis.  Here is a link to the stories in the series so far:
Billboard Article #16 November 16th
Billboard Article #17 December 14th
Billboard Article #18 December 23rd
Billboard Article #19 February 5th
Billboard Article #20 February 23rd
Billboard Article #21 March 12th
Billboard Article #22 April 1st

Billboard Article #23 April 19th



RECORD STORE DAY DROPS 2021 & WISHLISTS x2:
RECORD STORE DAY 2021 DROPS ARE JUNE 12 & JULY 17:
Our plan for the days are still to be determined but as always our primary goal for the day will be to get you the records you are seeking as safely as possible. Thank you for your support. Stay strong & have #hope.
WISHLISTS FOR BOTH DAYS CAN BE MADE HERE (deadline for BOTH DATES was 5PM Wednesday April 14th).
SELL US YOUR CDS & LPS:
Yes, we are still buying! Call Ron to schedule (608.213.3610).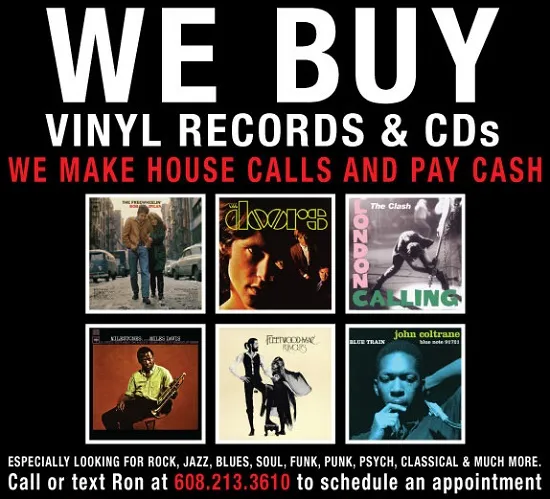 Ron, Ryan, Angie, Marty, Evan, Matt, Ed, Jack, Eric, Steve & Ben