April 23, 2021
NEW THIS WEEK AT THE SHOP:
- We celebrate this week's holiday a bit belatedly with some quality stoner jams, starting off with a fresh vinyl cut of SPIRITUALIZED's 'Lazer Guided Melodies'. The band's 1992 debut hasn't been available in a properly mastered LP edition since it was first released, and now has a Jason Pearce-approved version with a new take on the album's art as well. There are a lot of great Spiritualized records but dang, the band really hit a high water mark early on with this one!
- released on 4/20 and still (barely) in stock, weedlords SLEEP collect their two recent EPs, 'The Clarity' and 'Leagues Beneath' on a limited 2LP edition with incredible new artwork
- Austin based burning men THE BLACK ANGELS unleash 'Live At Levitation' on seafoam splatter colored vinyl
- GURU GURU, one of the earliest German rock bands to tune in to heavy psych and pioneer a new sound dubbed 'space rock', see their 1970 debut 'UFO' get a fresh reissue on purple vinyl
- up n coming UK jazz pianist and composer ALFA MIST's latest record 'Bring Backs' should make him huge, cool grooves abound for fans of Kamaal Williams and the Rhythm Section label
- a new LP pressing of tenor saxophonist BINKER GOLDING's stunning 2019 album, 'Abstractions Of Reality Past And Incredible Feathers'
- 'Hanamichi', the final studio recording of legendary pianist MASABUMI KIKUCHI , features elegantly deconstructed takes on 'Summertime' and 'My Favorite Things'
- first time on vinyl for 'Verisimilitude', the breakout album from percussionist and arranger TYSHAWN SOREY
- seems like just yesterday that the Beatles were splitsville and JOHN LENNON was branching out with his new project 'The Plastic Ono Band'. Well, it's been 50 years and war is still not over even if we want it, but the guiding hand of Yoko brings us a new, definitive edition of the album that was always said to be Lennon's favorite. A new 2LP edition collects a half-speed master of the original album plus a disc of outtakes and ephemera, while a super deluxe edition delivers 8 discs examining every possible detail of this eye-opening record.
- an expanded 2LP edition of THE WHO 'Sell Out' includes a ton of unheard mixes of tunes from the 1967 fan favorite, and hopefully an extended rumination by Roger Daltrey on what sitting in a tub full of baked beans feels like
- British guitarist OLLIE HALSALL isn't quite a household name, but he endeared himself to many as a member of the legendary Patto as well as Kevin Ayers's live band. In the late 70s he recorded demos for a solo album, 'Lovers Leaping', that never saw the light of day until now. A familiar story, yes, but no less befuddling as these songs are quite, quite good!
- "I Pity The Country" by WILLIE DUNN is one of the standout tracks on the Native North America Vol.1 compilation, and Dunn's soothing, Cohen-esque baritone definitely had us wondering what other songs the Indigenous Canadian folkie had. On 'Creation Never Sleeps, Creation Never Dies', Light in the Attic goes far beyond the extra mile, with a 2LP set of Dunn's songs spanning decades, and includes a veritable archive of information about this unsung hero of the north
- speaking of "far beyond", how about five vinyl reissues of classic albums from PANTERA: we've got 'Far Beyond Driven', 'Cowboys From Hell', 'Vulgar Display of Power', 'The Great Southern Trendkill' and 'Reinventing The Steel'. Rest in peace, Dimebag.
- a pair of reissues of 00s albums by the mighty Oregon doom metal group YOB: 'Illusion of Motion' and 'The Unreal Never Lived'  
- timeless afro-cuban jazz is back on wax with a new press of IBRAHIM FERRER's 1999 self titled album, recorded after he returned to the spotlight behind the popularity of the Buena Vista Social Club
- the latest entry in the Blue Note Classic Series is HANK MOBLEY's 1960 album 'Soul Station'
- Philly pianist HASAAN IBN ALI is said to have been a huge influence on John Coltrane, which definitely clicks once you hear some of 'Metaphysics: The Lost Atlantic Album', released this week. He was much too far ahead of the game to get any record deals back then, though he is indeed the "Legendary Hasaan" mentioned on the cover of the 1965 LP by the Max Roach Trio. Always wondered!
- a stunning compilation called 'La Ola Interior' collects songs from an extremely fertile period for ambient music in 1980s Spain, featuring the work of artists like Javier Segura, Finis Africae, Victor Nubla and many more
- UK producer JORDAN RAKEI is a very talented dude. His recent album (as Dan Kye) 'Small Moments' would have made top ten lists at the shop if we could have kept it in stock for more than a few minutes. He's the latest tapped by the Late Night Tales crew for a compilation of his favorite downtempo tunes, in the mix now on limited green vinyl
- a new LP pressing of KOREATOWN ODDITY's unreal good 2020 album 'Little Dominiques Nosebleed' is in via Stones Throw, crammed full of his genius production, trippy skits, and hilarious raps
- a great new LP from producer YOSHINORI HAYASHI called 'Pulse Of Defiance' shifts his nuanced techno into a much deeper place
- back in stock on LP, the phenomenal 2020 album 'Workaround' from BEATRICE DILLON, who takes samples from a wide variety of guest instrumentalists and whips them into an intoxicating  blend of coruscating rhythms with astonishingly detailed low-end
- reissues here of a pair of records from GANG OF FOUR that quite literally re-routed the path of rock and roll, 'Entertainment' and 'Solid Gold' 
- a fresh Numero Group pressing of UNWOUND's penultimate album, 'Challenge For A Civilized Society', which found the trio retreating further from the ferocity of their early records into a narcoleptic land of world-weary unrock. Limited splatter vinyl on this one. 
- a sensual funky soul classic returns with PRETTY PURDIE's 1972 album 'Soul Is...' back in print 
- a new edition of the UK group TREES' 1970 album 'The Garden of Jane Delawney' gives you an idea of what Pentangle would have sounded like with a bit more heavy acid guitar in the mix. Phenomenal album!
- a pair of limited reissues introduce us to 70s private press folkie NAOMI LEWIS, who aims for Joni and lands somewhere in the stars on 'Cottage Songs' and 'Seagulls and Sunflowers'
- 21st century acid-folk from Japan is here on a lovely new lp from SATOMIMAGAE called 'Hanazono'
- beloved English composer RICHARD SKELTON returns with a stunning new collection of dark-themed modern classical, 'These Charms May Be Sung Over A Wound'
- first time on LP for a very cool rarity from Japanese producer AKIRA INOUE, who released 'Karsavina' in a tiny edition in 1984, just after he played on the cult-fave 'Seaside Lovers' LP alongside Hiroshi Sato. Daring yet melodic synth-pop experiments here as it could only be done in the heyday of Japan's techno boom
- last up, back in stock is a new pressing of the 2017 compilation called MONO NO AWARE, whereupon the Pan label introduced us to a stunning amount of new producers (Kareem Lotfy, Yves Tumor, Flora Yin-Wong and others) creating electronic music indebted to the Japanese term for appreciating impermanence
USED VINYL ALERT:
Heading downstairs for this week's used vinyl, we've got a whole slew of new arrivals here. The Beach Boys, the Beatles, the Burrito Brothers, Bowie, the Band, Ben Folds....and that's just the B's! We have some rare pressings in from the Rolling Stones, Pink Floyd, the Grateful Dead, Queen and Kiss, plus memorable titles from Bruce Springsteen, Fleetwood Mac, Marianne Faithfull, Yes, Nektar, Bob Dylan, JJ Cale, Warren Zevon, Cat Stevens, Hall & Oates, Commander Cody, Triumph, Van Halen, Whitesnake, Quiet Riot, and many more.
Plenty of excellent jazz LPs are in, from names like Sonny Stitt, Stanley Turrentine, Oscar Peterson, Alice Coltrane, Freddie Hubbard, Shirley Scott, Yusef Lateef, Leo Wright, Booker Ervin, John Coltrane, and many more. Another week of quality blues LPs includes Elmore James, Josh White, Stevie Ray Vaughan, John Lee Hooker, Champion Jack Dupree, Leadbelly, BB King, and Sonny Boy Williamson. Folk LPs are in from Buffy Sainte Marie, Woody Guthrie, Richie Havens, Leo Kottke, Pete Seeger, and David Grisman, plus country from Willie Nelson, Waylon Jennings, Dwight Yoakam and Johnny Cash.
Newer pressings are in from Grizzly Bear, Wolfmother, Green Day, Mumford & Sons, Coldplay, Cheap Trick, Yeasayer and more. Lots of great soul this week, including LPs from Marvin Gaye, Sam & Dave, David T Walker, Aretha Franklin, Rick James, Earth Wind and Fire, Ashford & Simpson, Roberta Flack, the Supremes, Isaac Hayes, the Bar-Kays, Ray Charles, Stevie Wonder, James Brown, and Ike & Tina. We round things out with a nice sampling of gospel LPs, some Celtic/Irish folk, a cool stash of 90s techno 12s, a nice run of soundtracks (Stars Trek AND Wars!), and much much more.
Madison Magazine's BEST OF MADISON voting is OPEN NOW & we would be honored to receive your vote for Best Record Store.
BILLBOARD MAGAZINE'S BIWEEKLY FEATURE ON STRICTLY DISCS: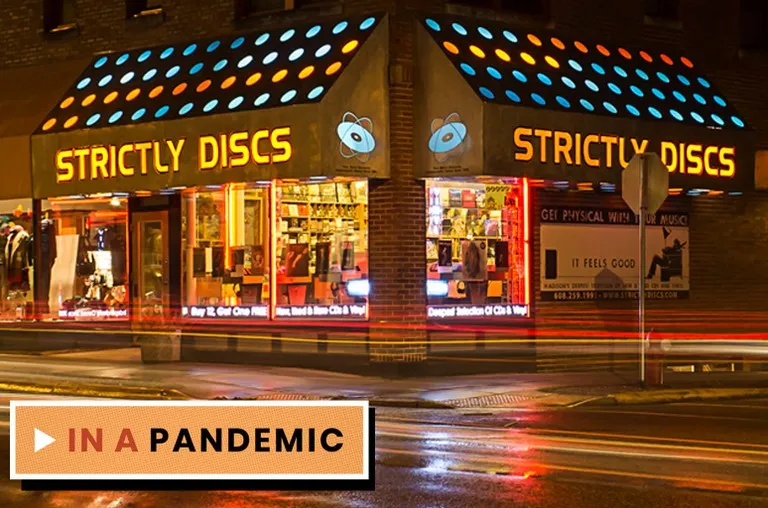 As part of Billboard's efforts to best cover the coronavirus pandemic and its impacts on the music industry, Chris Eggertsen has been speaking with Angie every other week to chronicle the experience of an independent record store throughout the crisis.  Here is a link to the stories in the series so far:
Billboard Article #16 November 16th
Billboard Article #17 December 14th
Billboard Article #18 December 23rd
Billboard Article #19 February 5th
Billboard Article #20 February 23rd
Billboard Article #21 March 12th
Billboard Article #22 April 1st
Billboard Article #23 April 19th
STRICTLY DISCS IS HIRING:
VINYL PRICING SPECIALIST:
Required skills:
Excellent customer service skills; ability to anticipate customer needs
Computer proficient

A passion for music, and a broad, deep base of recorded music history
Knowledge of Goldmine standards & experience grading and pricing records

Knowledge of stereo equipment/functionality
Availability to work nights and weekends
Ability to lift and carry 50 pounds repeatedly

To apply, submit letter of interest & resume to angie@strictlydiscs.com
WE ARE HIRING - SHIPPING CLERK:
We are looking to hire a shipping clerk. Requirements:

•    Self-motivated and independent thinker
•    Computer proficiency
•    Flexibility
•    Strong work ethic
•    High level of organization and precise time management skills
•    Ability to lift 50 pounds repeatedly

Postion open - Monday/Wednesday/Friday 9AM-1PM. Possible additional hours filling other duties, depending on experience.
To apply, submit letter of interest & resume to angie@strictlydiscs.com
RECORD STORE DAY DROPS 2021 & WISHLISTS x2:
RECORD STORE DAY 2021 DROPS ARE JUNE 12 & JULY 17:
Our plan for the days are still to be determined but as always our primary goal for the day will be to get you the records you are seeking as safely as possible. Thank you for your support. Stay strong & have #hope.
WISHLISTS FOR BOTH DAYS CAN BE MADE HERE (deadline for BOTH DATES was 5PM Wednesday April 14th).
SELL US YOUR CDS & LPS:
Yes, we are still buying! Call Ron to schedule (608.213.3610).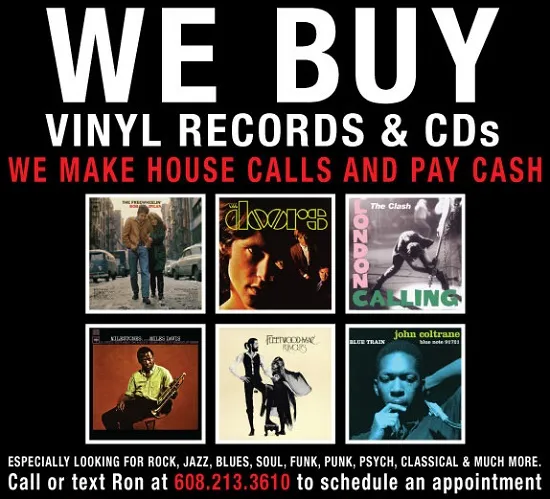 Ron, Ryan, Angie, Marty, Evan, Matt, Ed, Jack, Eric, Steve & Ben