April 15, 2021
RECORD STORE DAY DROPS 2021 & WISHLISTS x2:
RECORD STORE DAY 2021 DROPS ARE JUNE 12 & JULY 17:
Our plan for the days are still to be determined but as always our primary goal for the day will be to get you the records you are seeking as safely as possible. Thank you for your support. Stay strong & have #hope.
WISHLISTS FOR BOTH DAYS CAN BE MADE HERE (deadline for BOTH DATES was 5PM Wednesday April 14th).
NEW THIS WEEK AT THE SHOP:
- we continue to explore the process behind TOM PETTY's triumphant 1994 album with 'Finding Wildflowers', a 2LP collection of alternate takes culled from hundreds of hours of tapes from the sessions, in the shop on limited gold vinyl
- rrroughly 20 years ago the mighty DEFTONES released their defining album 'White Pony', now reissued in a deluxe expanded edition with 4LPs, new artwork inside and out, and a slew of remixes from a ton of great current day producers
- Michigan rock saviors GRETA VAN FLEET are back with a bang on 'The Battle At Garden's Gate'. We've got just a couple of the color vinyl left up for grabs, and plenty of the standard edition here. 
- BrandI Carlile's much anticipated memoir, Broken Horses has also arrived


- Chicago bassist and composer Joshua Abrams convenes his mighty ensemble NATURAL INFORMATION SOCIETY on 'Descension (Out Of Our Constrictions)' with special guest, UK avant-sax figurehead EVAN PARKER. Each N.I.S. release is a major revelation and this expansive 2 LP set delivers the vibrations tenfold, with stunning cover art by Lisa Alvarado once again
- LA freeform jazz composer SAM GENDEL returns with a delightful new LP called 'DRM' full of unusual grooves that rewards a close listen
- alto sax titan GARY BARTZ began his career many decades back, playing with Max Roach and Art Blakey, and is the latest to sit in with NYC players Adrian Younge and Ali Shaheed Muhammad for their 'Jazz Is Dead' series, on an LP that is the best of the lot so far
- Moscow musicians DIMA PANTYUSHIN and SASHA LIPSKY turn in a delightfully out-of-time album of synth-pop on 'Peshekhod', which strolls the line between Telex and Devo with a peculiarly Russian twist
- UK art rock unit BLACK MIDI tease their upcoming album with a limited two song EP
- metal stalwarts GENGHIS TRON return with a gorgeous album called 'Dream Weapon' that wanders a bit from their classic sound towards a stunning hybrid of speedy thrash and hypnotic, dreamy kraut
- a new LP from SLAUGHTER BEACH, DOG called 'At The Moon Base' here on limited color wax
- finally got some copies of the explosive debut album from Dublin, Ireland's FOR THOSE I LOVE, an intoxicating suite of club-pointed electro-noir led by some powerfully emotional spoken word
- sultry, woozy, snappy R&B nuggets are also in on wax from D V R, DUCKWRTH, and the recently Grammy-nominated LUCKY DAYE 
- revered roots rocker LUCINDA WILLIAMS pays tribute to Tom Petty on 'Runnin Down A Dream', plus we have a new live album from NORAH JONES and a new studio LP from NYC folkies THE BROTHER BROTHERS
- tons of new hip-hop vinyl in the house this week starting with the latest from CURREN$Y and HARRY FRAUD, 'Director's Cut', plus reissues of big ones from JEEZY, QUELLE CHRIS, and EVE, whose 2001 album 'Scorpion' heavily features recently departed MC legend DMX (R.I.P.)
- back in print is the definitive overview of the mighty U ROY, 'I Am the Originator', plus a fresh pressing of SUN RA's 'Astro Black' and a crucial compilation of unheard 80s Kenyan benga, 'The Boys From Nairobi'
- a new pressing of TORO Y MOI's modern funk-pop masterpiece 'Underneath The Pine' is here on yellow and orange vinyl, plus we have a new record that pairs up two EPs from former Madison indie heroes SLOW PULP, and a repress of the lovely MIRAH album 'Advisory Committee', which is sortof the female analogue to the Microphones 'The Glow Pt 2'
- 'Hudson's Heeters' collects all of the earliest tracks from HUDSON MOHAWKE before he got signed to Warp, the bright, bubbly proto-trap tunes here sound incredibly fresh, considering many of them were originally available on MySpace, a social network that hasn't existed for (checks watch) a hundred billion years
- blistering industrial breaks from UK bassman ETCH on 'Strange Days'
- psychedelic house delights are in from Barcelona producer LIS SAROCCA on 'No Wait'
- the mighty WOLFGANG VOIGT aka GAS has a double live album in the house called 'Rückverzauberung Exhibition'
- primo ENNIO MORRICONE soundtrack 'I Malamondo' gets a deluxe reissue, plus we have some incredibly solid Canadian cosmic disco from G.B. & THE TRACKS circa 1978, and a delightful reissue of a classic early 70s library record, 'Percussion Spectrum', from BARRY MORGAN & RAY COOPER, which is, well, a spectrum of percussion!
USED VINYL ALERT:
This week's used vinyl alert includes collectible heat from Jimi Hendrix, The Beatles, Neil Young, Devo, the Move, the Rolling Stones, Pink Floyd, Steely Dan, Frank Zappa, and King Crimson, plus classics from the Eagles, Fleetwood Mac, Bruce Springsteen, Tom Tom Club, Dire Straits, Free, The Cult, and T. Rex.
Oodles of classic and rare jazz LPs are in from Bill Evans, Wes Montgomery, Oscar Peterson, Art Ensemble of Chicago, Bobbi Humphrey, Marion Brown, Miles Davis, Kenny Burrell, Lou Donaldson, Lee Morgan, Stan Getz, Larry Coryell, Sam Rivers, Thelonious Monk, Johnny Hodges, Pat Metheny, Milt Jackson, Sonny Rollins, Herbie Hancock, Yusef Lateef, Ron Carter, and many more.
Soul and funk is in from Al Green, Wilson Pickett, Sly Stone, the Fatback Band, Stevie Wonder, Jean Carn, Osibisa, the Temptations, Carla Thomas, the Jones Girls, the Impressions, Mandre, the Isleys, the Three Degrees, and Laura Lee.
Beloved female vocalists like Ella Fitzgerald, Julie London, Nancy Sinatra, and Connie Francis are here, plus blues from John Mayall, the Rev Gary Davis, Clifton Chenier, Paul Butterfield, Bonnie Raitt, Elmore James, and Lightnin Hopkins. Country classics are in from Tony Joe White, Randy Travis, Merle Haggard, Willie Nelson, Jerry Jeff Walker, David Allan Coe, and Patsy Cline, and we've got folk from Doc Watson, Chris Smither, Tom Paxton, Loudon Wainwright, Jean Ritchie, plus a slew of cool regional compilations.
Some reggae, conjunto, latin, greek, indian, and polka treats are in the mix as always, plus a nice n random selection of soundtracks, childrens records, sound effects, comedy records and Atari scores to cover all the bases.
Madison Magazine's BEST OF MADISON voting is OPEN NOW & we would be honored to receive your vote for Best Record Store.
BILLBOARD MAGAZINE'S BIWEEKLY FEATURE ON STRICTLY DISCS: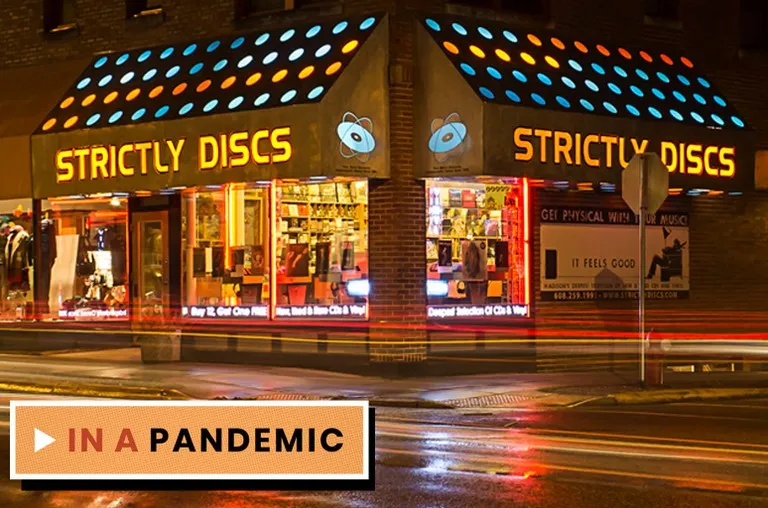 As part of Billboard's efforts to best cover the coronavirus pandemic and its impacts on the music industry, Chris Eggertsen has been speaking with Angie every other week to chronicle the experience of an independent record store throughout the crisis.  Here is a link to the stories in the series so far:
Billboard Article #16 November 16th
Billboard Article #17 December 14th
Billboard Article #18 December 23rd
Billboard Article #19 February 5th
Billboard Article #20 February 23rd
Billboard Article #21 March 12th
Billboard Article #22 April 1st
STRICTLY DISCS IS HIRING:
VINYL PRICING SPECIALIST:
Required skills:
Excellent customer service skills; ability to anticipate customer needs
Computer proficient

A passion for music, and a broad, deep base of recorded music history
Knowledge of Goldmine standards & experience grading and pricing records

Knowledge of stereo equipment/functionality
Availability to work nights and weekends
Ability to lift and carry 50 pounds repeatedly

To apply, submit letter of interest & resume to angie@strictlydiscs.com
WE ARE HIRING - SHIPPING CLERK:
We are looking to hire a shipping clerk. Requirements:

•    Self-motivated and independent thinker
•    Computer proficiency
•    Flexibility
•    Strong work ethic
•    High level of organization and precise time management skills
•    Ability to lift 50 pounds repeatedly

Postion open - Monday/Wednesday/Friday 9AM-1PM. Possible additional hours filling other duties, depending on experience.
To apply, submit letter of interest & resume to angie@strictlydiscs.com
SELL US YOUR CDS & LPS:
Yes, we are still buying! Call Ron to schedule (608.213.3610).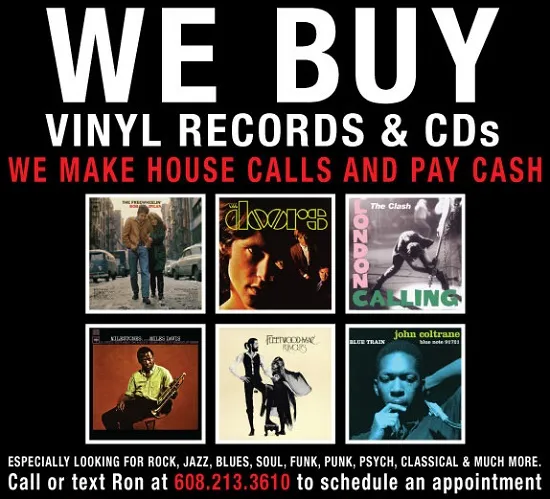 Ron, Ryan, Angie, Marty, Evan, Matt, Ed, Jack, Eric, Steve & Ben