April 8, 2021
RECORD STORE DAY DROPS 2021 & WISHLISTS x2:
RECORD STORE DAY 2021 DROPS ARE JUNE 12 & JULY 17:
Our plan for the days are still to be determined but as always our primary goal for the day will be to get you the records you are seeking as safely as possible. Thank you for your support. Stay strong & have #hope.
WISHLISTS FOR BOTH DAYS CAN BE MADE HERE (deadline for BOTH DATES is 5PM Wednesday April 14th).
NEW THIS WEEK AT THE SHOP:
- the new album from high-pony queen ARIANA GRANDE is called 'Positions' and I'm guessing she doesn't mean yoga, in the shop on coke bottle clear vinyl
- vinyl editions of big recent releases are also in from BUSTA RHYMES, JOJI, and YUNG GRAVY. Delicious.
- Chicago poet ROSS GAY welcomes a number of crucial guests (Bon Iver, Angel Bat Dawid, Mary Lattimore) to provide accompaniment to his poems on 'Dilate Your Heart', an album that feels like a nice summing up of the intersectional underground
- iconic art rock / synth-pop album 'Big Science' from LAURIE ANDERSON gets its first US vinyl repress since it was released in 1982.
- 'Tale Of My Lost Love' by FEMALE SPECIES was a stand-out track on last year's 'Louis Wayne Moody High' from el Numero Group, and now the label's dug deeper to pull out a full LPs worth of the California sister group's tunes, from 60s girl group sounds to 90s Nashville
- FLEETWOOD MAC's 1980 album 'Live' gets the super deluxe treatment with a new edition thats 2LPs, 3CDs and a 7"
- everyone needs a copy of the B-52's self-titled 1979 debut. All these years later it remains a potent adrenaline boost. One time I saw Fred Schneider crossing the street in Chicago. 
- do you love 'Abbey Road' but sometimes wish Paul would just cool it a little with all the singing? A new pressing of GEORGE BENSON's delightfully lowkey and bluesy 'The Other Side of Abbey Road' will sort you right out
- 'I Love You More' is a big rare one from TOM BROCK, produced by Barry White and left to drift into obscurity before being sampled by folks like Jay Z and Mos Def
- Various Artists, babay! Nothin gets the blood pumping like that pair of words. Great comps in the shop this week include ANALOG AFRICA's 'Edo Funk Explosion' featuring rare tracks from Benin from Sir Victor Uwaifo and others. Aquarium Drunkard curates a set of 70s Christian folk and psych jammers called 'Jesus People Music', and we have some LP copies of the 'Wilcovered' compilation which finds Tweedy and company covered by everyone from Billy Gibbons to Yo La Tengo.
- 2021 continues to bring us surprises, like a new ambient record from CABARET VOLTAIRE called 'Dekadrone', plus we've got represses of postpunk goes pop-funk classics from A CERTAIN RATIO ('Sextet') and TONES ON TAIL ('Pop') plus a pair of reissues of PETER MURPHY's solo albums after Bauhaus, 'Love Hysteria' and 'Should The World Fail To Fall Apart'
- a new LP pressing of one of the finest solo keyboard records ever from ROEDELIUS is here, 1981's 'Wenn Der Sudwind Weht'
- first time on vinyl for the 1993 symphony from PHILIP GLASS, 'Itaipu / The Canyon'
- a pair of LPs are in from electronic producers taking excursions on exotic keyboards. PANORAM turns in 'Pianosequenza' for the Yamaha Disklavier, and DNTEL (of Postal Service fame) has an LP version of 'Hate In My Heart', his 2018 cassette performed entirely on the Buchla easel.
- entrancing beauty comes from all over the world this week with a new LP from Malian kora player BALLAKE SISSOKO, a vinyl edition of a 2002 CD from Reunion Island maloya legend DANYEL WARO, and a new LP edition of 'Libertango', with famed pianist MARTHA ARGERICH performing classics by ASTOR PIAZZOLLA.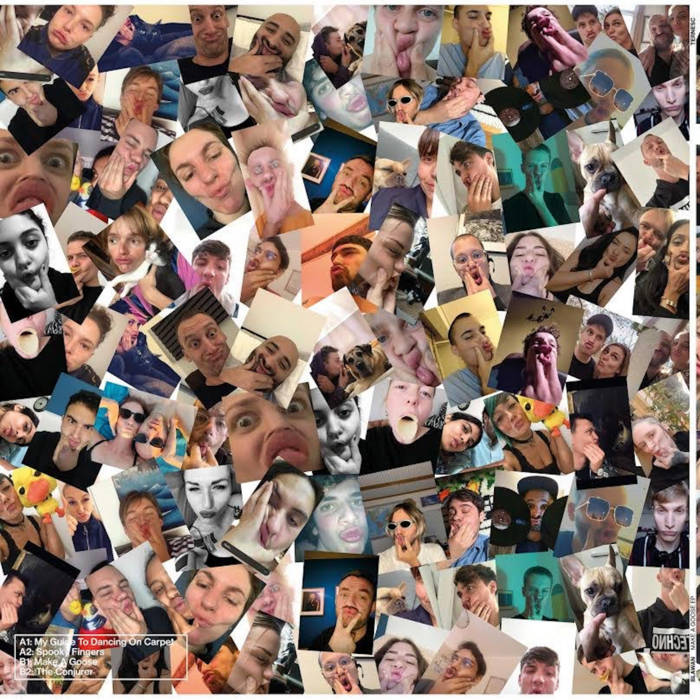 - back in stock, the eternally timely disco-house groove of METRO AREA, on a 3 LP set collecting all of their essential, game-changing 12"s 
- glammy UK bass brilliance from JAM CITY on 'Pillow Land'
- Brazilian producer ZOPELAR turns in an LP of glistening boogie fusion gems on 'Universo'
- pitch perfect techno from the club deconstructor BLAWAN on 'Make A Goose', a title I did not understand until I saw the jacket art
- a new New Orleans band SILVER SYNTHETIC makes their Third Man debut with a swirly-vinyl delight that calls up just the right amount of T.Rex and Television
- itinerant folkie ELEPHANT MICAH has a lovely new LP called 'Vague Tidings' recorded in and written about Alaska
- a new LP from NICK WATERHOUSE called 'Promenade Blue' continues his perfection of modern classic R&B
- a collection of unreleased material from THE MIRRORS, the shambolic blues rock group fronted by Greg Ashley (sort of a Poor Texan's Ty Segall) does not disappoint
- Alongside a new 45 of unreleased SUN RA tunes, 'I Struck A Match On The Moon / Dreamsville', we also have a stunning collection of four reproductions of Sun Ra's poetry books, ranging from 1957 to 1972
- trumpeter MATTHEW HALSALL delivers 'Salute To The Sun', a deliriously beautiful album that's heavy on harp and kalimba
- few improvisers transcend their instruments like percussionist CHRIS CORSANO and "guitarist" BILL ORCUTT, who return with a new duo album called 'Made Out Of Sound' 
- a pair of reissues from UK underground legends NOCTURNAL EMISSIONS revisit their interesting mid-80s period of industrial/pop experiments
- led by Acid Mothers leader Kawabata Makoto, Japanese group MAINLINER redefine the concept of power trio on their first album in many years, the brain-boiling 'Dual Myths'
- New England guitarists JOSEPH ALLRED and ROB NOYES pair up for a gorgeous album of richly-toned interplay on 'Avoidance Language'
- Swedish composer MATS ERLANDSSON has a vinyl reissue of an older tape, understatedly titled '4 Track Guitar Music'. Glittering, patient processed guitar glacials here remind heavily of the earlier end of Tim Hecker's catalog.
- an LP edition of archival recordings from a west coast trio LUZ AZUL, led by vocalist Anna Homler aka Breadwoman, who must be heard to be believed!
USED VINYL ALERT:
Hot stuff in the Used Vinyl Alert today! A very, very thorough rundown of classic soul from several eras is here, including LPs from Ray Charles, Marvin Gaye, Wilson Pickett, Otis Redding, Curtis Mayfied, Isaac Hayes, Earth Wind and Fire, the Four Tops, Dobie Gray, Teena Marie, Prince, War Al Green, the Intruders, Blowfly, Kylie Minogue, Aretha Franklin, Timmy Thomas, the Temptations, the Shirelles, Diana Ross, and so many more.
Another strong week for blues vinyl, including classic and hard-to-find titles from Carey Bell, James Cotto, Albert Collins, Freddie King, Memphis Slim, Son Seals, Hound Dog Taylor, Big Maceo, T-Bone Walker, Jimmy Reed, Stevie Ray Vaughan, Albert King, Clarence Gatemouth Brown, Clifton Chenier and others.
A full spectrum of jazz is in from Freddie Hubbard, George Benson, Miles Davis, Bennie Maupin, Sonny Rollins, Lee Konitz, John Spider Martin, Roy Eldridge, Keith Jarrett, Dave Brubeck, Hugh Masekela, Charlie Parker, and Cal Tjader.
A solid run of crucial early Tom Waits LPs is joined by classics from Buffalo Springfield, Wings, Led Zeppelin, Neil Young, Pink Floyd, the Zombies, the Grateful Dead, Fleetwood Mac, Captain Beefheart, Jethro Tull, Emitt Rhodes, Lynyrd Skynyrd, Wishbone Ash, Bo Hansson, The Replacements, Sonic Youth, the Pixies, Ted Nugent, Harry Nilsson, Deep Purple, ZZ Top, and Link Wray.
Many flavors of contemporary music coming through, from Big Black to Boards of Canada, Blood Orange to the Yeah Yeah Yeahs, plus some OOP titles from Unkle, Todd Terje and Coldplay. A nice eclectic spread of dance records this week includes some early Chicago house heat from Jesse Saunders and Johnny Fiasco, some classic 90s UK techno bits, plus a smattering of electro, boogie, and Italo.
BILLBOARD MAGAZINE'S BIWEEKLY FEATURE ON STRICTLY DISCS:
As part of Billboard's efforts to best cover the coronavirus pandemic and its impacts on the music industry, Chris Eggertsen has been speaking with Angie every other week to chronicle the experience of an independent record store throughout the crisis.  Here is a link to the stories in the series so far:
Billboard Article #16 November 16th
Billboard Article #17 December 14th
Billboard Article #18 December 23rd
Billboard Article #19 February 5th
Billboard Article #20 February 23rd
Billboard Article #21 March 12th
Billboard Article #22 April 1st
STRICTLY DISCS IS HIRING:
VINYL PRICING SPECIALIST:
Required skills:
Excellent customer service skills; ability to anticipate customer needs
Computer proficient

A passion for music, and a broad, deep base of recorded music history
Knowledge of Goldmine standards & experience grading and pricing records

Knowledge of stereo equipment/functionality
Availability to work nights and weekends
Ability to lift and carry 50 pounds repeatedly

To apply, submit letter of interest & resume to angie@strictlydiscs.com
SELL US YOUR CDS & LPS:
Yes, we are still buying! Call Ron to schedule (608.213.3610).

Ron, Ryan, Angie, Marty, Evan, Matt, Ed, Jack, Eric, Steve, Atticus & Ben